After the popular "Pretty Guardian Sailor Moon" exhibition which was held until June 19th in Mori Tower in Roppongi, Q-POT Café located in Omotesando follows the hype by creating a new menu featuring the different characters of the popular Anime and Manga series.
Q-POT is more known as a jewelry brand, producing jewelries and accessories in the shapes of cookies, chocolates, and other confectioneries. A majority of their fan-base are girls who are into Lolita Fashion. For those who don't know, this fashion style is based on Victorian clothes, featuring a knee length skirt or dress with a petticoat underneath, a frilly blouse, knee high socks, and a headdress.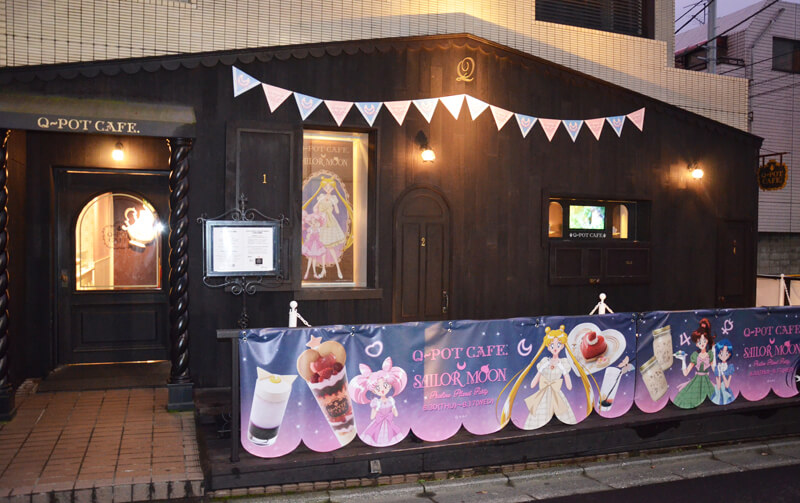 Wattention staff visited the Café on Saturday, July 9th. For now, entering the café requires you to make a reservation online. Be prepared since during this reservation process you already need to decide what you would like to eat, as well as where you would like to sit. The payment needs to be made in advance as well.
We ordered the "Pink Sugar Heart Parfait" together with the "Gift of the Moon Fairies Tea", which comes as a set for 2,500 yen (tax not included).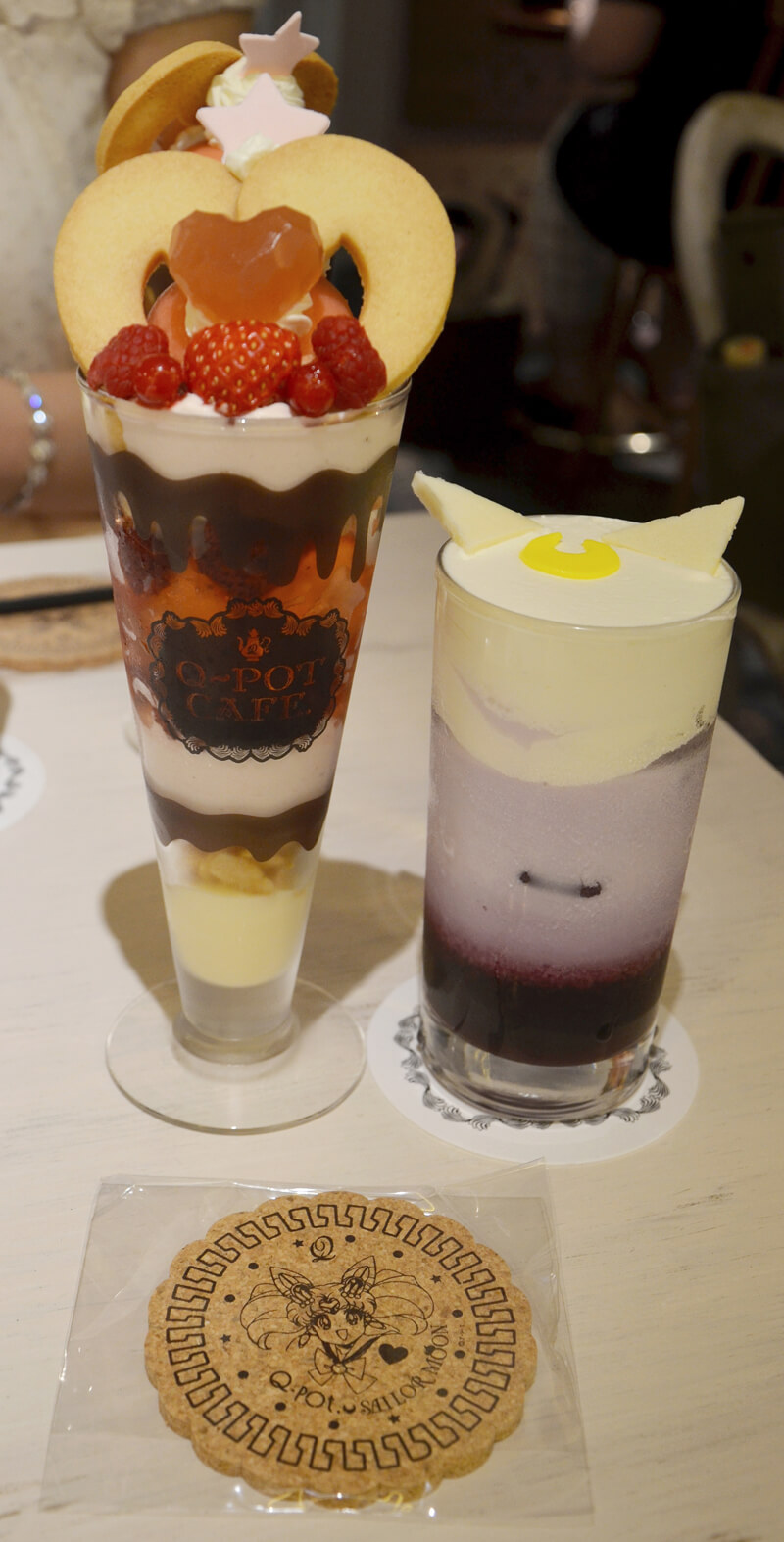 The parfait consists of a star shaped sugar paste on the top, Chibi-Usa´s accessory made of a heart jewelry shaped strawberry jelly, strawberry sorbet, a heart-shaped cookie, fresh fruits, strawberry cream, fresh strawberry purée, peach jelly, cornflakes and custard sauce. You will also receive the special designed Chibi-Moon coaster as a present.
The Tea represents the colors of the three cats, Luna, Artemis and Diana who appear in the anime. The upper part of the drink filled with fresh cream and milk comes in shape of Artemis, the white cat. The ears and the moon sign are made of white chocolate. The blueberry and cassis purée in the lower part of the drink resembles the color of Luna. If you mix the two colored ingredients together, they turn into the same color as Diana, the daughter of Artemis and Luna. Now you can enjoy a delicious blueberry milk drink.
Specially made Sailor Moon merchandise is also available in the store.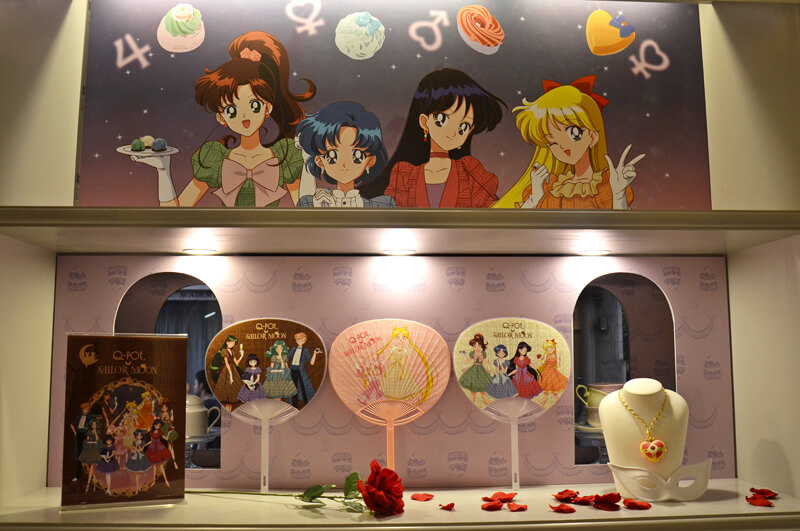 If you make a purchase over 15,000 yen at the Q-Pot store, you will receive one of these limited "Sailor Moon x Q-Pot" fans as a present, perfect for the hot and humid summer in Japan.
You are welcome to take a picture together with Tuxedo Mask´s silhouette.
The special designed mug featuring the lovely cat family can be purchased in the café. The tail of Artemis forms a Q which acts as the handle.
The Café consists of different rooms, each featuring a different theme.
On the picture you can see the Whip Strawberry room and the Religieuse room.
Information
Q-POT Café – Sailor Moon Menu Period
Hours: 11:30am – 7:30pm (Last Order: 7pm), Closed during New Year
Tel: 03-6427-2626
Price: 1,950 yen to 3,900 yen (tax not included)
Access: A 3-min walk from Omotesando Station B2 Exit
Address: Kita Aoyama 3-10-2, Minato-ku, 107-0061 Tokyo
URL: https://www.q-pot.jp/shop/cafe/?eng=1
---
WATTENTION WRITER PROFILE