In addition to the regular tourist must-eat menu of sushi, ramen and tempura, why not go for a unique dining experience that will allow you to get a taste of Japan's traditional martial art, kendo ( the 'way of the sword') or Japanese pro-wrestling? Or get a taste of Japanese "kyushoku" (school meals) and fulfil your dream of eating snacks for your main meal at a restaurant specializing in dagashi, or snacks that all Japanese grew up munching on.
Get into the kendo spirit
This bar transposes the way of the sword, or kendo, into its operations. Its name "Zanshin" refers to an important state of mind in kendo where the practitioner does not lower his guard even after scoring a point in a match.
When the bar is open, the shop hangs a sign saying "keiko (practice) is ongoing". Of course, the players here are swigging beer or alcohol instead of swinging bamboo swords. There's a full set of kendo armour on display and the plasma screen here shows kendo matches. There's even a kendo goods retail corner for players to stock up or for people inspired to start kendo!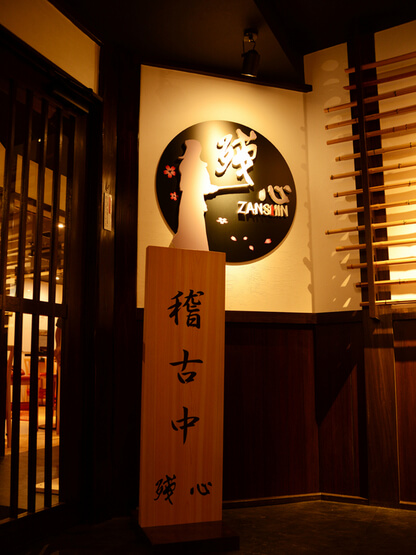 Shop info:
Zanshin Ikebukuro Japanese Sports Bar
Address: 2-26-10 Actiole Minami Ikebukuro 3F, Toshimaku, Tokyo
Tel: 050-5570-4898 (reservations)
03-6907-0310 (enquiries)
Hours: Mon-Sat: 5pm – 12pm; Sun & Public Holidays: 4pm ? 11pm
Mon-Fri: 11:30am – 2pm
Fill up on nostalgia here
Ever wondered what school meals in Japan taste like? Or ever wanted to pig out on snacks instead of a proper meal when you were a kid? Now, you can fulfil both these desires here at the Dagashi Bar. School meal staples such as 'soft noodles' and curry, or fried bread with various fillings and coatings are recreated as in the good ol' days, and over 100 types of both old and new dagashi (Japanese snacks) are available here. The snacks are also incorporated in its main menu, such as in okonomiyaki, pizza, salad or tempura.
Shop info:
Dagashi Bar
Address: 1-13-7 Ebisu, Shibuya-ku, Tokyo
Tel: 03-5458-5150
Hours: Mon-Sat: 6pm – 4:30am
Sun & Public Holidays: 5pm – 12pm
Hearty menu that packs a punch
This is a showa-styled bar that serves up supersized portions of food fit for a pro-wrestler while airing wrestling videos. Apparently TV dinners in the showa era consisted of a staple of pro-wrestling at 8pm on Friday nights. Expect super long sausages, towering stacks of onion rings and a giant rack of ribs (called 'Antonio Ribs'). As the name suggests, this chain is opened by Antonio Inoki, who was a former professional wrestler and politician. Dishes here are named after his signature wrestling moves, you can buy his originally-produced sake and there's even a museum in the restaurant where you can learn about his past glory. You don't have to be a fan to enjoy this place, just a sense of fun!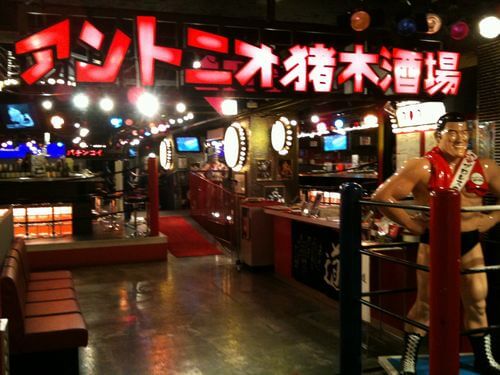 Shop info:
Antonio Inoki Food Business Project
Address: 5-17-13 Shinjuku OW Bldg 7F
Tel: 03-5155-7680
Hours: Mon-Thurs, Sun: 5pm ? 2am; Fri, Sat, eve of Public Holiday: 5pm – 3am