Tucked away in the Fukushima countryside, perhaps it's no surprise that this secret hot spring and traditional Japanese inn is overlooked by many people. But it is a crying shame, as – apart from the stunning natural beauty that is Fukushima – the atmosphere of this place is very peaceful and a long way away from the hot springs in the cities.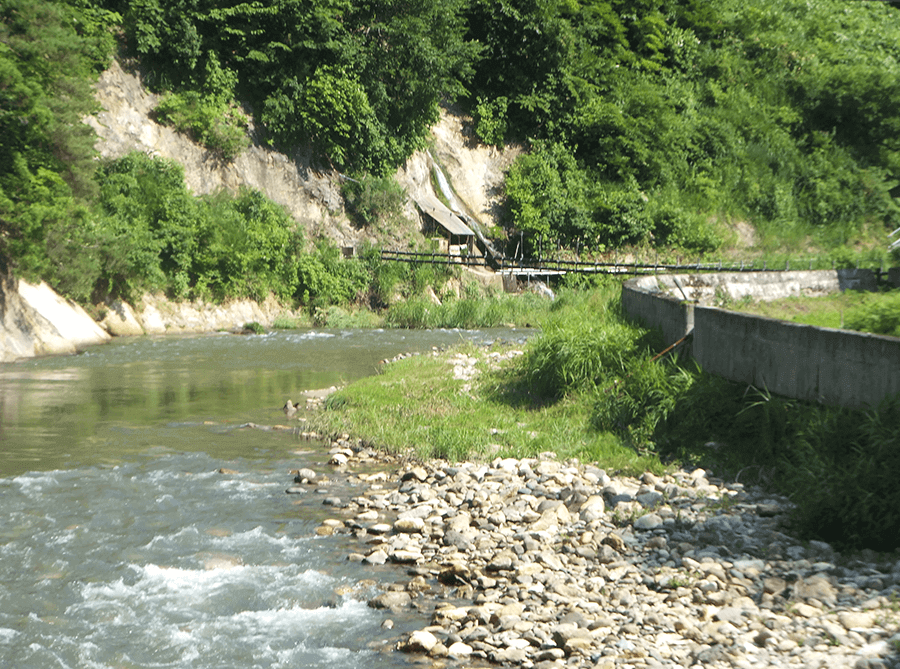 As I sit here writing this article, I can hear nothing but the chirping of birds and rushing water from the river and waterfall outside my room. Voted number five for "Best Spring Quality" by Gunji Isamu, the onsen champion with experience of seven thousand five hundred hot springs to his credit, it's easy to see why this hidden gem of Fukushima should be on the to-go list of anyone looking for a real hot spring experience.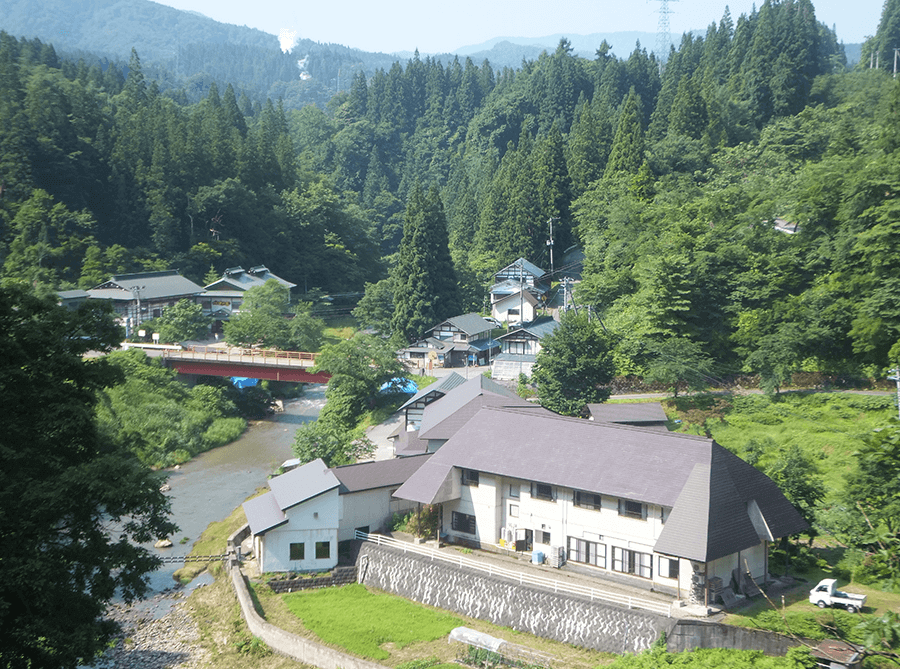 Nishiyama was built in the year 717, shortly after the start of the Nara period (AD 710 to 794) of Japanese history. Bathing in each onsen here will cure the visitor of any disease, according to legends. This is why Nishiyama hot springs received the title kami no onsen, or "the hot springs of the gods". There is some distance between the hot springs. Some are even difficult to find. In fact, despite planning to try three, I could only locate two in the short time I was there! There is supposedly a secret hot spring with a shrine in it, but I never found it. While there are plenty of signs, visitors should be aware that these are all in Japanese.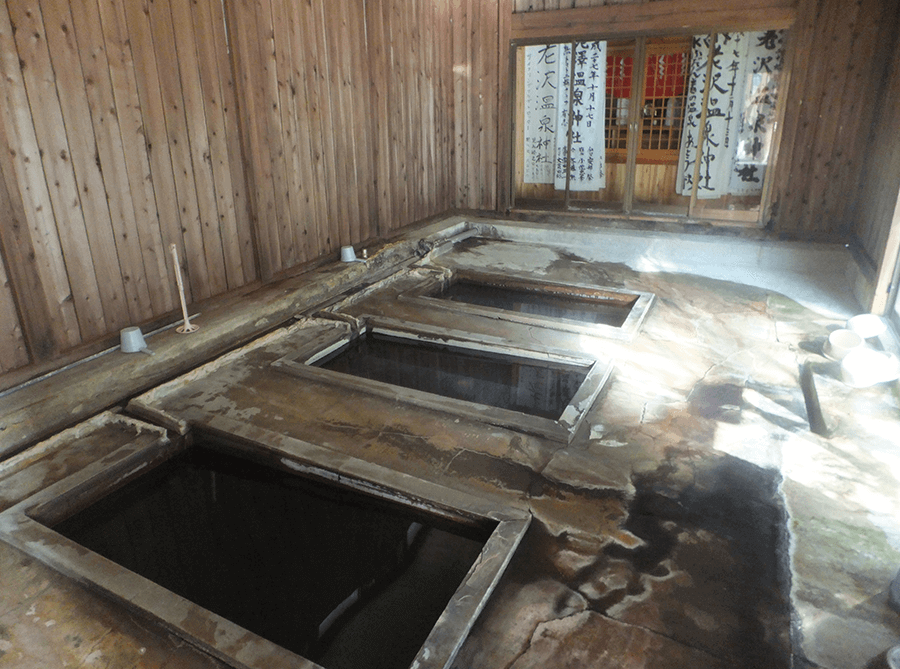 I visited this bath first. Visitors should be aware that the middle one is quite a bit hotter than the other two, although not hot enough to pose a problem. The baths themselves are quite small but large enough to accommodate two or three people comfortably.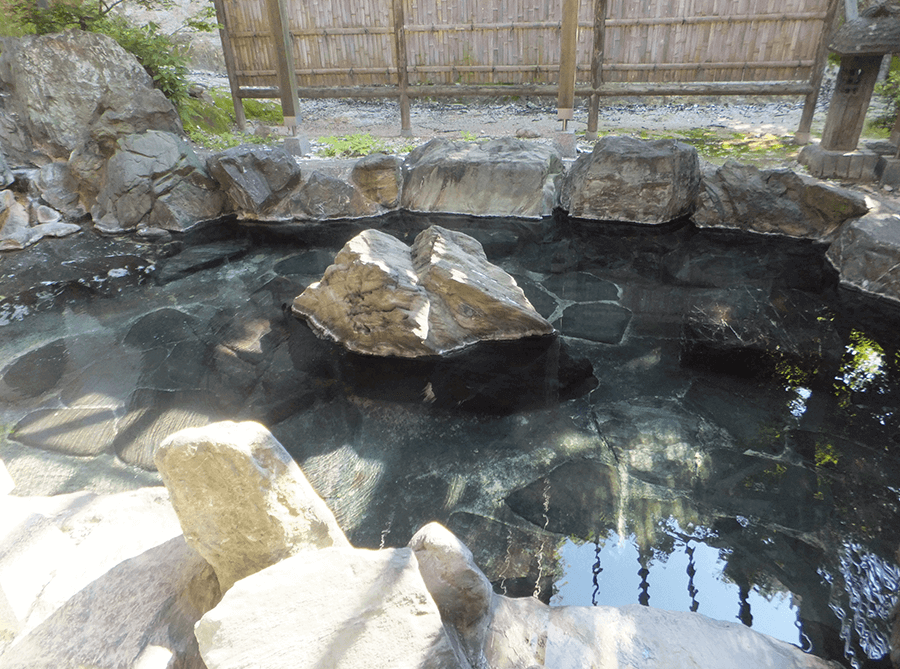 The other hot spring I visited was this one. This has a much larger bath as well as an outdoor one in beautiful scenery. Both are lovely but considerably hotter than the first, and the outdoor one was so hot that I was only able to stay in for a few minutes. It might be best to leave this one for winter! There is another outdoor spring in the ryokan itself with a stunning view of the waterfall. Though it is a mixed bath, only women can enter from 7-9pm.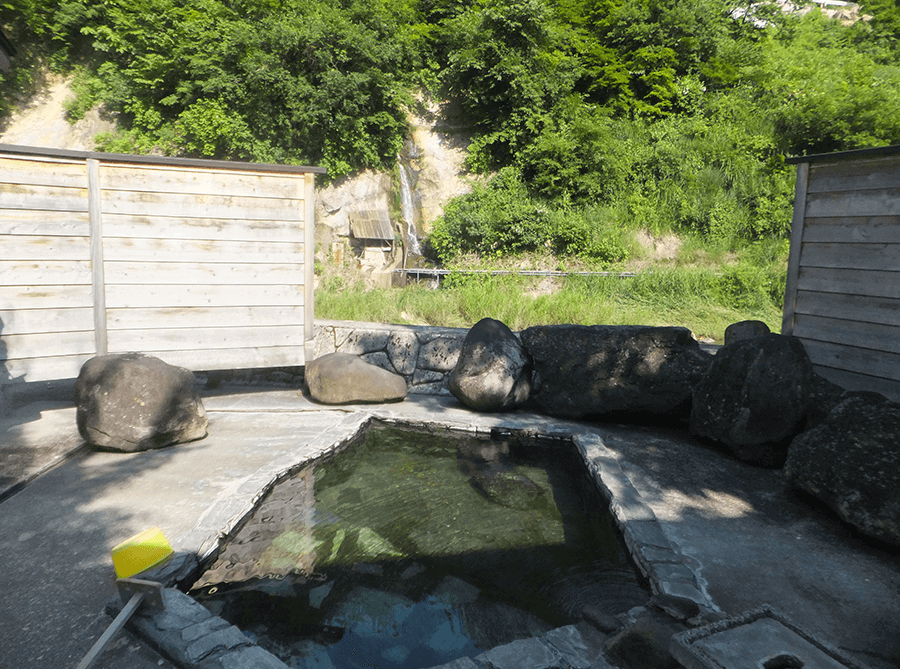 The accommodation is very good, and the landlady Kaneko Sanae is pleasant. As an added bonus, she speaks English reasonably well! The rooms are clean and airy as well as quiet. There is air conditioning, but with both windows open I didn't feel any need to use it. Although it might be a different story in winter.
Complimentary yukata and toothbrushes come with each room and each room. The space sleeps two, with a small alcove containing a refrigerator, coffee table and two chairs by the window. Most of the drinks in the refrigerator are alcoholic, but there is also a bottle of mineral water. For tea, a kettle and traditional Japanese tea set also come provided. For the desperate among you, there is a vending machine in the hallway! On a side note, however, there are no convenience stores nearby so I advise stocking up with anything you feel you might need before arriving unless you plan to rent a car.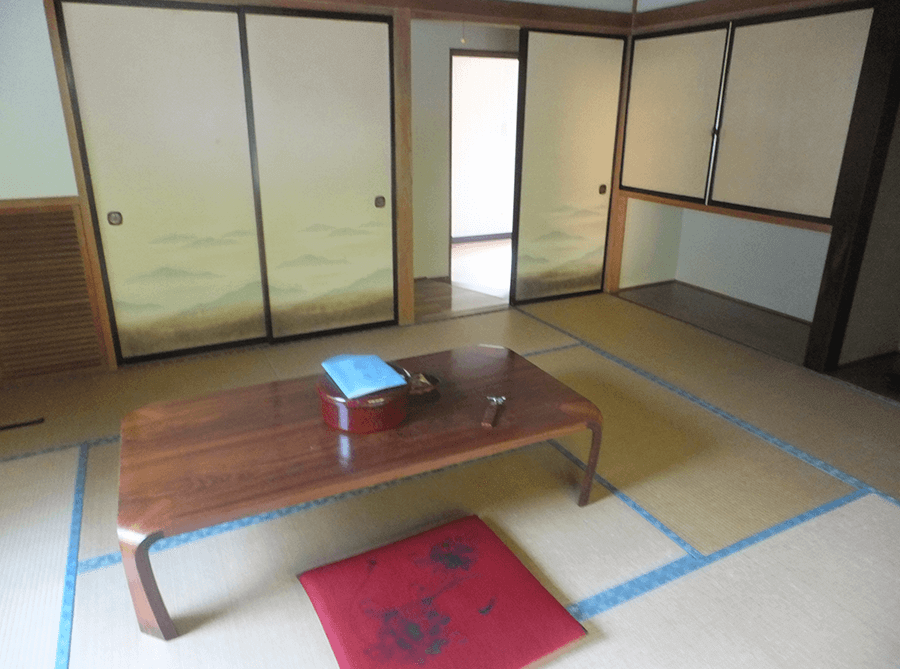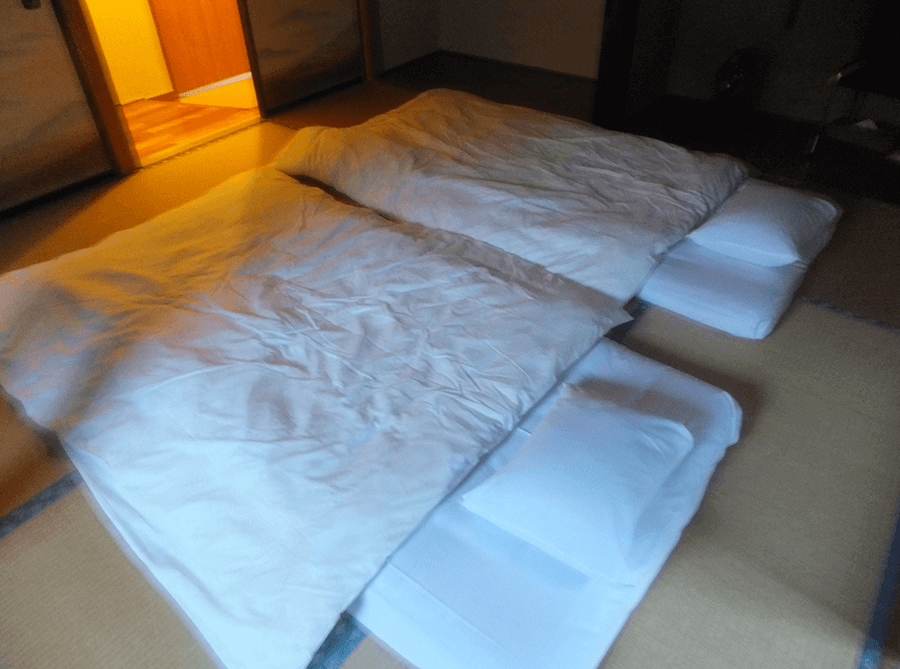 Futons are provided along with pillows, but the pillow is a traditional Japanese one filled with something that feels like gravel. Of course, it's more comfortable than it sounds. However, if you're the kind of person who needs a soft fluffy pillow, you'll either need to bring your own or improvise something with the cushions in the room. Luckily there are plenty of these!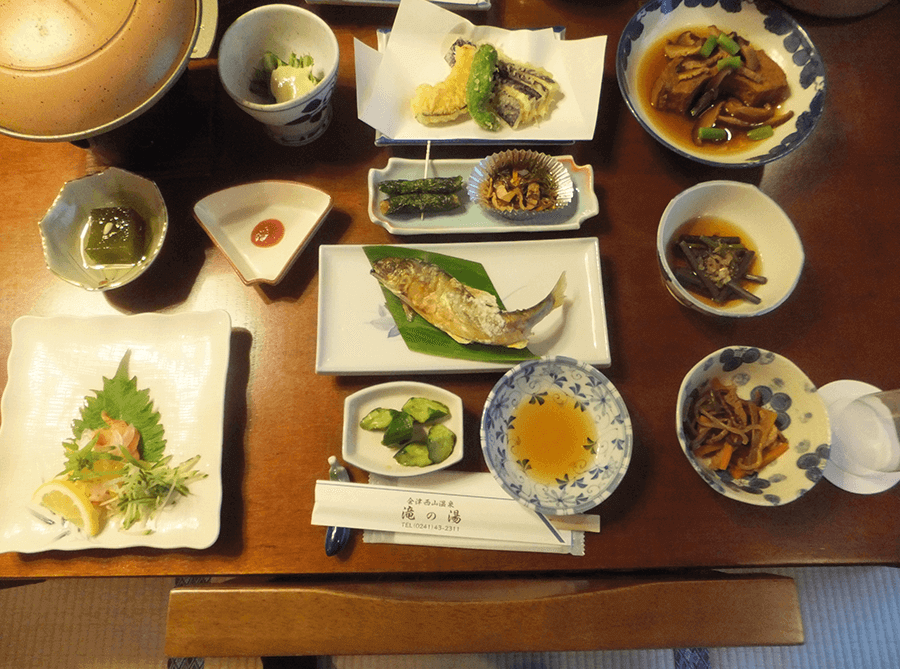 The dinner and breakfast is also very good. In addition, a much of the menu is sourced from Aizu itself. That includes the grilled chicken skewers (yakitori) and horsemeat. If you love Japanese food or are always up for experiencing a new cuisine, then look no further. If you'd prefer toast, however, this isn't the place for you. Complimentary drinks include water or tea. However, alcohol will incur an additional cost. The drinks menu is only in Japanese; however, the landlady is more than happy to translate for you.
If you're looking for souvenirs, you can buy handmade soap and lotions made from some of the hot spring water. Nanokamachi Station (JR Tadami Line) and Mishima Inn sell these items, or you can just order directly from the website.
As a non-drinker, the lack of a non-alcoholic drinks menu was the biggest problem for me. Aside from that, this is a fantastic hot spring and traditional Japanese inn. Certainly, I highly recommend it to anybody looking for a taste of authentic, traditional Japan in a peaceful country setting.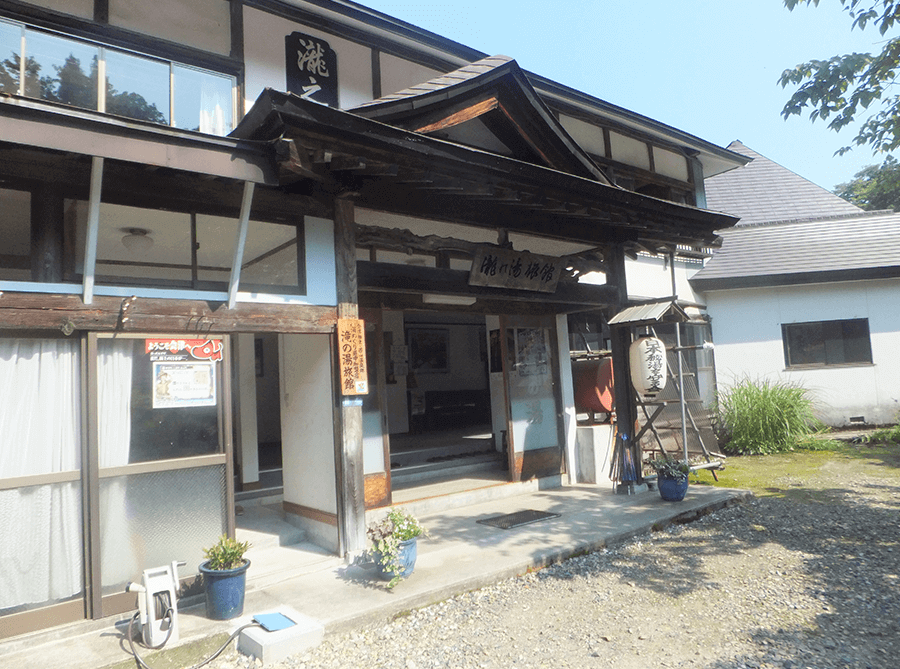 ---
WATTENTION NINJA WRITER PROFILE

Jude Austin
Jude sold her first story to a magazine at the age of twelve and has been writing ever since. In the past, she's dabbled in various jobs from care worker to roulette croupier to language tutor, all the while scribbling down various ideas and frightening random people by asking them equally random questions about astrophysics, medicine, genetic science and whether or not it was really true that people could explode in outer space.She currently lives in Japan, where she divides her time between studying film production at college, watching Japanese TV, working on her next few books (her latest sci-fi thriller Project Tau is currently available on Amazon) and hunting for the perfect takoyaki vendor while trying to have random encounters with members of Arashi. She also writes fanfiction under the penname JudasFm.Please don't ask about the Bright Blue Squid. It only encourages him.