When you walk around Shinjuku – especially Kabukicho – you'll see all the stores, restaurants and bars compete for your attention with music, anime characters and lights. This makes it the perfect location for the Robot Restaurant. Without really knowing what I was about to experience, I plunged into the dazzling extravaganza of the Robot Restaurant and was completely blown away. As a long term resident of Tokyo, I'm used to seeing cosplay, technology, light shows, live music, robots and high energy performances. However, this was my first time seeing it all together in the same place.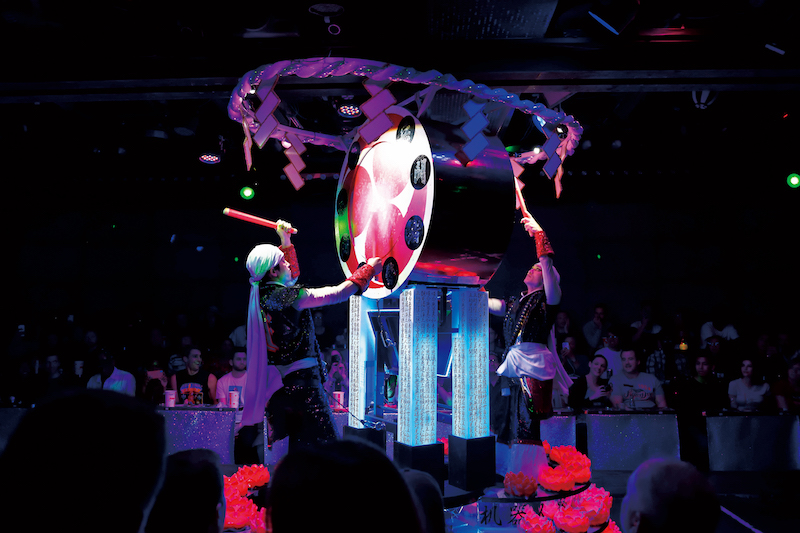 The anticipation starts as soon as you walk through the entrance, where it seems that every space inch of wall, ceiling, floor is covered in manga artwork, flashing neon and glittering mirrors. First, you head down via a fantasy-themed elevator and through a waiting lounge in the same kaleidoscopic décor, but with comfortable chairs. Later on, you go down into the basement show floor. This means that you can arrive up to an hour before showtime and enjoy waiting with a beverage or snack while still immersing yourself in the world of Robots. For anyone who hates waiting in queues, this is brilliant.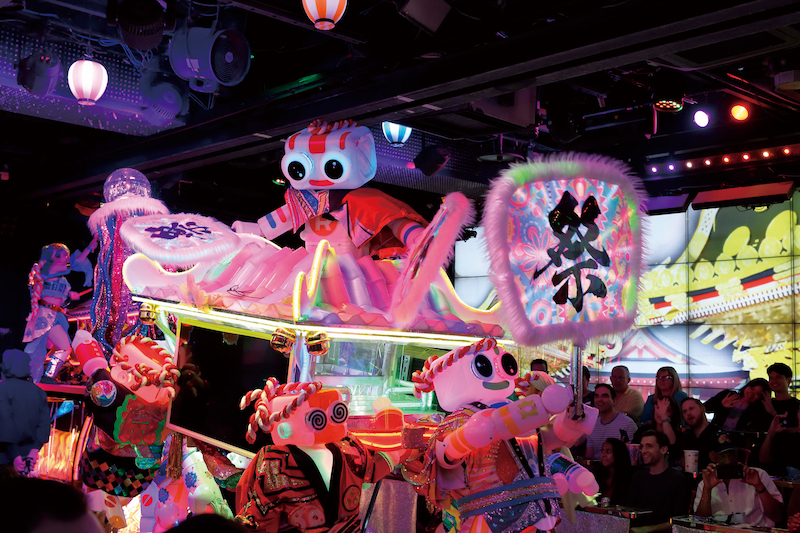 There are many different arcs and story lines, which take you on different journeys, from ancient mythology, to a dystopian future where animals, humans, mutant insects and robots collide, then a fun audience sing-a-long with ABBA and the Jackson-5 tunes followed by a grand parade of robot floats. Modern interpretations of LED and laser dance performances, futuristic mono bikes and oversized robots are cleverly incorporated into a series of high energy live music and dance performances, which use traditional instruments such as the taiko drum juxtaposed with modern rock band instruments on moving Nebuta Festival-like floats with a spectacular light show.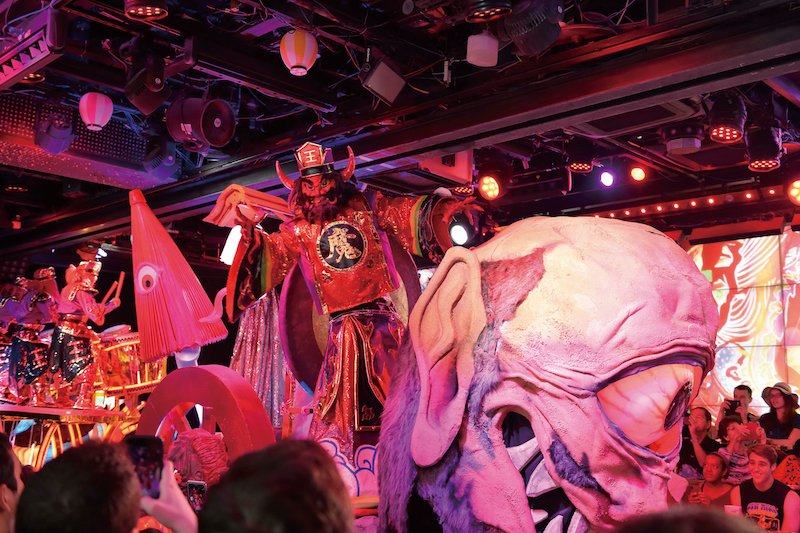 The human performers are in various costumes of some of the most well known characters in Japanese folklore. I was reminded of my favorite TV show as a child: the cult hit "Monkey!" (Saiyūki 西遊記 in Japanese) which also covers similar themes with humor and energy. The robot performers are technical marvels and come in all shapes and sizes; some floats carrying drummers or singers, some modern samurai and some just cute fantasy.
But you don't need to be a history buff, or a cosplay or anime fan to enjoy this sensory extravaganza. It's loud, fun and a well-choreographed performance. Tokyo has lots of sights that are competing for your attention and time, but the Robot Restaurant will transport you with its ultra high energy human performances and technical wizardry of the robot performances, making sure you leave with a smile on your face and a spring in your step.
Robot Restaurant
Address: Kabukicho 1-7-1, Shinjuku
Time: 4pm-11pm (Shows: 4pm, 5:55pm, 7:50pm, 9:45pm), 1 show is approximately 90 minutes.
Admission: 8,000 yen
Access: 5-min walk from JR and Tokyo Metro Shinjuku Station
URL: www.shinjuku-robot.com/pc/?ing=en