An average of 3.47 million people use Shinjuku Station every day, making it the world's busiest station according to the Guinness World Records. Apart from being the place where JR lines, private lines and subway lines converge, Shinjuku is also known as the administrative center of Tokyo due to the presence of the majestic Tokyo Metropolitan Government Building. You will have no trouble finding fancy restaurants and fun entertainment in this town which never sleeps. Visiting Shinjuku will definitely make your trip more enjoyable and memorable.
---
バスタ新宿
Shinjuku Expressway Bus Terminal


Shinjuku Service Center



Although Shinjuku Expressway Bus Terminal is a transportation hub for express buses heading all over Japan, it also has a variety of restaurants offering a satisfying choice of food and clothes shops where youcan kill time before your departure. If you have trouble finding a coin locker, the Shinjuku Service Counter on the third floor is there to help, offering luggage delivery and storage services. After stowing away your luggage, it's time to stroll around and enjoy the last three hours of your trip in Tokyo.
Hours: 6:30-23:00
Access: JR Shinjuku Station South Exit
Address: Located inside the Tourist Information Center Tokyo at the third floor of Shinjuku Expressway Bus Terminal. 5-24-55 Sendagaya, Shibuya.
URL:www.sagawa-exp.co.jp/ttk/english/servicecenter/basta.html


東京都庁展望台
Tokyo Metropolitan Government Building Observatories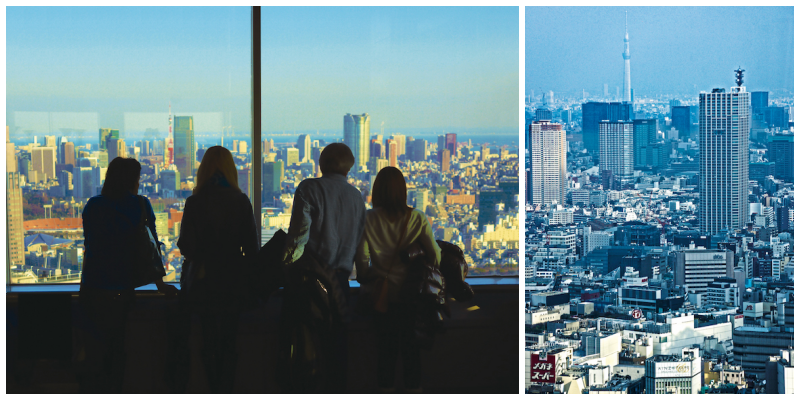 One of the must-dos in Tokyo is to take in the city's awe-inspiring, magnificent skyline. TOKYO SKYTREE®and Tokyo Tower both offer great views but Tokyo Metropolitan Government Building is the place whereyou can enjoy the city's horizon for free. Measuring202 meters in height, the observatory decks offer aglimpse of Mt. Fuji on a clear day between Decemberand February. It might be a good idea to wavegoodbye to the iconic mountain before departure.
Hours: 9:30-23:00 (the South Observation Deck is open until 17:30 and the North Observation Deck is open until 23:00)
Access: 10 minutes' walk from JR Shinjuku Station West Gate Exit. Take the elevator headed for the observatories on the first floor of the first building after arrival.
Address: 2-8-1 Nishi Shinjuku, Shinjuku
URL:www.yokoso.metro.tokyo.jp/index.html (Japanese)
新宿御苑
Shinjuku Gyoen National Garden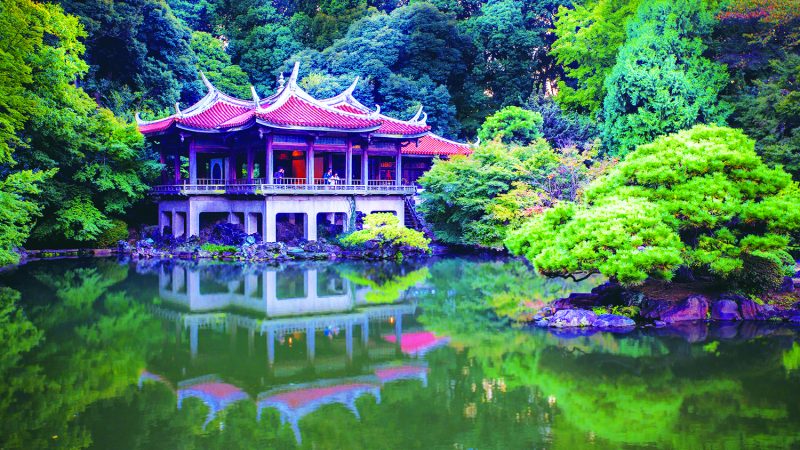 Established over 100 years ago, this park was an Imperial garden before being opened to the public following World War II. Shinjuku Gyoen combines three styles of garden: French Formal, English Landscapeand Japanese Traditional. It is a marvel ofthe perfect blend of Japanese and Westernaesthetics and really worth a visit. Fromcherry blossoms in spring to the soft greens of summer, Shinjuku Gyoen is an ideal place to enjoy the change of seasons.
Hours: 9:00-16:00, Closed on Mondays (If Monday is a holiday, then it is closed on the following day)
Admission: Infants free of charge, elementary and junior high school students 50 Yen, adults 200 Yen
Access:
10 minutes' walk from JR Shinjuku Station South Exit or 5 minutes' walk from Tokyo Subway Marunouchi Line Shinjuku Gyoen Mae Station Exit 1
Address:
11 Naito-machi, Shinjuku
URL:
fng.or.jp/shinjuku/
(Japanese)


伊勢丹新宿店 メンズ館
ISETAN SHINJUKU STORE MEN'S BUILDING
Situated at the heart of Shinjuku, otherwise known as one of Japan's fashion capital, this historic department store is exceptional at keeping up with the times, reflecting its unrivaled amount of experience in cutting- edge fashion and Japanese hospitality. After leading men's fashion in Japan, it celebrated its grand reopening in March 2019, following a huge revamp, promising to deliver a more personalized shopping experience through products and service. From Basement 1 to the eighth floor, one can find from formal to casual wear, shoes, bags, men's cosmetics and lifestyle items from international brands and selected popular Japanese brands. You'll have no problem finding something to fit your needs. To add to the fun, men's beauty concierge and floor attendants with extensive knowledge of all brands are here to answer your questions, assuring an enjoyable and relaxed shopping environment for both first-time customers and connoisseurs alike.
Hours:10am-8pm
Address:3-14-1 Shinjuku, Shinjuku-ku, Tokyo
URL : isetan.co.jp/int (Japanese)


花園神社
Hanazono-jinja Shrine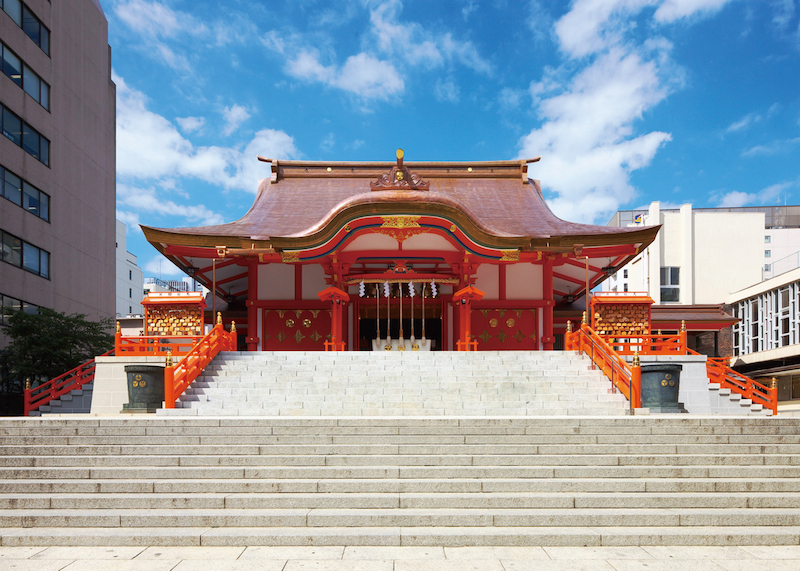 the protector of the district long before Ieyasu Tokugawa 's Edo period. Before its relocation, the historic shrine was housed at the site of today's Isetan Shinjuku Department Store. Due to a stage being built inside during reconstruction after a fire, entertainment shows and traditional dances began to take place here in the Edo period. The shrine is a popular place to pray for good business and prosperity. Why not try your luck here?
Access: 7 minutes' walk from JR Shinjuku Station East Exit
Address: 5-17-3 Shinjuku, Shinjuku
URL: www.hanazono-jinja.or.jp/mt/top/ (Japanese)


天然温泉テルマー湯
Natural Hot Spring Thermae-yu
Enjoy Izu's Jindai-no-yu natural hot spring right in the bustling heart of Shinjuku. This is a great place to relax the mind and body for travelers. Known as the beautification spring, the mild water is high in quality and can soften the skin. There are six other relaxing facilities including carbonic acid bath and sauna to choose from. Not a bad idea to soak in before flying off.
Hours: 11:00-9:00
Access: 9 minutes' walk from JR Shinjuku Station East Exit



サムライミュージアム
SAMURAI MUSEUM

What is the first thing that comes to mind when you think of Japan? Many people associate Japan with samurai, a culture that is not only confined to history books but still alive in modern Japan. The Samurai Museum introduces the authentic samurai spirit through a display of relics, armors and all sorts of items. A free 60 to 90 minute guided tour is recommended for those with more time. Put on a samurai helmet and costume for a photo shoot and get blown away by a reenactment of a sword fight.
Hours: 10:30-21:00
Admission: Free for children under 3, 800 Yen for 12 and under, 1,800 Yen for adults
Access: 8 minutes' walk from JR Shinjuku Station East Exit
URL: www.samuraimuseum.jp/en/index.html


新宿西口思い出横丁
Shinjuku Omoide Yokocho
Shinjuku Omoide Yokocho, a bunch of old, low story buildings occupying the prime location of Shinjuku, is the best place to observe the life of office workers in Japan as they come here after work for a drink to unwind. It is
a trip down memory lane for many because of the well- preserved atmosphere of the Showa period (1926-1989). The eateries and bars here provide mouthwatering cuisine and a place of communication between travelers and locals.
Address: 2-25-6 Kabukicho, Shinjuku
URL: www.shinjuku-omoide.com/english/
---