Get to know Japanese tradition and culture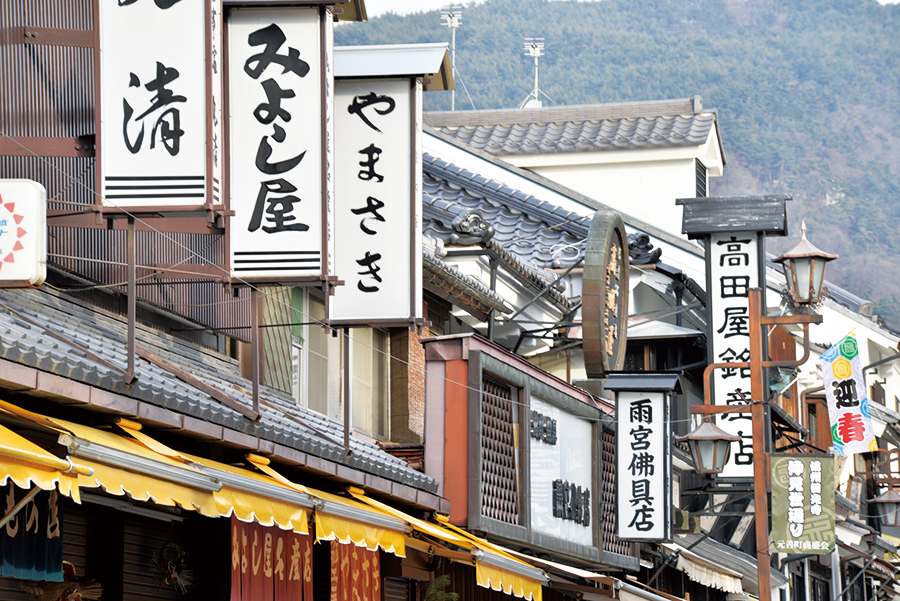 Experience Japanese culture in one of the many unique shops around Zenkoji Temple. After praying at the temple, there are several activities that can only be enjoyed here.
★Culture Experience  Kotaki
This shop sells sachets nioibukuro in Japanese, and decorative twisted paper cords using scents gained from natural materials. These products are a typical Japanese tradition, but you can feel the modern touch. When making your own sachets during the provided workshop. By combining different materials, you can sense a wide range of different fragrances. The sachet is a bag made of Kimono fabric which attributes to the Japanese style. Even when you are short on time, you can enjoy and finish this workshop within 10 minutes. One sachet costs 600 yen.
Hours: 10am – 6pm Closed: Wed
Access: 3-min walk from Zenkoji Daimon Bus Stop
Address: 90 Yoko-machi, Nagano-shi
★Culture Experience  Galerie Ren
Create your own kaleidoscope at this stylish handicraft workshop affiliated to Byakurenbou Temple. Steps are as easy as 1-2-3. Just choose from a variety of colorful objects, put them into a clear tube, and then peer through the eyepiece to see ever-changing patterns of beautiful colors and shifting images.
Hours: 10am – 5pm Closed: Tue
Admission: Kaleidoscope-making experience 2,160 yen, 3,000 yen (including materials)
Access: 15 min by bus from JR Nagano Station, get off at Zenkoji Daimon bus stop and walk another 4 min
Address: 465 Motoyoshi-cho, Nagano-shi
★Culture Experience Patio Daimon
Renovated from old warehouses, Patio Daimon houses a variety of handicraft shops and restaurants serving quintessential Nagano food. To start with, try making oyaki ― a flour bun typically filled with pickled vegetables or red bean paste ― at Ogawa-no-Sho "Oyaki-Mura". The chef will take you through it step by step and afterwards you can have your hand-made oyaki grilled over coals and served hot and fresh.
Oyaki-mura Bunson Daimonten (inside of Patio Daimon Kuraniwa)
Hours: 10am – 5pm (Irori 10am – 4pm) Closed: Wed
Access: 15 min by bus from JR Nagano Station
Address: 54 Daimon-cho, Nagano, Nagano-shi
Ninja Daimon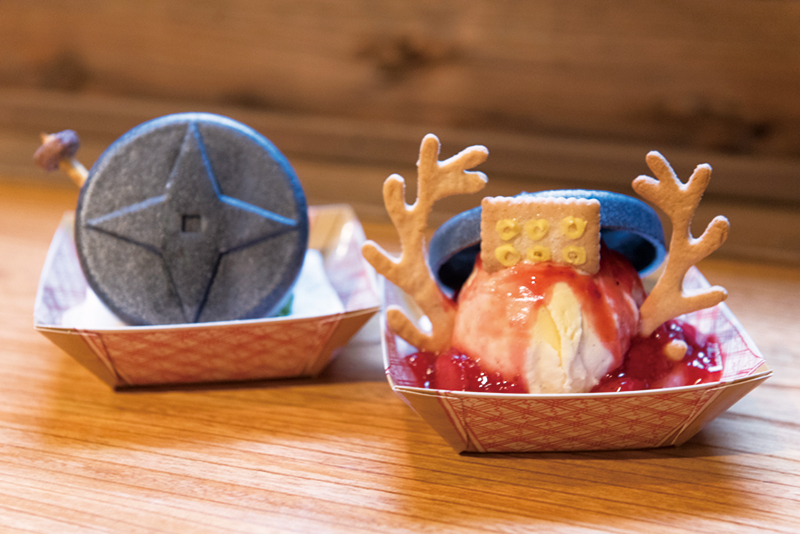 Opened in 2015 near Zenkoji Temple, this ninja amusement park is like a mini version of the Chibikko Ninja Village in Togakushi. The entrance may look small, but inside it has a bouldering wall, a ninja trick mansion and a shuriken throwing area that ensure a fulfilling ninja experience. Its shuriken monaka ice cream and ninja sweets are also recommended.
Hours: 9:30am – 6pm Closed: Wed
Access: 15-min walk from JR Nagano Station or 5-min walk from Zenkoji Temple
Address: 530 Daimon-cho, Nagano-shi
---
Enjoy a large variety of Nagano's local food.
There are many high quality crops cultivated with a combination of clean air and fresh water, and the cool weather. The food is created with the wisdom and ingenuity passed down over the generations, so you should definitely take the time to enjoy a large variety of Nagano's local gourmet food.
Miso shop Suyakame: the flavor of Nagano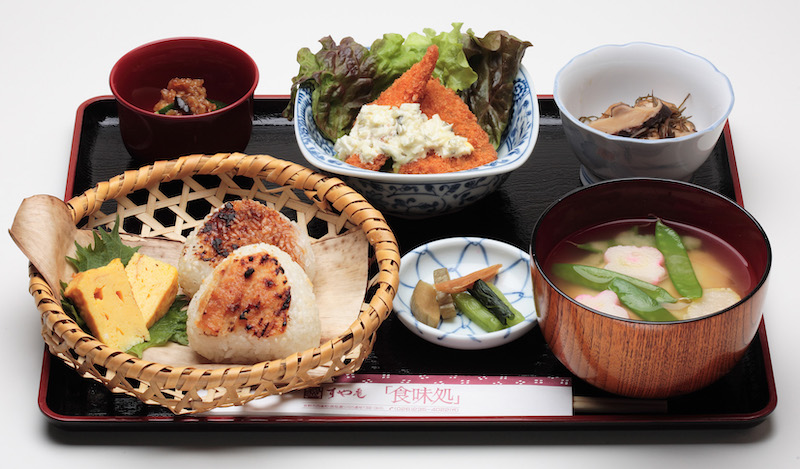 Met up just outside of Nagano's legendary Zenkoji Temple is a classic shop specializing in miso goods. The traditional flare is fitting for is location, and the taste of miso that has rippled through generations is just as delicious as ever. One of the most popular choices at the restaurant is the "Grilled Rice Ball Basket" which has a homemade feel, just like a Japanese grandma would make. Try the many flavors of Nagano's miso soup.
Hours: 9am-6pm, 10am-5:30pm (Sun & Holiday) *Lunch 11:30am-2:30pm, Close Sun & Holiday
Access: 15-min walk from Zenkoji Temple
Address: 625 Nishigo-cho, Nagano-shi
Azumaya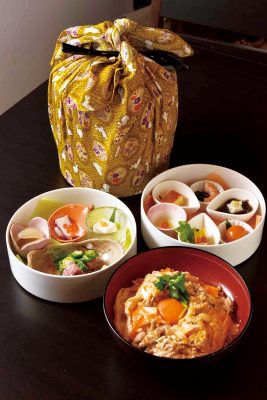 Hidden away in an unassuming alley near Zenkoji Temple, Azumaya is a fine dining Japanese restaurant that used to be traditional Japanese warehouses, and whose building boasts almost 200 years of history. This classy restaurant offers impressive three-tier lunch boxes featuring local chicken and egg, or steak, which is also value for money.
Hours: Lunch 11am – 2pm, Dinner 5pm – 10pm Closed: Sun
Access: 5-min walk from Zenkoji Temple
Address: 104 Higashi-machi, Nagano-shi
Monzensaryo Yayoiza
Situated in a renovated old town house near the Zenkoji Temple entrance, Monzensaryo Yayoiza serves local cuisine made with seasonal ingredients of Nagano. Its signature dish is Seiro Mushi, or dishes steamed in a wooden container. Local beef and fresh vegetables are steam cooked to ensure both maximum goodness and a tender texture.
Hours: 11:30am – 8:30pm Closed: Tue, every 2nd Wed and 3rd Mon of the month
Access: 25-min walk from JR Nagano Station
Address: 503 Daimon-cho, Nagano-shi
Shojin Ryori
Shojin Ryori has its origin in the Buddhist priests' practice of asceticism. Naturally the cuisine doesn't include any fish or mammal meat as ingredients but uses vegetables, seaweeds, tofu as a soybean production and yuba, or dried bean curd,as the main foodstuff. Each cuisine is cooked in an elaborated manner and the colors in the dish are so vivid as to catch the eye. You can try the Shojin dish at Syukubo, or guesthouses kept by a temple, or Japanese dish restaurants in the city.
RINGO no Ki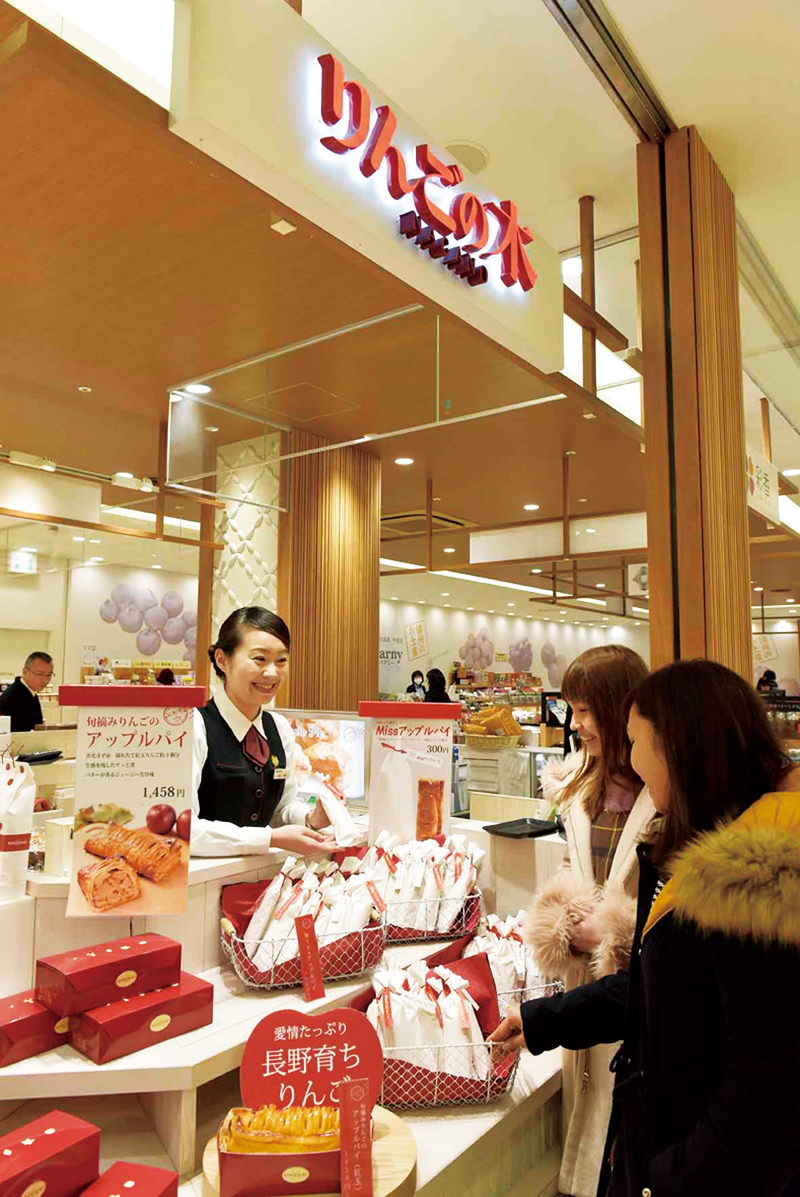 The Japanese for apple tree, or "Ringo-no-ki," has become both the name of the sweet shop and the name of the sweet. Here, as you may guessed, various kinds of sweets made using apples are available.
Patisserie RINGO no Ki (MIDORI NAGANO branch)
Hours: 9am – 8pm
Address: MIDORI Nagano 2F, 1-22-6 Minamichitose, Nagano-shi
Nagano Eki Maeten
Hours: 9am – 8pm
Address: Kanichi Bldg 1F, 1-22-14 Minamichitose, Nagano-shi

Freshly picked apples and sweets
Nagano Prefecture is famous for its apples, and you can enjoy apple picking in many spots in the town. For example, the slope area that widely spreads behind Zenkoji Temple, also known as "Ojoji", is the best place to grow apple trees, which is evident by the high quality of apples. If you are looking for fresh juicy apples to eat, why not head down to the fruit plantation within the city where one can enjoy apple picking.
Made from apples in Nagano
With such an abundance of delicious apples, there are naturally a lot of specialty products which make wonderful souvenirs, such as apple jam or juice, or maybe even an apple pie.
Yawataya Isogoro Main Shop
Literally meaning "seven flavors", shichimi is a mixed pepper seasoning that makes perfect complement to soba noodles. Now the traditional Japanese spices are put to new use at Yawataya Isogoro to become ingredients of sweets and cosmetics. Try the seven variations of Shichimi Macaroon that each has a seasoning added to produce a unique flavor.
Hours: 9am – 6:30pm
Access: 20-min walk from JR Nagano Station
Address: 83 Daimon-cho, Nagano-shi