Where to Mizu-shingen Mochi Japanese Dessert
It was on a rainy Saturday morning that we arrived in Hakushu, Yamanashi Prefecture, but a long queue was already snaking its way to the entrance of Kinseiken, a Hakushu based long-established confectionery manufacturer with the facade of a traditional Japanese residence. And were these folks queuing for in the rain? Nothing less than what looks like a big drop of water–the Mizu-shingen Mochi.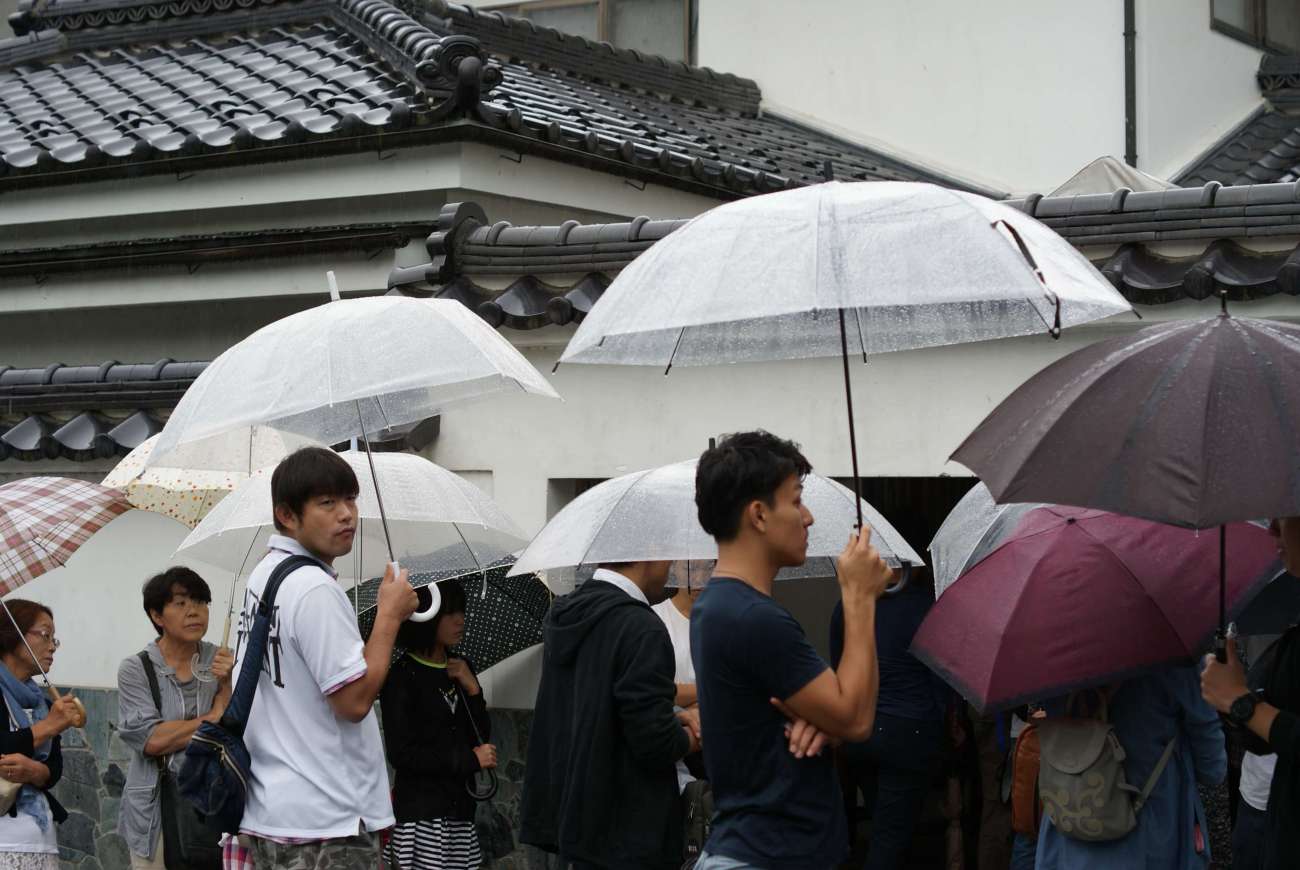 A Japanese Dessert Gifted from Nature
The Ojira river that courses through Hakushu is widely known for its clear and pure water and has been selected as one of the best 100 water sources of Japan, which is why many breweries and mineral water producers are based or have a factory in the area, including Suntory and long-established sake brewery Shichiken.
What is Mizu-Shingen Mochi?
So what's the fuss with the "Mizu-shingenmochi"? Shingenmochi is a beloved sweet rice-cake that has been a staple product of Japanese confectionery manufacturer Kinseiken for over a hundred years. However, it was not until 2013 that the people at Kinseiken had a once-in-a-lifetime stroke of genius and developed "Mizu-shingenmochi", which would become a revolutionary dessert in the following year.
Looking almost identical to a waterdrop, it is no wonder that Mizu-shingenmochi was produced under the concept of creating "edible water".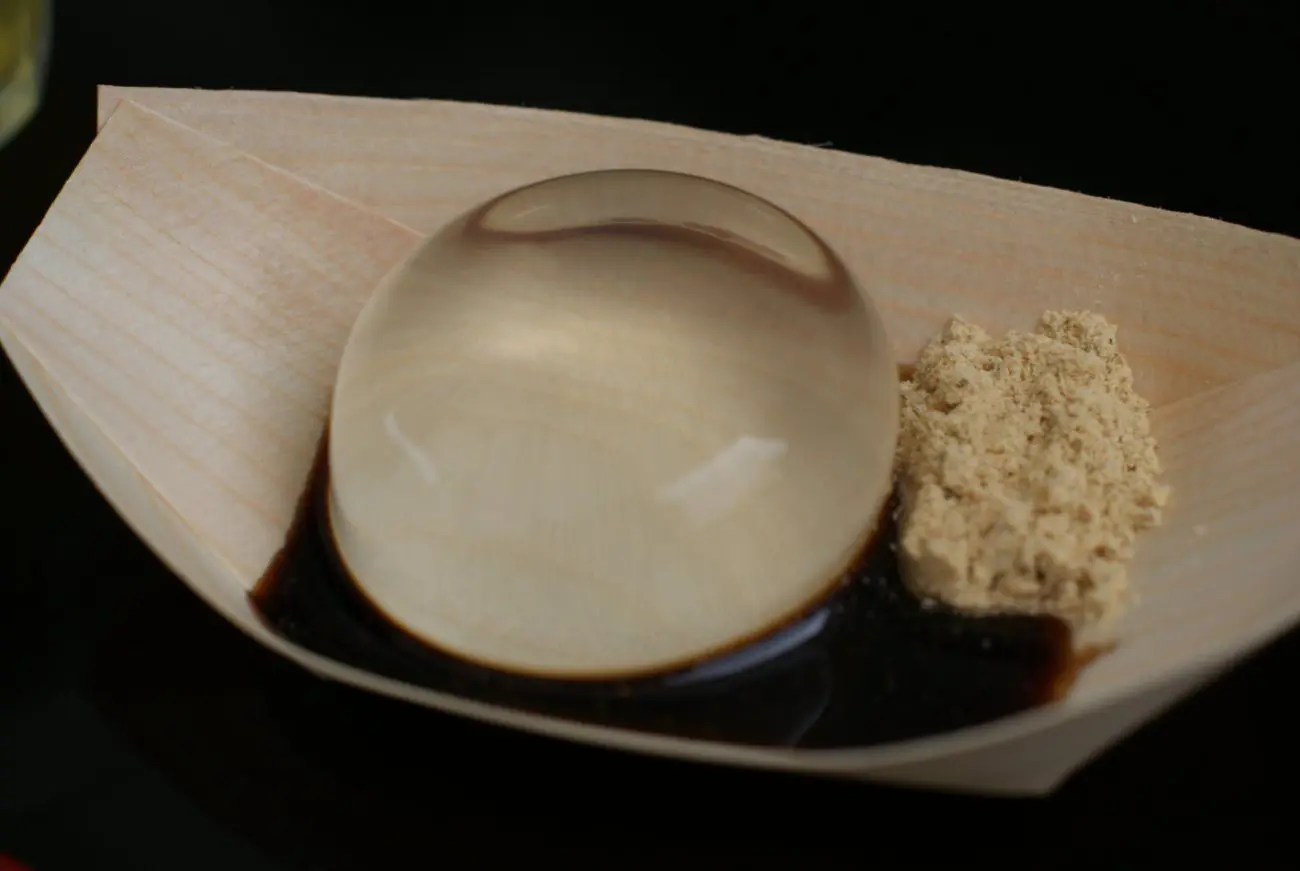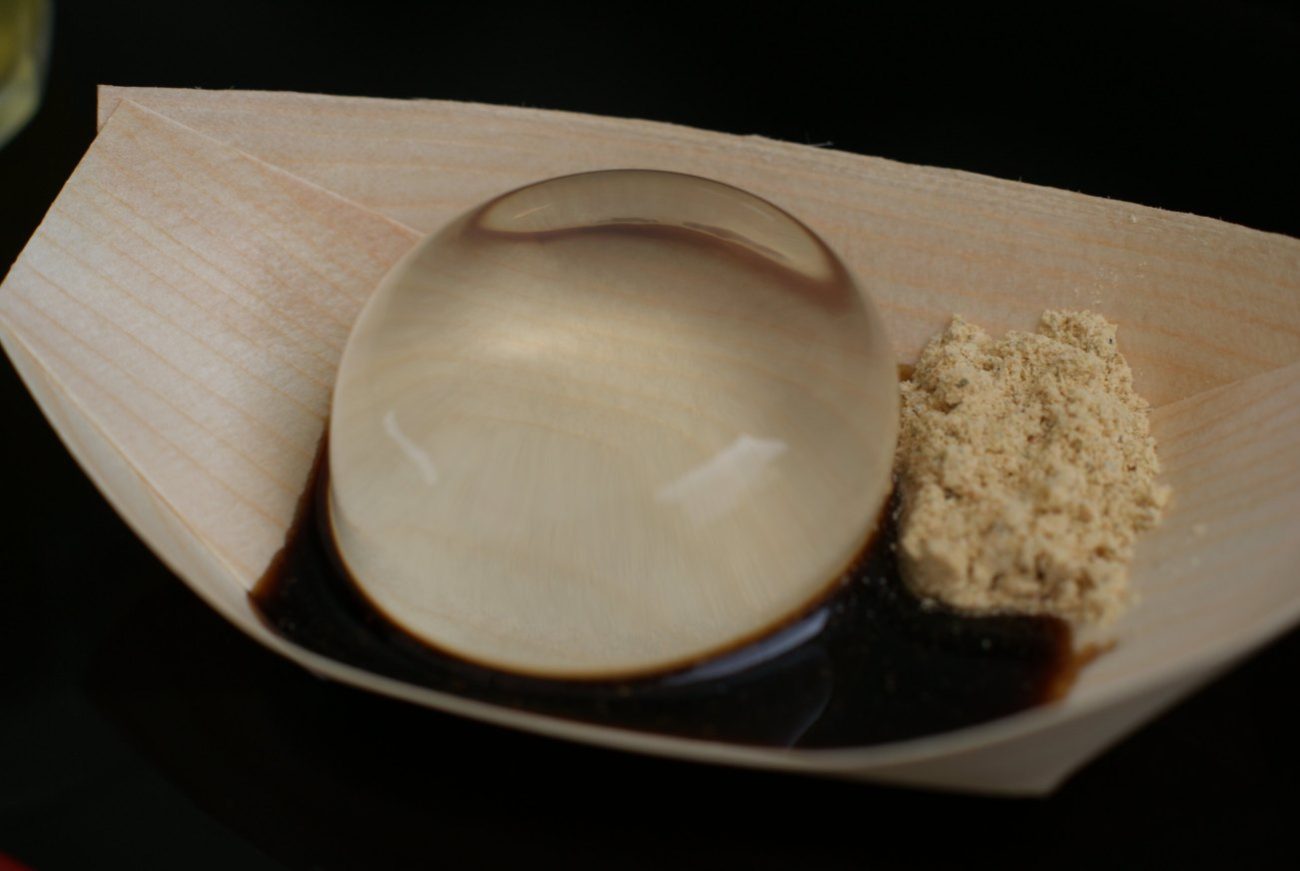 Mizu-Shingen Mochi: A Unique Japanese Dessert
Before actually trying it out, I imagined the texture of western jelly and the sweetness of Mizu-yokan (a Japanese confectionery that consists of red-bean paste, sugar and agar), but I couldn't have been more wrong. While biting into my waterdrop dessert, I immediately realized that Kinseiken's statement of having created "edible water" was not an exaggeration nor a marketing trick; it really tastes and feels like it, with a slight amount of sugar added to remind you that it is a dessert. The kinako powder (roasted soybean flour) and brown sugar syrup also used for original Shingenmochi is there to add some extra sweetness if you want, but eating it without sweetening allows you to savor and appreciate the water's pureness to the max.
Despite that fact that there are no train stations located hear Hakushu and that it takes roughly 3 hours to reach by car from Tokyo, people were already queuing at 8 am, which is one hour before Kinseiken opens.
When Can I get Mizu-Shingen Mochi?
850 portions of Mizu-shingenmochi are served on a weekend day, but they usually sell out between 11 and 12. That means that visitors from Tokyo are advised to depart as early as 7 am if they want to make sure they can get their 300 yen portion of edible water. This is literally water selling like hot cakes!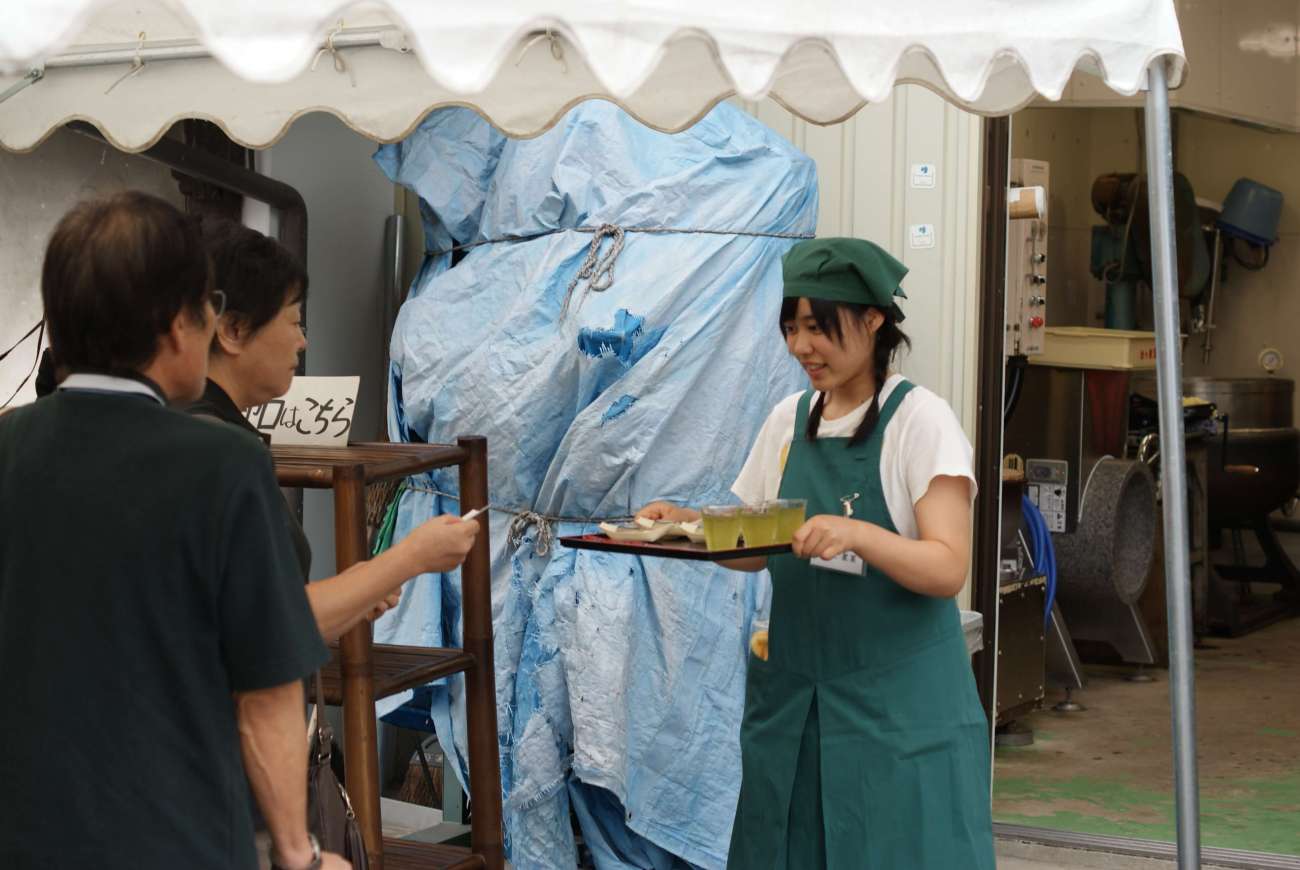 Although the recipe of this watery dessert was leaked, none have succeeded in matching Kinseiken's quality. This is because Hakushu's pure water is what makes Mizu-shingenmochi such a refined dessert in the first place.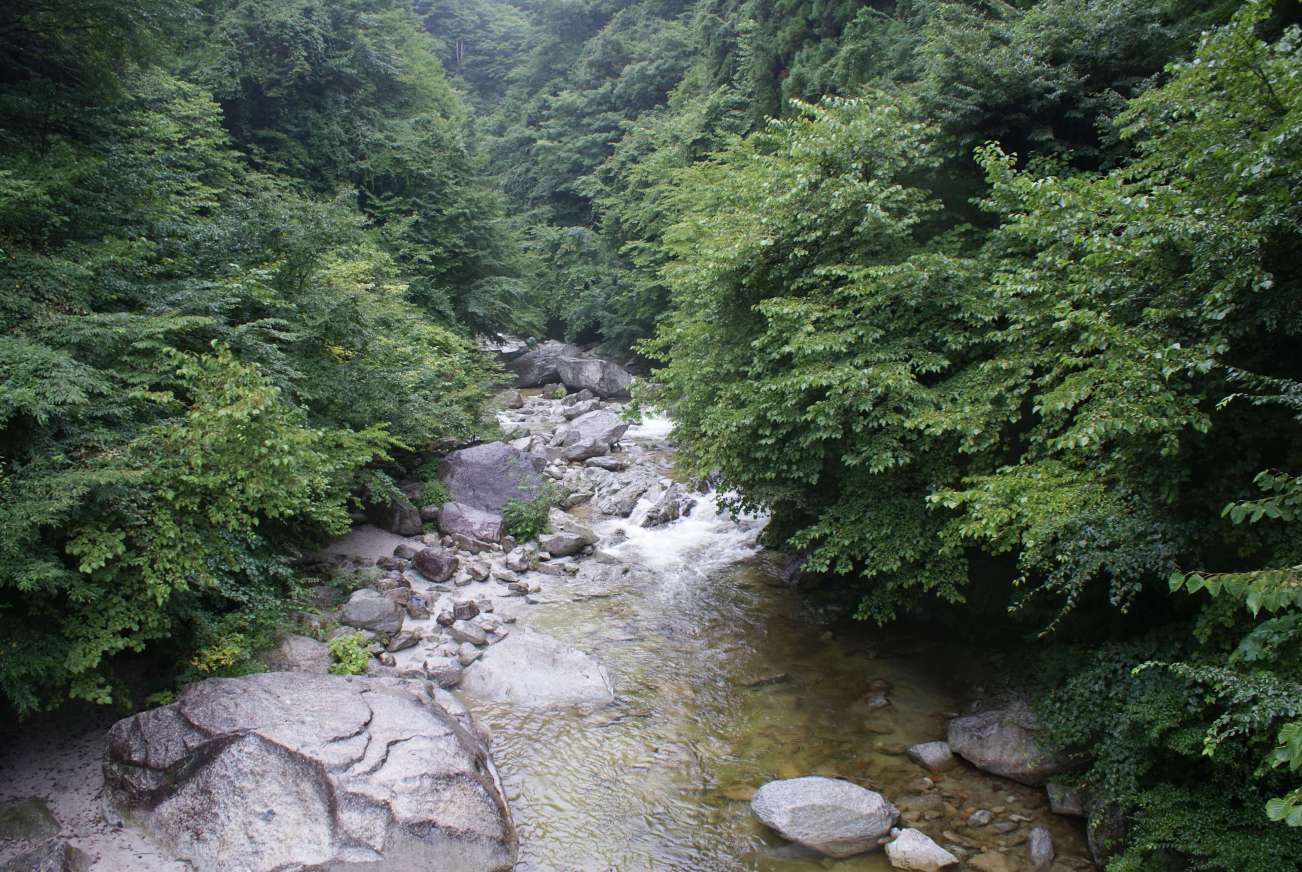 Mizu-shingenmochi cannot be taken back home as it shrivels and dissolves within 30 minutes.
Taste Delicious Japanese Desserts in Hakushu
To try out Mizu-shingenmochi yourself, your only option is to directly pay a visit to Kinseiken in Hakushu. To make things even more difficult, Mizu-shingenmochi is only sold during the weekends from June to September.
This may all sound like a lot of trouble for a drop of water, but trust me, it's worth the effort.
Kinseiken
Hours: 9am – 6pm (Closed on Thursdays)
*Mizu-shingenmochi are only available during weekends and hoildays from June to September in 2022.
Location: Hakushu-machi Daigahara 2211, Hokuto, Yamanashi
Access: Approx. 2 hours by car from Tokyo. 15-min by taxi from Nagasaka Station (Chuo Main Line) or Hinoharu Station (Chuo Main Line).