So you've seen the golden splendour of to Kinkaku-ji, and walked the famed paths of Fushimi-inari taisha and Arashiyama. Perhaps you've even wondered the back alleys of Nishiki market and peered around town from Kyoto tower. This city has much to offer to be sure. But did you stand at the top of Kyoto tower and look beyond the city's brim? Did you too wonder what might be hidden out there off the beaten track? The answer is Kyoto by the Sea and it is a treasure trove of vistas, culture and fascinating encounters.
Kyoto prefecture is so much more that just the old capital. Travel north approximately 100 km to the sea of Japan and you'll discover the area known as Kyoto by the Sea. Extraordinary views, historic crafts and traditions unchanged in preserved fishing villages await you. And if you really want to get a feel for the roots of the area, you can't do any better than hearing it from the locals themselves.
Maizuru Brick park is at first glance not where you'd expect to be able to connect to any local or marine theme.  But don't let these European style red brick facades fool you. There is history here. Japanese history. The park is situated on the coast in Maizuru city strategically placed next to the port which was developed during the Russo-Japanese war of 1901. These large brick buildings served as storehouses for munitions and equipment during both world wars and were once painted black to hide them from American bombers. They escaped bombings, but not the ravishes of wind and rain as over time the paint washed away, revealing the much more stately charm of the red brick beneath. Today a visit to the park reminds one of scenes from wartime spy novels and a tour of the museum tells the true stories Maizuru city's important role in Japan's Naval exploits. Today, the city is still home to the Maritime defence force.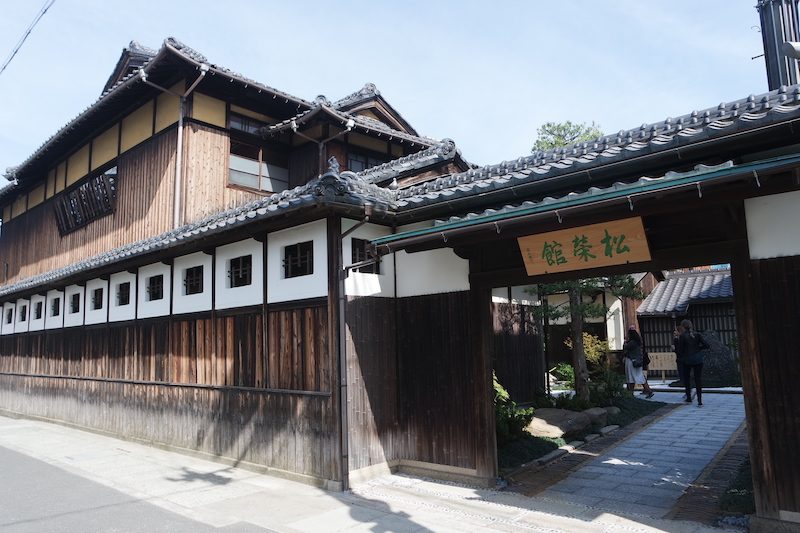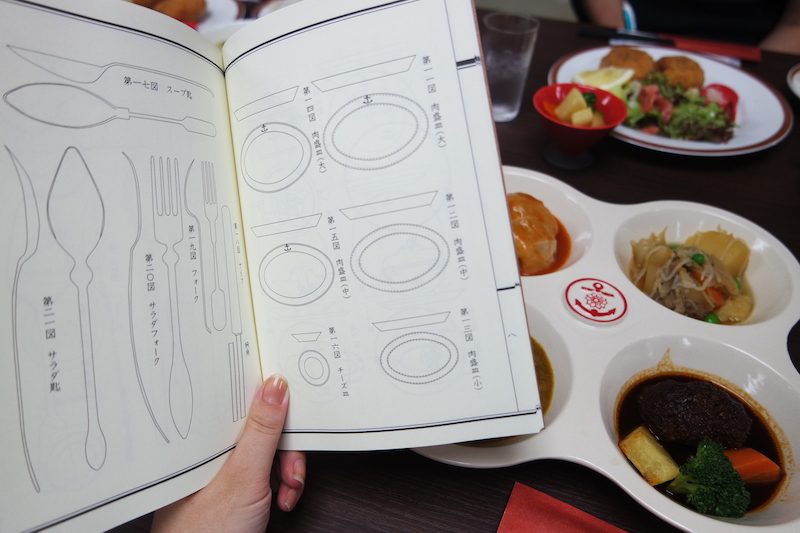 Nearby you will find yourself welcomed on a red carpet to a Naval themed lunch at the Shoeikan restaurant. A luxurious Meiji era house, it is well worth a walk about. The upper floor exhibits the meeting of east and west of a bygone era where styles were mixed tastefully by placing 18th and early 19th century european wood furniture and persian carpets next to wall hangings of Japanese calligraphy and washi paper screen doors finely speckled in gold. In the the dining hall guests can enjoy a meal served straight from the pages of the official Imperial Navy's recipe book from the Meiji era, still bound in it's Watogi string style. Dishes from the time included many western influences like meat and potatoes. In fact this homely Japanese dish of Nikujaga finds its roots firmly planted in this region's Naval history.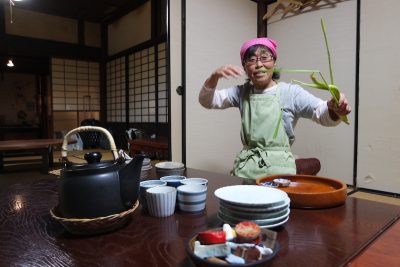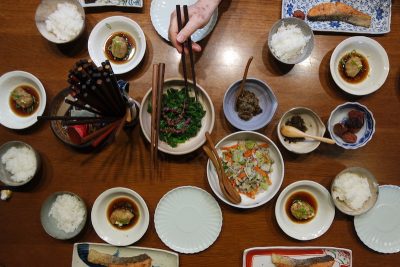 Outside of the city you might land on a welcoming doorstep of a different kind. Local farmers' families have taken to opening their homes to travellers who wish to experience the feel of rural Japan. Iwan no Sato is one such home run guesthouse were tatami rooms, a wood stove, futon beds and feast of an entirely locally sourced, home cooked farmer's meal awaits. Husband and wife team Hideo and Hiroko Akimoto pull out all the stops to make visitors feel welcome. Hideo is an exceptional cook and they go to some trouble to accommodate special dietary requests. Pouring sake for her guests Hiroko explained their ethos: "I used to teach at a primary school. So many kids had allergies and restrictions. So we understand the many challenges that people can face in their diet. We wanted to create a place that would be welcoming to all here".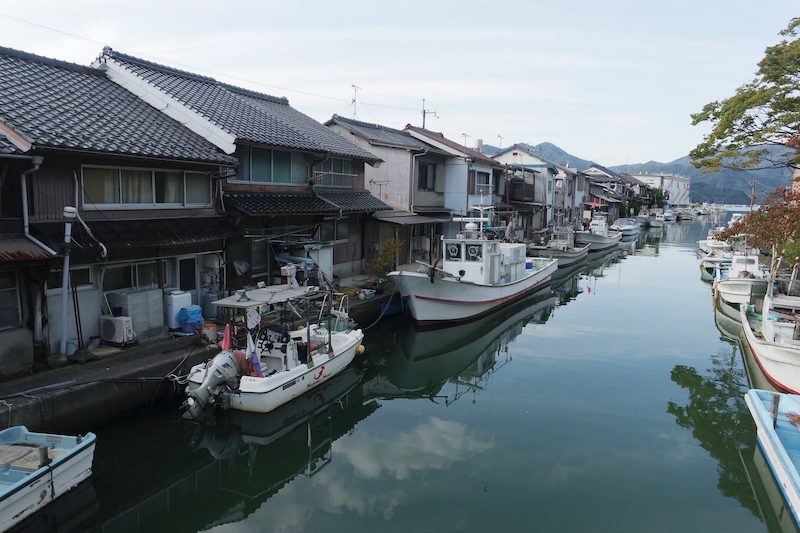 Turn to the ocean and you'll find the old fishing villages of Kyoto by the Sea. If you'd like to discover the lifestyles of local fishers in traditional villages minimally changed by time, you should swing by Yoshihara Irie inlet or Ine fishing village. Both villages feature so called Funaya or 'boat homes' where the houses are built right on the water's edge and a boat garage and working spaces are located on the ground floor of the homes. The second floor is the fisher family's living space. Fishers first settled in these villages during the Edo period. The Japanese government has recognised the cultural significance of these places and funding and local regulations serve to preserve traditional architectural styles and prevent these places from morphing into touristy seaside resorts. Yoshihara Irie, also known as the Venice of Japan is located at the mouth of the Izazu river. The area used to be covered by marshy land which explains how "Yoshihara" got its name which means reed fields.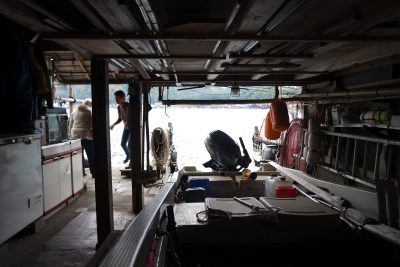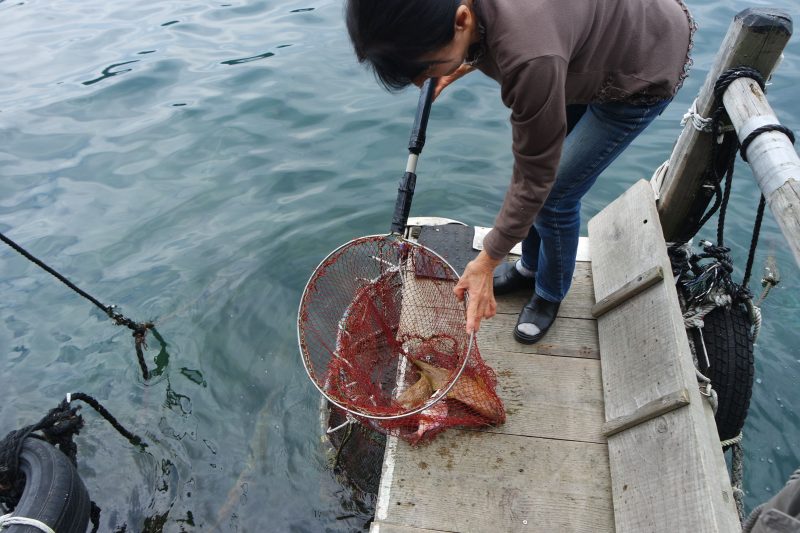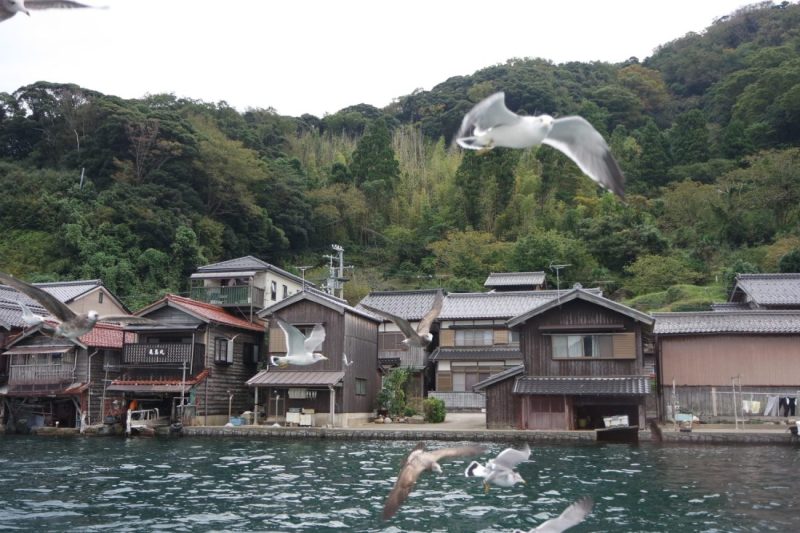 Ine fishing village is a favourite location for Japanese dramas and movies. If you like you can catch a boat tour to view the pretty town and surrounds from the water. Here the fishers still haul their boats into their garages directly from the water and fishing practices like fish farming still continues on various scales. Village local Nagahama Yuichi pulled up a basket hanging from the edge of her home which drops right into the water. "We keep young Akou (red rockfish) and Tai (sea bream) in these baskets and fatten them up for eating later. Although it has become harder to make a living here because the fish have become scarce, we still choose to live by the will of the sea. We depend on selling fish like the farmed Buri (Japanese amberjack, a local Yellowtail species) as well as the wild caught Amadai (Japanese branquillo) and Kuji (Tile fish) which are the two most valuable locally caught fishes per weight."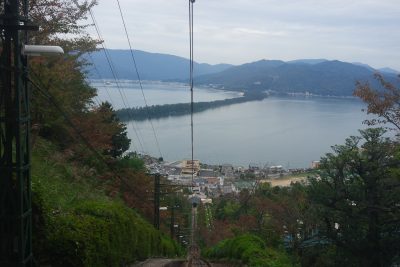 Also in the coastal area you can visit Amanohashidate. Known as one of a trio of the top three most scenic views in Japan (or one of the Nihon Sankei), Amanohashidate sports a sandbar thrown across Miyazu bay and covered by Pine trees. It was first formed thousands of years ago by opposing ocean currents loaded with sand. In Japanese mythology it is said to have been created during the age of the gods before the appearance of man. Wishing to meet his future wife the goddess Izanami who was living at Moto-Ise Kono shrine on earth, the god Izanagi built a bridge down from heaven. Only the bridge collapsed and fell to earth an still lies where Amanohashidate is today. To get a good view you should visit the hilltop of Kasamatsu park.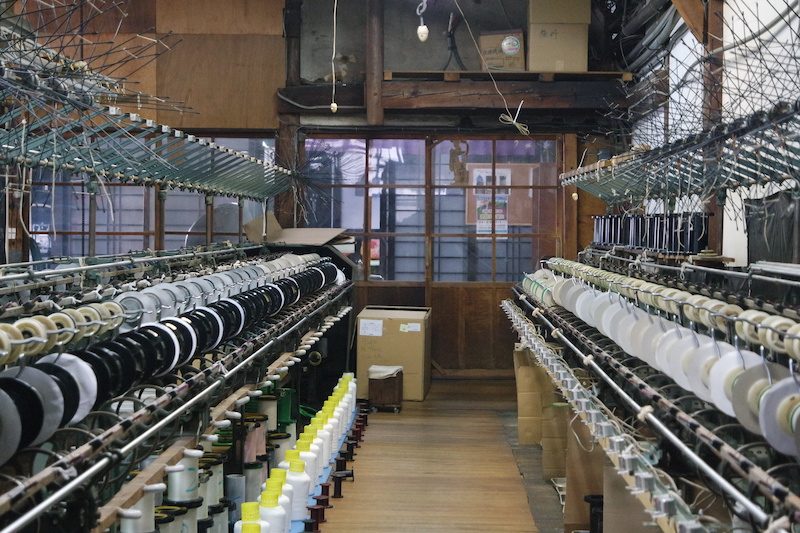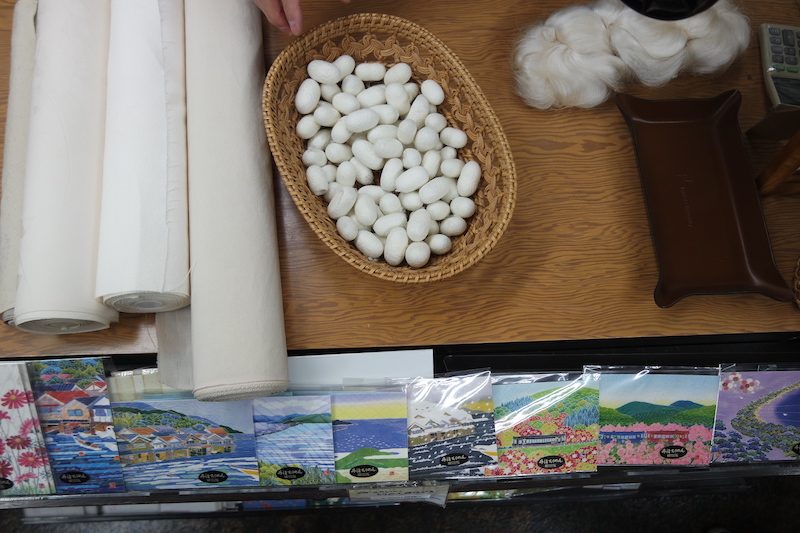 Not that into seaside towns and scenery? OK, let's talk silk. Tango Chirimen silk to be exact. The tradition of silk weaving in Japan goes back two thousand years as is evidenced by archaeological digs unearthing silk looms from kofun or ancient burial mounds. The knowledge of how to unravel cocoons and process them to produce silk thread was brought to Japan from mainland China. Today, about three percent of all the cocoons used in Japan come from within its own borders, the rest is sourced from China and Brazil. Japanese silk saw its heyday in 1970 when the economy was starting to boom and practically everybody had need of owning their own silk kimono. Since then, the Japanese people have opted to wear Kimono only for special occasions and the industry has declined significantly. Yet in the Tango region of the Kyoto prefecture the old traditions of Chirimen silk have not only been kept alive over the past 300 years, but has also gained new fame in unexpected ways.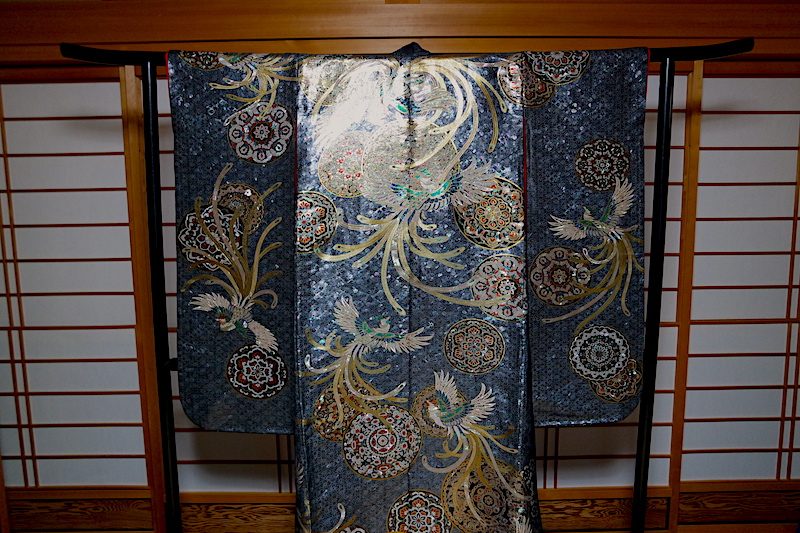 Enter Katsuichiroi Tamiya of Tamiya Raden Ltd. and his unique passion for reinventing silk into the future. It took him two years to develop a special technique known as hikihaku to inlay fine slivers of shells from abalone into fabrics and create complex designs of never before seen iridescence. That was back in 1977. They continued to experiment and used the same technique to create inlays and woven fabrics of leather and even natural wood. Since then some of these incredible fabrics have made their way onto the runways of the high fashion world and adorns the collections of big names like Louis Vuitton. "We produce the highest levels of quality here from the finest materials. We produced two kimonos inlaid kompletely with shell and gold and silver. I cannot give you a price for the kimono you see here, it is literally priceless, worth more than a Lamborghini or Rolls Royce."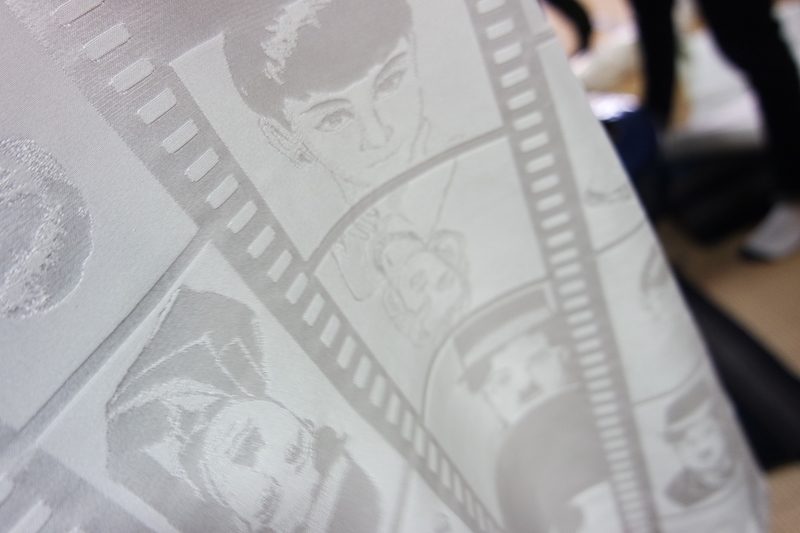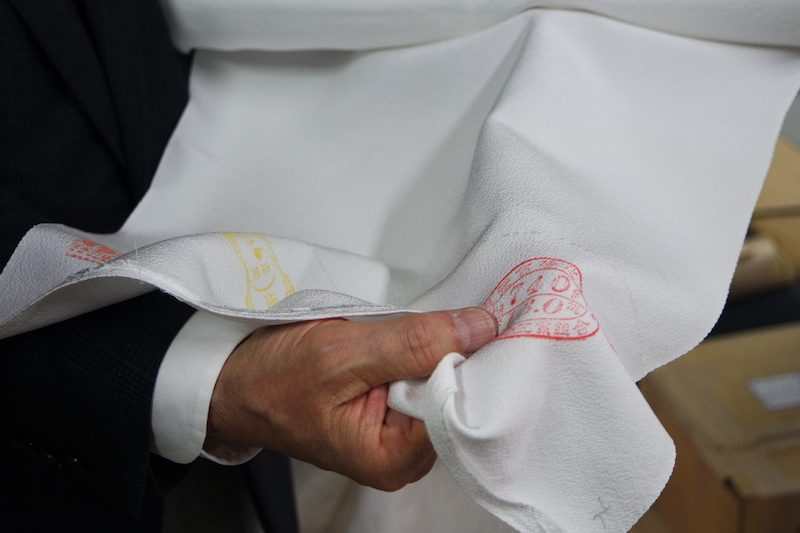 And still the old tradition of Tango Chirimen runs deep in the area. Due to the constant moisture in the air almost year round, the area is perfect for the production of silk thread and weaving it into fine fabrics. There are still around 780 silk production factories in Kyoto's Tango. Once produced, the white rolls of undyed silk are delivered to a quality checking and redistribution house. One such house is the Mineyama branch of Yoshimura Shouten where the wholesaler, Hitoshi Yoshioka, introduced the history of silk wholesale. "We sell the fabric by weight of the roll, just like it has been done for several hundred years. We even still keep the old company abacus that was used to calculate prices here in the office and break it out every now and then for old times sake. Rolls of silk are checked here by hand for flaws at least twice or three times over, then stamped if they pass the check and sold on. Anything without the red passing mark and the yellow Tango region stamp is a fake." He carries his commitment to the industry literally close to his heart as he shows off his white silk shirt and fine tie. "I prefer to wear silk because it's light and warm and well" he continues" I guess I just feel personally connected to it."
Decades of treading for washi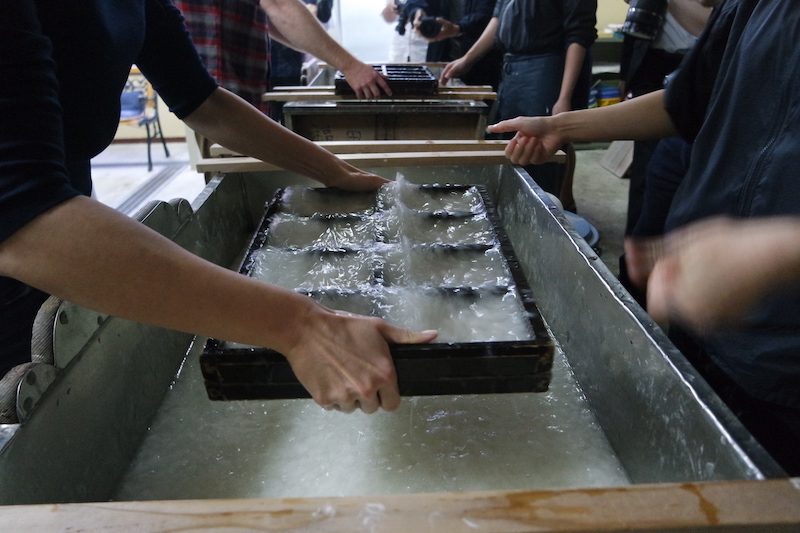 Another old art of the region is washi Japanese paper making."I started doing this when I was twenty years old". Now Sayo Horie is eighty six. She continues to tread with her gumboots on the rather insignificant looking bundle of sticks in the clear steam. "You do this to loosen the bark of the Kozo (a local mulberry) for the paper making you see. Oh look a sawagani." She fishes out a little crab known as the reverse side crab. "You know when I was little we used to eat these in a local dish. Now we don't eat them so often anymore." The stream waters running through her village of Kurotani is clear as glass, perfect for crabs and paper making. The tradition of making paper by hand (and foot) in this village is over 800 years old. Kurotani washi is strong and durable, good for making all kinds of things from writing paper for calligraphy on notebooks, wall hangings and certificates to paper of subtle designs for screen doors, handbags and traditional Kyoto style umbrellas known as kyowagasa. There is of course a little shop in the village where you can buy some of these items.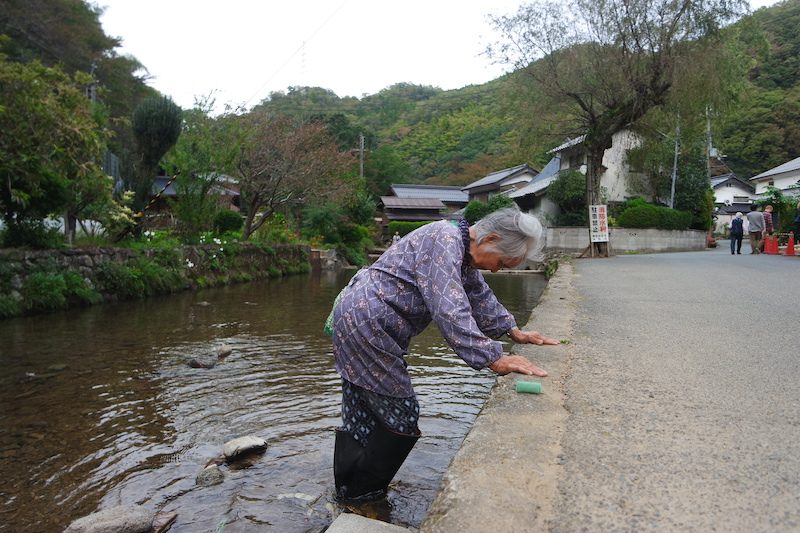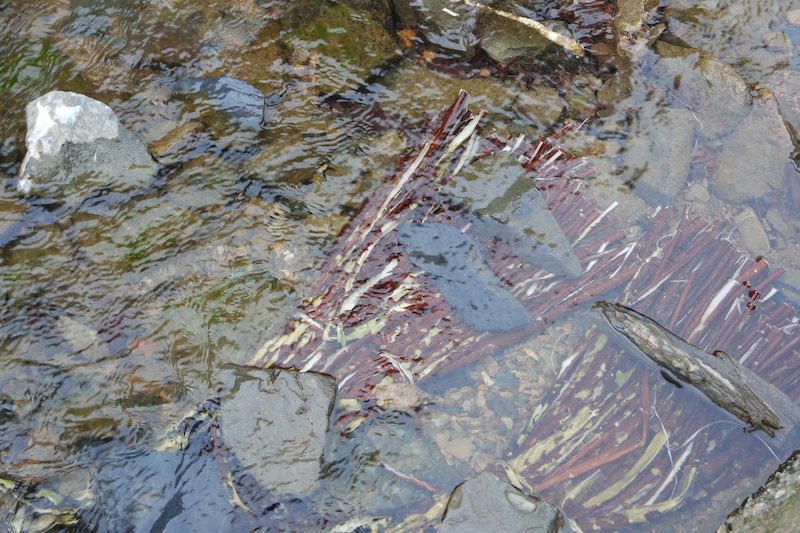 But perhaps you might find some of these Kurotani washi items, or indeed enjoy a meal of Tai from Ine, or discover a Tango Chirimen scarf in Kyoto or even Tokyo. If you do, you might do well to remember fondly some of the places and engaging people of Kyoto by the Sea.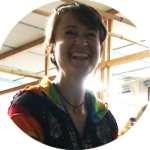 WAttention NINJA
Edith Mertz from South Africa is currently pursuing advanced environmental studies in Japan. Aside from studying, not only does she love exploring different cultures and history, but she is also a fan of martial arts and animation.