In Japan, the white heron is seen as a special bird because it can move between three elements: air, earth, and water. The bird can also be seen as a sign of good luck and a bringer of good harvest.
Shirasagi-no Mai, which translates to "White Heron Dance," is an ancient Japanese dance that almost died until its resurrection in November 1968 by the Asakusa Tourist Federation. They did this to celebrate Tokyo's 100th year anniversary as the capital of Japan. (The previous capital being Kyoto.) The dancers make slow, graceful movements that reproduce the elegance of Heian manners (late 8th to 12th century Japan).
When & Where to See the White Heron Dance in Japan
Shirasagi-no Mai is performed twice annually at Senso-ji, in Asakusa, on the 2nd Sunday of April and on November 3rd. The dance is usually performed twice. Once around 10:30am and a second time around 2pm.
The procession is made up of six dancers dressed as white herons, one baton twirler, one bird feeder, and one parasol carrier.
How to Perform the Japanese White Heron Dance
The dance starts really slow with short and strong movements. The music describes the movements and the dancer's timing is impeccable, it is not difficult to imagine them as birds. During the dance, the bird feeder moves around and throws confetti at the dancers.
After the dance. The audience hurries to the confetti to pick them up as good luck charms. Then the procession starts again and leaves the stage.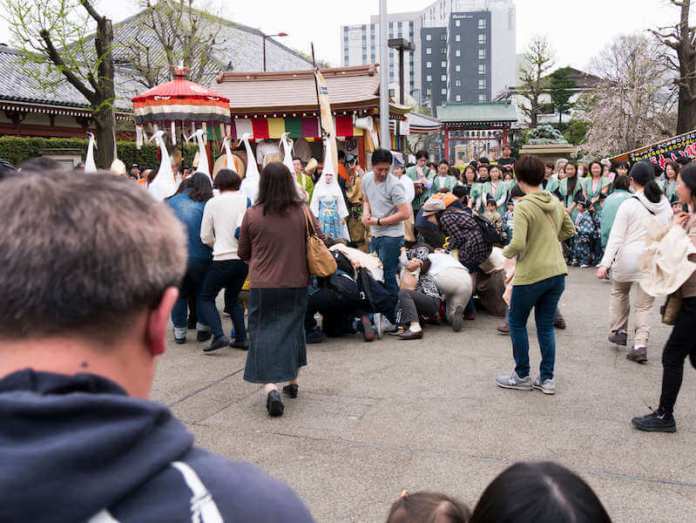 ---
WATTENTION NINJA WRITER PROFILE

Ilse Montald
From popular culture to traditional culture, I've immersed myself in both. I love writing about tradition, history and sharing fun discoveries. If I'm not outside watching a festival parade I'm leisurely reading manga in kimono.
MORE ARTICLES BY THIS WRITER
|
ABOUT WATTENTION NINJA