Taking Over Tokyo's Fashion Scene
From a small town in northern Germany to the massive metropolis of Tokyo, Anji SALZ, who calls herself a "kimono influencer," told us about the latest trends in the kimono community.
Already owning several yukata back in Germany, received as gifts, she first wore a kimono in Kyoto and fell in love with the elegance. After moving to Japan in 2010, Anji dedicated her life to spreading the beauty of kimono as a casual garment. We met the designer of SALZ Tokyo on a sunny afternoon in Shinjuku to talk about her current projects, future plans and this year's yukata trends.
What fascinates you about kimono and yukata?
"Usually kimono have been passed down through generations and it feels like wearing a piece of art. I love that you can style and combine kimono quite wildly, the same as Harajuku fashion. You can go bold with patterns and colors, and it is a lot of fun! Match stripes and dots, or combine flower patterns and geometrical patterns. I just love how your whole posture changes, as it makes you feel more feminine and graceful. I also have the feeling that it changes me as a person. When I am walking in my regular clothes I tend to get stressed in crowds, but when I wear kimono or yukata I feel more gentle and kind. It changes my movements and I can take one step back."
Where do you get your ideas and inspiration?
"First of all, I think of kimono as fashion. I have the feeling that many Japanese people don't do that, as they feel intimidated by a lot of rules. I feel free and find inspiration in Harajuku fashion, kimono-wearing people around me, magazines or creative photo shoots. I like vintage clothes,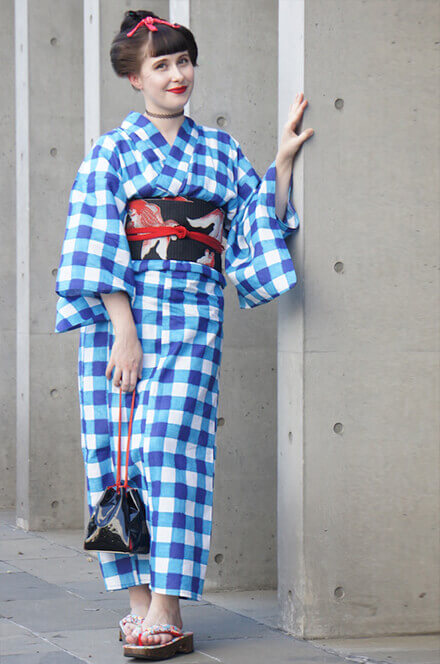 especially clothes which tell a story. I also like to experiment and mix my outfits with western accessories – wearing sneakers and funky tights, while turning up the kimono a little to show the design."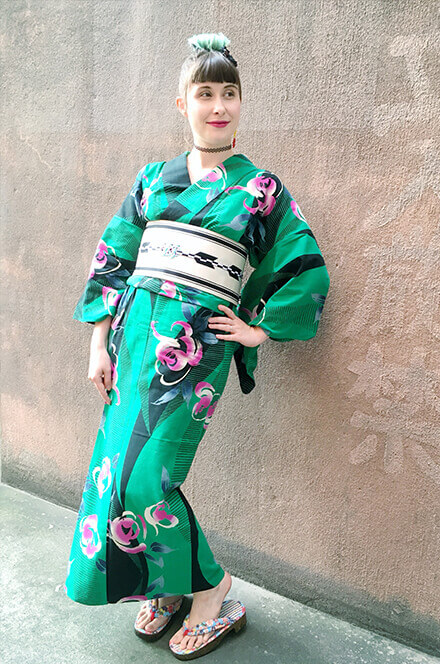 Tell us about your mission.
"At the moment, I call myself a "kimono influencer." I want to show interesting ways of styling kimono and yukata, as well as influencing and inspiring other people. Since kimono used to be standard attire, I would love to bring back this tradition. In my opinion, there is no special occasion needed to wear these garments – whether it is going shopping, dinner with friends or a park visit."
What are your current projects and your future plans?
"Currently I am learning wasai (traditional kimono sewing), which involves the whole construction of kimono. I have almost finished my next project, which is a kimono made of python optic fabric. The bottom part, the bottom of the sleeves and the collar are made with real leather, which is quite difficult to sew. In the future, I plan to work with different kinds of modern technology that are already being used in the fashion industry, but I want to be the first to use them for my kimono designs. Further, I would like to create more creative photoshoots, as well as ways of styling the models."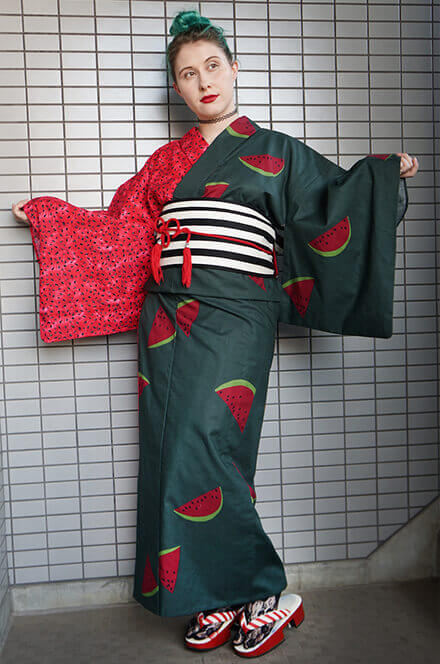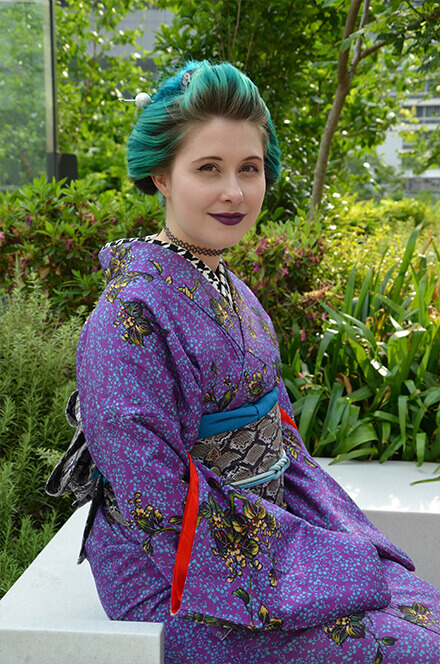 ---
WATTENTION WRITER PROFILE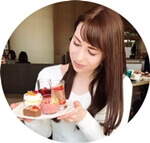 Tabea Greuner
Living and working in Japan since 2015. Always excited about discovering new places. Passion for photography, nature-lover & Japanese fashion expert. MORE ARTICLES BY THIS WRITER | ABOUT WATTENTION NINJA