Noryosen: A toast to Tokyo Bay's magnificent night view
There are all sorts of activities to make a scorching day more bearable in Japan,
one of which is the Tokyo Bay Noryosen. In Japanese, noryo means "enjoying a cool
evening", and sen is a word for boat. Every summer, noryosen sail through Tokyo
Bay, offering locals and visitors alike a rare chance to enjoy the evening breeze while
admiring the amazing skyline of this metropolis!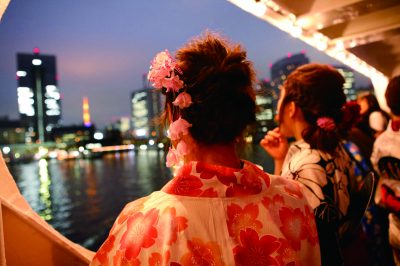 Noryosen cruises have been going on for years. This year, cruises will run
from June 29 to September 24. After departing from Takeshiba Pier, the boat gently
sails into Tokyo Bay, which is illuminated by lights from downtown buildings including
the iconic red-orange Tokyo Tower. Just sit back, enjoy the cool breeze, take in the
gorgeous skyline or have a nice chat with friends on board. Don't forget to take a
picture or two of the grand Rainbow Bridge and the colorful Ferris wheel in Odaiba.
As the saying goes, when in Rome, do as the Romans do and Tokyo Bay Noryosen
is the best way to enjoy summer in Tokyo. To make your night even more special – and
affordable – wear a yukata and enjoy a 1,000 JPY discount on your ticket (see below).
Haven't decided on how to spend the night in Tokyo? Make your holiday unforgettable
and unique with Tokyo Bay Noryosen!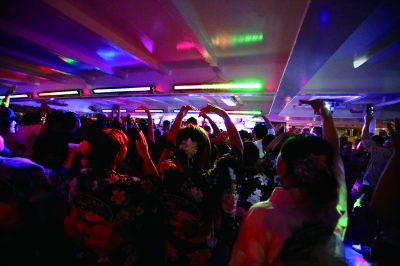 2018 Tokyo Bay Noryosen
From June 29 to September 24 (reservation required)
Route: the cruise leaves from Takeshiba Pier at 7:15pm, goes around Tokyo Bay and returns to Takeshiba Pier at 9pm
Price: 550 JPY for elementary school students, 1,050 JPY for junior high and high school students and 2,600 JPY for adults (Note) Enjoy a 1,000 JPY discount by wearing a yukata—*this discount does not apply on weekends and holidays
Website: http://www.nouryousen.jp/ (Japanese)
Win a Pair of Tickets!
For your chance to win a pair of tickets, complete the following steps and you'll be entered to win! *Some conditions apply. Winners will be contacted via Facebook.
1. Like us on Facebook
2. Sign up for our newsletter here
3. Fill out an application
Complete these steps by noon on June 22, 2018, JST for your chance to win!
Good luck!!
If you enjoyed this article, you may also enjoy:
Tokyo Bay Summer Night Cruise
3 Wild Onsen Theme Parks
Tokyo Trick Art Museum
Gundam and Japan: ode to the statue