The coastal prefecture of Yamagata is one of the most revered locations in Japan for its outstanding nature through all four seasons. Ski amongst the "ice monster" trees in the winter, refresh at spectacular hot springs, and stroll through the quaint towns that are seemingly one with nature. But in addition to its breathtaking scenery and fascinating culture, Yamagata prefecture also brings irresistible food to the table.
What is Imoni Yamagata Food
Imo, or tubers, are traditional staple food in Tohoku. It is dense in nutrients and an ideal source of carbohydrates. Imo are made from taro yams, or satoimo, whose variety can differ from region to region.
Legend has it that a cultural exchange from Kyoto in the mid-1600s married the traditions of Kyoto cuisines and the taro-rich villages across the Mogami river. The result is a physical culmination of centuries of passion and tradition.
What Ingredients to put in Yamagata Food Imoni
It's said that imoni was originally made with cod fish and that beef was later introduced to imoni traditions in the Showa period, which prevails as the most popular variety today.
This hearty soup base is made with soy sauce and miso, imbued with the savory flavors of stewing beef or pork, konnyaku, leeks, mushrooms, Chinese cabbage, burdock, daikon, tofu, ginger and other ingredients that vary from region to region and family to family.
How to make Yamagata Food Imoni
Recipes are passed down through family tradition and have very loose rules. Modern imoni starts by first boiling the konnyaku in water to remove its distinctive smell, followed by boiling the taro yams to remove their stickiness. Once the yams are soft, they are removed from the water and peeled. The more fibrous vegetable ingredients are added in a pot with dashi stock and simmered with seasonings like sugar and sake. Lastly, the softer vegetables and meat is added and simmered to perfection.
What does Yamagata Food Imoni Taste Like?
Imoni has a rich taste with gentle undertones of each ingredient. All of the ingredients of imoni are complimentary to one another, so nothing is overpowered and each flavor and ingredient can be enjoyed by itself. This simplicity creates an exquisitely complex dining experience and allows you to appreciate the high-quality ingredients.
-best time of year to eat
Enjoying Imoni-kai with Friends in Japan
This taro-based meal is often cooked with meat and served in a thick soup for visitors, family and friends. In autumn, locals often gather near a river and enjoy imoni  together, a tradition called imoni-kai.
Social gatherings are a major feature of Japanese culture, and their strong drinking culture also comes hand-in-hand. The "-kai" suffix indicates the meaning of a group gathering, often meaning a celebratory or party gathering, which is generally accompanied by drinking. A "nomi-kai", for example, is a gathering for the sole purpose of drinking alcohol, while other "~kai" gatherings are typically more focused on food and family.
The Autumn Imoni Festival
The Autumn Imoni Festival, also known as Nihon-ichi no Imoni-kai falls on the first Sunday of September and is the very best time of the year to sample all the different kinds of Imoni. This is the festival that all the Imoni specialists wait all year for. You can even watch a giant vat of Imoni being cooked in a 6-meter cast-iron pot nicknamed "Nabetaro," where multiple construction vehicles are needed to add the ingredients and stir the pot!
What is Konnyaku Yamagata Food?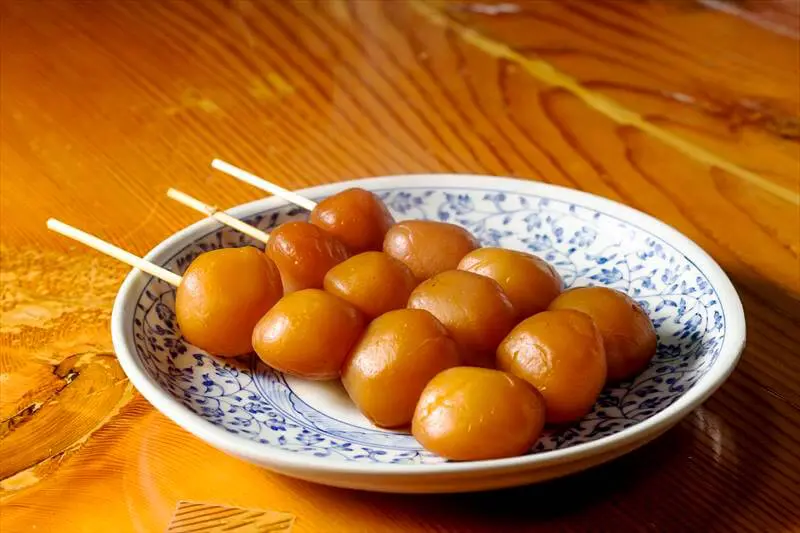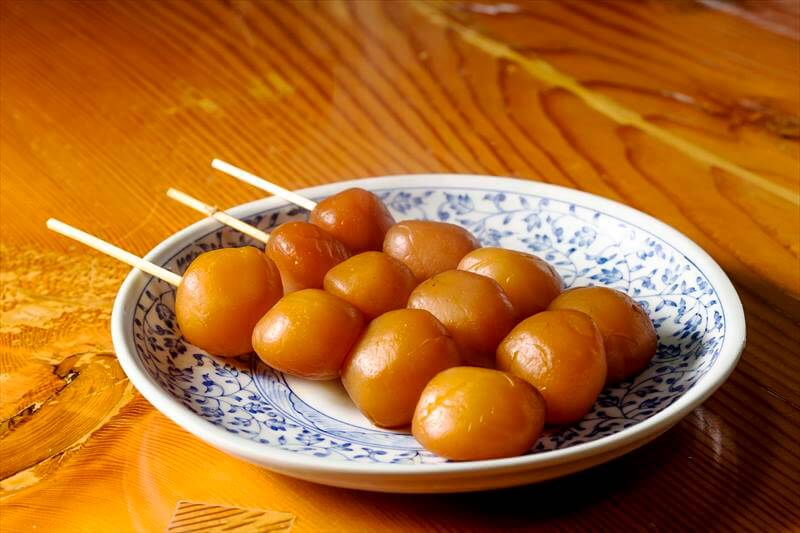 Konnyaku, also known as konjac, has been known as a "miracle food" in Japan since about 1,200 years ago. Derived from taro starch, the jelly-like substance is rich in fiber while having virtually no calories and is said to have many significant benefits, such as detoxification and beauty enhancement. Because of its health benefits and versatility, konnyaku is used in a variety of Japanese dishes. Here are some examples of how konnyaku is used in Japanese dishes.
Imoni
Imoni is the premier meal to sample Yamagata's style of konnyaku. Easily discernable from the other ingredients, the chewy crunchiness of konnyaku is an unmissable part of the imoni experience. Yamagata's locally grown taro yams contribute to a completely unique flavor of konnyaku.
Tama Konnyaku

Tama konnyaku is one of the unique offerings that you can't find outside of Yamagata prefecture. It is a must try when you make a visit to the area. This is one of the most fun ways to eat konnyaku, especially with friends. It also pairs perfectly with a cold beverage of any type and will pull you into the season.
Oden
The perfect thing to offset the higher calorie ingredients, one of the key ingredients in oden is konnyaku.  Konnyaku has the lightest flavor of oden's ingredients and acts as a refreshing palette cleanser.
What is the Best Season for Konnyaku
While the early winter season is the traditional time for konnyaku meals and festivals, konnyaku can be enjoyed in various forms all-year-round. Because konnyaku has a very light taste by itself, it is a very versatile ingredient that can blend well in sweet, savory and everything in between for both hot and cold meals.
But there are many locally-grown specialty forms of konnyaku that you can only find in Yamagata Prefecture after the yam harvesting season around December through January. Every konnyaku crafter has their own unique, labor-intensive process and these are usually hand-kneaded. Konnyaku ingredients can vary widely, with approaches like using fresh yams rather than powdered, down to the carefully grown varieties of taro yams.
Yamagata Japan Specialty Konnyaku
Tama Konnyaku

In Yamagata, people like to have their konnyaku in a round shape and skewered on a bamboo stick. The savory snack is an essential part of festive activities in Yamagata.
Resembling dango, tama konnyaku is boiled in a savory soy broth and traditionally topped with Japanese mustard. It's a Yamagata specialty made to be indulged on, and you throw your guilt away knowing how healthy it is.
Tama konnyaku can be found all year-round at all the festivals of Yamagata, including during cherry blossom viewing seasons. The temperature it is served at may vary depending on the season, with piping-hot tama konnyaku being a favorite in the winter.
When and Where to Eat Yamagata Tama Konnyaku
One of the four major annual festivals in the Tohoku Region the Hanagasa Summer Festival is one of the biggest draws to Yamagata. It is also one of the best places to try some of the regional foods, including the popular tama konnyaku. During this festival, streets will also be filled with food stalls cooking up some of the best regional cuisines. What better way to enjoy a new flavor experience but to watch a traditional dance parade through the streets of Yamagata City?
---
Photos provided by Miyagi Prefecture Tourism Division