When you think of Japanese Geisha, you probably think of Kyoto and the Gion district.  This is indeed the most famous place to find Geisha, but it is not the only one in Japan. These beautiful ambassadors of the traditional Japanese arts are very reclusive, but sometimes you are able to get a glimp of them. That is, if you know where to find them. Let me introduce you to some Geisha districts outside of Kyoto.
Historical Geisha Districts in Tokyo
The old capital of Kyoto has its fair share of geisha, but Tokyo also has a few famous Hanamachi, or Geisha districts. The most well known of these is Asakusa. With its Edo-period flair it is the oldest district still standing in Tokyo after frequent bombings during World War II. The street you have to look out for is Kannonura street, this is where all the Geisha tea houses are located. Just follow the street leading to the back of Senso-Ji temple. The best time to see a Geisha is between 6pm and 8pm when they leave for work to attend banquets.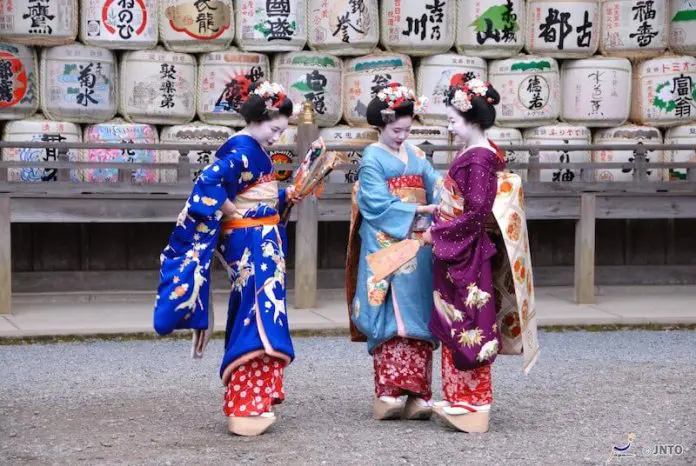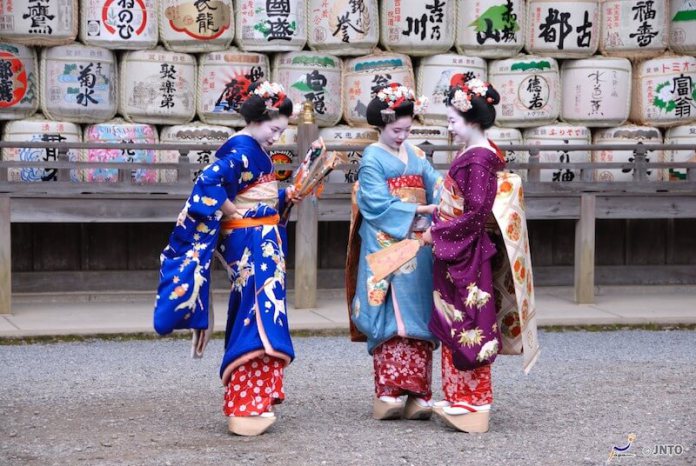 The Influence of Geigi in Yamagata City's History and Culture
Just like Geisha in Kyoto have a different name (Geiko), Geisha from Yamagata are called "Geigi". There used to be about 150 Geigi from the Taisho period towards the early Showa period. Today there are approximately a little over 10 Geigi working in Yamagata. During the Edo period, safflower from Yamagata was highyl valued and it was used to make lipstick or dye clothes. This turned Yamagata city into an area for culture and luxury goods.
Maiko service is available at restaurants or hotels in Yamagata city including Zao hot springs. You can meet Yamagata Maikos at events such as Kajou Kan-ou-kai (a cherry blossom viewing held at former Ka Castle) in April, Hanagasa Parade Festival in August, and Kaminoyama Float Parade in September.
The Geisha of Niigata's Furumachi District
The Furumachi district of Niigata is considered one of the three most prestigious areas in Japan for Geisha or Geigi, as they are called here. The tradition of Furumachi Geigi was born in the Edo period, when Niigata was the most frequented port near the Sea of Japan. Since Niigata was Japan's top rice producer, many merchants came to the city. The Furumachi Hanamachi helped welcome  visitors, and it is said that at their peak, there were over 300 active Geisha in Niigata.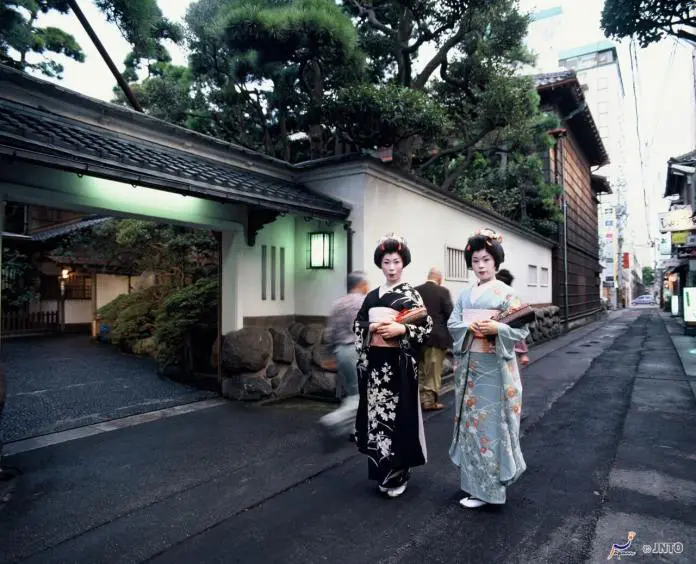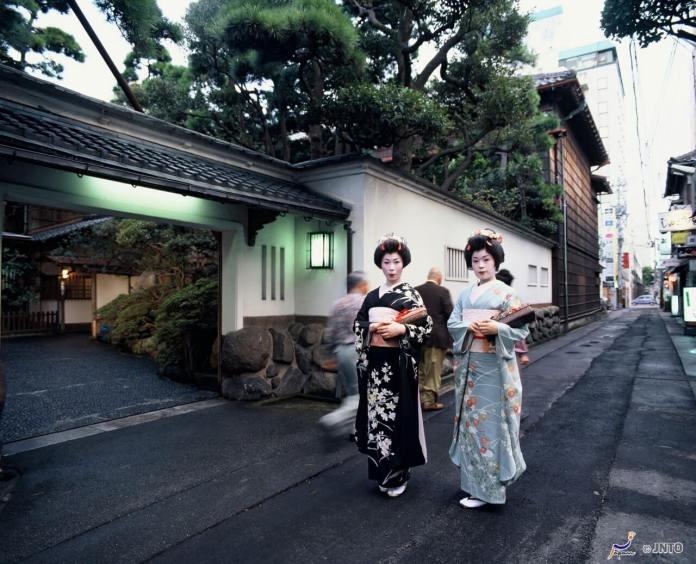 Higashi Chaya and Nishi Chaya: Home of Kanazawa's Geisha
Kanazawa is the capital of Ishikawa Prefecture. The Hanamachis here are called Higashi Chaya and Nishi Chaya, and they still look like they came right out of the 19th century. In these districts there are still regular Geisha performances and they are more accessible and affordable than the evenings in Kyoto. However, this does not mean that the Geisha are any less professional than their Kyoto counterparts. Kanazawa is actually considered to be the second biggest Geisha area next to Kyoto. A must visit in Higashi Chaya is the special teahouse with a room completely covered in gold leaf paper.
If you are interested in watching a Geisha performance in Kanazawa, you can book a seat on this website.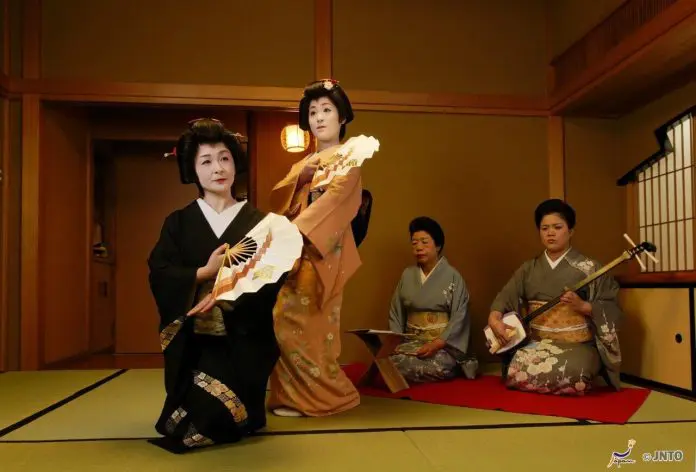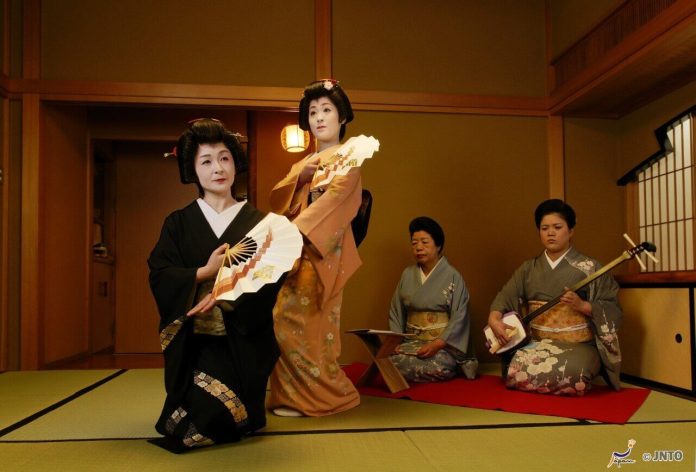 The Acrobatic Geisha of Osaka
The Hanamachi of Osaka is called Shinmachi. In the old days there were more active Hanamachi in Osaka but currently there is only one. Many of Japan's famous comedians come from Osaka, so it's no surprise that the Geisha (or Geiko, as they are called) of Osaka have some special tricks up their sleeves.  The Herahera Odori is an acrobatic dance unique to the Geiko of Osaka and features acrobatic stunts such as handstands. You can still see these dances being performed at some Osaka festivals.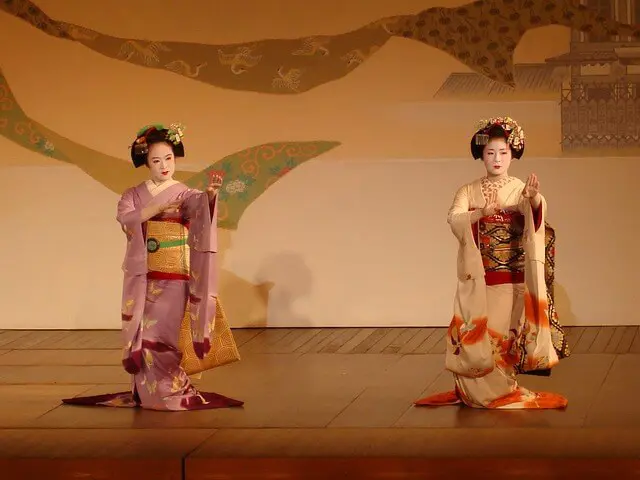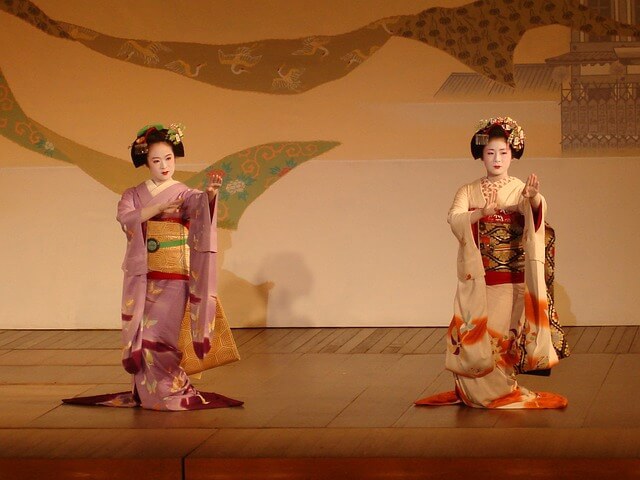 The Rare Geisha of Shizuoka Prefecture
Shimoda city in Shizuoka prefecture used to have about 200 active Geisha less than 40 years ago. Now they are facing extinction with only five active Geisha left. In order to stop this decline, Shizuoka prefecture has decided to sponsor students willing to become Geisha and give the active Geisha a government pay. For Shizuoka and Shimoda city Geisha are an important cultural heritage and a symbol of the traditional arts of Japan. But they also hope that the new Geisha will draw more tourists to the city.
Another city in Shizuoka prefecture with Geisha is Atami. Well known as an Onsen town, it also has its own set of Geisha. The ladies working here were called "Onsen Geisha" and were seen as less classy by the Geisha from Kyoto. They are trained in the same arts as the high class Geisha but they serve less exclusive patrons and are cheaper to book for an evening.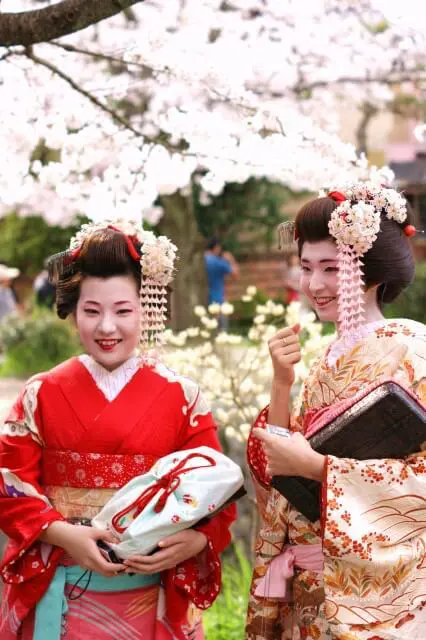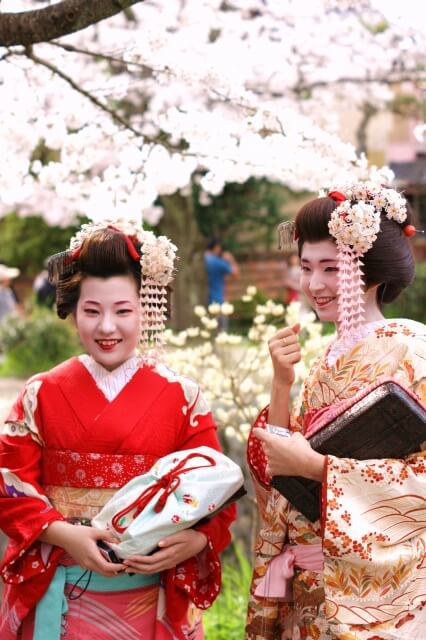 Learn More About Geisha from Kyoto and Beyond
If you would like to know more about Geisha districts, be sure to read our article by the Australian geisha Sayuki. She will tell you more about Geisha makeup and Geisha games. And if you are interested in becoming a Geisha yourself, Sayuki accepts trainees from all over the world, as long as they have perfect Japanese and are willing to stay in Japan for a long time.
---
WATTENTION NINJA WRITER PROFILE

Ilse Montald
From popular culture to traditional culture, I've immersed myself in both. I love writing about tradition, history and sharing fun discoveries. If I'm not outside watching a festival parade I'm leisurely reading manga in kimono.
MORE ARTICLES BY THIS WRITER
|
ABOUT WATTENTION NINJA