Located at the foot of Mt. Zao, Kaminoyama-shi thrived as a castle town and a place for travelers to rest as they traveled along the Ushu-kaido, one of the routes established to connect Edo (now Tokyo) with other parts of Japan in the Edo period. Known for onsen (hot spring) for over 550 years, the city is full of historical treasures and natural wonders for you to take in.
Nothing goes better with cherry blossoms than wine
Located in a basin surrounded by tall peaks, Kaminoyama-shi is blessed with the perfect condition for growing fruits and wine. Besides growing grapes for wine-making, a lot of the vineyards in the city also grow other edible fruits. At Woody Farm, visitors with a reservation can tour the winery and create a unique wine bottle label to take home.
Hours: 10am-12pm, 1pm-4pm (only open on weekdays from November 5th to March of next year)
Access: 15-min drive from JR Kaminoyama Onsen Station
Address: 829 Haraguchi, Kaminoyama-shi, Yamagata-ken
URL: www.woodyfarm.com (Japanese)
Konnyaku Banjo: A konnyaku feast that deserves its fame
Konnyaku (konjac) is Yamagata's representative cuisine. You can't say that you have been to the prefecture without trying tama konnyaku, skewered ball-shaped konnyaku boiled in soy broth and seasoned with Japanese mustard. Konnyaku Banjo, a long established restaurant that specialises in konnyaku cuisine, took the dish to the next level by serving a traditional multi-course Japanese meal with konnyaku in the spotlight. This ingredient is creatively served in various forms: konnyaku sashimi, shark fin and black beans that are actually made of konnyaku, and many more dishes. Konnyaku Banjo representative Tanno Masuo said that konnyaku has infinite possibilities and it is his lifetime mission to share it with the world.
Hours: 11am-4pm (dining) and 8:30am-5pm (shopping)
Access: 15-min drive from JR Kaminoyama Onsen Station
Address: 608-1 Minazawa Suwamae, Kaminoyama-shi, Yamagata-ken
URL: www.tannokonnyaku.co.jp (Japanese)
Kudamono Utsuwa: Fruit tree-inspired tableware with exquisite craftsmanship
This shop showcases an assortment of exotic tableware made out of cherry trees, pear trees and apple trees. Raw tree barks must undergo a long process of drying and refining before skilled craftsmen can work their magic on them. The unique tree rings and warm texture of the tableware always make a lasting impression on visitors.
Hours: 10am-5pm Access: 15-min drive from JR Kaminoyama Onsen Station
Address: 6-2 Mizukami, Kanakame, Kaminoyama-shi, Yamagata-ken
URL: kudamonoutsuwa.org/index.html (Japanese)
Jugoya Honten: Experience Japanese hospitality at its best
Jugoya Honten, a century-old Japanese confectionery shop close to Kaminoyama Castle, has a warm, nostalgic atmosphere that is difficult to find today. Once inside, expected to be greeted by all kinds of Japanese sweets, including their new bestseller—cat-themed sweet cakes. With a reservation, you can learn how to make delicious traditional Japanese confections from the owner, who works his way to bridge language barriers with visitors. This is the ultimate place to experience Japanese hospitality.
Hours: 9am-9pm, closed on the first and third Tuesday
Fee: 800 JPY
Access: 10-min walk from JR Kaminoyama Onsen Station
Address: 1-13 Tokamachi, Kaminoyama-shi, Yamagata-ken
URL: www.shokokai.or.jp/06/0620710020/index.htm (Japanese)
Miyuki Park: Cherry blossom petals falling like snow-flakes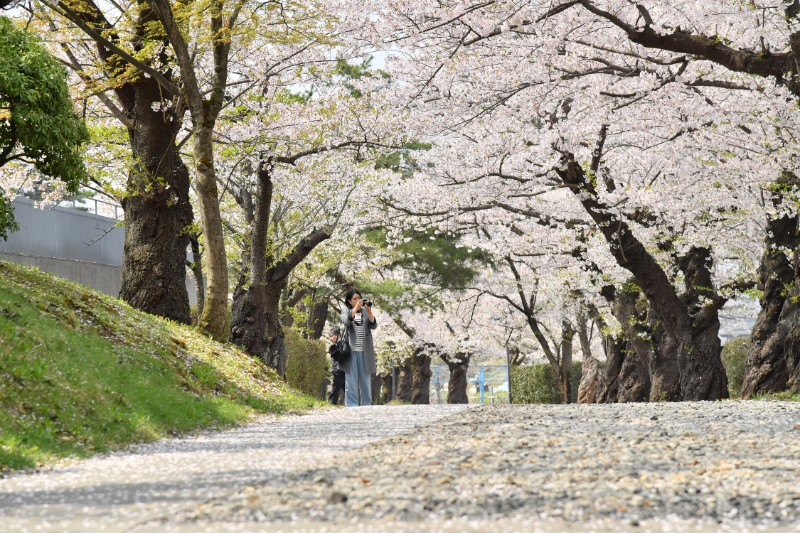 Miyuki Park, home to a museum dedicated to Japanese poet Saito Mokichi, is a well-loved recreation spot for people living in Kaminoyama-shi. One of the paths is lined with somei-yoshino cherry blossom trees that burst into bloom every spring. When the wind blows, blush petals gently float to the ground, forming a gorgeous carpet of pink. If you are lucky, you might be able to catch the sight of a Shinkansen train passing by, taking along with it some petals. This secret cherry blossom viewing spot is the perfect destination for those who prefer quiet retreats.
Access: 1-min walk from Mokichi Kinenkan-mae Station on JR Yamagata Line
Address: 1421 Kitamachi Benten, Kaminoyama-shi, Yamagata-ken
URL: yamagatakanko.com/spotdetail/?data_id=426&yc=spot&ya=3&yp=1 (Japanese)
Tsukioka Park: A historic castle embellished with cherry blossoms

Tsukioka Park lies at the ruins of a magnificent castle where feudal lords once lived. The tenshukaku tower, a reconstruction of the original, now serves as a museum displaying local history and culture. The place is quite crowded around mid-April, when 100 somei-yoshino and weeping cherry trees bloom. The tower with cherry blossoms in full bloom is an iconic sight that should be on your agenda.
Access: 15-min walk from JR Kaminoyama Onsen Station
Address: 3-7 Motojonai, Kaminoyama-shi, Yamagata-ken
URL: yamagatakanko.com/spotdetail/?data_id=417 (Japanese)
Flower viewing in cherry orchards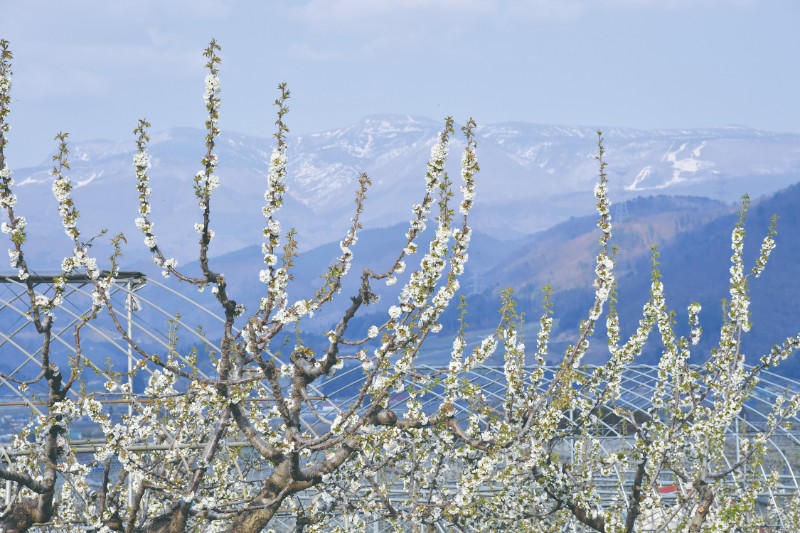 Kaminoyama-shi offers the ideal weather conditions for growing juic y fruits, especially cherries, which are harvested in spring and summer. Cherry trees flower bloom from late April to May and their pale pink petals are as fragrant and enchanting as cherry blossoms. Visit fruit orchards in Kaminoyama for a unique view of flower blossoms with Mt. Zao in the background.
URL: yamagatakanko.com/log/?l=272410 (Japanese)