Summer means Hanabi Matsuri (花火祭り) season in Japan, and refers to great Fireworks Festivals held throughout the country. During the hot and humid summer, the festivals lighten up the mood and provide a sparkling colorful night sky.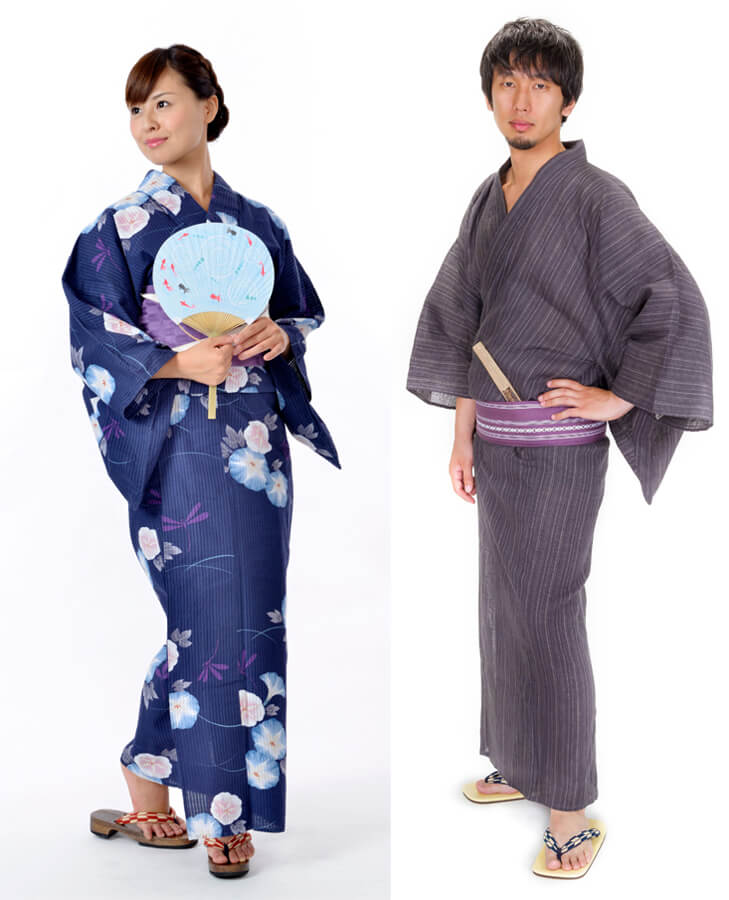 Japanese people tend to wear traditional Yukata (light summer Kimono) to turn this event into a special occasion during the year. If you feel like experiencing a Hanabi Matsuri while wearing the traditional summer outfit, you can already get cheap Yukata sets starting at 6,000 yen, including Yukata, Obi (sash) and Geta (wooden clogs).
Read also: The Matsuri Manual : Festival Style Guide
We summed up all the big Fireworks Festivals in and around Tokyo for July 2016 in the following article.
Too many festivals, too little time? Check out our 3 top picks: Top 3 Fireworks Festivals in Japan 2016
Tokyo
The 39th Sumida River Fireworks Festival
Date: July 30th (Saturday), 7:05pm – 8:30pm
The oldest fireworks display of Japan comes back to Tokyo's Sumida river. At two spots you can enjoy a huge spectacle of colours. In case of stormy weather, the event moves to the next day, July 31st (Sunday).
Visitors last year: 950,000 people
Number of fireworks: 20,000 (1st Spot 9,350 / 2nd Spot 10,650)
Access & Address:
Tokyo, Taito-ku and Sumida-ku
① Spot 1 (Sakura Bridge Karyu ~ Kototoi Bridge Joryu) Tokyo Metro Ginza Line –> Asakusa Station (15min walk)
② Spot 2 (Komagata Bridge Karyu ~ Umaya Bridge Joryu ) Toei Asakusa Line Toei Oedo Line -> Kuramae Station (5min walk)
---
50th Katsushika Summer Nights Fireworks Festival
Date: July 26th (Tuesday), 7:20pm – 8:30pm (*Paid seats are available)
For Japans oldest fireworks display, all the fireworks supplies are made in Japan, and not imported. Therefore the colours of the fireworks are simply held in an orange-red style. In case of stormy weather, the event moves to the next day, July 27th (Wednesday).
Visitors last year: 630,000 people
Number of fireworks: 15,000
Access: Keisei Kanamachi Line -> Shibamata Station (10min walk); JR Joban Line -> Kanamachi Station・Keisei Line -> Keisei Kanamachi Station (20min walk)
Address: Katsushika-ku Shibamata Baseball Stadium (Edogawa Kasenshiki), Shibamata 7-17-13, Katsushika-ku
---
The 38th Adachi Fireworks Festival
Date: July 23rd (Saturday), 7:30pm – 8:30pm
This fireworks display combines fireworks with music and will be held along the Arakawa River. The event will be cancelled in case of rain.
Visitors last year: 550,000 people
Number of fireworks: 13,500
Access: JR Joban Line –> Kita Senju Station (15min walk); Tobu Isesaki Line (Tokyo Skytree Line) –> Kosuge Station・ Gotanno Station・Umejima Station (15min walk)
Address: Arakawa Kasenshiki, Adachi-ku (Held between Nishiarai – bridge and Tokyo Metro Chiyoda Line – railway bridge)
Hachioji Fireworks Festival
Date: July 30th (Saturday), 7pm-8:30pm
This event will take place in the Hachioji Citizen Ball Park. In case of stormy weather the event will move to Sunday, July 31st (Sunday).
Visitors last year: 100,000 people
Number of fireworks: 3,300
Access: JR Chuo Line –> Nishi Hachioji Station (15min walk); Keio Takao Line –> Yamada Station (15min walk)
Address: Hachioji Shimin Kyujo, Daimachi 2-2, Hachioji-shi
Tachikawa Festival – Showa Memorial Park Fireworks Festival
Date: July 30th (Saturday), 7:20pm-8:20pm (*Paid seats are available)
Food booths and festival related booths will be set up inside the park. After 6pm you don´t need to pay any entrance fee for the park. In case of stormy weather, the event will move to the next day, July 31st (Sunday).
Visitors last year: 360,000 people
Number of fireworks: 5,000
Access: JR Chuo Line –> Tachikawa Station (15min walk)
Address: Minna no Harappa , Showa Kinen Park, Midoricho 3173, Tachikawa-shi
Kanagawa
Yokohama Sparkling Twilight 2016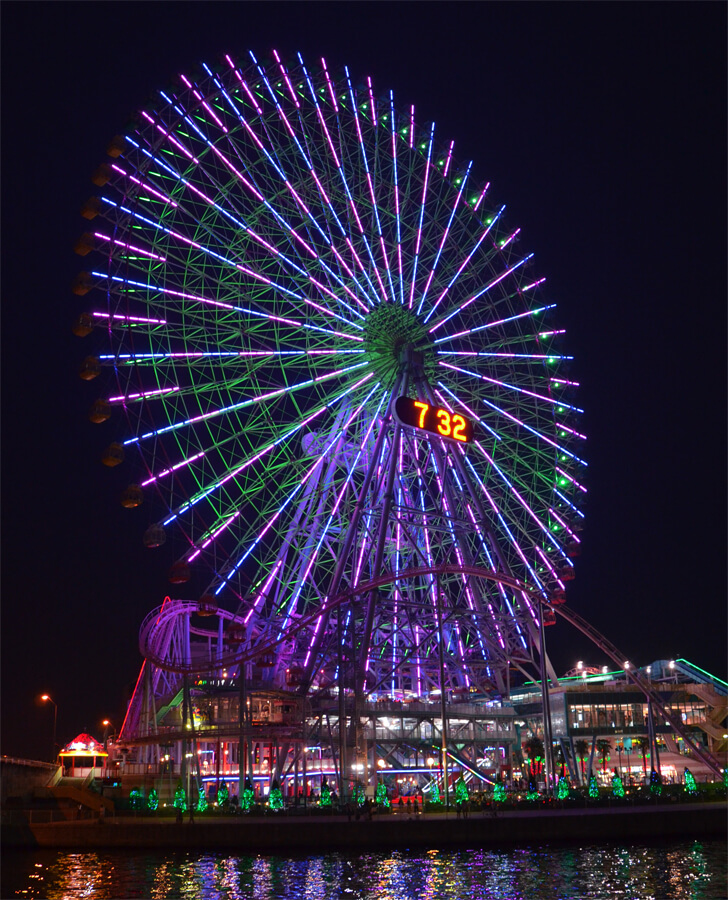 Date: July 16th / 17th (Saturday / Sunday), 11:30am-8:30pm, Fireworks display: 7:30pm-8pm
During this weekend you can not only enjoy the fireworks display in the evening, you can also see the parades, live shows, and live music events, as well as a rescue live demonstration by the fire brigade. The Sparkling Parade features mikoshi (portable shrines) from every district of Yokohama, including Chinatown. Enjoy the restaurants and bars along the beachside of Yamashita Park, providing food of  the oldest and best-known places of Yokohama. The combination of music and fireworks provides a sparkling – final to the event. In case of light rain, the event will take place, in case of stormy weather it will be cancelled.
Visitors last year: 380,000 people
Number of fireworks: 3,000
Access: Minatomirai Line –> Nihon Odori Station・Motomachi/Chukagai Station (3min walk)
Address: Yamashita Park, location towards the sea, Yokohama-shi
---
2016 Kurihama Perry Festival and Fireworks Festival
Date: July 16th (Saturday)
The festival is dedicated to the opening of Japan to the world and the friendship between Japan and America due to US naval officer Matthew Perry in 1853. In case of bad weather, the Hero Show takes place in the arcade and will be changed into a Sign and Handshake event. The other events will be cancelled or resecheduled.
Access: JR Yokosuka Line –> Kurihama Station (17min walk); Keihin Kyuko Line –> Keikyu Kurihama Station (15min walk)
Event schedule:
■Yokosuka Kaikoku Bazar
Hero Shows and Band performances, as well as refreshment booths are set up.
Location: Kurihama Shotengai Harodo Dori
Time: 10am – 3:40pm
■ Memorial Ceremony for US naval officer Matthew Perry's arrival
This event commemorates Perry's arrival at Kurihama to arrange the opening of diplomatic and trade relations between Japan and the US.
Location: Perry Park
Time: 2pm-2:40pm
■ Japan – America Friendship Perry Parade
The Parade features a fleet of black ships on the water, groups of people dressed in ancient costumes, drum and fife bands, dancers, etc.
Location: In front of Perry Park; In front of Keihin Kyuko Kurihama Station
Time: 4pm – 5:30pm
■ Kurihama Fireworks Festival
In case of bad weather the fireworks display will be held on the following day, July 17th (Sunday).
Time: 7:30pm – 8:10pm (*paid seats available)
Visitors last year: 90,000 people
Number of fireworks: 3,500
Location: Perry Park, Kurihama Kaigan, Kyu Nichiro Ganpeki, Yokosuka-shi
---
68th Kamakura Fireworks Display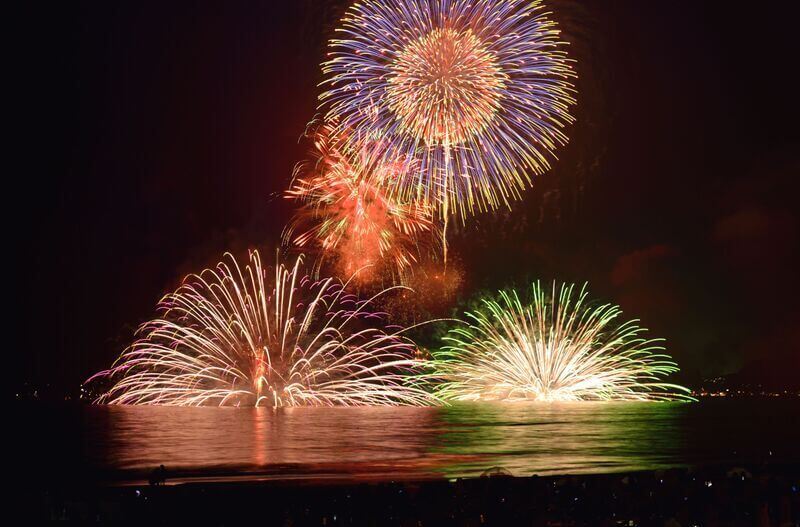 Date: July 20th (Wednesday), 7:20pm-8:10pm
Kamakura´s fireworks display is special, since the fireworks will be set off from boats, while you sit on the beach and watch this beautiful event. At some point the fireworks are also released underwater, where half of the explosion happens underwater, and the other half above the water.
In addition to that, festival booths are set up and sell tasty local foods to enjoy during the fireworks display. In case of rainy and stormy weather, as well as high waves the event will take place on the next day, July 21st (Thursday).
Visitors last year: 140,000 people
Number of fireworks: 2,500
Access: Yokosuka Line –> Kamakura Station (15min); Enoshima Dentetsu Line –> Yuigahama Station ・ Wadazuka Station (5min walk)
Address: Yuigahama beach ・ Zaimokuza beach, Zaimokuza, Yuigahama, Kamakura-shi
51st Hayama Beach Fireworks Display
Date: July 27th (Wednesday), 7:30pm-8pm
Hayama beach is wide and beautiful and the perfect spot to enjoy this fireworks display, which will be set off from the sea. Festival booths are set up, so don´t worry about an empty stomach. In case of stormy weather, the event will move to the next day, July 28th (Thursday).
Visitors last year: 32,000
Number of fireworks: 1,100
Access: JR Yokosuka Line –> Zushi Station -> Bus Platform No. 3 –> 15min ride until Morito Kaigan (1min walk); Keikyu-Line –> Shin Zushi Station –> Bus Platform No. 2 -> 15min ride until  Morito Kaigan (1min walk)
Address: Morito Beach, Horiuchi, Hayama-machi, Miura-gun
Chiba
Funabashi Festival – Funabashi Port Water Park Fireworks Display
Date: July 27th (Wednesday), 7:30pm-8:30pm (*Paid seats are available)
The highlight of this fireworks display will be the image of Funabashi's PR character "Funaemon" in the night sky . Booths are set up to buy local dishes. In case of light rain, the event takes place. In case of storm it will move to the next day, July 28th (Thursday).
Visitors last year: 80,000 people
Number of fireworks: 8,500
Access: JR Sobu Line –> Funabashi Station (25min walk)
Address: Funabashi Harbor Water Park, Funabashi Fishing Port area, Funabashi-shi
38th Urayasu Fireworks Display
Date: July 30th (Saturday), 7:30pm-8:30pm (*Paid seats are available)
The fireworks display adapts to the music and provides a nice atmosphere. You can also enjoy local foods while watching the fireworks. In case of stormy weather, the event will be cancelled.
Visitors last year: 150,000 people
Number of fireworks: 6,500
Access:  KeiyoLine -> Shin Urayasu Station; Tokyo Metro Tozai Line –> Urayasu Station (A shuttle bus departing from both stations is planned)
Address: Urayasu-shi Comprehensive Park, Meikai 7-2, Urayasu-shi
Sanmu City Summer Carnival
Date: July 30th (Saturday), 3pm-8pm
This event has a Brazilian flair and you can see street performing artists as well as Samba Dances all day long. Up to 10 booths are prepared to enjoy local dishes as well. In case of rain, only the fireworks display will move to the next day, July 31st (Sunday).
Visitors last year: 17,000
Number of fireworks: 1,000
Access:  JR Sobu Main Line –> Yoko Shiba Station –> 30min bus ride (Hasunuma Junkan Hasunuma direction) -> Minamihama stop (5min walk)
Address: Hasunuma Seaside Park, Hasunuma ho, Sanmu-shi
Saitama
68th Ogawa Tanabata Festival Fireworks Display
Date: July 23rd (Saturday), 7:15pm-8:30pm
The city center is decorated with Tanabata themed decorations. Regarding the legend, the festival celebrates the reunion of the deities Orihime (star Vega) and Hikoboshi (star Altair) who are separated by the Milky Way. Only once a year, on July 7th, the lovers are allowed to meet. Traditionally, on this day you can write down a wish on a paper strip called Tanzaku, and tie it to bamboo branches. Beside the fireworks display, 150 booths are set up to buy local dishes, as well as goods of the Festival's Character "Stamu-chan". In case of rain, the event takes place on the next day, July 24th (Sunday).
Visitors last year: 220,000 people
Number of fireworks: 1,800
Access: Tobu Tojo Line –> Ogawa Station –> 20min bus ride (Park Hill direction) -> Saitama Dentokogei Kaikan stop (the venue is right there)
Address: Sengenyama Miharashi no oka Koen, Ogawa 1440, Ogawa-machi, Hiki-gun
21st Ageo Fireworks Festival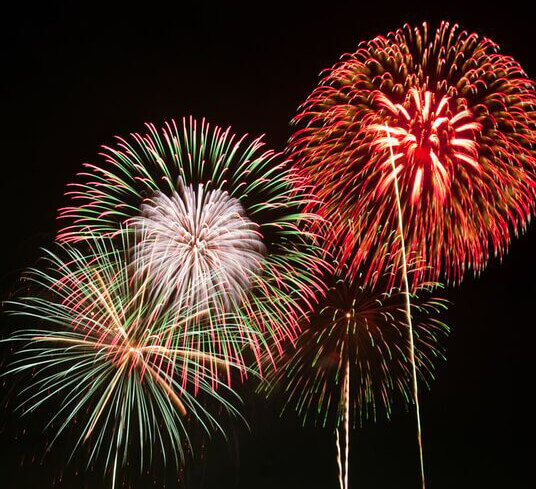 Date: July 30th (Saturday), 7pm~
Enjoy local foods while watching this popular fireworks display. It is famous for reading marriage and birthday slogans while setting up the fireworks. In case of rain, the event moves to August 6th (Saturday).
Visitors last year: 160,000 people
Number of fireworks: 10,000
Access: JR Takasaki Line –> Ageo Station -> Tobu bus 20min bus ride (Heiho direction) -> Heiho stop (3min walk); (* There will be a shuttle bus from Ageo Station-West Exit -> last stop (10min walk))
Address: Heiho Arakawa, Heiho 2606-1, Ageo-shi
2016 Saitama Fireworks Festival "Odawa Park"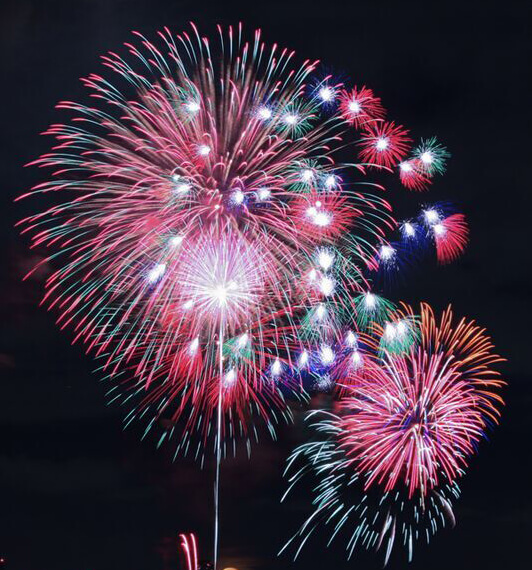 Date: July 30th (Saturday), 7:30pm~
400 booths are set up to enjoy a lot of Japanese local dishes, as well as experiencing the traditional summer festival of Japan. In case of stormy weather, the event moves to the next day, July 31st (Sunday).
Visitors last year: 100,000 people
Number of fireworks: 5,000
Access: Tobu Noda Line –> Omiya Koen Station ・ Odawa Station (15min walk)
Address: Around Odawa Park, Saitama-shi, Kita-ku・Omiya-ku・Minuma-ku
Ninja ID: nene16
---
WATTENTION WRITER PROFILE