Chichibu is located in Saitama prefecture, less than 80 minutes away from the capital by train. Anyone in need of a green escape from the concrete buildings of Tokyo will enjoy a day trip to Chichibu. Surrounded by the lush forests, green hills, autumn leaves, and spring sakura of Chichibu, you will feel bathed in nature. Every spring one of the highlights of Saitama prefecture are the Moss Pink Shibazakura hills of Chichibu's Hitsujiyama Park. The rolling pink hills of Chichibu never disappoint!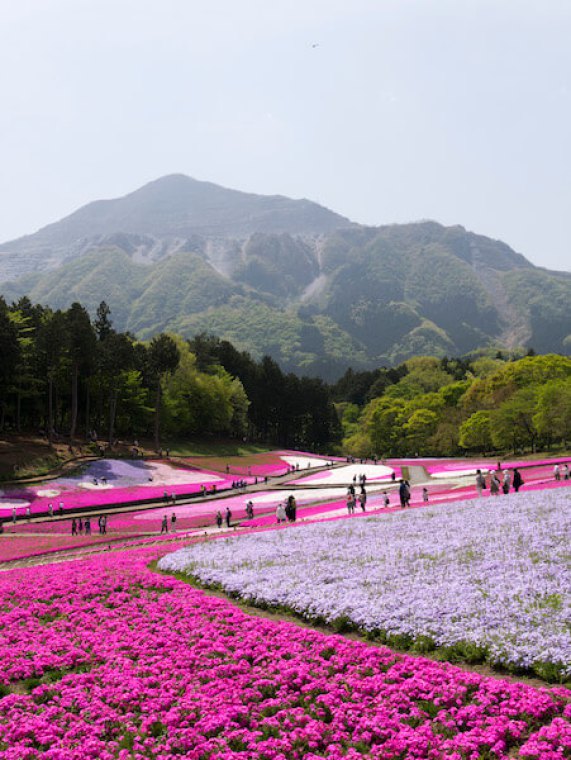 Chichibu Shibazakura Varieties and Patterns
More than 400,000 Shibazakura plants of nine varieties blossom during April and May. As a result, the hills are covered in beautiful hues of pink. In fact, it is one of the largest parks of its kind in Kanto. The locals of Chichibu proudly tend to the precious flowers making patterns with the color variations. For example, you may see a heart pattern, smiley face, or intricate color pattern designs. Walk around the Chichibu Hitsujiyama Park among the flowery aromas and check out all of the incredible designs made of beautiful flowers.
Chichibu Shibazakura Festival Gourmet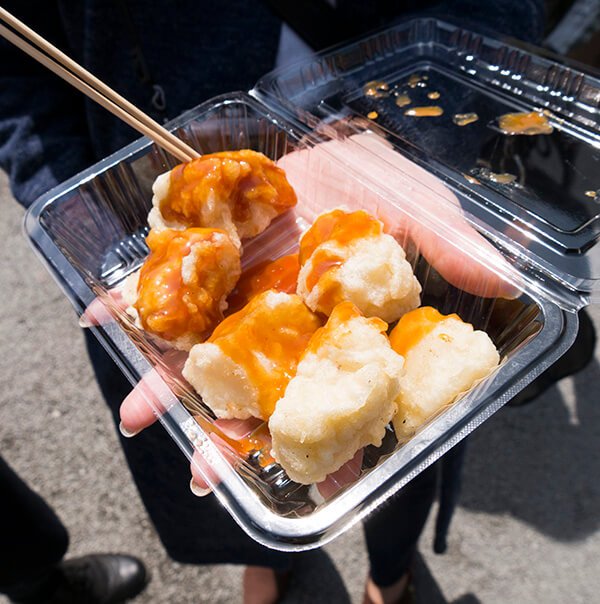 After visiting the Shibazakura flowers, you can go to the nearby market where Chichibu's mascot Potekuma-kun will greet you with a stick of Chichibu's famous Miso Potato. Chichibu Miso Potatoes are tempura-battered deep fried potatoes with a coating of miso sauce. Get some Miso Potatoes yourself at one of the stands during the Shibazakura Spring Flower Festival. The treats are so delicious that they won first prize in the 5th Saitama B Class Gourmet Grand Prix.
Chichibu Spring Flower Festival Golden Week Campaign
From the 23rd of April until the 8th of May there is a special prize campaign in to win some Shibazakura Hill goodies. All you have to do is take the Red Arrow Limited Express Train to see the Shibazakura Hill in Chichibu and show a photo of your train and flower viewing ticket at the local Tourism Office. Be sure to take a photo of your train ticket before you arrive at Chichibu! Because the ticket gate at the train station will take your ticket upon arrival.
There are some really nice prizes to be won so I highly recommend everyone to participate. And knowing that there are up to a 100 prizes every day the odds are quite good you will go home with a hotel voucher or beautiful Shibazakura Hill hand towel.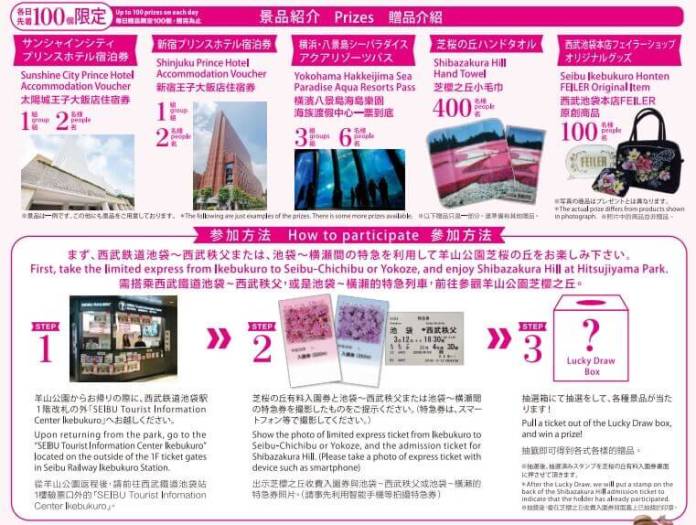 How to get to Hitsujiyama Park Shibazakura
Luckily, Chichibu is not far from Tokyo. As a result, it is easy to go on a day trip to Chichibu from the bustling metropolis. The fastest way to reach Chichibu from Tokyo is by taking the Red Arrow Limited Express train from Ikebukuro Station. The ride from Ikebukuro to Chichibu takes about 80 minutes.