With the amount of foreign visitors to Japan increasing each year, it's becoming more common to see tourists immersing in Japanese culture and wearing a traditional kimono or yukata, especially when the hot, humid months make it more comfortable to explore around in these light, cotton garments. Whether you decide to buy or rent your yukata, there are plenty of options to choose from.
Nihombashi Mitsukoshi Main Store
Main building 4F kimono floor
Shopping in a World of Class and Tradition
Founded in 1673 under the name of Echigoya, Mitsukoshi was known for specializing in kimono fabrics. In 1904, it became Japan's first department store. The building houses historic objects from throughout the centuries, and provides a unique and authentic Japanese shopping adventure in Tokyo's Nihombashi area. Before summer approaches, Mitsukoshi opens its annual yukata display in preparation for the season's festivities. This year's yukata theme is "flowers"; garments with fresh, tie-dyed floral prints in a variety of colors are on sale, including masterpieces from Chikusen and other renowned brands. While the wide selection of yukata and accessories may feel overwhelming at first, don't worry: Friendly, knowledgeable assistants are eager to lend a hand in selecting the perfect yukata just for you. From colors and patterns to accessory combinations, they provide expert professional advice, making the shopping experience smooth for those who have no familiarity with yukata and/or may not be sure what looks best on them. If you are still unsure about your selection, do not hesitate to try on the yukata to see how it actually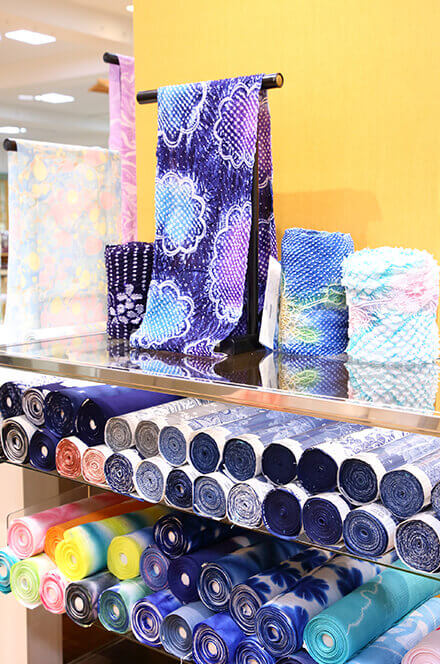 looks. The attentive staff knows exactly how to dress you based on your body type – and you will be amazed how quickly and gracefully they move! During the process, feel free to ask questions; they are more than happy to give you helpful tips. This surely is the most authentic way.
Hours: 10:30am – 7:30pm
Address: 1-4-1 Nihombashi Muromachi, Chuo-ku
Access: 1-min walk from Mitsukoshi-mae Station
(Tokyo Metro Ginza Line, Hanzomon Line)
Rutile
Traditional Yukata experience in Asakusa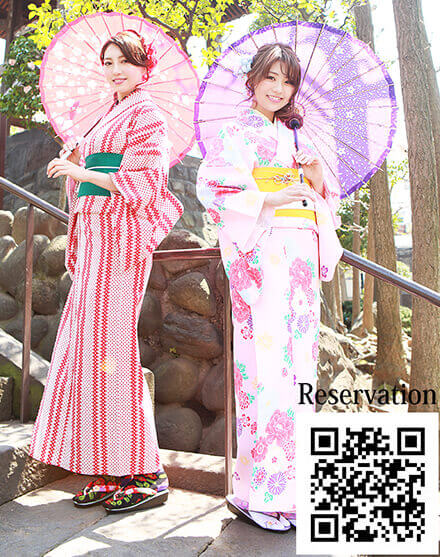 Rutile, a yukata rental store in Tokyo's cultural center Asakusa, invites you to stroll through the narrow sidewalks of the area while wearing Japan's traditional summer garment. After submitting an online reservation, you can discuss about the additional services available once at the store. In addition to selecting your favorite yukata from a wide range of designs, they also provide hair styling, makeup and photo shooting services for a small extra fee. The streets of Asakusa provide the perfect setting for your traditional yukata experience. Enjoy firework festivals, discover hidden places, take a ride in a rickshaw or taste the many goodies sold at food stalls in the area. Rutile offers a special discount of 500 yen in addition to their reasonable prices for those who upload a photo to their private SNS accounts and mention the store during their experience.
Hours:
10am – 7pm
Address:
A One Building 5F, 1-33-8
Asakusa, Taito-ku
Access:
3-min walk from Asakusa
Station (Tokyo Metro Ginza Line)
URL:
http://rutile.shop/index.html
Yukata Hanabi
Take off in Japan's traditional summer garment
Only 30 seconds away from Tokyo's bustling Shibuya Station, start your yukata experience at Yukata Hanabi! Providing you with the best service, professional makeup and hair artists will take care of your fresh summer look. You can rent the yukata of your choice for a total of three days, which will relieve you of having to worry about the shop's closing hours. It is also possible to purchase your favorite yukata for a reasonable price. Fully dressed, take to the streets of Shibuya and make your way to the many firework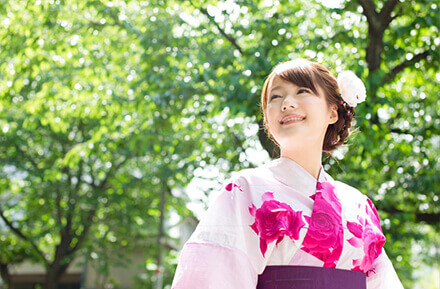 and summer festivals around town! When you like Yukata Hanabi's Facebook page, you will be rewarded with a 500 yen discount on your total fee.
Hours:
10am – 6pm (Sat & Sun) Opened when firework festival falls on a weekday
Address:
Yushin Building 1F, 3-27-11 Shibuya, Shibuya-ku
Access:
30-second walk from Shibuya Station – New South Exit
URL:
http://www.yukatahanabi.com/
Find out the best summer festivals to wear your yukata in this article.