Yamagata is a prefecture in Tohoku, the northern region of Japan. Famous for its nature, hot springs, fruits, flowers and spiritual places, Yamagata is sure to make you fall in love with its charm.
During the Edo Period (1603–1867) Yamagata city was a powerhouse due to its status as a castle town and producer of luxury goods such as Beni, or red safflower. Yamagata's red safflower can be used to make dye for cosmetics and fabric.
Reason to Visit Yamagata Japan 1: Japanese Paradise for Foodies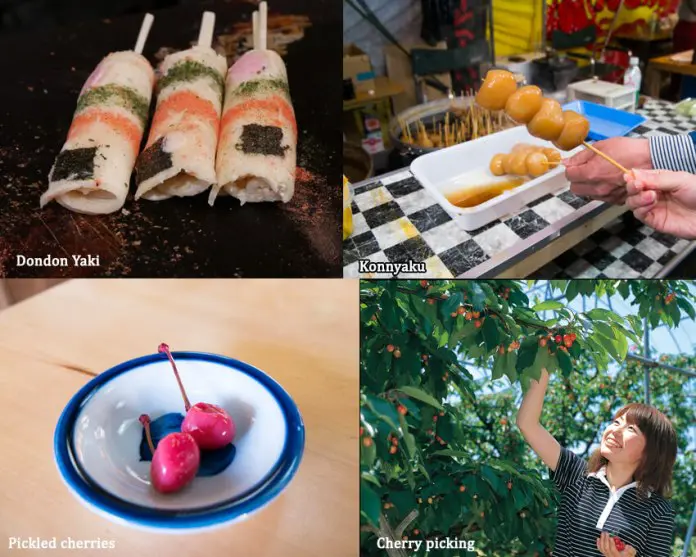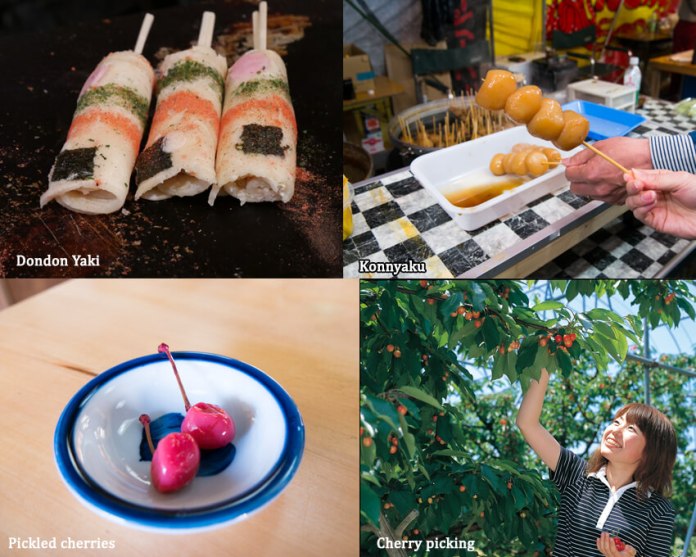 Yamagata has cherry and apple trees everywhere. During the harvest season you can even participate in fruit picking activities. Fruit picking in Japan has a place in every family-friendly travel itinerary. Not only is fruit picking in Yamagata fun but you also get to enjoy the rewards of your work. All of the fruit is, of course, yours to keep, along with all of the great memories you make in while traveling in Yamagata, Japan.
In addition, the rice from Yamagata, Tsuyahime has been voted as one of the best in all of Japan. As a result, just about every dish you try with this delicious Yamagata rice has a premium taste that Japanese food lovers can enjoy.
As for local specialties you may not know, try out Dondon Yaki and Konnyaku. Dondon Yaki is rolled up okonomiyaki on a stick, and Konnyaku is a plant-based jelly boiled in soy sauce broth. Both are Yamagata soul foods that any foodie traveling in Japan must try!
And if that can't ssatisfy your appetite for Japanese food, try participating in the Imoni festival. This tasty festival revolves around Yamagata's famous Imoni, or potato stew, that is cooked in a large pot.
Reason to Visit Yamagata Japan 2: Relaxing Japanese Hot Springs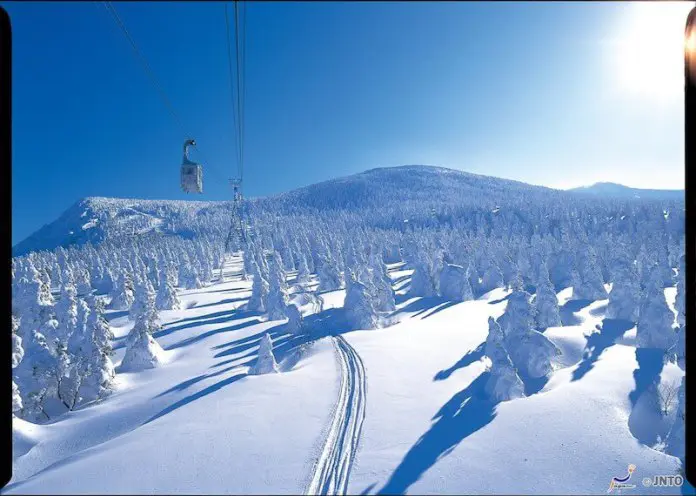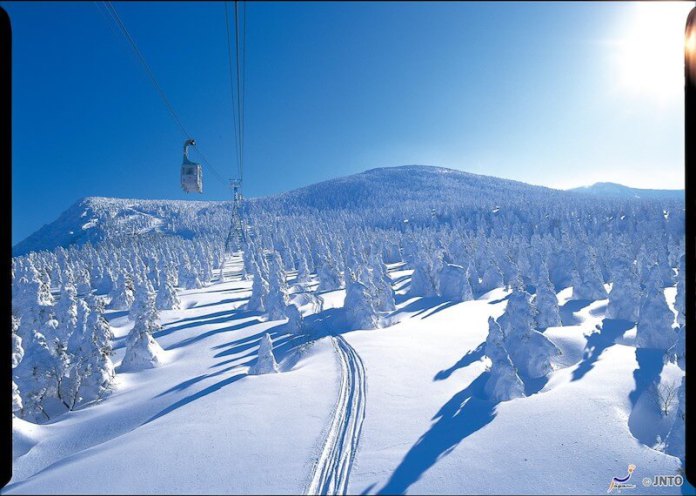 If you love Onsen, Yamagata has plenty to discover. Deep in the mountains of Yamagata you can find secluded onsen and hot spring towns that are both scenic and relaxing. No trip to Yamagata, or anywhere in Japan, is complete without a soak in the country's natural soothing hot springs. As you may know, no swimwear is allowed inside the baths in Japan. That means you must bathe naked with Japanese people and other travelers unless you reserve a private bath. However, it is not as bad as you think. As soon as your toes hit the soothing waters, all worries melt away. If you are still unsure, check out this guide for Japanese bathing for beginners.
Yamagata Ginzan Onsen
Ginzan Onsen translates to Silver Mountain Onsen, and this magnificent hot spring town lives up to its illustrious name. Historically, the area was a mining town for silver, and the area was built up around that industry. These days, the money-maker is the beautiful onsen town, which you may recognize from many stunning photographs. The streets lining the river a packed with traditional style buildings which house ryokan hotels, shops, and onsen. You can see people walking down the streets in their yukata as they go from place to place.
Even if you don't intend to stay or take a dip inside the onsen, the area is picturesque. For that reason, it is worth a visit, even just for the photo opportunity.  In the winter, the sparkling snow in the evening around Ginzan Onsen is illuminated by the warm gas lights creating a scene painted in silver and gold. Nearby, there is a towering waterfall that adds to the Ginzan Onsen's portfolio of picturesque photo spots.
Yamagata Kaminoyama Onsen
Kaminoyama Onsen in Yamagata is located near the base of Mt. Zao. As a result, it is a popular destination for outdoor enthusiasts who enjoy hiking and skiing. This Yamagata onsen town serves as a great base for exploration around the area. After a long day of outdoor adventure, visitors can rest up in the healing waters of Kaminoyama Onsen.
There are seven public bathhouses in the town. Each has a unique atmosphere and feel. Although staying at a ryokan is great, you can also visit the baths without staying overnight.
Gero Onsen
One more Yamagata onsen town worth visiting is Gero Onsen. In fact, it is considered one of the 3 best onsen in Japan by Hayashi Razan, a famous Confucian poet. Located between Takayama and Nagoya, Gero Onsen has maintained its pristine reputation, drawing visitors from all around the area.
Similar to Ginzan Onsen, this Yamagata hot spring town also features a small river running through the town with charming shops and ryokan on either side. However, Gero Onsen is not quite as secluded as Ginzan Onsen. As a result, it is much easier to access and add to your itinerary. It also has a more modern feel, but nearby the is tradition Gassho Village which is home to many old farmhouses, similar to Shirakawago.
Reason to Visit Yamagata Japan 3: Yukimi Experience
Being in the Tohoku area, Yamagata receives a lot of snow each year during the winter. Like hanami in the spring, which is about flower viewing, there is yukimi in the winter, which involves gazing at the gently falling snow. It is an extremely relaxing activity that can be enjoyed from the comfort of a warm hot spring that are all over the Yamagata area.
Yukimi is a great reason to visit Yamagata, Japan which is known for its heavy snowfall. So don't limit your time in Japan to spring in order to see the cherry blossoms. Japan is stunning beautiful in all seasons, including winter! So give a trip to Yamagata, Japan a try in the winter!
Reason to Visit Yamagata Japan 4: Outdoor Activities in Yamagata
Speaking of snow, there are plenty of ski resorts in Yamagata waiting for outdoor enthusiasts! Don't miss out on the opportunity to glide down the slopes around Zao in Yamagata, Japan! You can also meet the famous "snow monsters" that form on the mountain in winter. Don't worry! These Japanese snow monsters are friendly and love having the photo taken, so get your cameras ready to capture all of the natural beauty around Yamagata, Japan!
There is also plenty of breathtaking fall foliage to enjoy in Yamagata. In the autumn, Yamagata's mountains are painted in warm autumn hues that have to be seen to be believed. Because Yamagata is in the northern part of Honshu, the fall foliage seasons starts a bit earlier. The spectacular autumn landscape attracts plenty hikers and nature-lovers in Japan hunting for fall foliage. Obviously they don't leave Yamagata, Japan disappointed!
Reason to Visit Yamagata Japan 5: Spirituality and Festivals in Yamagata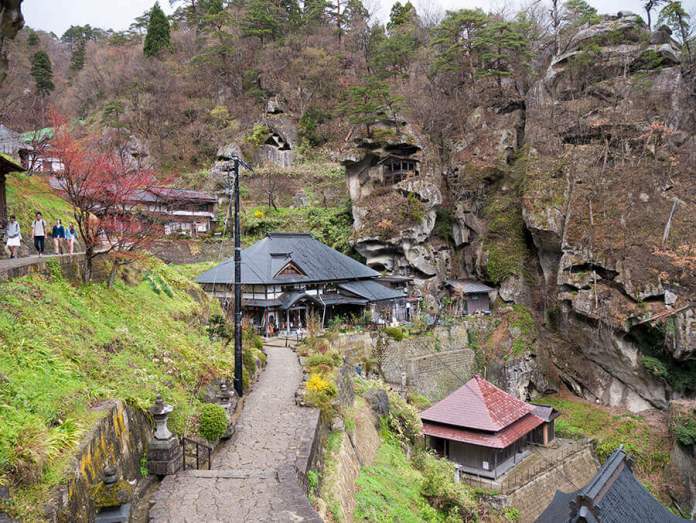 Yamadera is a mountaintop temple in Yamagata, Japan with more than one-thousand years of history. This temple was founded as a branch temple of Enryaku-ji on top of Mt. Hie near Kyoto. The flame that has been brought over from Mt. Hie still burns in Yamadera.
If you are on a pilgrimage of self-discovery, don't forget to visit Yamagata's three sacred mountains: Mount Haguro, Mount Gassan and Mount Yudono. These spiritual destinations in Yamagata, Japan are known as the Dewa Sanzan.
Hanagasa Matsuri
When it comes to traditional Japanese festivals, Yamagata has those too! On the first weekend of August there is a huge festival called "Hanagasa Matsuri" where hundreds of dancers perform on the street with paper flower-decorated straw hats. This festival is closely linked to the Benibana matsuri and the famous Benibana flower.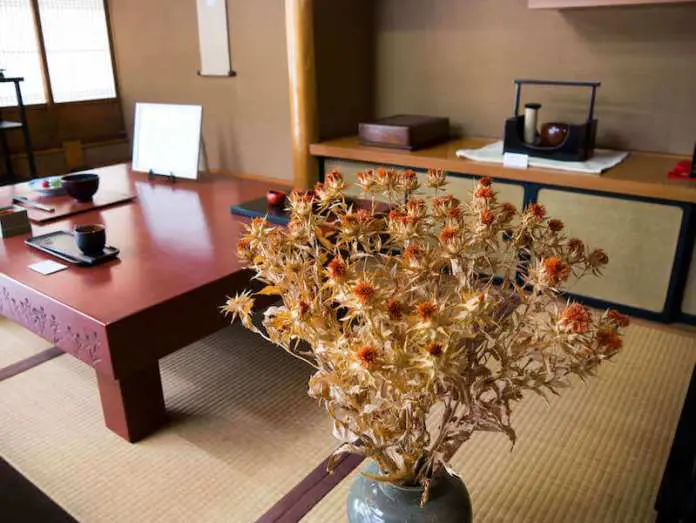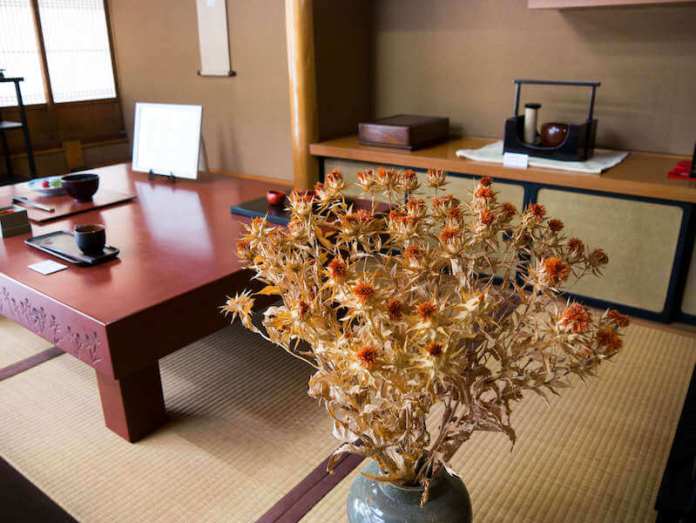 Reason to Visit Yamagata Japan 6: Sakura Viewing in Yamagata, Japan
The Sakura in Yamagata are beautiful during spring. Adding to their stunning quality are the special light ups events when the Japanese cherry blossoms are in full bloom. In fact, Yamagata castle holds a special Sakura festival with re-enactments from the Edo period. Nearby, the Mamigasaki River has beautiful lit up Sakura at night that proves Sakura trees are not just for sunny daytime picnics.
How to Get to Yamagata, Japan
From Tokyo :
[Rail] 2h 30min (quickest) to Yamagata Station by JR Yamagata Shinkansen Line.
From Osaka :
[Rail] 5h from Shin-Osaka via Tokyo (JR Tokaido Shinkansen Line) to Yamagata Station by JR Yamagata Shinkansen Line.