The snow-covered Akita prefecture in the north of Japan is known for several things. And in February, I headed out there to experience the best it has to offer. Invited by the local Akitainu Tourism organization that covers the Odate-Kitaakita-Kosaka-Kamikoani area, I took the Komachi Shinkansen to Akita station, enjoying the views during the 3-hour trip. Another way to get there from Tokyo is by a domestic flight, though it won't save you much time compared to the shinkansen.
As the name suggests, Akita dogs are easily the prefecture's most popular ambassadors, one of them a Shibuya landmark today. We're talking of course about Hachiko, a dog from the Akita dog breed, whose story tears everyone up and has inspired a Hollywood film. Actually, I learned from the locals that the first Akita dog statue, before the one of Hachiko, was in Odate city, but sadly it was taken down during the Second World War in a sweeping effort by the military to gather material to be used for weapons. Today, not one, but many similar dog statues can be found around Odate station, while the likeness of this dog can also be seen on pavements and on various souvenirs.
Many friendly Akita residents will let you pet their dogs if you ask nicely, and many onsen ryokans have pet Akita dogs too. We swung by the Furusawa onsen to play and take photos with their two adorable dogs, Hana and Haru. They were happy to pose for photos and let us run our fingers through their thick fur. Odate city also has the Akita Dog Museum and the Akita Dog Visitor center, so on a trip to Akita fans of these dogs will surely have many chances to interact with the furry cuties.
Star Chefs Make Akita Food Shine
Staying at the gorgeous renovated onsen ryokan Hikage is a treat in itself. The onsen can be reached by a 30-minute bus ride from Odate station. Greeted by a powerful taiko drum performance and the ryokan's own Akita dog, we went inside to explore the architecture and the nostalgic interior design of the place.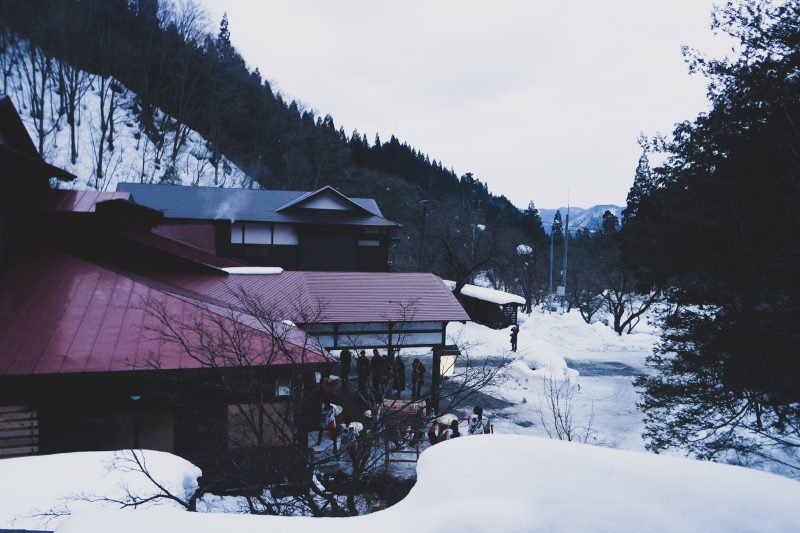 The ryokan hotel has several hot springs, both indoors and outdoors. I soaked in the outdoor bath, called rotenburo, surrounded by snow and by moonlight, practices that have a name in Japanese: 'yukimi' (雪見) and 'tsukimi' (月見) respectively.
The special treat awaiting was a dinner bonanza aiming to showcase the best of Akita in the best light possible. The northern prefecture has excellent weather and soil, resulting in high quality ingredients that are sure to be the star of any dish, but this time they were elevated to extreme heights of taste.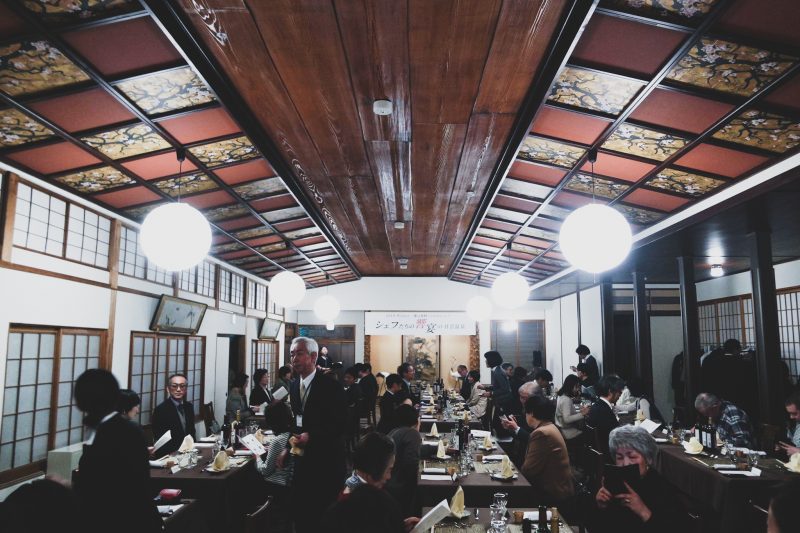 The local tourism organization invited four Michelin star chefs who cooked creative dishes using Akita food ingredients and fusing Japanese, Italian and French cuisines. They explained their dishes, their creative cooking ideas and which Akita ingredients they used. We even got to meet the chefs!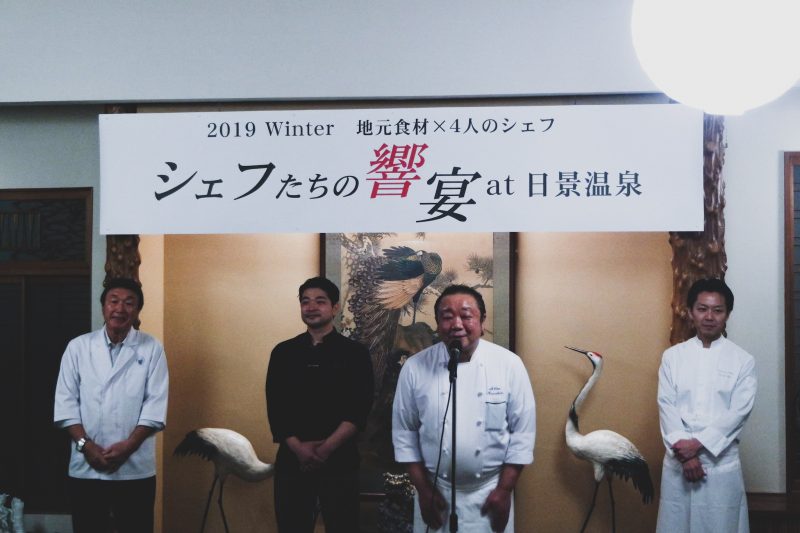 Hinai chicken and local pork and beef were used in many dishes, tender and full of flavor. A great surprise to all was edamame and its versatility – we tasted it as puree, as pasta, as a cream soup, even expertly used in a chocolate cake, and we were delighted at each version! Another welcomed surprise was Kosaka Seven Falls wine, 100% made in Japan, some varieties made from rare wild mountain grapes.
Breakfast was also scrumptious, prepared by the ryokan, as Akita ingredients are sure to be tasty in various preparations. Without a doubt I came to regard Akita prefecture as an area of food delicacies.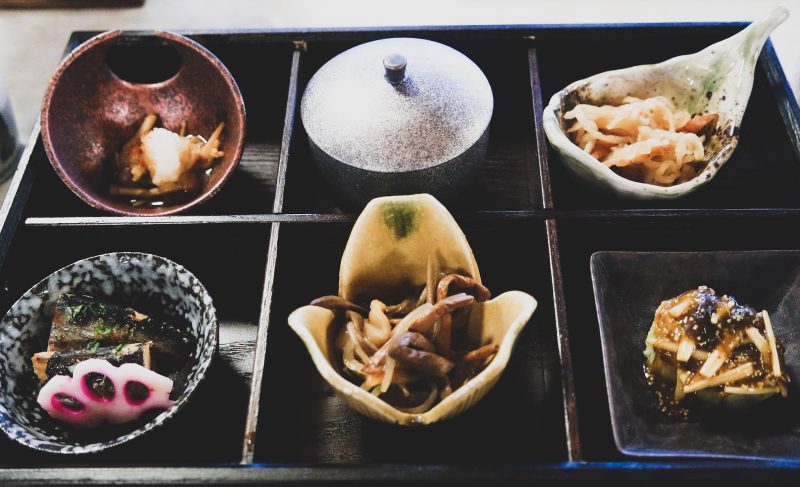 The biggest Taiko drum in the world!
Next day, we were off to visit a place that is really important to Akita people – the Odaiko Hall. The Odaiko Hall is just a short ride from JR Takanosu station. As we walked in the main hall, we saw not one, but several giant Taiko drums, shining like moons in the chilly hall. And they are not just fragile exhibits too – every year they play a big part in the Tsuzuriko Matsuri festival (July 14-15), and their sounds can be heard from 3 to 4 kilometers away!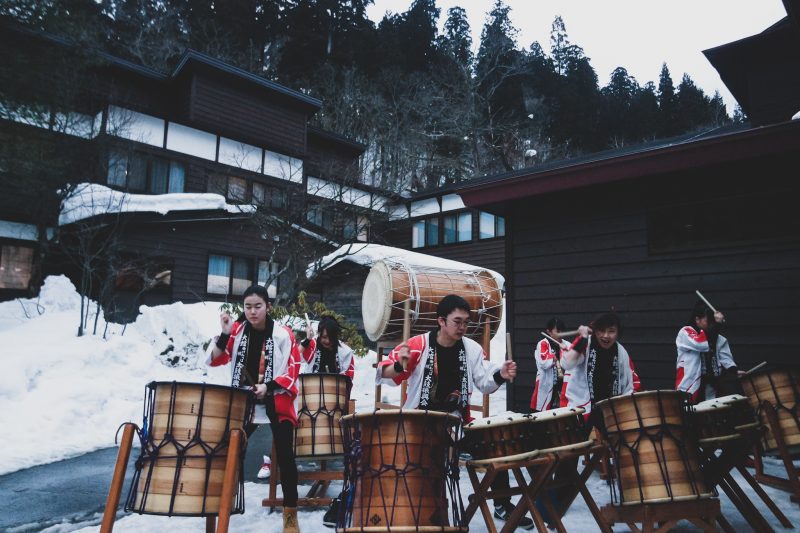 For those who don't know, Taiko is a traditional Japanese percussion instrument, and its energetic mesmerizing beat can be heard at many festivals around the country. What makes the bond between Taiko drums and Akita special is that they have the biggest Taiko drum. Additionally, they also have the drum with the biggest single piece of skin in the world! Odaiko Hall also has a collection of percussion instruments from around the world, so it's definitely a great spot for drum fans.
Why size matters, you might ask? So that the beating of the drum can reach the gods. These drums have been used to pray for rain and as part of religious ceremonies for centuries. Starting small, as technology improved over time, they were built bigger and bigger. The biggest Taiko drum housed in the Odaiko Hall today is 3.8 meters in diameter and weighs around 3 tons!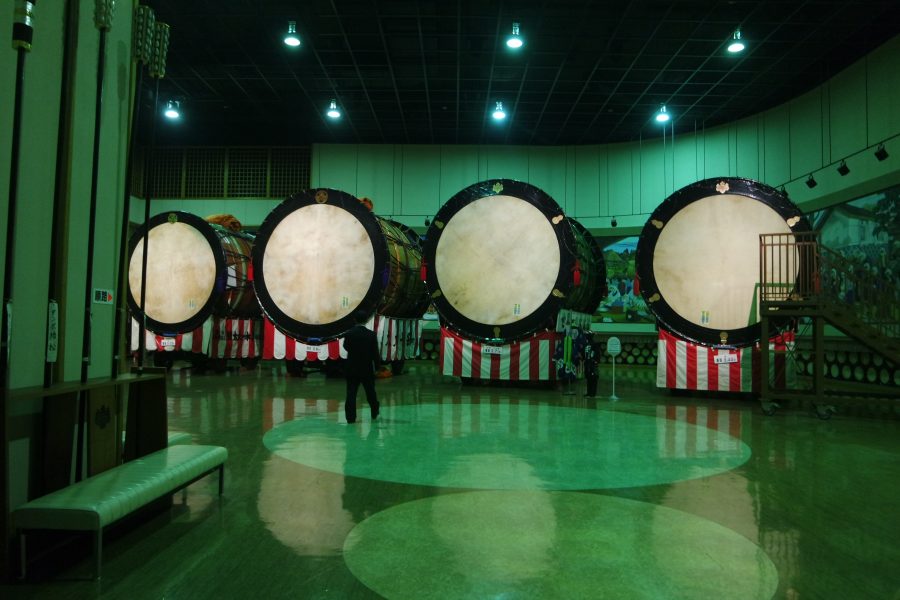 As the drums are very valuable and made from natural materials, they must be kept in a controlled atmosphere with the perfect humidity and temperature so that the skin doesn't dry. The skin comes from a breed of giant Kyushu cows, one of the biggest in the world. So it's no wonder the director of the museum told us that a single drum is valued at roughly 30 million Japanese yen or more than 250 000 US dollars!
Akita craftsmanship – trying our hand at 'magewappa'
Near Odate station, we went to try our hand at making a bento box from cedar wood using the magewappa technique, taught by the master himself – Mr. Shibata Yoshimasa, second generation owner of the highly acclaimed Shibata Yoshinobu Shouten workshop. The Akita woodwork craft called 'magewappa' is a fascinating example of preserving old craftsmanship. It doesn't use any nails or screws to hold a box together – it's made by a lot of bending, hammering, a tiny strip of cherry tree bark and a bit of wood glue.
It looks like a daunting task at first, but then again, Mr. Shibata is a great teacher. He made several preparations for us to make the process go smoother, like pre-soaking the thin strips of cedar wood in 80 degree Celsius water for 2 hours so that they are pliable and easy to work with. He taught us how to bend the strips, glue them, even hammer them in the rhythm of taiko drums! The strips of cherry tree bark are weaved in and out several eyelets to tie the lunchbox and create a beautiful decorative pattern.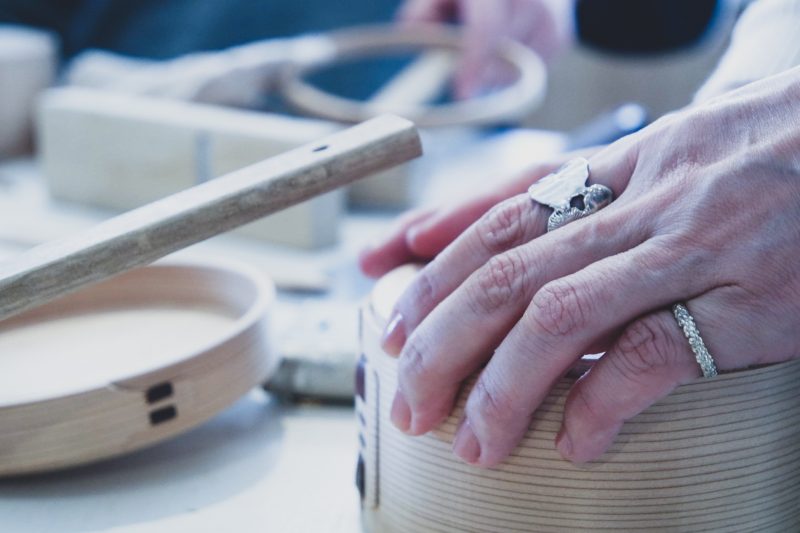 They sell many intricate designs in the shop, and even their sinks are made in the magewappa way – instantly confirming Mr. Shibata's guarantee that the finished products won't leak water.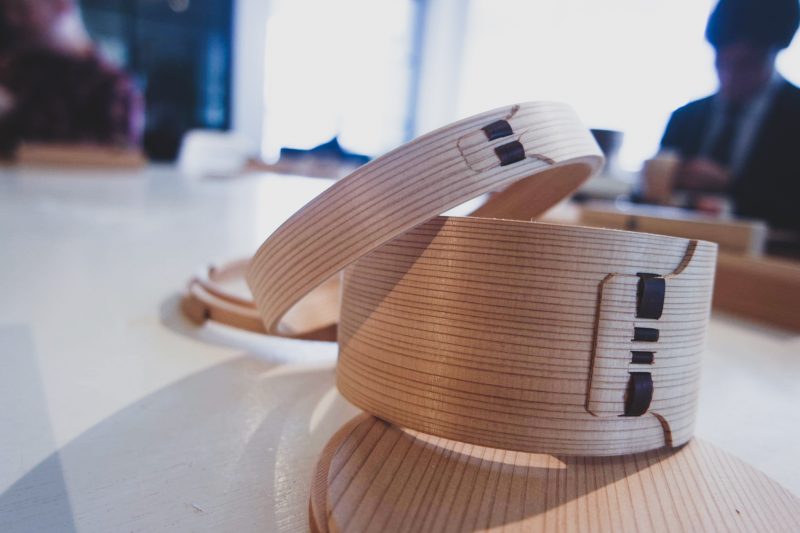 After the workshop we went for lunch and were thrilled to find out that many restaurant in Odate, Akita use magewappa bento boxes to serve lunch!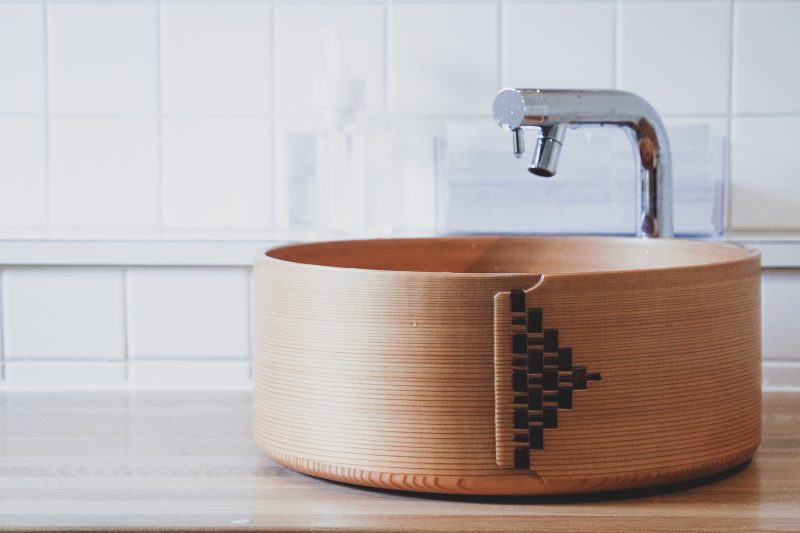 In a short trip I managed to get acquainted with the best of Akita – its famous fluffy dogs, the excellent food, old craftsmanship, the biggest taiko drum, dipping into an iconic rotenburo bath surrounded by snow… but it still feels as if I barely scratched the surface. This prefecture has a lot to offer, and its beauty also lies in its vast space and calmness. I felt I could explore this part of Japan without rushing and without crowds, meeting people with warm smiles in the crisp cold snowy winter.
---
Information:
Furusawa Onsen Hot Springs
Akita Dog Visitor Center
Taiko Museum
Hikage Onsen
Shibata Yoshinobu Shouten (Japanese)
---
WATTENTION WRITER PROFILE
MORE ARTICLES BY THIS WRITER |