Odaiba, an artificial island in Tokyo Bay, is one of the many former fortresses constructed at the end of the Edo Period to stop U.S. Commodore Matthew Perry's Black Ships from invading Japan. Today, it has become a popular shopping district, attracting not only tourists from all over the world, but also locals curious about the most advanced entertainment technology. The drastic change over the past hundreds of years is something no one would have expected back in the Edo Period!
Start exploring Odaiba from Aomi Station.
---
森ビル デジタルアート ミュージアム:エプソン チームラボ ボーダレス
MORI Building DIGITAL ART MUSEUM: teamLab Borderless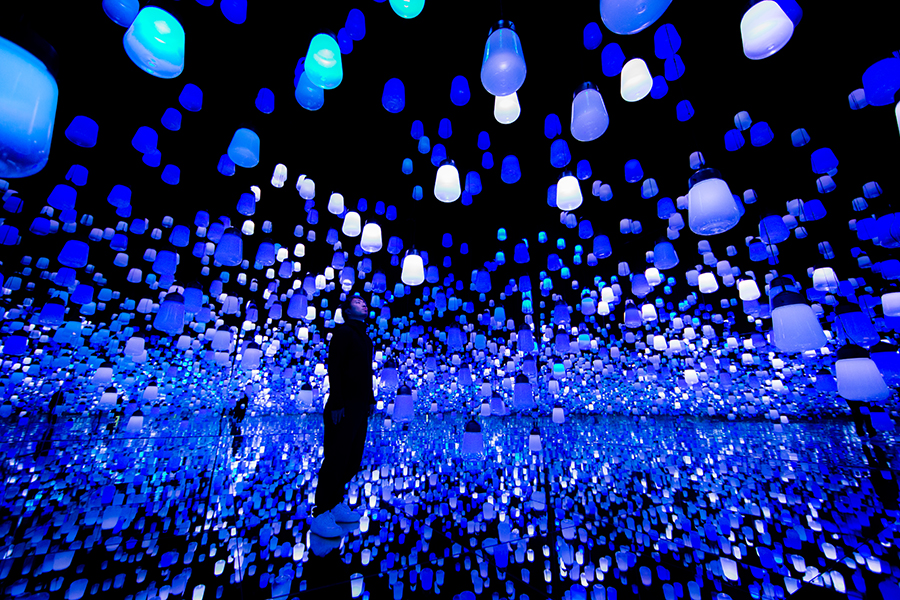 teamLab is famous for its concept of "borderless art," where visitors can become part of an art display and interact with it, all thanks to the magic of digital technology. One of teamLab's most popular exhibitions is the "Forest of Resonating Lamps," which is itself one of the five 'worlds' you can see at "teamLab Borderless" in Odaiba. As with the other displays, visitors are encouraged to enter the space and interact with the exhibition itself. If you stand close to a lamp, it begins to glow. The lamp sends out its color to the nearest two lamps, which send it to the next two nearest, and so on, creating a magical path around the room.
In preparation for the winter season, teamLab has made some changes to this artwork, adding winter colorations, including one that makes the color of the lamps blue and resonate with white and pale blue light. This coloration has been dubbed "Ice Cave." The Cool blue lighting makes for a wonderfully atmospheric setting, and the copious use of mirrors in the room makes the forest stretch out into infinity in all directions.
Although the venue is always worth a visit, the beauty found in the Venetian-glass lamps, which make up the new Ice Cave, is the perfect way to get into the winter mood! Why not come by and see for yourself?
MORI Building DIGITAL ART MUSEUM: EPSON teamLab Borderless
Hours:10am-7pm(Mon-Fri),10am-9pm(Sat, Sun & Holidays)
*Admission until one hour before closing
*Operating hours a change by season.
Closed on every second and fourth Tuesdays of the month
Admission:3,200 JPY(adults, 15 years and older), 1,000JPY(children, 4 to 14 years old), Free for ages 3 and younger.
Address:Odaiba Palette Town, 1-3-8 Aomi, Koto-ku, Tokyo
Web:borderless.teamlab.art


シンボルプロムナード公園
Symbol Promenade Park
Symbol Promenade Park connects Aomi, Ariake, and Odaiba areas and is known for its beautiful green landscape. The area also offers an unobscured view of Tokyo Bay, which is most charming during sunset when the skyscrapers in the far distance light up, creating an unbelievably romantic setting. A slow stroll in the park is an indulgent experience you will treasure for a lifetime.
Symbol Promenade Park
Address:1&2 chome, Daiba, Minato-ku, Tokyo/ 1&2 chome, Aomi, Koto-ku, Tokyo/ 2&3chome, Ariake, Koto-ku, Tokyo
Web:www.tptc.co.jp/en/c_park/01_04
東京ジョイポリス
Tokyo Joypolis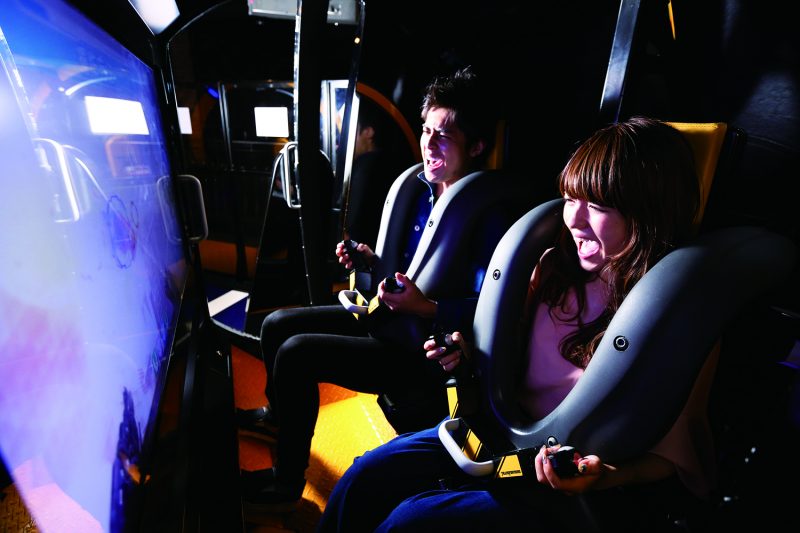 TOKYO-JOYPOLIS by CA Sega Joypolis boasts over 20 exciting, fun and virtual entertainment attractions that will leave you spellbound. Experience the adrenaline rush in 3D car drifting and turn yourself into a Transformer! This state-of-the-art attraction is a gamer's paradise!
Tokyo Joypolis
Hours:10am-10pm
Address:Seaside mall 3F, 1-6-1 Daiba, Minato-ku, Tokyo
Web:tokyo-joypolis.com/language/english/


台場一丁目商店街
Daiba 1-chome Shoutengai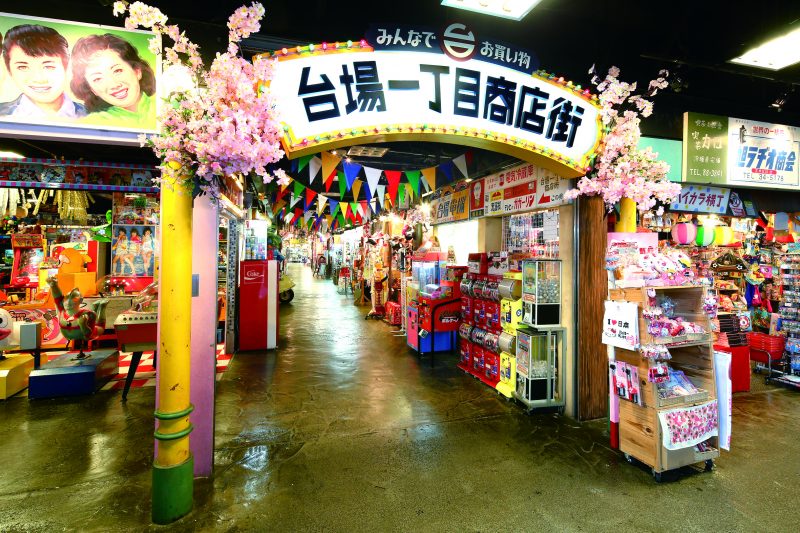 Interested in how Japanese lived back in the 1950s? The retro décor and vintage goods at Daiba 1-chome Shoutengai in DECKS shopping mall will make you feel like you have leapt through time back to the past. Aside from events and arcade games reminiscent of the good old days, traditional candies are also sold here. It's time to get retro and relive the era!
Daiba 1 chome Shoutengai
Hours:11am-9pm
Address:Seaside mall 4F, 1-6-1 Daiba, Minato-ku, Tokyo
Web:www.odaiba-decks.com/news/event/daiba1chome.html


東京トリックアート迷宮館
Tokyo Trick Art Museum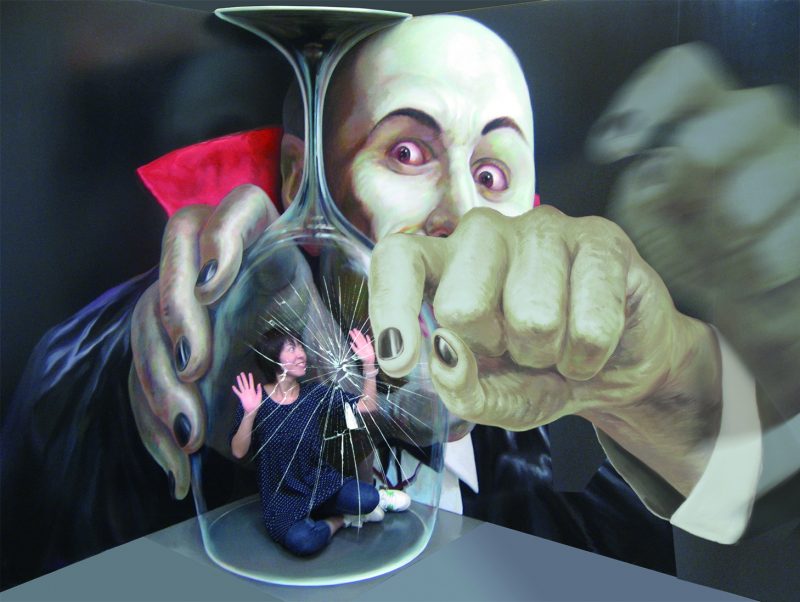 Located on the 4th floor of DECKS Tokyo Beach Seaside Mall at Odaiba, Tokyo Trick Art Museum is separated into different areas by themes, such as the Edo period, ninja and Japanese monsters, famous artworks and brain training. Riding on the back of a tiger or flying through the sky with ninjas are all possible.
You can also download the "TRICKAR" app on your smartphone and turn the pictures you take into a movie—a new way to experience art.
Tokyo Trick Art Museum
Hours: 11am-9pm (Closed irregularly)
Admission: 600 Yen for children between 4 and 14, 1,000 Yen for adults
Address: 4F DECKS Tokyo Beach Seaside Mall, 1-6-1 Odaiba, Minato-ku, Tokyo
Web: trickart.info/english/