Japan has always been at the forefront of adopting new technologies, sometimes to the point where the rest of the world can only sit back and wonder – 'What in the blazes is going on over there?' – only to find themselves doing the exact same thing ten years later.
The island nation was the first to see the widespread adoption of digital cameras, smartphones, public wi-fi, and so much more, but one of their more eccentric technological crazes has to be their vending machine mania. These handy point-of-sale terminals are virtually ubiquitous here, not just in the city centers but all through the outlying districts. The mammoth industry, by relative world vending machine standards, rings up in excess of 5 trillion (yes, with a T) Yen in sales every year.
That's not even the interesting bit of the whole affair. A look at some of the wares being sold in these machines will come as a bit of a shock to those used to nothing but candy, sodas, and potato chips in their vending machines. Here's a look at some of the more unexpected vending machine items you might find in this sometimes zany land.
Japanese Vending Machines To Quench Your Thirst?
Sure, you'll get your bottled water, coca-cola, or coffee at any one of the numerous vending machines, but what about hot soup? Some of these machines will serve up a can of soup heated to your liking if you're trying to beat the cold on the go. These drinks aren't all pre-made, you can order up a cup of freshly ground coffee or a soft drink combination with ice cubes added in.
There are machines that will go through a few more extra motions than what we're used to in order to serve up more complex dishes for the hungry ones out there. Aside from the not-so-hard-to-believe ice cream and snacks, there are units that will spit out a cup of noodles with the hot water added in as you order. You can get a dish of rice with pickles and curry that will leave you wondering whether there's a diminutive cook somewhere back there making things happen. Don't wonder too much – this is Japan.
Japanese Groceries Vending Machines
If you're not in the mood for a commute to the grocery store early one morning, take whatever comfort you can in knowing that for many Japanese, the grocery stores come to them. In many out-of-the-way places and countrysides, you can get your fresh farm eggs and milk from a conventional vending machine just a few feet from your house. Sure beats trekking to the farmer's market.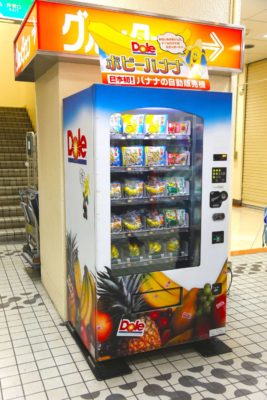 In some vending machines, you can even find fruit, like this one spotted in Shibuya. This Dole vending machine appears to be selling bananas and some other tasty fruit. The system gently catches the fruit and lowers it to the door without damaging the bananas. Would you consider buying something from a Japanese fruit vending machine? It would certainly give a healthy boost of energy during a day of exploration through Tokyo!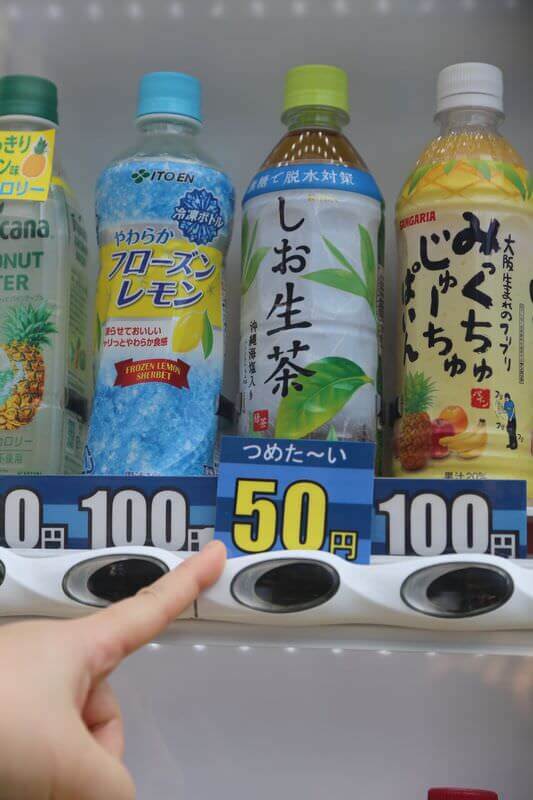 Speaking of Shibuya, be on the lookout for cheap vending machines! Selling coffee for 80 yen or green tea for just 50 yen, this is the cheapest vending machine we have found in Tokyo! This cheap vending machine was found Aoyama-dori Street, just north of the intersection with Omotesando Street. Maybe traveling in Tokyo can be affordable after all!
Japanese Souvenir Vending Machine
Need a last-minute Japanese souvenir but the stores are all closed? Japan has the answer! Just like there are many different vending machines in Japan such as for drinks, snacks and even vegetables there is now a Japanese Souvenir Vending Machine. Located in a side street of Shibuya, this vending machine sells products such as origami earrings and decorative kimono cloth. If you're a late-night shopper in Shibuya and someone's birthday is coming up, this vending machine might just be a lifesaver.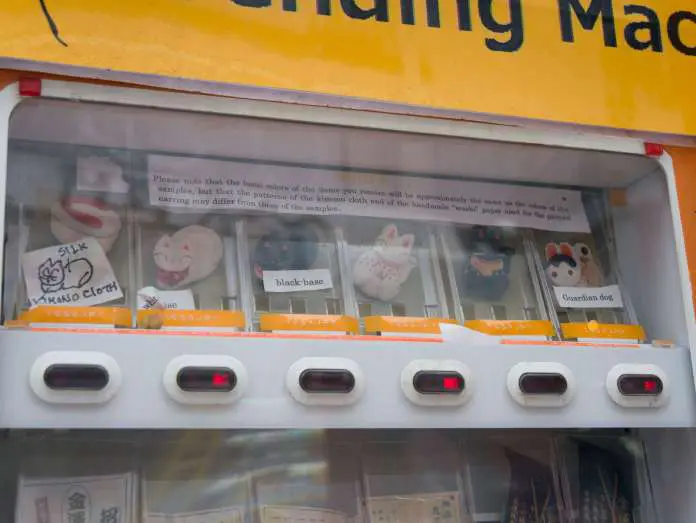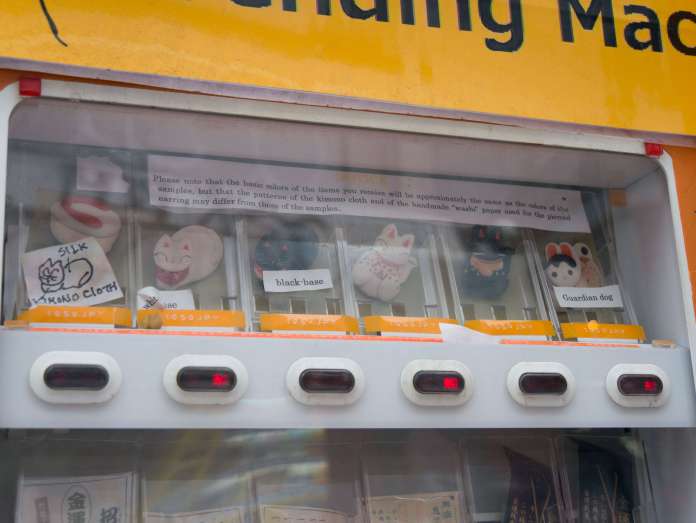 Japanese Vending Machines Going Green
Now, with the proliferation of these machines all over the country, estimated to stand at over 5 million units, there has been the inevitable concern about their environmental impact. To handle this concern, the manufacturers of Japan's vending machines have contrived ways of reducing the power usage of these machines by 70 percent over the past 20 years.
In an effort to make them even more socially useful, earth-quake prone Japan has seen the rise of the disaster-relief vending machine, able to work during power outages, dispense food without requiring payment, and display relevant disaster information, warnings, and updates.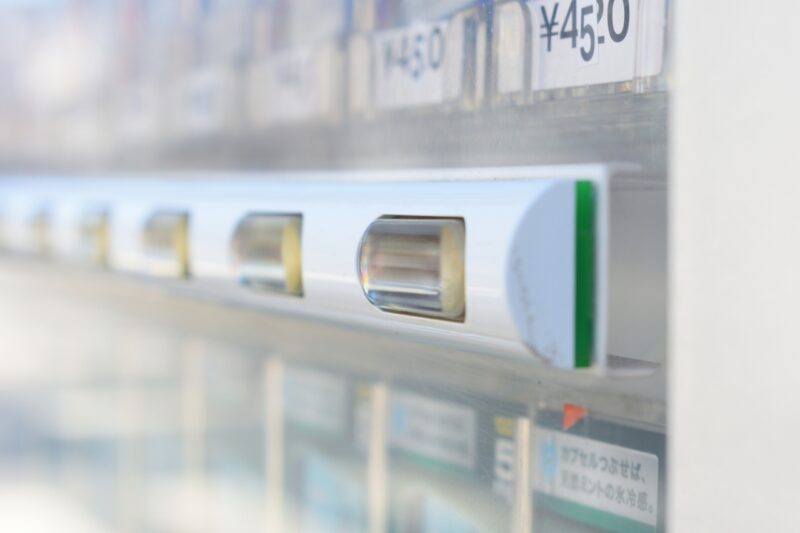 Anything Else?
Now, let's move away from the food and drink into more unfamiliar territory. Ever been caught out on a rainy day without an umbrella or open store in sight? Ever had a life-or-death emergency that called immediately for a personalized business card? or maybe forgot a toy for the little one's birthday until you're just about to get home?
Well, the Japanese have each other's backs on these ones. You will be able to find vending machines carrying virtually any little knick-knack. That includes toys, umbrellas, magazines, or even sim-cards you might need in a hurry. It gives convenience a whole new meaning.
Now, there are some things not too many of us would think of buying. It's OK, we don't judge. You probably will have heard rumors about used underwear vending machines in Japan, right? Are Japanese panties vending machines real? Well, there's quite a bit of truth to those rumors.
Burusera shops sell used schoolgirl's underwear and clothing for fetishes. As we said, we don't judge. The advent of the vending machine saw the trade naturally branch out onto the platform. Even though the Japanese government has strict regulations in place regarding the trade, it doesn't violate their strict child-abuse laws. For many visitors to Japan, the sight of roadside used panties vending machines will rank up there as their biggest 'WTF Japan?!' moment.