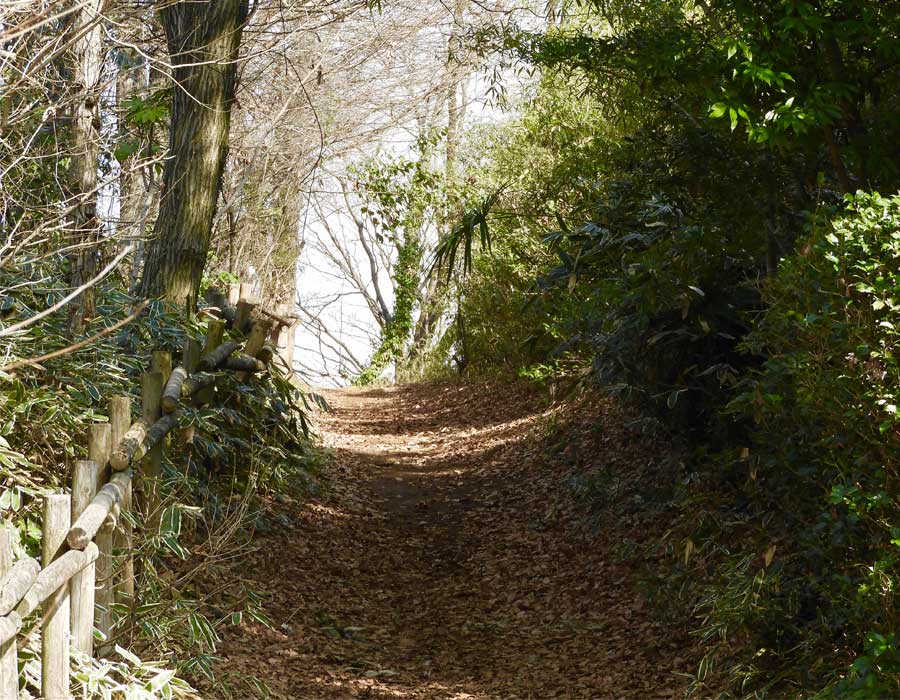 I was greeted at the revamped Tokorozawa station by our friendly guides for the day. The hospitality was felt immediately after exchanging greetings. We were all presented with a cold bottle of local green tea. Our small group was then taken to a minivan to start our guided tour of the city. I studied the schedule on the way to the first place and was excited to know we would be visiting temples, aviation museums, forests, tea farms, pubs and new exciting developments. Let the journey begin!
The two days were filled with fun, interest and great hospitality. Read on to discover the different attractions Tokorozawa city has to offer.
By Sarah Nishina
Sayama Hills
I arrive at the Seibu Tokorozawa train station with the theme song of one of my favorite anime movies, in my head. I heard this area inspired a famous anime movie director for its mystical forests, delightful characters and the slow life of Japan.
After a short 30 minute ride from Ikebukuro, I change trains at Nishi-Tokorozawa Station for a short ride to Shimo-Yamaguchi station. I step away from the station and I immediately feel at ease and take a lovely breath of fresh air. First on the journey is the magical forests of Sayama Hills.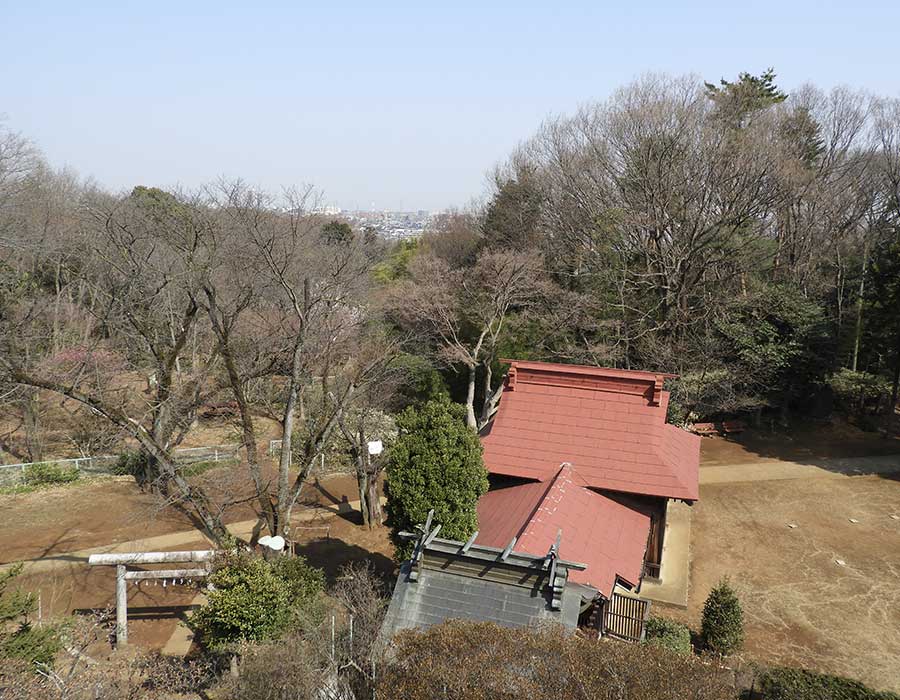 I walk for about 20 minutes through local residential areas, vegetable gardens and pockets of forest to the Sayama Hill Flora and Fauna Interaction Centre.
For anime fans, you can visit the forest that served as inspiration for iconic anime movies. Pop into the center and one of the guides (I was told they have English & Spanish speaking staff on most days.) will give you a map and show you photos pointing out all the spots you might want to see.
My guide shows me around the surrounding area. I walk up the hill, known as Arahata Fuji (mini Mt Fuji) and can see the real Mt Fuji in the distance, Seibu Dome, Tokorozawa City and on a clear day, Tokyo Sky Tree.
I enjoy listening to the birds, crunching acorns under my feet and being in nature as I realize I am only 30 mins away from the big smoke! A perfect place for a picnic and day out under the trees.
Access: 20 mins walk from Shimo-Yamaguchi Station on the Seibu Shinjuku Line.
Hours: 9:00-17:00
Closed: Mondays and Public Holidays.
Aircraft Museum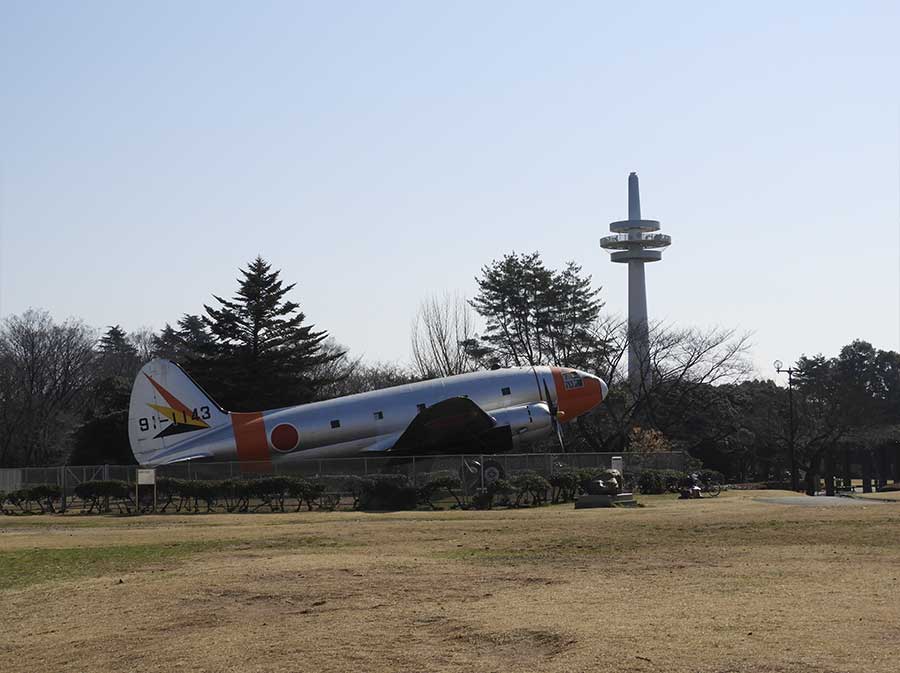 Who recalls saying, " I want to be a pilot!?" As I walked out of the Koku-Koen Station on the Seibu Shinjuku line, my eyes were drawn to a blue and white plane in front of me. I find out it is the YS-11 carrier, the first national aircraft developed and manufactured by Japan after the war. I keep walking towards the trees to a beautiful park with lots of open space and people having picnics and playing. This is the place to visit for all those who answered yes.
I enjoyed watching a group of elderly men nurturing their inner child as they flew their model airplanes high in the sky. Huge smiles all around. I have a chat to one of the men and he asks me if I noticed the train station design when I arrived. I nod my head side to side. He tells me it is designed to look like a "Henri Farman" biplane from 1910. He continues to tell me it was the first official powered aircraft in Japan. He tells me a few times to focus on the clock above the station entrance when I walk back. We shake hands and he touches the ground, telling me this is the first runway in Japan. This isn't just a beautiful park! We are standing on Japan's first airfield. (1911)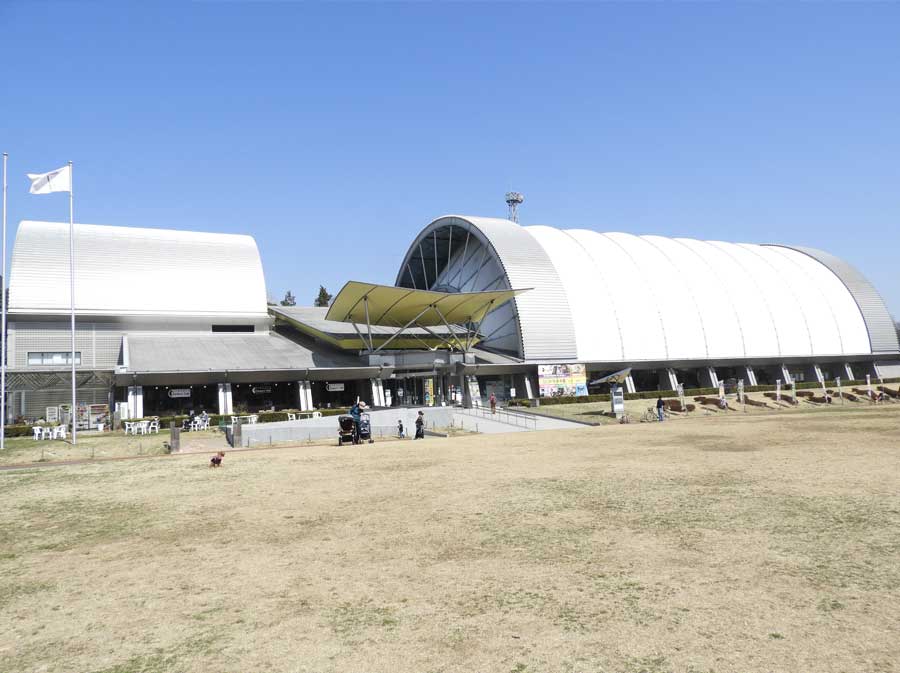 On the side of the park is the Tokorozawa Aviation Museum. The main hall has airplanes, helicopters, and engines which you can sit in, touch and get close to. There is a variety of interactive activities including a flight simulator and spacewalking experience. Fun to be had by the whole family.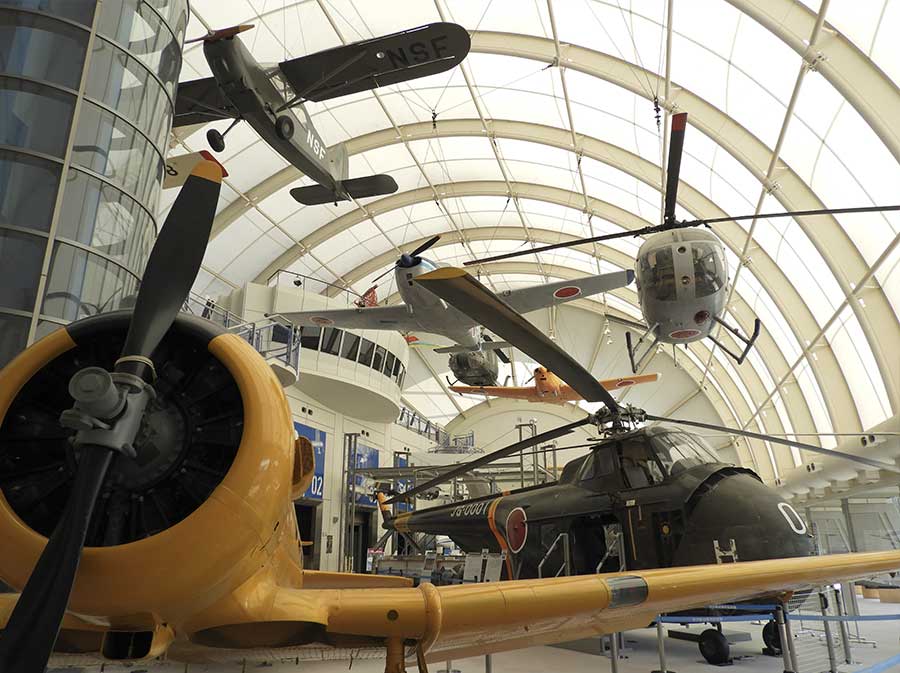 The museum shop sells a good variety of toys/model planes. I wanted to buy one and go out to join the old guys! Will keep that for my next visit.
After all the fun there is a spacious coffee shop on site but I decided to simply grab an ice-cream and walk outside in the park to explore more.
On the opposite side of the park, I find a lovely Japanese garden and tea house. I enter into a little oasis, happy not to have to remove my shoes, I find a quiet little corner overlooking the garden. I order tea and choose from one of four beautifully presented traditional Japanese sweets. Feeling extremely peaceful I go outside to enjoy the gardens.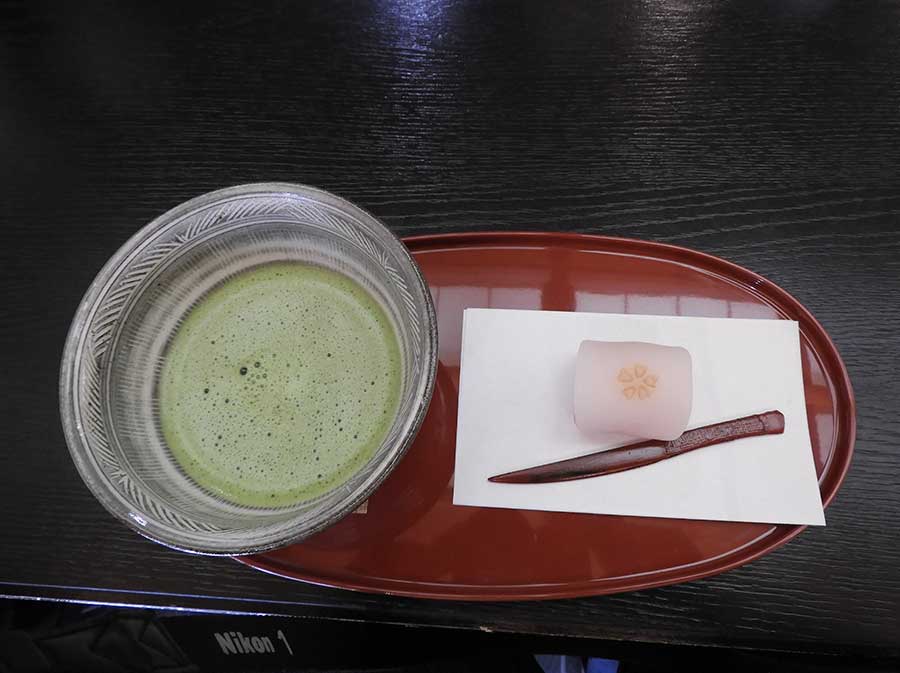 I walk back to the station remembering the man's words. I spot the clock and can see that the station is indeed designed like a biplane. The clock represents the propellor. How fantastic!
Airplane fans will surely enjoy this area of Tokorozawa.
Aviation Museum
Access: 10 minutes walk from Koku-koen Station on the Seibu-Shinjuku Line.
Hours: 9:30 – 17:00 (entrance until 16:30)
Closed: Mondays and New Year's Holidays. Open Mondays if a National Holiday.
URL: https://tam-web.jsf.or.jp (unfortunately the English website is still under construction)
Tea Room Saishotei
Hours: 10:00 – 16:00
Closed: Mondays and New Year's Holidays.
Retro Pub Hopping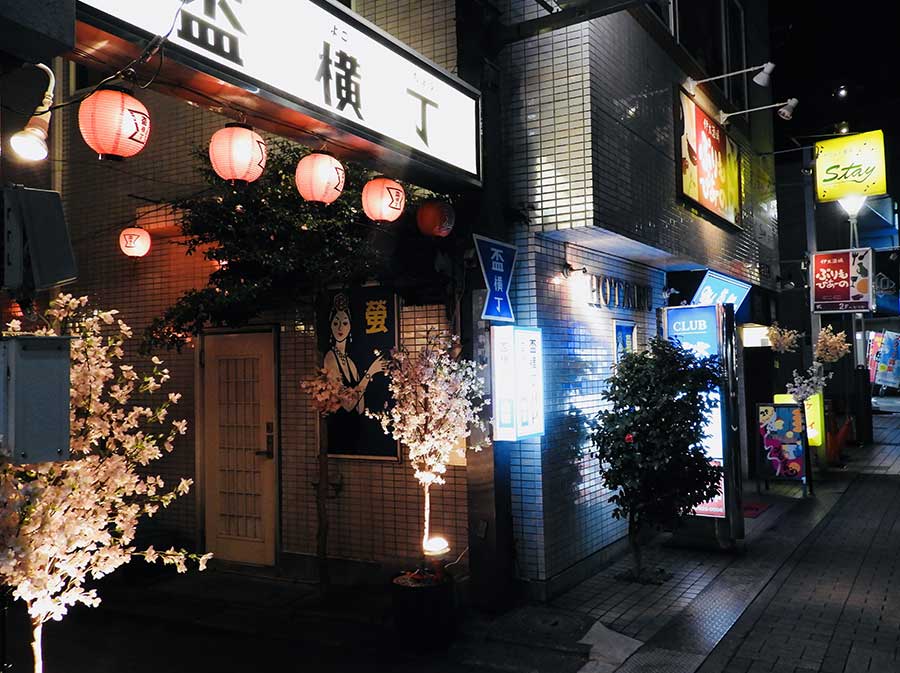 As in most places, I explore, my rule of thumb is to always venture the back streets. Walking a little further than "Propellor Street" which may feel like the place to eat, but knowing there is always something better around the corner, I continue on.
I find a little street called Sakazuki Yokuchou (shot glass street) Keep an eye out for the old movie signs from the seventies. I walk to the end and the last shop on the left draws me in. I am welcomed by a tall and happy chef/owner to sit at the counter.
A bit difficult if you have no Japanese as the menu has no photos or alphabet. If you are adventurous and can eat anything, simply say, "omakase kudasai." (I leave it up to your choice.) You won't be disappointed.
Go back in time, enjoy a cold beer or warm sake and enjoy making new friends.
Cool Japan Forest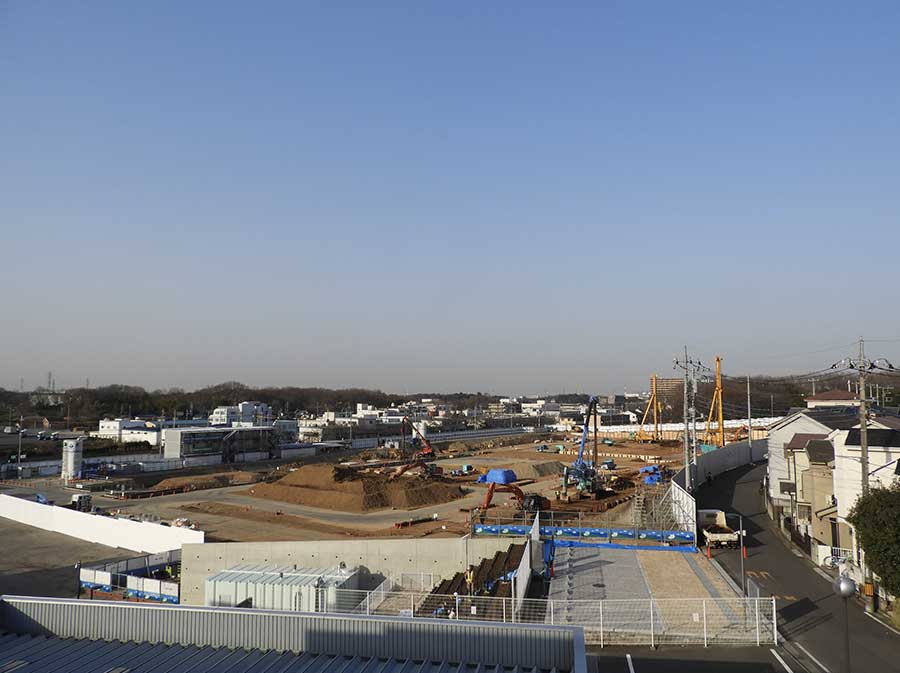 Coming early 2020, coinciding with the Tokyo Olympics is the development of COOL JAPAN FOREST. I was very lucky to be taken around the construction site and be shown the future plans for the area. The entire area will be named Tokorozawa Sakura Town. Kadokawa, one of Japan's leading publishing houses and the local city are creating COOL JAPAN FOREST.
It will include facilities showcasing Japanese main culture and subculture, restaurants and food stalls, a hotel, office space, shops and many more interesting attractions for both locals and foreigners.