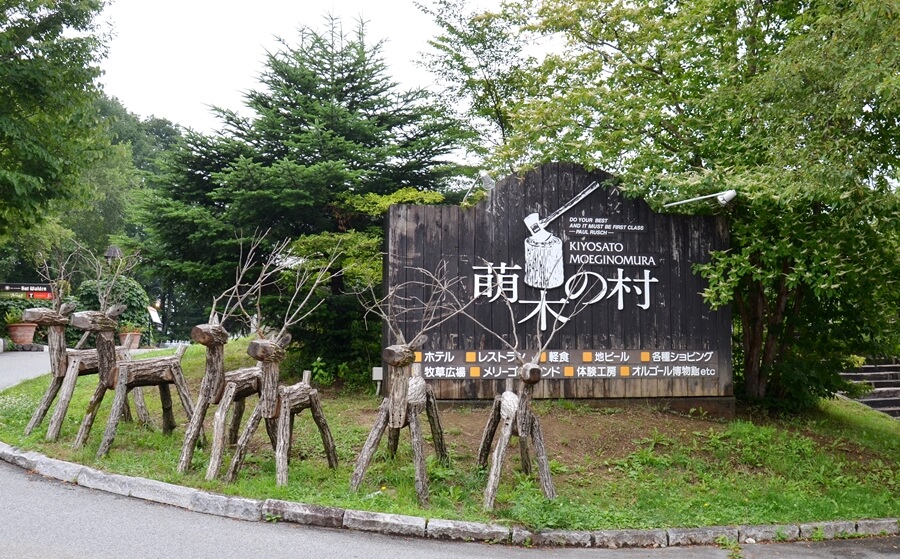 Spend a day in Moegi no Mura, a theme park village located in the Kiyosato Highland of Yamanashi Prefecture. It was started with the establishment of the café "ROCK" in 1971. The president of Moegi no Mura, Joji Funaki, was fascinated by German architecture and musical organs during his study trip in Europe. When he came back to Japan, he had the vision to bring a glimpse of Europe to Yamanashi. Together with six architects and engineers from Canada, the first buildings of the village were built with imported material from North America. The village was established in 1977 acting as a natural resort in the style of a western village for young people to experience the charm of the nature.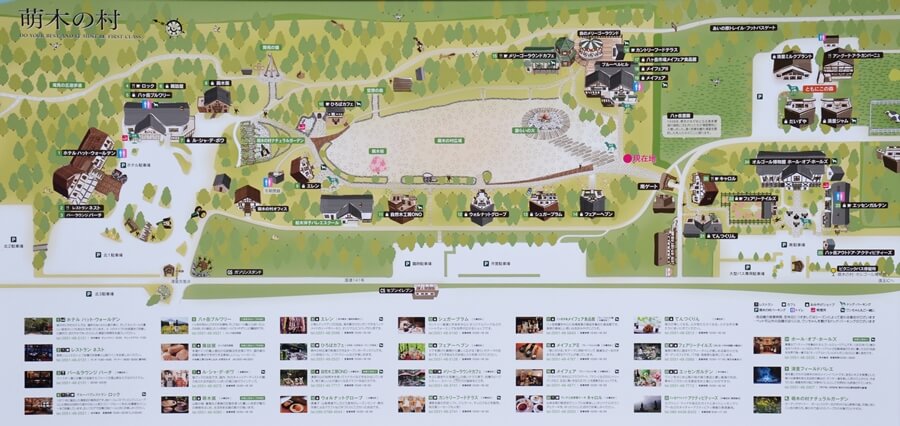 Surrounded by nature in the middle of the woods and having more than twenty different exciting attractions, you can enjoy the relaxed atmosphere and visit many shops, restaurants and cafés. Here are a few of its highlights:
Yatsugatake Outdoor Activities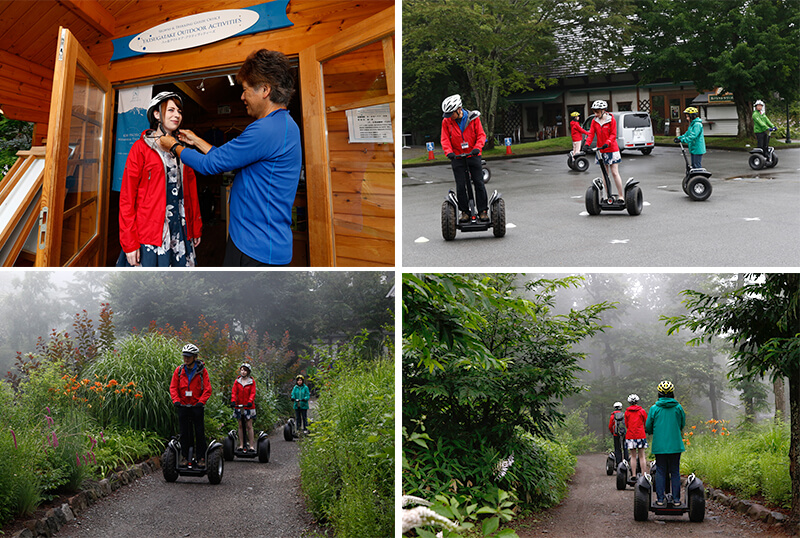 Here you can get information about nature activities such us trekking, hiking, and Segway tours. For Segway beginners, we recommend the early morning Segway tour which includes a quick training session followed by a guided tour around Moegi no Mura.
Hours: 9am – 5pm
Closing days: Thursday (except during summer season)
Facebook page: https://www.facebook.com/y.outdoor/?fref=nf
Music Box Museum "Hall of Halls"
One of the main attractions of the village is the Music Box Museum "Hall of Halls" showing antique music boxes and automatic mechanical musical instruments which reach back in time until the 19th century. The collection features antique acquisitions from France, Germany and many other European countries.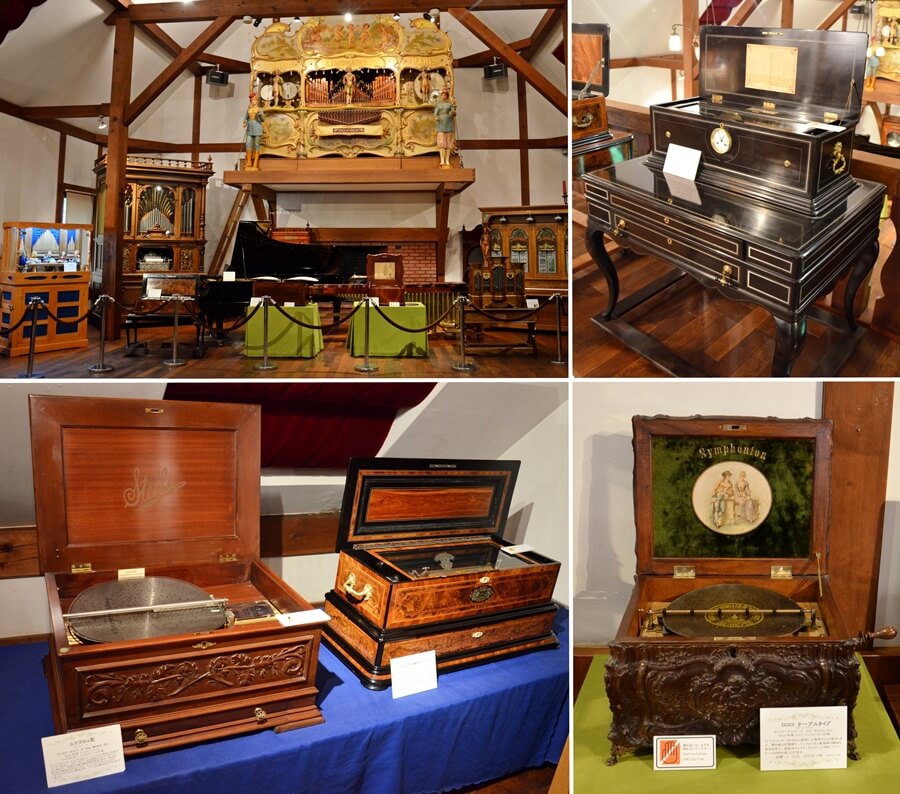 In the left upper corner of the collage you can spot the "Limonaire 1900" pipe organ, which was made for the 1900 World's Fair in Paris.  Another highlight of the museum is the "Mozart Barrel Organ" which plays songs composed by Mozart especially for this mechanical orchestra.
Hours: 10am – 6pm (last entrance 5:30pm)
Admission: 800 yen (adults), 500 yen (students) – there is an extra charge of 500 yen during the musicians live and the organ live
URL: Music Box Museum "Hall of Halls"
Mori no Merry Go Round Cafe

Another popular spot of the park is the Merry Go Round and its café, which is a big attraction among young and old visitors. It´s location in the woods of the village, makes this place very magical. Many Japanese pop stars used this location for their Music Video or CM production, including Ayumi Hamasaki and Bekky.
Hours: 10am – 6pm
Closing days: Thursday (except August to October)
Admission: 300 yen for the Merry Go Round
URL: Merry Go Round
Café "Carole"

For a tea or coffee break we recommend the Café "Carole" offering healthy lunch plates and home-made cakes. The café has a warm and cozy atmosphere, a bit like sitting in your grandma's house and waiting for her home-cooked meal. We had a taste of the original Short-Cake with peach filling and the walnut tart, as well as three different kinds of cookies.
Hours: 10am – 6pm (until 5pm during winter season)
Closing days: Wednesday (except during summer season)
Tel: 0551-48-2520
URL: Café Carole
The many crafts shops of Moegi no Mura
For all cat-lovers, the shop "Le Chat Des Bois" focuses only on selling products in shape of cute cats. The products are designed by Japanese designers, as well as imported products from overseas.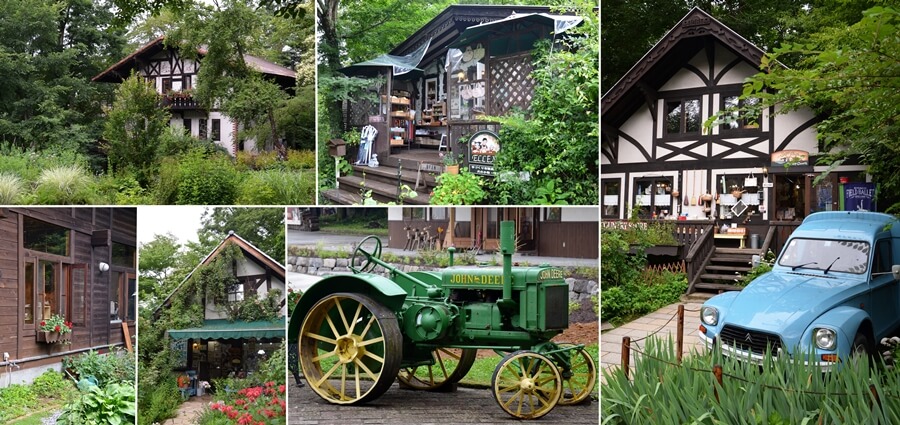 At shop "Ellen", you can buy handmade goods and accessories for your beloved dog. Dog leads, harnesses and eco-shopping bags are the best sellers among the products. The shop "Sugar Plum" with its old blue Citroën sleeping in the front garden, offers country crafts, fabrics and original eco-shopping bags. The flower garden leads the way to the next shop, the "Fair Heaven". Here you can purchase your favorite scent in form of body care products, essential oils, aroma bags, herb water, incense or aroma candles. Also many products feature flower prints, like tableware, table clothes, or umbrellas are available as well. Most of the shop owners import the goods from its origin country, and emphasize the image of rural life. When you enter those shops you are embraced by a calming atmosphere that can be found throughout the village.
Information
Moegi no Mura
Access: 12min walk from Kiyosato Station (JR Koumi Line)
Address: Takane-cho Kiyosato 3545, Hokuto-shi, 407-0301 Yamanashi
Tel: 0551-48-3522
URL: Moegi no Mura
Read the rest of the series:
The Charm of Hokuto (1) : Oasis of the Highlands
The Charm of Hokuto (2) : Hirayama Ikuo Silk Road Museum
The Charm of Hokuto (3) : Suntory Hakushu Distillery
The Charm of Hokuto (4) : Inn Blue in Green
The Charm of Hokuto (5): Top 5 Photogenic Nature Spots
Restaurant Review: Soba Restaurant Sanbuichi
---
WATTENTION WRITER PROFILE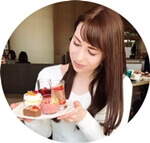 Tabea Greuner
Living and working in Japan since 2015. Always excited about discovering new places. Passion for photography, nature-lover & Japanese fashion expert. MORE ARTICLES BY THIS WRITER | ABOUT WATTENTION NINJA