Near the Asakura ruins is a modern restaurant that is very much in touch with the seasons. Ichijodani Restaurant changes its menu every time new local ingredients are at their peak. They then turn them into Japanese-style dishes with a Western touch. After a visit to the ruins this restaurant is a must visit.
A 7-course menu starts at 3,500 yen. We'll take you through their current, delicious, offering.
Italian inspired stuffed Shiitake
The starter already made a great impression. This Shiitake was stuffed with cheese and a topping of sweet basil. It's difficult to tell if this is a Japanese dish or an Italian but it was delicious nonetheless.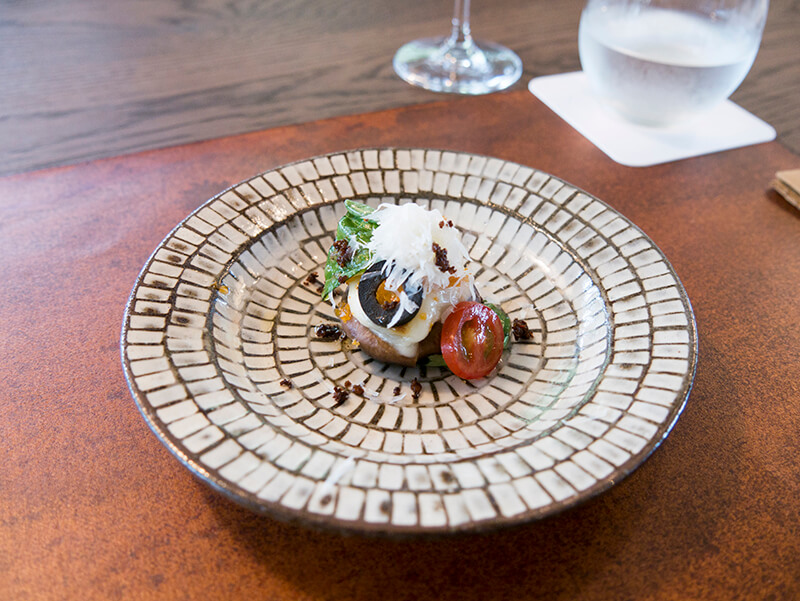 Salmon with Citrus
The appetizer made a combination that I never think would have worked, fruit with fish. It took a while to get to the salmon pieces at the bottom so at first you'd think this is a fruit dish. On my way down I recognized salmon roe, edible flowers, pomegranate and lemon jelly.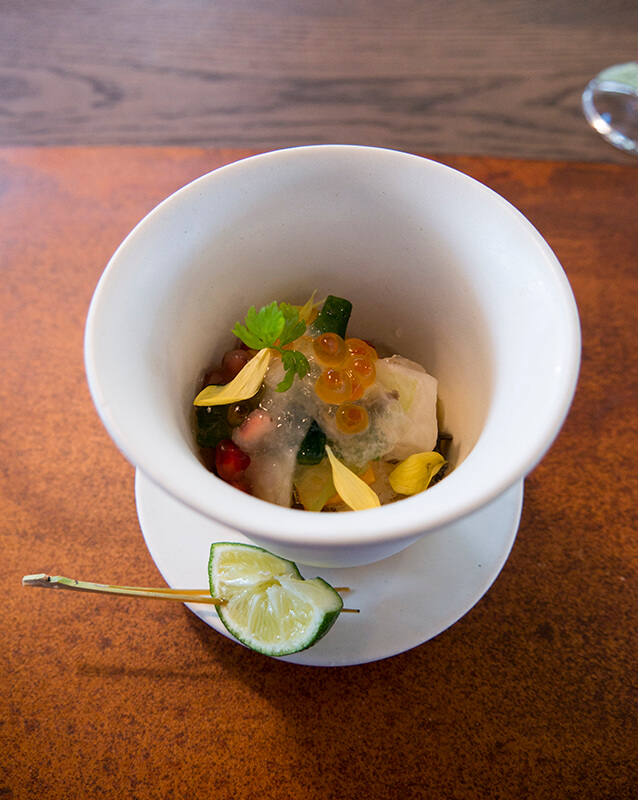 Steamed Onion
Personally, I am not a fan of onions. But this onion truly changed my mind. I was told that Japanese onions taste a lot sweeter than their Western counterparts and the story seems to be true. The taste of the broth had completely seeped into the onion and transformed the flavor to something different. The kelp bag it was served in was also edible.


Light soup with Steamed Egg
This cup had so many little details inside that it was difficult to eat it, but sadly, it was delicious. The vegetables well precisely cut into maple leaves to visualize the season and the mushrooms gave it that autumn taste. The eggs were very fluffy and did not get soaked by the soup, I wonder how they did that.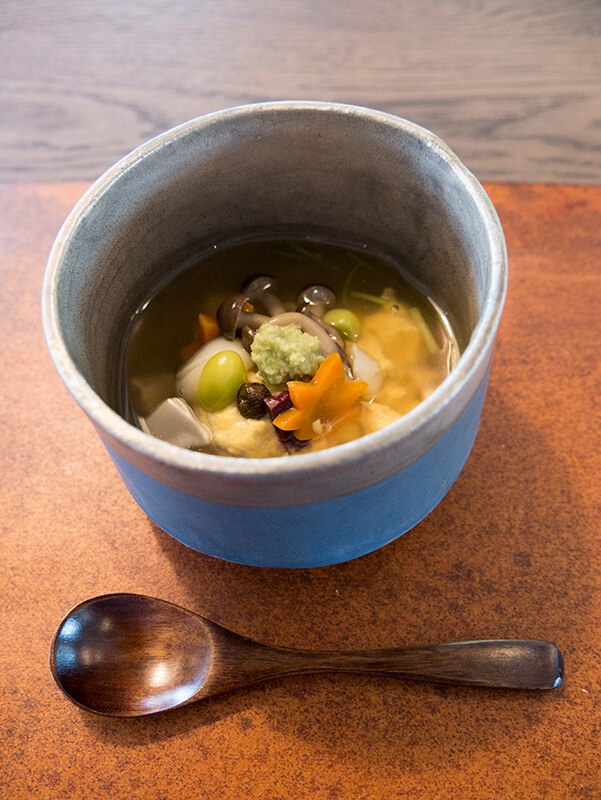 Chicken with Red Fruit
When they first brought out the plate it looked like a strange modern art painting. Upon closer inspection (and taste) you could see that the different sauces were used as "paint" for this abstract piece. Red fruit, vinegar, and a sauce reminiscent of sauce hollandaise.
The only negative point; it was difficult to eat this chicken without a fork and knife.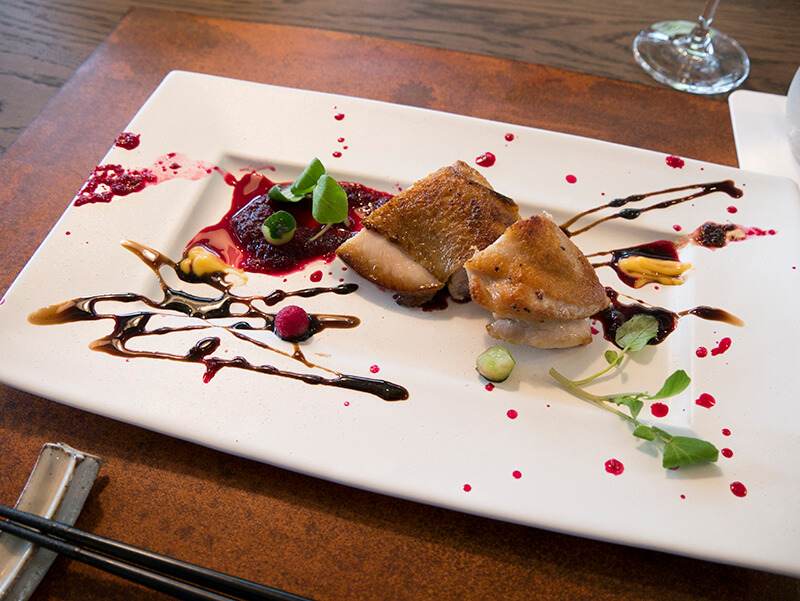 Japanese Pumpkin Curry
Of course this seasonal favorite couldn't be forgotten. Kabocha, or Japanese pumpkin, has a sweeter taste than the Western pumpkin and a tougher skin, making it fairly difficult to use for Halloween carvings. But luckily kabocha makes for better food than decoration, adding a special flavor to the curry. The pickles on the plate give it that extra touch.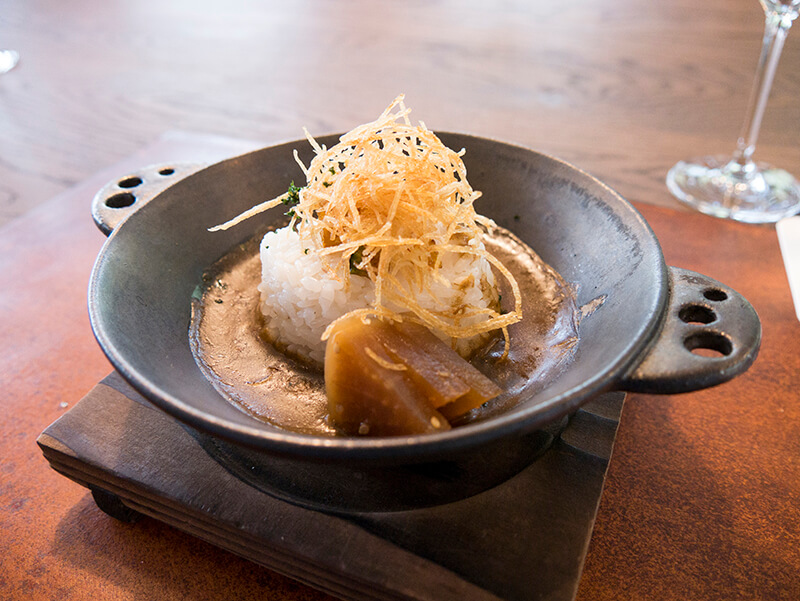 Dessert
For dessert we had coffee and a fruit jelly. As a surprising detail, the grape had a part cut off so it would have a flat surface to balance properly on the jelly. That's how much detail and thought was put into every dish.

The Restaurant
Besides serving delicious food, the interior is extremely beautiful in its simplicity. The wooden theme gives a relaxing and cozy atmosphere. There is a big hardwooden table where large groups of guests can sit together.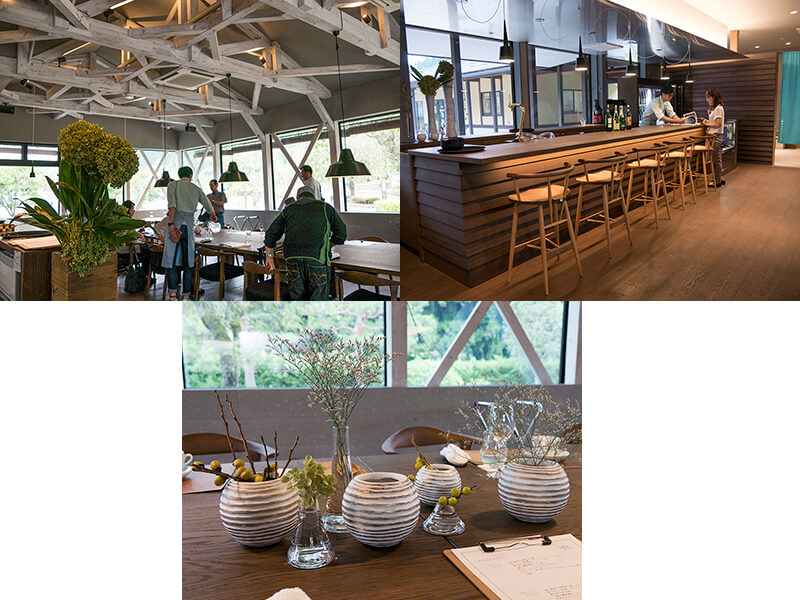 Information
Hours: 11am – 6pm
Price: Courses are at 3,500yen / 5,500yen / 7,000yen
Tel: 0776-37-3712
Access: 21min walk from Ichijodani Station. Parking available
Address: 10-48 Kidonouchicho, Fukui, Fukui Prefecture 910-2153
URL:www.1jyoudani.jp (Japanese only)
---
WATTENTION NINJA WRITER PROFILE

Ilse Montald
From popular culture to traditional culture, I've immersed myself in both. I love writing about tradition, history and sharing fun discoveries. If I'm not outside watching a festival parade I'm leisurely reading manga in kimono.
MORE ARTICLES BY THIS WRITER
|
ABOUT WATTENTION NINJA