At the forefront of the artistic avant-garde movement stands Matsumoto-born artist Yayoi Kusama. She has had many successful exhibitions abroad but her permanent museum is in Matsumoto City.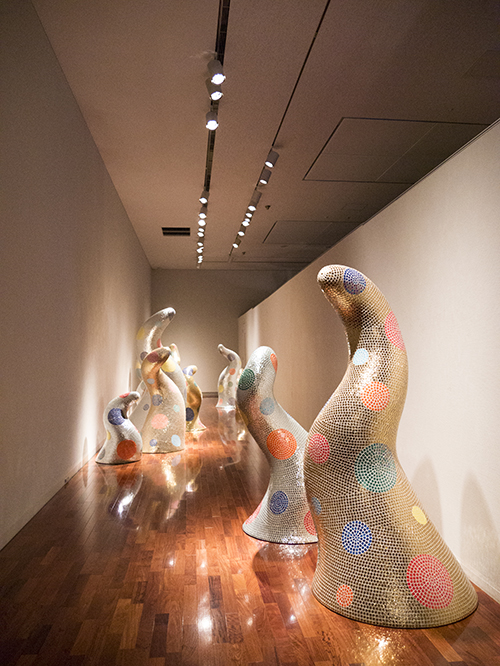 Born on March 22nd 1929, Kusama started painting at an early age. Her parents did not agree with her choices and after a short time studying in Kyoto she left for New York in 1957 without notifying her family. Here she spent almost twenty years surrounded by prominent avant-garde artists such as Donald Judd and Eva Hesse. In this environment she felt inspired to create large artworks, installations and happenings. Kusama has even been said to be an inspiration for Andy Warhol. In 1973 she moved back to Japan and her mental health started to deteriorate. She voluntarily admitted herself into a mental hospital in Tokyo and she still lives there today. During the day she commutes to her art studio just across the street.
Recurring themes of Kusama's artwork are polka dots, mirrors and organic shapes. She creates large exhibits that the visitor can interact with or walk through. Most of the exhibits in the Kusama Yayoi museum bring the visitor into her world.
Information
Access: A 12-min walk or 5-min bus ride from JR Matsumoto Station
Hours: 9am – 5pm, closed on Mondays (but open on National Holiday-Mondays) and from December 29th – January 3rd.
Admission: 410 yen (Adult), 200 yen (University Student), FREE (elementary / junior high students and senior citizens)