Go on a journey back in time to two of the most iconic periods for samurai; the Sengoku and the Edo period.
Diamond Dining is offering a unique dining experience for Japan's history-loving women called Rekijo(歴女). The event is split into two areas, Sengoku and Edo. If you and your friends love Japanese history or you want to meet a Rekijo, this event is made for you!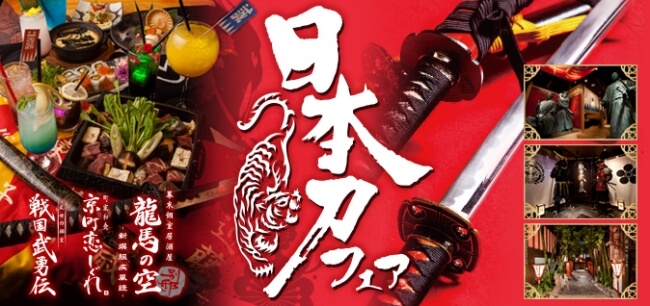 Sengoku Area
The Sengoku period (戦国時代) was from 1467 – 1603. The name literally means civil war era because of the many internal conflicts that were going on in Japan at the time. Local lords battled each other for more territory and army campaigns were a common occurrence. During this dark time genius strategists and powerful samurai were born. Some of the most famous samurai and swords have been incorporated into the dishes served in this area. The armors of Date Masamune, Yukimura Sanada, Keiji Maeda and Kenshin Uesugi welcome you to your private dining chamber.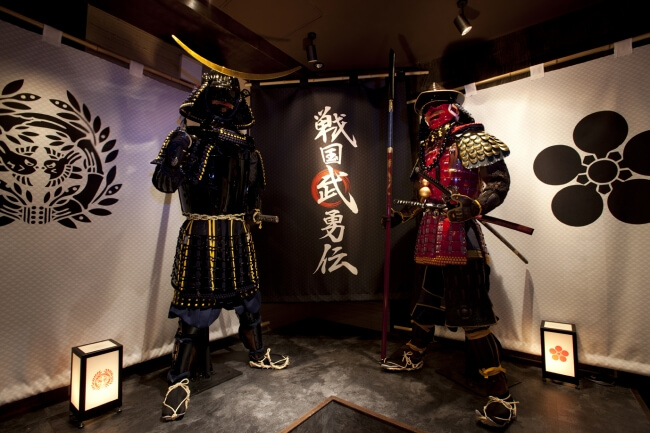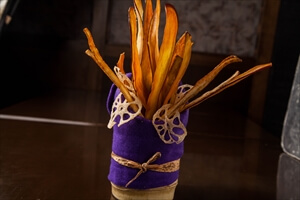 Heshikiri Hasebe (Sweet Potatoes in bamboo /780 yen
This dish is based on one of Nobunaga's stories. One time he sensed an enemy hiding behind wooden planks and he pierced him right through the wall with his sword Heshikiri Hasebe. Oda Nobunaga lived from 1534 – 1582 and was one of the most powerful lords of Japan. He almost succeeded in completely unifying Japan before he was assassinated.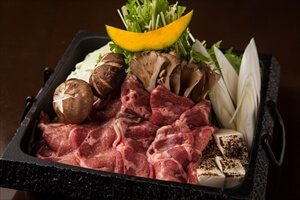 Date Masamune nabe (2,980 yen)
This luxurious nabe is meant to mimick famous warlord Date Masamune's hospitality. The beef is imported from Sendai. During his life (1567 – 1636) Date Masamune was the lord of Sendai and turned it into a prosperous city. He was very loyal to the military government but everyone feared his power. Because of his missing eye he was nicknamed "the one-eyed-dragon".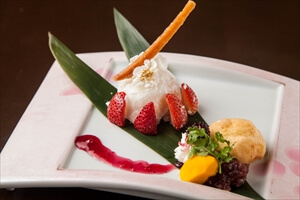 Tsurumura Kuninaga (830 yen)
This dessert is based on a famous white sword with a white scabbard. It is said that the sword stayed perfectly white even after hundreds of years. Its first owner possibly lived during the 13th century but it's confirmed that the Date family possessed the sword somewhere during 1716 – 1736. The strawbberies mimick the blood that would have marked the pure white sword.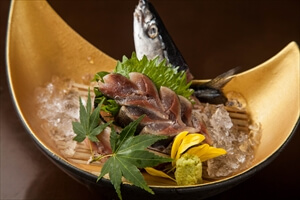 Mikazuki Munechika (880 yen)
Regarded as one of the "Five Famous Swords of Japan", this blade has a strong curve typical of a katana and a crescent pattern. The dish resembles the famous crescent curve and contains seasonal pike fish.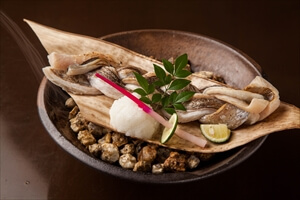 Ichigo Hitofuri (1,280 yen)
This blade is the only tachi(long katana) made by Awadaguchu Yoshimitsu. The dish aims to mimick the alterations that have been made to the straight temper line of the blade to fit every new owner. Beltfish (a member of the cutlass family) and ginger are the main components.
And more…
The Edo Area
The Edo period (1603 – 1868) comes right after the Sengoku period and is a time of relative peace. Japan is united under the Tokugawa family, a military government with the Shogun as leader. Schools and roads are built, art flourishes and the population rises. It is only at the end of the Edo period that Japan is in turmoil again and the samurai rise again in a period known as the Bakumatsu (1853 – 1867).
Ikedaya Affair House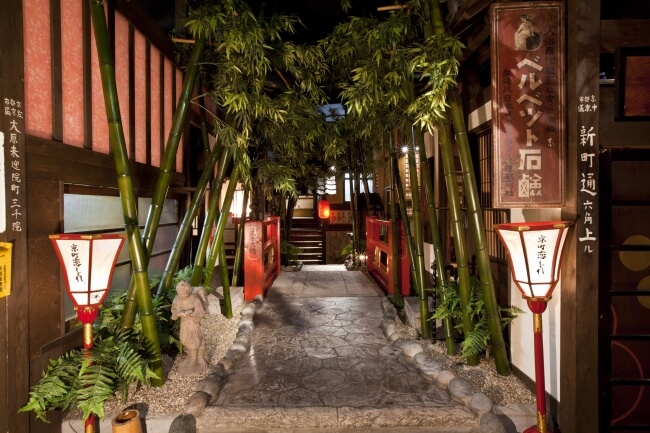 In 2015 Diamond Dining already held the "Ikedaya fair" and thanks to the success it's back again. Based on the "Ikedaya affair (1864)", a famous event where Kyoto's special police force, the Shinsengumi, managed to stop plans to deliberately burn down Kyoto. Members of the Shinsengumi will lead you to your table and serve your drinks.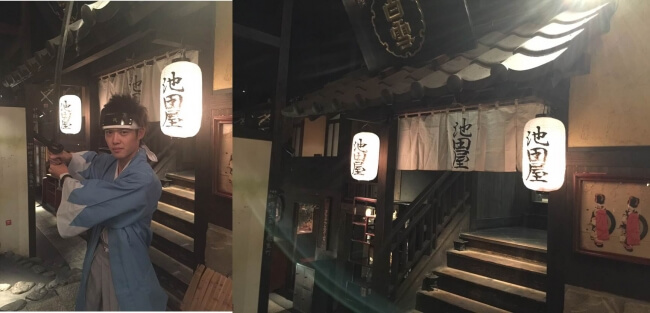 1) Kashuu Kiyomitsu
This sword belonged to the captain of the Shinsengumi's first troop, Okita Souji. This sword was said to be used during the Ikedaya affair where its tip broke off. Contains cranberry and grenadine.
2) Yamatonokami Yasusada
Forged in the early Edo period, this sword had many owners but its most famous one was Okita Souji. Okita used this very lethal sword after Kashu Kiyomitsu broke at the Ikedaya affair. Contains calpis and lemon soda.
3) Nagasone Kotetsu
Belonging to Kondo Isami, the Shinsengumi's commander, this fake kotetsu blade was probably the most famous. Made by Minamoto Kiyomaro, one of the best smiths of the era, it bears a fake signature. Contains mango and pineapple.
4) Izuminokami Kanesada
Shinsengumi's vice captain Hijikata Toshizo, nicknamed "demon vice captain" was this sword's owner. Made by the 11th generation Kanesada and a very popular sword. Contains white wine and raspberries.
Edo Shinsengumi Area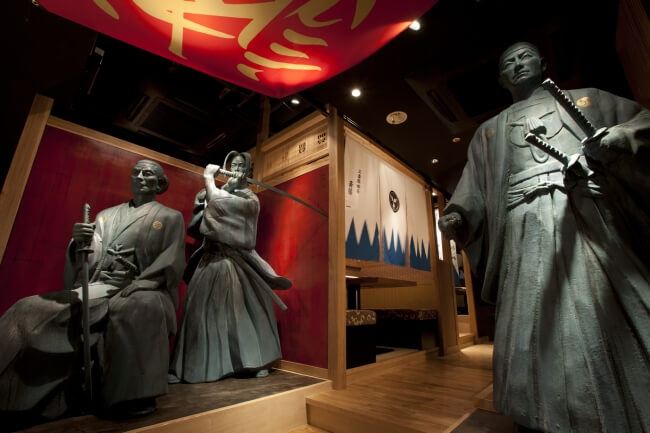 When you enter the dining area it will feel like you entered the Shinsengumi's headquarters. Statues of Kondo Isami, Hijikata Toshizo and Okita Soji welcome you before being lead to a private dining area.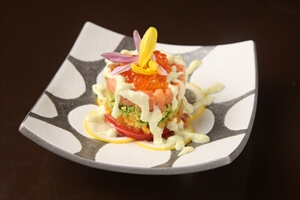 Horikawa Kunihiro (850 yen)
Inspired by the demon vice captain's wakizashi (accompanying smaller katana). Contains pickled radish and a tartar of avocado. Hijikata was said to love pickled radish. One famous story tells of him taking a bucket of pickled radish with him after his host told him to take as many as he likes.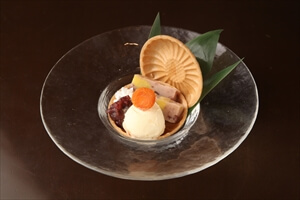 Yamatonokami Yasusada (650 yen)
The are rumors that Shinsengumi first troop captain Okita Souji had a sweet tooth, but that's not what this dessert is based on. One of the most feared swordsman of the Bakumatsu, the red bean paste and sweet potato's color mimick his many assassinations.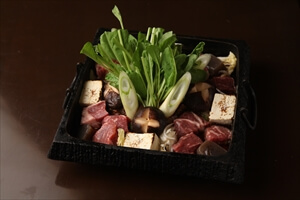 Mutsunokami Yoshiyuki (1,980 yen)
This beef nabe carries the name of Sakamoto Ryoma's sword, the famous reformer of Japan. Containing miso, sweet sake and vegetables this was said to be Sakamoto Ryoma's favorite dish made by his wife Oryo. Can be ordered by two people. Be careful to not let this nabe get too close to any of the Shinsengumi dishes as they were sworn enemies.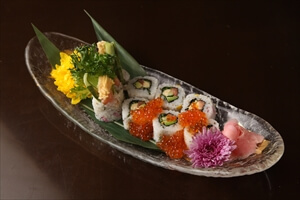 Kashuu Kiyomitsu (680 yen)
Sushi roll bearing Okita Souji's family crest and decorated with flowers.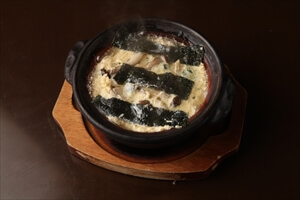 Nagasone Kotetsu (680 yen)
The commander of the Shinsengumi liked "tamago fuwafuwa", literally meaning "fluffy eggs". This is a kind of egg soup that became popular during the Edo period. The dish is decorated to resemble Kondo Isami's family crest.
Information
This special event will run from Oct. 1, 2016 – Nov. 31, 2016
Sengoku Area
Hours: 5pm – 0am (Mon – Thurs) / 5pm – 3am (Fr – Sun)
Location: Shinjuku Kabukicho T-wing building 4F
Access: 3-min walk from Shinjuku station
Address: 160-0021 Tokyo, Shinjuku-ku, Kabukicho 1-6-2 T-wing building 4F
TEL: 03-3209-2277
URL: http://www.diamond-dining.jp/shop_info/sengoku-buyuden/(Japanese only)
Ikedaya Affair House
Hours: 5pm – 11pm (Mon & Sun) / 5pm – 4am (Tue – Sat)
Location: Musashino Hall 6F
Access: 2-min walk from Shinjuku station
Address: 160-0022 Shinjuku-ku, Tokyo Shinjuku 3-27-10 Musashino Hall 6F
TEL: 03-5360-7644
URL: http://r.gnavi.co.jp/g465407/(Japanese only)
Edo Shinsengumi Area
Hours: 5pm – 0am (Mon – Sat) / 5pm – 11pm (Sun & Holidays)
Location: Shinjuku building B1
Access: 1-min walk from JR Shinjuku station West Exit
Address: 160-0023 Tokyo Nishi-Shinjuku, Shinjuku-ku, 1-4-2 141 Shinjuku building B1
TEL: 03-3347-2207
URL: Http://R.Gnavi.Co.Jp/g600187/(Japanese only)
Don't forget to pick up one of the free tsuba(Japanese sword mounting) gifts you get with each dining experience!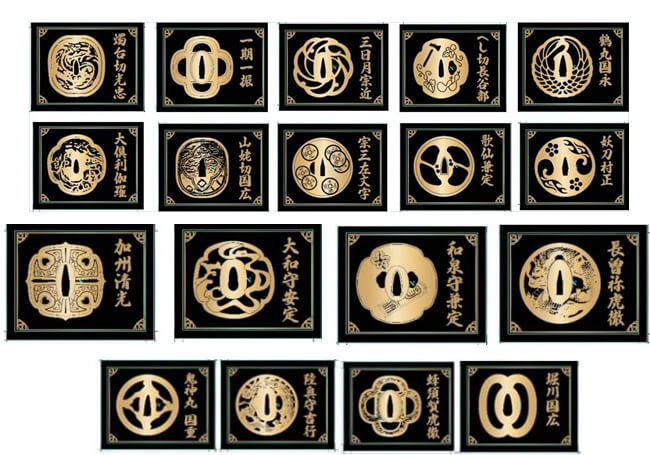 Source: PR Times