Ibaraki is proud of its cultural heritage and incredible nature sprawling across
the whole prefecture, and there is a lot to love. Witness the dreamlike ocean
views of Oarai lsozaki Jinja as waves from the Pacific Ocean crash into the
Shinto Gate of the Seashore God, "Kamiiso-no-torii", spraying a cool, refreshing
mist into the air. Take a relaxing hike through the mountains under the crimson
autumn leaves to thun dering waterfalls and stunning panoramic views.
From the seaside to the mountaintops and the fertile farmland in between,
Ibaraki offers a number of attractive sites and activities without the massive
lines and crowds. It is also conveniently located near Narita International
Airport making it a great first destination after arriving. In Ibaraki, there are a
variety of ways to experience the beauty and culture of Japan for all kinds of
people from all over the world.
Superb Ocean Views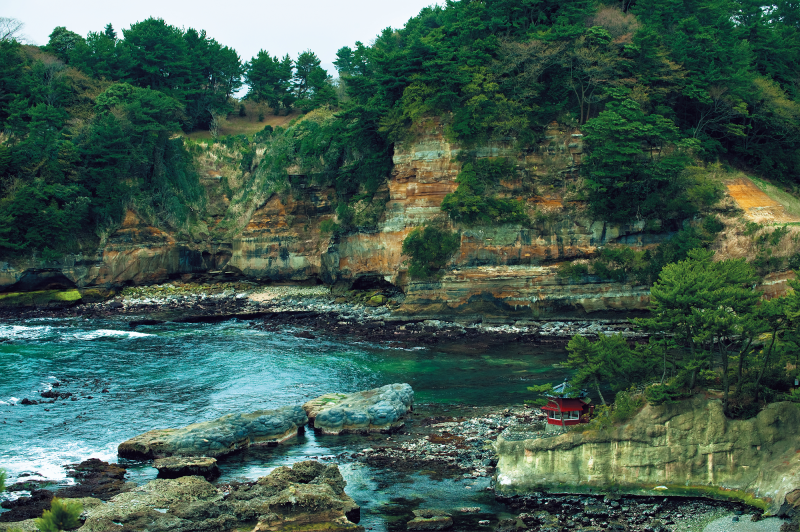 Ibaraki's eastern coast is lined with fantastic ocean views from beautiful beaches like Oarai which is mostly known for its iconic seaside Shinto shrine: Oarai Isozaki Shrine. The powerful silhouetted structure against the horizon creates spectacular sunrise views. Like it was pulled directly from an old Japanese painting, Izura Rokkakudo — designed by legendary architect, government official, and founder of the Japan Art Institute and Tokyo Fine Arts School
Okakura Tenshin — quietly looks out over the ocean from the cliffs of northern Ibaraki as powerful waves crash against the rocks.
---
Oarai Isozaki Shrine
Address: 6890 Isohamacho, Oarai-machi, Higashiibaraki-gun
Access: 3-min from Oaraijinjamae Bus Stop (Ibaraki Kotsu bound for Nakaminato-eki from Oarai Station/ Kashima Rinkai Railway Oarai Kashima Line) on foot
---
Izura Rokkakudo
Hours: 9:30am – 5pm
Admission: 300 yen
Address: 727-2 Otsu-cho Izura, Kitaibaraki-shi
Access: 15-min from Kita-Ibaraki IC (Joban Expressway) by car
---