written by Sarah Nishina
It's been said that nine out of ten people like chocolate and they say the tenth person is lying. Which one are you?
The ANA InterContinental Tokyo, a hotel in Akasaka, is proud to announce the world's first ruby chocolate afternoon tea. To celebrate they will offer 220 kinds of chocolate dishes throughout their restaurants, using 4,500 kilos of chocolate, focusing on the world's fourth type of chocolate, ruby chocolate.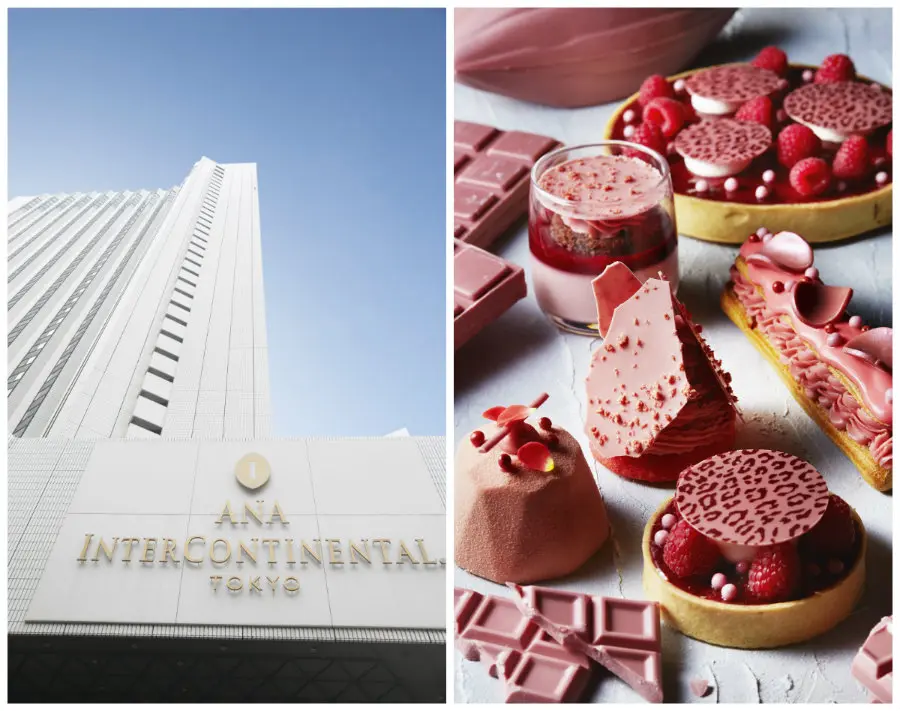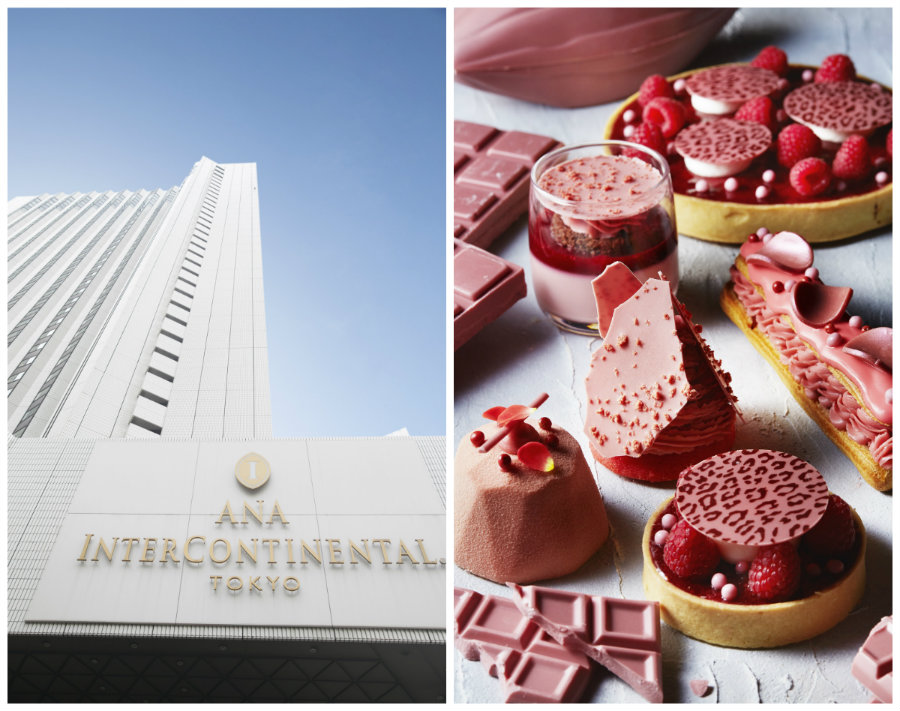 Experience chocolate like you have never before!
The sunken lounge off the lobby is a quiet oasis that makes you feel calm and happy to be there. This is where we enjoyed the full afternoon tea set.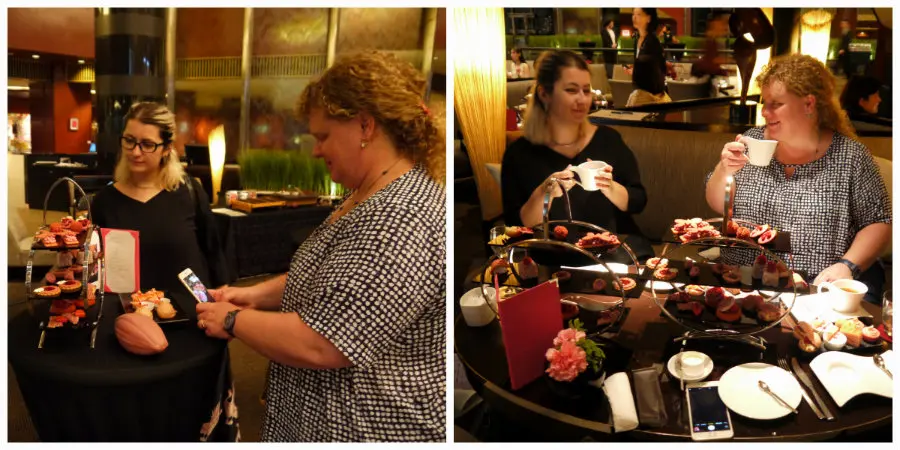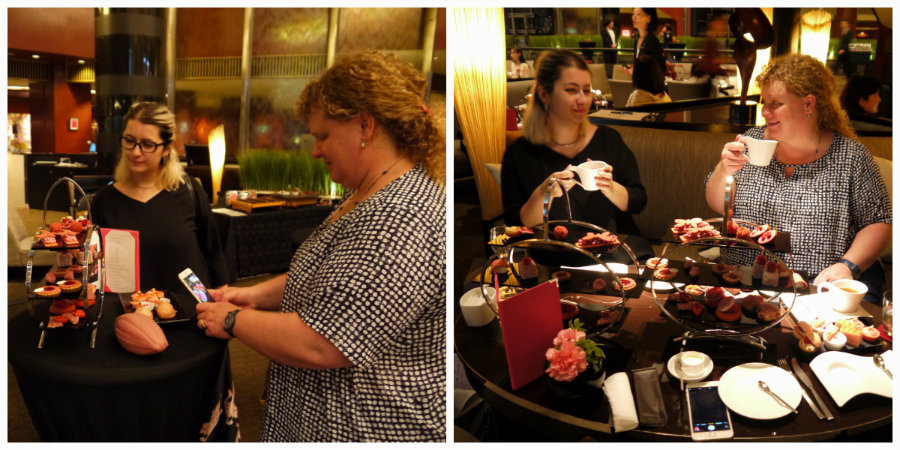 Firstly, erase your memory of previous chocolate tastes. Ruby chocolate is a burst of intense fruitiness and fresh character. It is low in sweetness and goes well with a variety of flavors. Ruby Chocolate, known as RB1 was introduced in 2017 by Barry Callebaut, a Belgian-Swiss Cocoa company.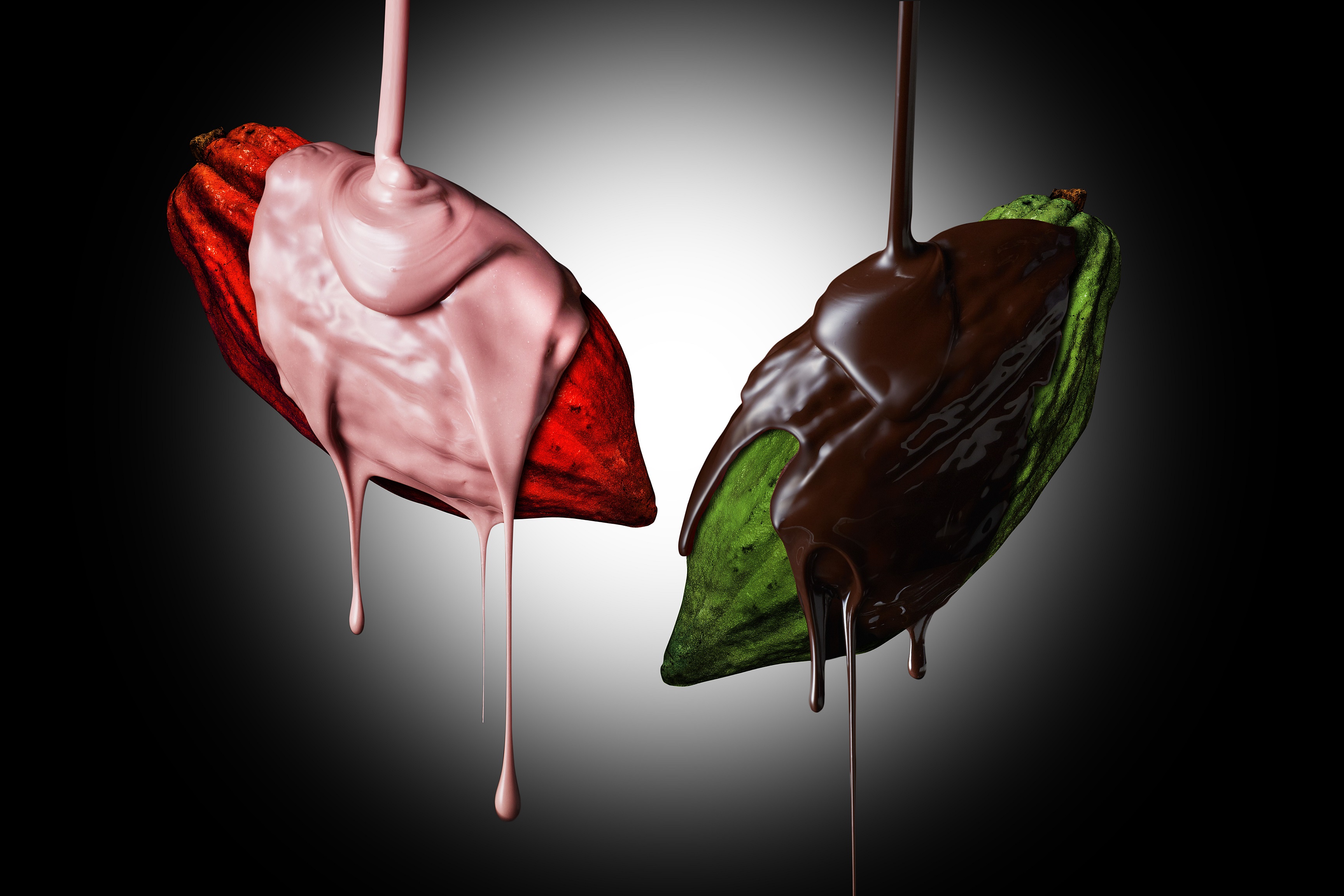 RUBY COCOA BEAN – made from naturally occurring ruby cocoa beans found in Ecuador, Brazil and the Ivory Coast and processed to give the chocolate the distinctive rosy hue. There are no added colorants or fruit flavorings.
The hedonistic experience begins.
The Ruby colored desserts are presented on an impressive modern, lacquered black three-tiered curate stand. A side plate of ruby colored savories is also served. I also spot a little pot of clotted cream. Sweetness all around!
Afternoon tea starts with an Irish Whiskey cream tea. An Assam based tea with the sweet fragrance of cocoa beans and the mellow taste of whiskey. Refreshing and a nice start to the afternoon. I stare in awe at the amazing creations. For a short moment I expect to turn my head and see Willy Wonka or even better, Juliette Binoche from the movie Chocolat.
Where to start? I remember my mother telling me to start from the bottom up. The waitress also recommends to alternate between sweet and savory and to order different drinks throughout. The service is excellent. The staff is knowledgeable and helpful.
Oh my! What a tastebud sensation. To taste is to believe.
The ANA's afternoon tea allows you to experience great creativity and coolness. A superb afternoon treat to delight all your senses.
"Look, there's no metaphysics on earth like chocolates." 
― Fernando Pessoa
A Celebration of New Chocolate Tastes
comment by our editorial staff member, Zoria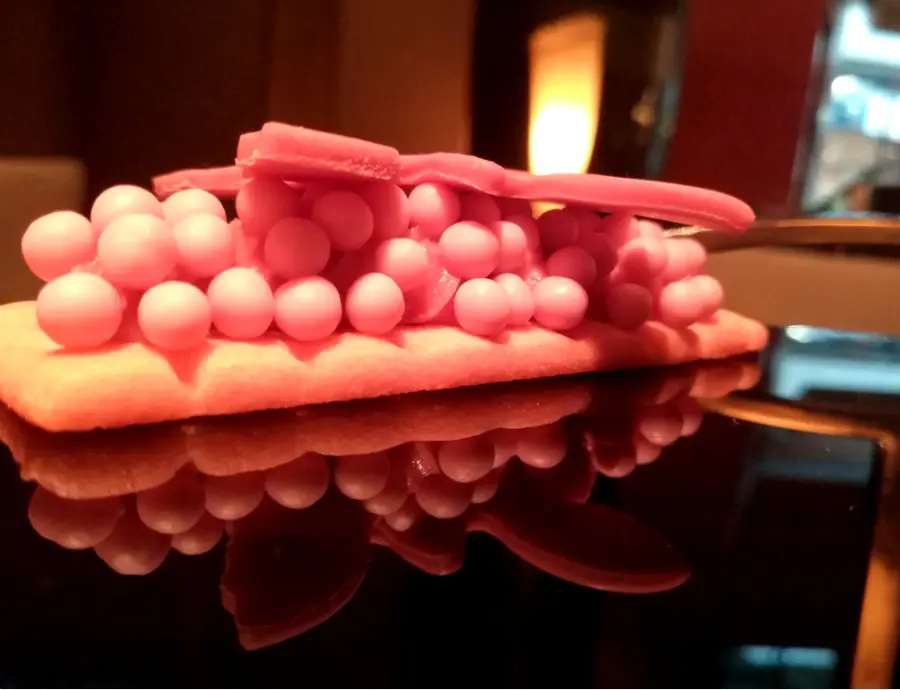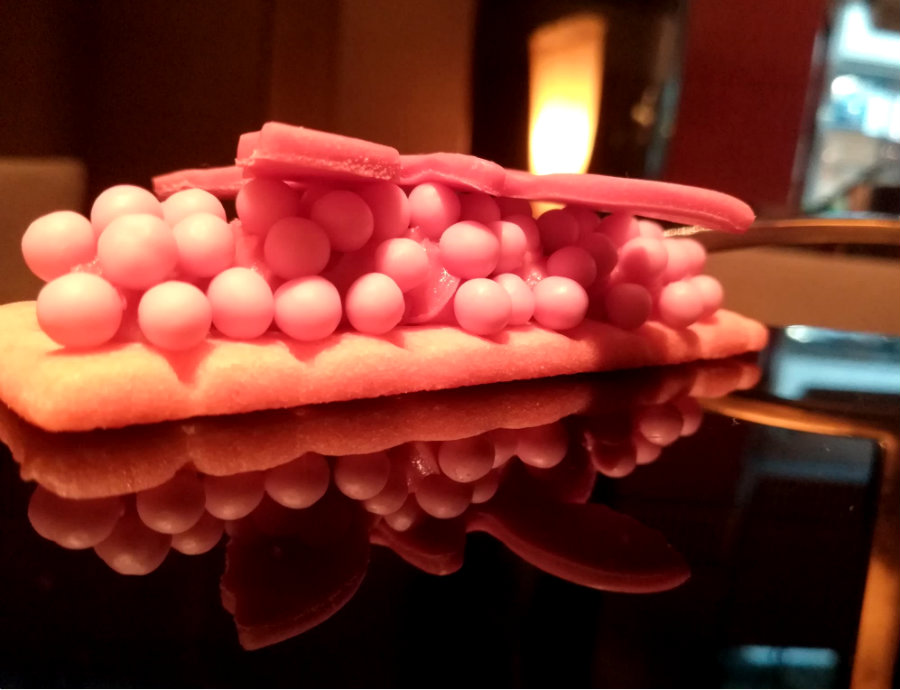 The Chocolate Sensations event at the ANA InterContinental Tokyo was an explosion of flavors and colors. They serve the first ever all ruby chocolate based Afternoon Tea set – almost too beautiful to eat. The set offers an excellent selection of teas and coffees, and the staff says that champagne matches the ruby chocolate really well. The variety of desserts is impressive, and the generous serving is not that hard on the stomach, since the taste of the ruby chocolate is very light, fruity and with elegant sour notes. Both pretty and tasty, this Afternoon Tea is a real treat.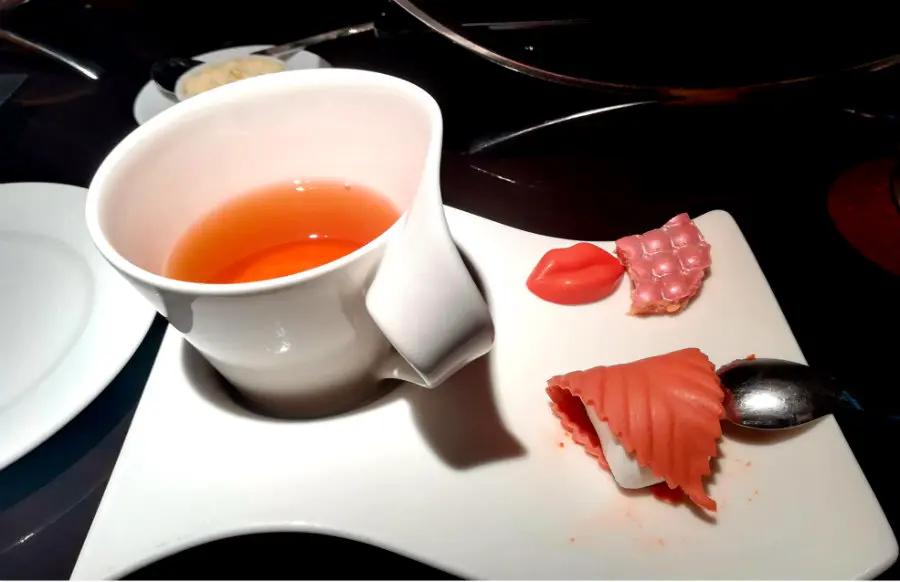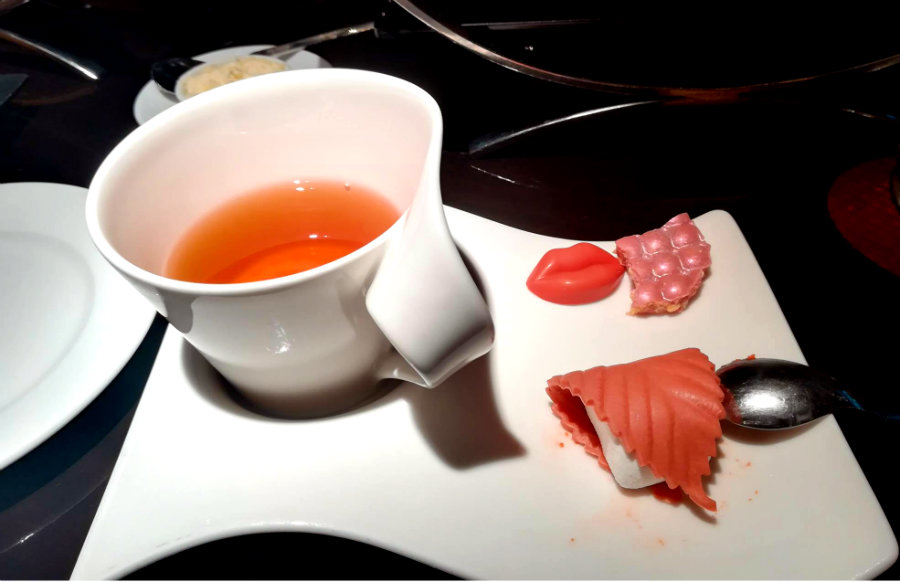 Details: ANA InterContinental Tokyo
Weekdays: 12:00-18:00
Sat/Sun & Public holidays: 11:00-13:00/13:30-15:30/16:00-18:00
Price: ¥6,400
*Special limited online booking from hotel website.
Weekday: ¥5,500
Weekends and Public Holidays: ¥6,000
(all prices subject to 8% consumption tax + 13% service charge)
https://anaintercontinental-tokyo.jp/en/