By Bethany Kary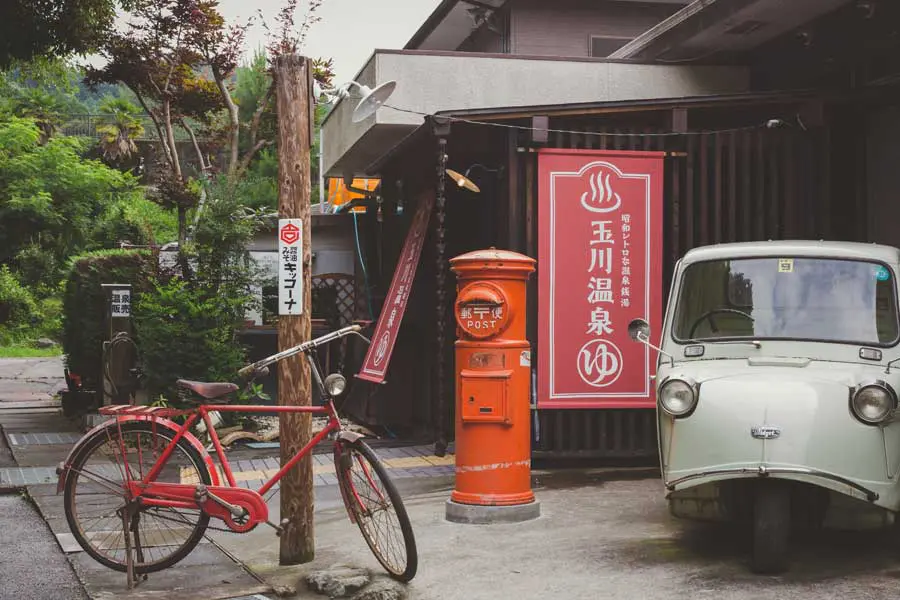 If you ever wanted to see Japan in a different era, or just want a different onsen experience, then try Saitama's Showa Period Retro Onsen. Shōwa period lasted 63 years, but many people especially remember the years following the 1950s, which have been coined "Japan's Miracle".
During this time, Japan saw extreme economic and political growth in its post occupation years, and logically something to fondly remember for some. Because of this, fragments of Japan's Miracle can be observed in Japanese cinema, television and as well as retail. With all of this in mind, I could completely understand why so many other guests at the onsen couldn't help but exclaim; Natsukashii! (Aww, this really takes me back).
How to Get to Saitama's Showa Period Retro Onsen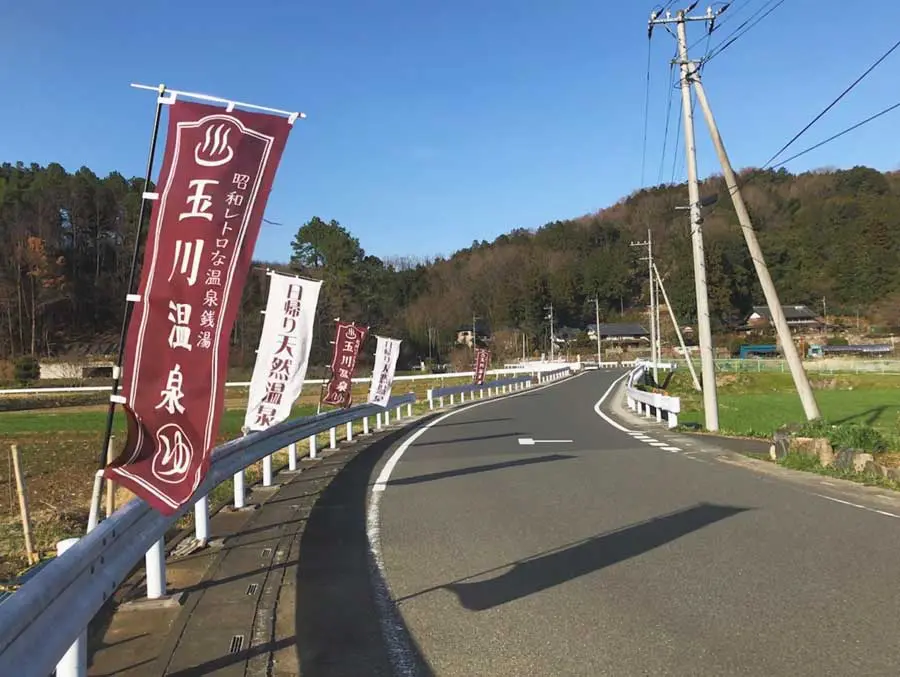 The onsen itself is tucked in the hillside, which was a bit of a workout. Despite the signs pointing me in the right direction, I would have doubted there was anything for the next few kilometers ahead of me. I was delighted (and a little relieved) when I reached the top of the hill, and was greeted by a small truck and old fashioned red mailbox.
What Makes this Onsen Retro?
A little past that was the entrance, and was immediately taken back into another time. Music from another era played as I passed a classic Coca-Cola machine, a sewing machine, various vintage alcohol adverts, and of course furniture that look like something from my grandparents house.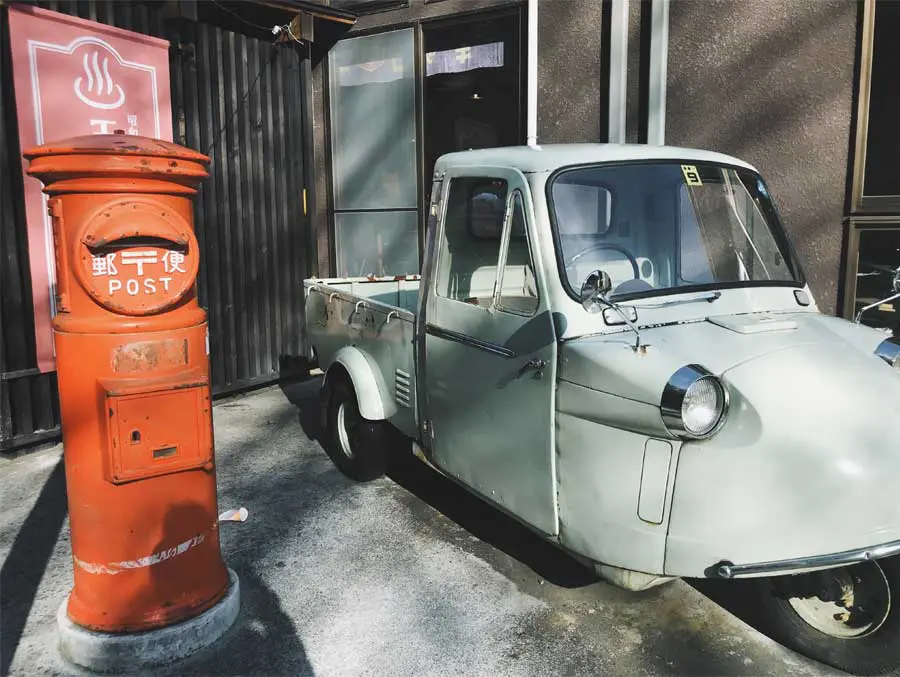 Every color you would associate with the 60s and 70s made an appearance. A lot of hues of gold, green and dark red, almost directly out of an old TV program you may have caught on a Saturday afternoon with an older relative. After this area, you were greeted by a cheerful desk attended, and several old fashioned sodas in curvy glass bottles. There was also a lot of commotion. There were surprisingly a lot of customers at 1 pm on a Thursday.
Before I could make it to the woman's bathing area, I was stopped by an even larger selection of classic Japanese snacks and beverages. There were so many pastel items insight, it was almost as if the onsen had been decorated for Easter. It took a lot of willpower not to buy up everything in sight.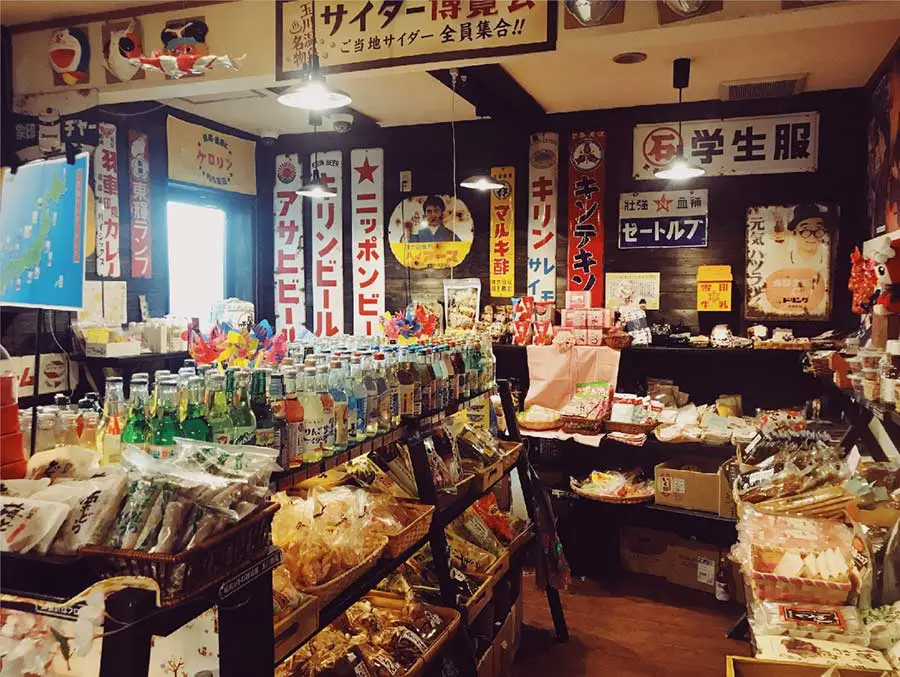 Soaking in the Soul-Repairing Onsen
I was a little surprised how small the bathing area actually was. The changing room holds about 70 lockers, but seemed like the bath would be overcrowded if that many people actually were at the onsen at once. There were only two rows of traditional showers, which i was also surprised about. There was only one medium sized tub on the inside, and a slightly larger outdoor area with the typical artificially rocks that most onsens have. Despite the size, the outside area was very serene and beautiful. The onsen offers a face mask that you can wear while bathing, so I really felt like I could unwind during my time there.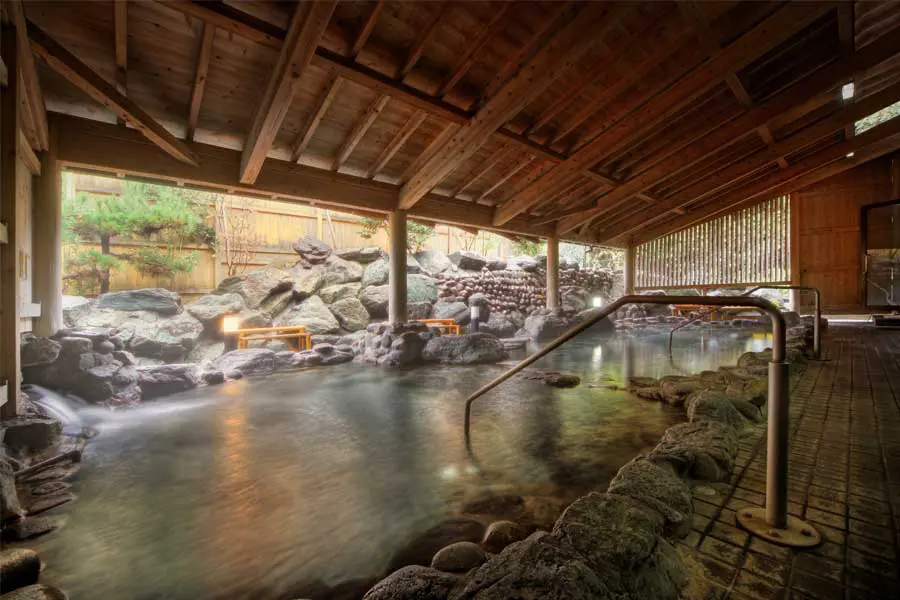 After bathing, it was time to check out the most important area, the cafe where you could purchase meal tickets from was on one end, while the main dining area was on the other end of the building. This area really reminded me of a person's home or living room. There were old records, rotary phones, and other knick knacks straight from someone's attic.
Dining After a Soak at a Retro Onsen
The cafe boasted a large menu, which of course made it difficult for me to choose a meal. I eventually settled on their seasonal Yuzu curry, which was a surprising mix of citrus and savory sensations. The portion had me feeling satisfied, but not stuffed. Other amenities included a massage area, as well as a karaoke area on the second floor. This featured a stage and Phantom of the Opera like curtains fit for any diva. I shied away from making my debut.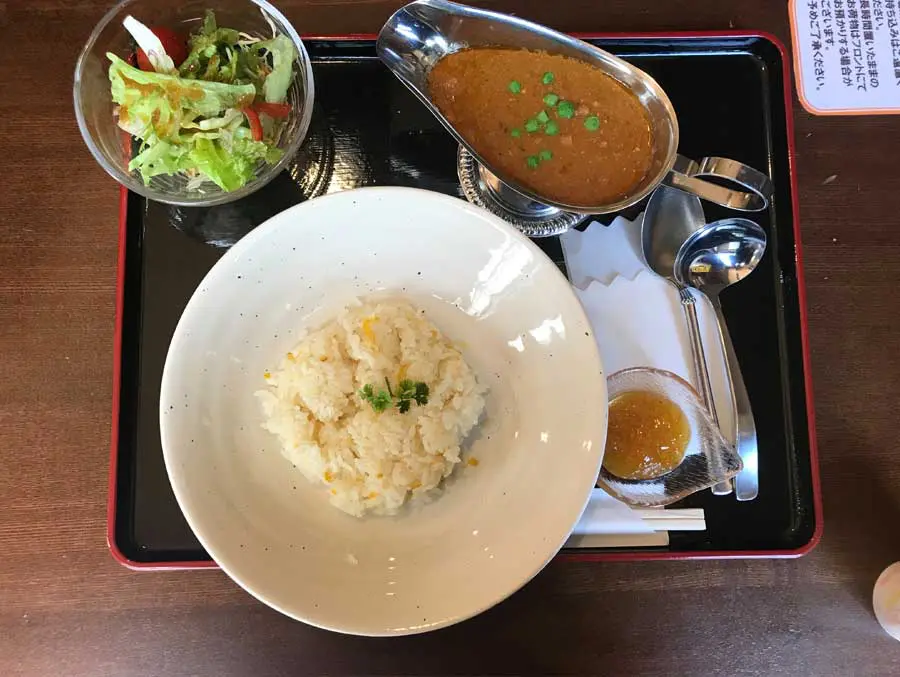 Finding the Retro Onsen in Tamagawa, Saitama
The only negative aspects my trip included actually getting to and from the onsen. As I mentioned before. This onsen is very tucked away, and very difficult walk. There is an option to take a bus from the station that will drop you off about 15 minutes from the onsens entrance; the bus may not arrive on your schedule. Walking to and from bus stop was also a bit nerve racking since it was in the middle of nowhere. I didn't notice any street lights, and for that reason didn't want to get caught on those roads after dusk. For that reason I would recommend renting a car, or paying a taxi from the stations entrance.
Why Everyone Should Experience this Retro Onsen in Saitama
Overall, there is something to be said about retro themed places of business. There's always something familiar, comforting, and of course Undoubtedly charming about places like these. I think what overall really hit me about this onsen was how homey it felt, which I think says a lot when you're abroad. Again, I can see why so many of guests left the onsen with fits of nostalgia. The Showa period was such an important time for Japanese people, and I can see why so many people would wish to journey back to that era from time to time. On that note, I think everyone can enjoy Tamagawa Onsen, while learning a little bit about Japanese culture. I would also recommend this place to anyone who is looking to get off the beaten path in terms of travel destinations.
If you've always been fascinated if the idea of time travel, then go ahead and try Tamagawa Retro Onsen. You will not be disappointed.
Bethany Kary is a Georgia peach, and a graduate of the illustrious Spelman College. She currently resides in Tokyo and loves city life. If she isn't on the prowl for the cutest food, then she's either searching for the best bubble tea stand, or her next find in a second hand shop. You can identify her by her perpetually cracked iPhone screen and curls by the pound.