Mt. Fuji by sky: Soaring at Fuji-Q Highland
Looking to enjoy Mt. Fuji from another angle? How about while speeding down the Takabisha ride above, with its world-record holding 121-degree drop, or while spinning upside down on one of its 7 inversions?
From sea to sky, let's get high at Fuji-Q Highland! With some of the world's tallest, fastest and steepest rollercoaster rides, just looking at some of these is enough to make one queasy.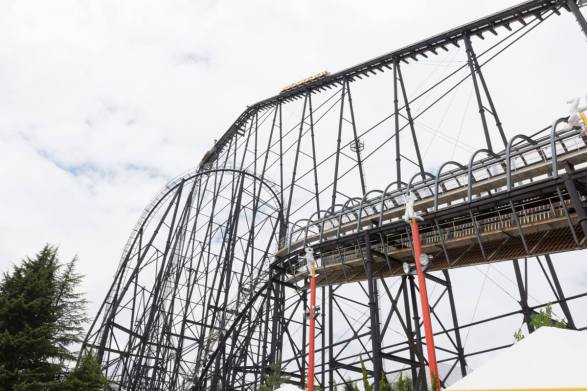 Fujiyama, the park's centerpiece attraction, was the world's tallest and fastest roller coaster when it opened in 1996, and it continues to rank among the best coasters in the world. When climbing slowly up to the peak of 79 meters high, we couldn't keep our eyes off Mt. Fuji, which seemed even closer from such heights…that is until we started dropping at 130 km per hour!
Soaring of a different sort
But fortunately for the faint of heart, there's more than one way to soar here at this scenic theme park. We boarded a flight on the new Fuji Airways (Hikousha) ride – a "next generation movie theatre" – that gave us stunning aerial views of Mt. Fuji from the comfort of our carriage seats. Complete with forest scents and splashes from the lakes, this flyby around Mt. Fuji made for a full sensory experience.
A taste of France by Mt. Fuji
Once our stomachs had settled from free-falling and flying, we couldn't resist the smell of fresh baked pastries at the Café Brioche, where we had tea and croissants with our new favorite French picture book duo, Lisa & Gaspard. With the sound of accordions playing as we walked along this character-themed town, we felt as though we'd been transported to Paris itself!
Having gotten our fill of panoramic views and pastries in the Highlands, join us as we go low next time, even underground, as we explore some natural beauty by the Lake Saiko Area.
Hotel Tip: The Highland Resort Hotel & Spa next door is certainly the most convenient place to stay when visiting Fuji-Q Highland, with re-entry in and out of the hotel allowed. Also, the Fujiyama Terrace on the 4th floor had the most dynamic view of Mt. Fuji from any dining facility we'd eaten at. A trip here for breakfast or lunch is a banquet for the eyes and stomach.

Attraction & Hotel Info:
Highland Resort Hotel & Spa
Address: 5-6-1 Shin-nishihara, Fujiyoshida-shi, Yamanashi
Access: A free shuttle bus is available from Fujisan Station.
Tel: 0555-22-1000
URL: http://www.highlandresort.co.jp/english/
Fuji-Q Highland
Hours: 9:00am-5:00pm (varies based on season)
Address: 5-6-1 Shin-nishihara, Fujiyoshida-shi, Yamanashi
Access: A 1-min walk from Fuji-Q Highland Station (Fujikyu Railway Line)
URL: https://www.fujiq.jp/en/