From the early days of illegal black markets to the cultural hub of Tokyo, Ueno is an area rich with museums, historic shopping streets, and a scenic park. There are several unique shopping opportunities in Ueno you won't find anywhere else in Tokyo, from the street food of Ameyoko to the unique kitchenware of Kappabashi. Read on to discover the ultimate Ueno shopping guide!
Ueno Japan Shopping 1: Ameyoko Shopping Street
Ameyoko is Ueno's most famous shopping street, located between Ueno and Okachimachi stations. The area has a unique history. In fact Ameyoko started as a black-market following World War II. Of course, it eventually become a regulated street market in 1946. There is some debate over the origins of the name Ameyoko, some people believe it is named "Ame" after the Japanese word for sweets. However others believe the "Ame" stands for America because it used to be a place to buy cheap American goods.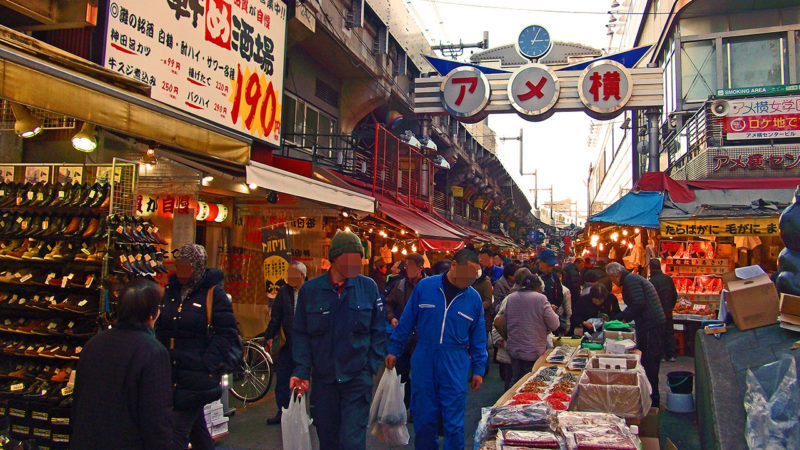 Today Ameyoko is known for being a great place to try Japanese and international street food and snacks at some of the many food stalls you can find. If you need a break from shopping and eating, there is also a small Buddhist temple called Marishiten Tokudaiji, where you can stop for a little time out. 
Ueno Japan Shopping 2: Yodobashi Electronic Goods
Yodobashi Camera is a famous chain of electronics stores in Tokyo where you can find all kinds of items from novelty USB sticks to giant television sets. They also sell a good range of gadgets and unique products such as wearable memo pads, knee massagers, and heated toilet seats. The Ueno branch of Yodobashi is located opposite Keisei Ueno Station.
Ueno Japan Shopping 3: Parco Shopping Mall 
The Parco shopping center is home to around 70 different outlets featuring modern fashion brands, restaurants, and cosmetics stores. You can find international brands here to include MAC cosmetics, and Paul Smith and Diesel fashion stores. The sixth floor is dedicated entirely to restaurants if you are looking for somewhere to go for lunch. The other floors mainly featuring clothing and lifestyle stores. Popular Japanese fashion stores you can find at Parco include casual apparel outlet Urban Research and American influenced Freak's Store. 
Ueno Japan Shopping 4: Geidai Art Plaza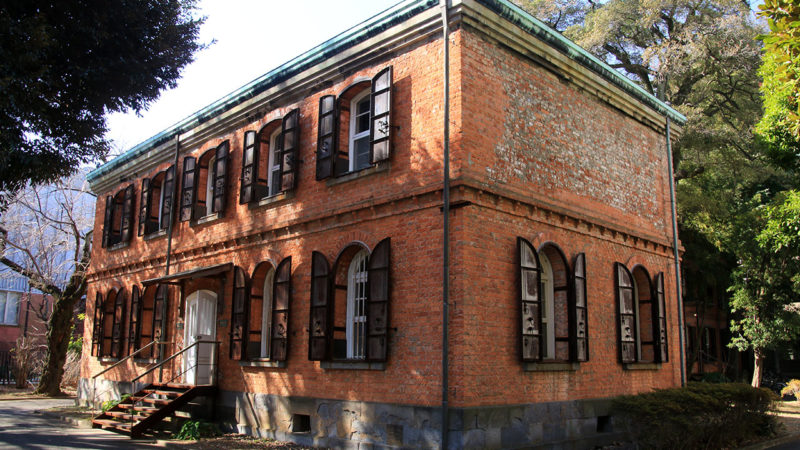 Located just inside the entrance of the Tokyo University of the Arts, Geidai Art Plaza opened in 2018 and is a unique shop offering visitors the chance to support young artists by purchasing one of a kind products designed by students and staff of the university for as little as 1,000 JPY.
Popular products include boxes of biscuits featuring illustrations of the university's president on them, coffee mugs with treble clef shaped handles inspired by the music department, and beautiful paper fans featuring traditional Japanese paintings. In addition to the gift shop, there are also regular exhibitions in the gallery you can see.
Ueno Japan Shopping 5: OIOI Department Store
Pronounced as Marui in Japanese (the Japanese word for circle is maru) this multi-floor department store is located next to Ueno Station and is well worth a visit. Featuring 11 floors in total, start exploring from the basement level up with the Muji store and café, before working your way up through fashion, accessories, cosmetics, and homeware. If you have never visited a branch of Nitori before, be sure to check it out on the 8th floor. Nitori is Japan's version of Ikea where you can find hundreds of stylish and affordable items for your home from furniture to accessories like candles and kitchenware.
Ueno Japan Shopping 6: Uechun Shopping Street
Ueno's Naka-Dori shopping street is known by locals as "Uechun," and is a pedestrianized area with a traditional atmosphere running parallel to the earlier-mentioned Ameyoko street. Uechun is home to cafes, restaurants, clothing stores, pachinko parlors and pawn shops. Interesting stops along Uechun include Mode Off, a vintage clothing store where you can pick up second-hand clothes for bargain prices, and the Omaki Tea Garden store which specializes in sencha green tea. 
Ueno Japan Shopping 7: Takeya Discount Goods
Takeya is a giant discount store in the Ueno area, instantly recognizable by its purple exterior with nine different sections in total across seven buildings, selling everything from kitchen goods to televisions. Of particular interest to tourists is the first floor which sells food products to include items you can buy only in Japan such as snacks, confectionery, and tea at low prices. This is the place to stock up on Kit-Kats and Pocky to take home as souvenirs. Other popular products include the cosmetic and beauty items on the second floor, and traditional homeware items such as copper teapots and ceramic knives. The store is known for its tourist-friendly features to include tax-free counters, multi-language floor guides, free Wi-Fi, and screens featuring the Payke app, where customers can scan the barcode of products and receive translated descriptions of the items they are interested in purchasing. 
Ueno Japan Shopping 8: 2k540 AKI-OKA Artisan Goods
A unique retail space located under railway tracks, 2k540 AKI-OKA takes its unusual name from its distance from Tokyo Station (2.54 kilometers), and its position between Akihabara and Okachimachi stations. The space features around 50 boutique stores and cafes run by local artisans selling a range of unique handmade products. Examples of stores include 2moa who make jewelry from recycled items such as empty cans, and Inoui who make cute leather goods in the shape of biscuits!
Ueno Japan Shopping 9: Ueno Museum Shops
Ueno is home to some of Tokyo's best museums such as the Tokyo National Museum and the Tokyo Metropolitan Art Museum. Of course, with each museum comes a gift shop offering unique products you can't find anywhere else. The Tokyo Metropolitan Art Museum sells gorgeous stationery products featuring renowned works of art. For example, you can buy notebooks emblazoned with 3D images of Van Gogh's Sunflowers painting or Magritte surrealist bookmarks featuring his trademark bowler hats. Over at the Tokyo National Museum, look out for cute souvenirs such as samurai sword washi tape, and beautiful miniature versions of traditional Japanese folding screens. 
Ueno Japan Shopping 10: Kappabashi Kitchen Town
Between Ueno and Asakusa you'll find the 800-meter long Kappabashi Street, an area famous for being the place in Tokyo to buy kitchen and restaurant equipment. The street has a long history, with merchants having gathered there to sell their wares since 1912. Today you can shop in more than 170 shops for just about any piece of equipment you would expect to find in a kitchen, from tableware and baking equipment to restaurant furniture and refrigerators. Some interesting shops for tourists include Hashitou, a store operating since 1910 who specializes in making chopsticks from wood sourced from Japan's forests, and the Maizuru sample shop that sells the plastic food samples you can see in restaurant windows throughout Japan.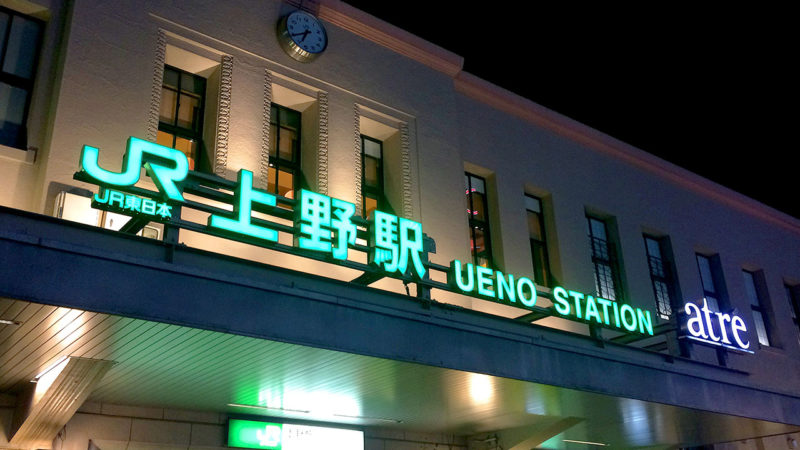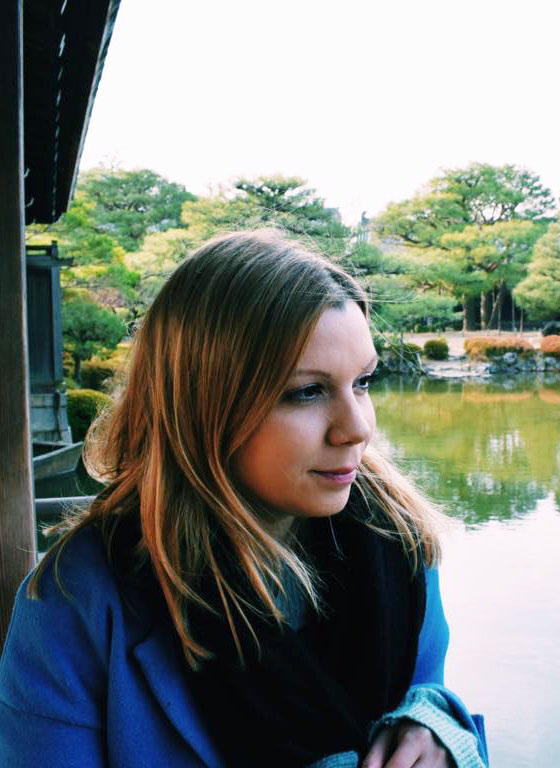 Tanja has spent more than three years exploring Japan, from the mountains of Hokkaido to the beaches of Kyushu. As a full-time travel writer, she loves to explore off the beaten path places, and her favourite part of Japan is Shikoku where she lived for two years. When in Tokyo, you can often find her checking out the latest cafes.
*Disclaimer:
This article was written by an outside writer, and WAttention is not responsible for any damage caused by the information on this page. Please be aware that the accuracy of the information posted in this article is not guarantied, and the content may be changed without notice.