Komatsu city in Ishikawa prefecture has a natural forest filled with traditional Japanese houses that let you try all kinds of amazing crafts. Yunokuni no Mori is officially called a "Traditional Handicraft Theme Park", but it is more than that. Not only do the activities give you the opportunity to make your own unique souvenir, the area in itself is so beautiful that it is worth a visit.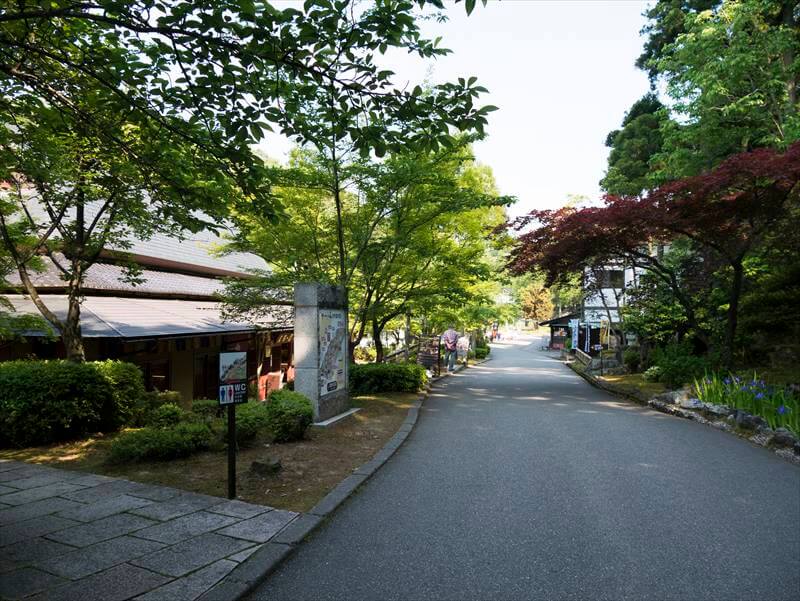 It is very difficult to decide on an activity once you are in the forest. To be honest, you will want to try them all. There are over 50 traditional handicraft experiences at 11 houses such as; pure gold leaf crafts, making ceramics, try making traditional Japanese paper Washi, glassworks and more. Wattention staff tried two activities in the forest, gold leaf crafts and making Kaga Yuzen ( printed silk).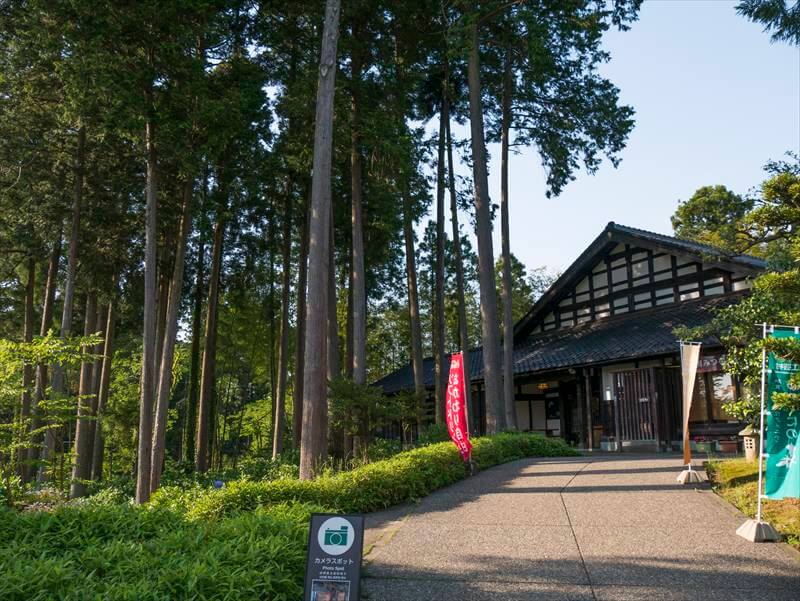 Ishikawa prefecture produces 99% of Japan's gold leaf. These sheets are worked with until they are 1/10,000th of a millimeter thick. This makes them easier to apply to different surfaces and of course you get more worth for your gold. First you decide on what you want to decorate with gold. This can be everything from a box to mirrors and decorative trays. First you apply glue extracted from a tree and then you can rub on the gold in any design you like. There is always someone to guide you while working on your craft so don't worry, it will always come out good.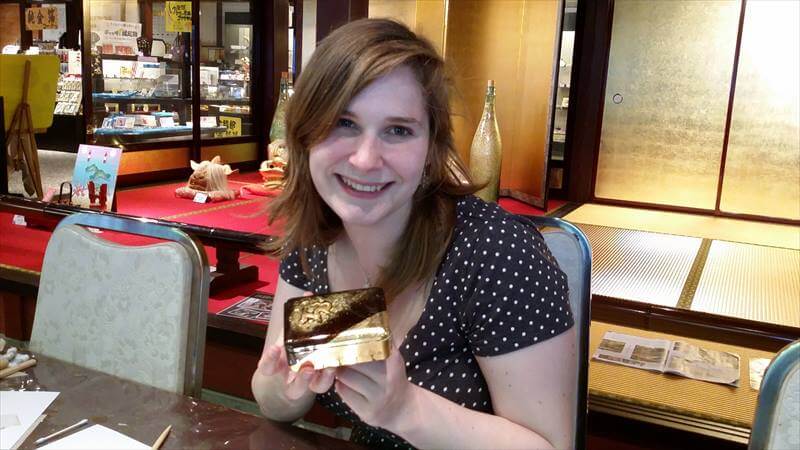 Next we tried making printed silk. Kaga Yuzen is the specific type of printed silk from Ishikawa and it is on par with Japan's most famous Yuzen from Kyoto. Again, there is someone to help you with the designs and colors but in the end it's all up to your creativity. Why not paint a nice handkerchief or T-shirt to take home. Traditionally Yuzen had to be washed in a stream, but luckily you can take your work home immediately (And it's washing machine safe).
After trying out various crafts why not enjoy a secret goodie bag full of cakes and sweets. And if you want to have that luxurious feeling, try a gold-covered ice cream or gold sprinkled sundae. (Yes, real gold)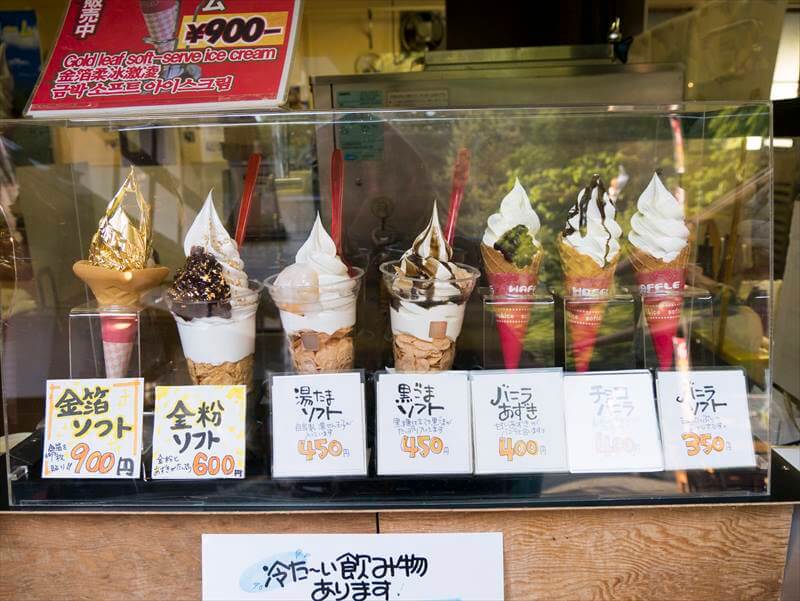 While strolling through the forest you will see these funny dolls made by the staff. Dont be scared when you suddenly see one sitting on a bench or in the forest.
All the crafts in the forest are an amazing experience for every age, making Yunokuni no Mori a perfect day out for a family or group of friends.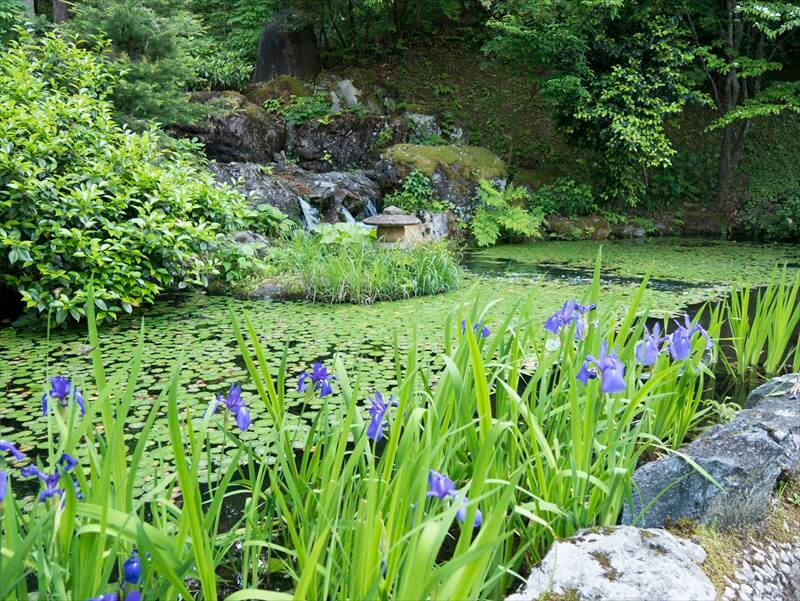 Access
Hours: 9:00 to 16:30
Admission: Adult : 540 yen / Junior High School Student: 440 yen / Child (over four years old) : 330 yen.
By train: 3hr from Tokyo via Hokuriku Shinkansen, Hokuriku Line / 2hr 12min from Osaka / 2hr 27min from Nagoya / 25min from Kanazawa (via limited express)
By car: About 20min by car from Komatsu airport / 50min by car from Kanazawa
By bus: There are buses from JR Kaga Onsen station going to Yunokuni no Mori. The trip takes about 35min.
Read Also:
Come on over to Komatsu (1) : The City of Kabuki
Come on over to Komatsu (2) : The Forest of Wisdom
Come on over to Komatsu (4) : Natadera, the temple in touch with Nature
Come on over to Komatsu (5) : 1300 year old Ryokan – Houshi
Come on over to Komatsu (6) : Rojo Park
Come on over to Komatsu (7) : The 7 wonders of Komatsu