There are many exciting places to visit in the Tokyo suburbs along the SEIBU Railway network. Of the many destinations in Saitama that are perfect for a day trip from Tokyo, Chichibu and Kawagoe are by far the most well-known. In particular, Chichibu, Japan has gained popularity in recent years thanks to traditional and social media exposure. Hop onboard the SEIBU Railway to explore Chichibu, Japan in Saitama Prefecture. You'll be surprised what you can find just outside of Tokyo!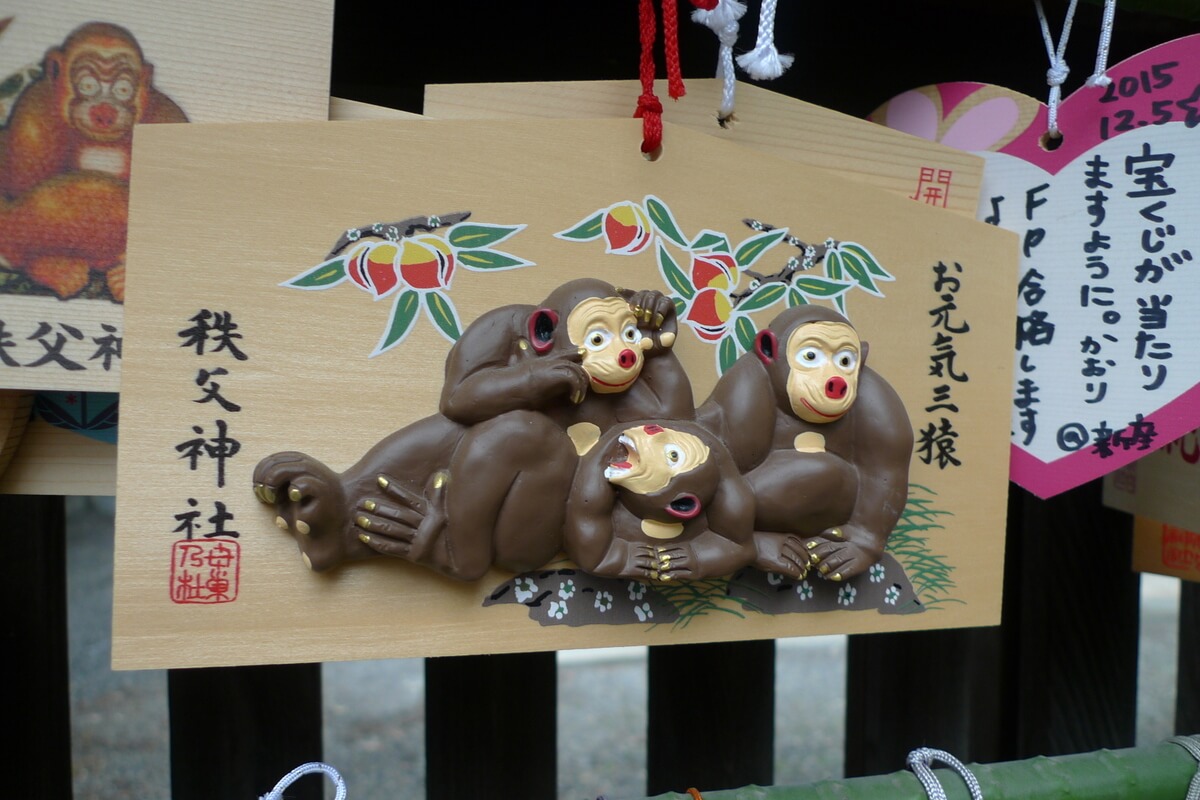 Chichibu Day Trip: Chichibu Meisen Exhibition Hall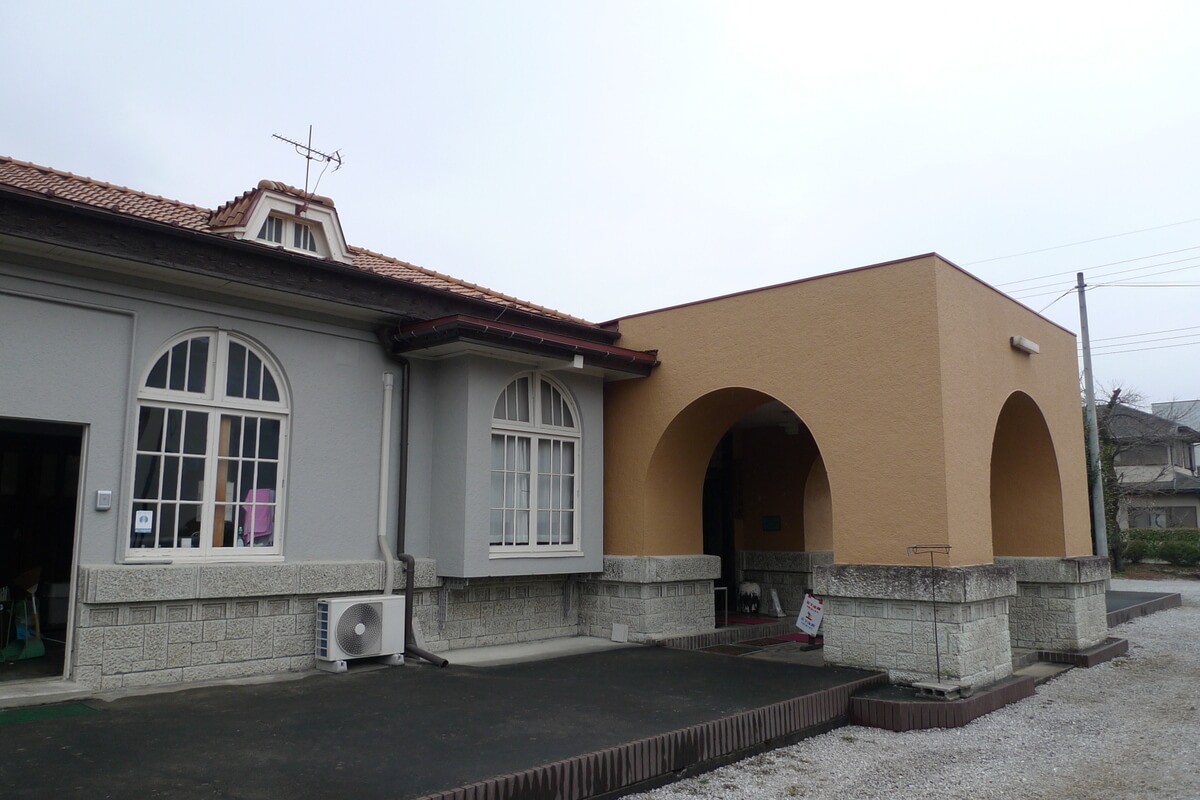 The Chichibu Meisen Exhibition Hall is a great place to start your day trip in Chichibu! The building used to be an industrial site. However, now it is a museum for Chichi Meisen. Chichibu Meisen is a high-quality silk fabric that makes a statement with daring designs and brilliant colors. The textile is officially designated as a Japanese tradition craft. Despite its traditional title, Chichibu Meisen is quite practical and modern. In fact, Chichibu Meisen is very fashionable!
At the Chichibu Meisen Exhibition Hall, you can pose for a memorable picture wearing beautiful Meisen textile. So, choose your favorite look and strike a pose! In addition, you can try your hands at sink dyeing if you make a reservation.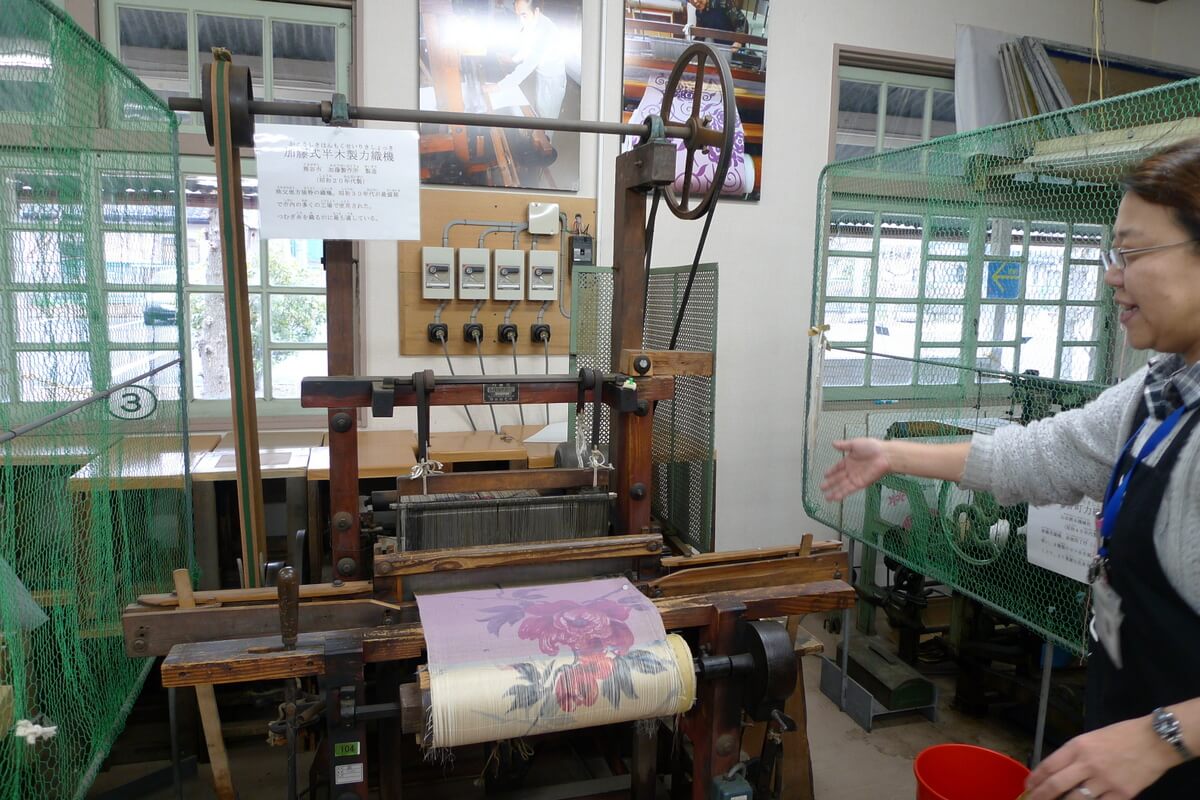 Chichibu Meisen Exhibition Hall
Hours: 9:00-16:00
Admission: 200 yen
Website: www.meisenkan.com/ (Japanese only)
Chichibu Day Trip: Maruta Soba Lunch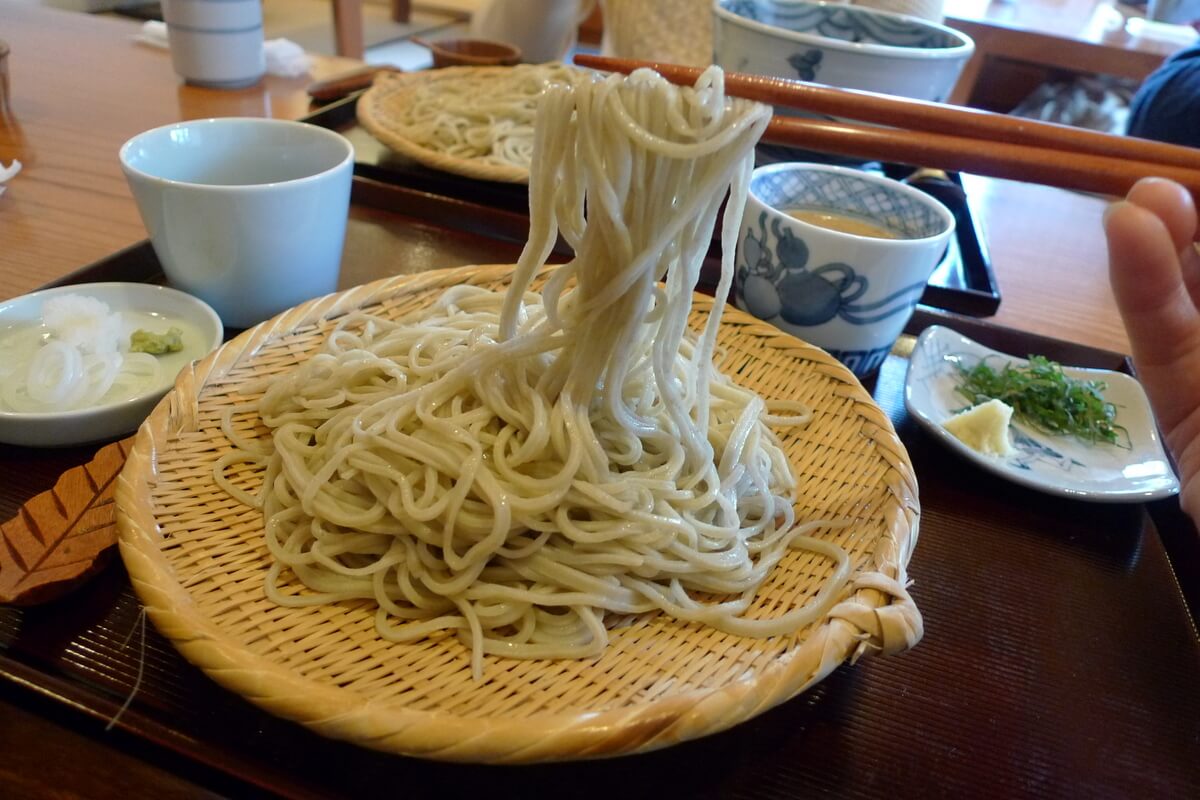 For lunch on your Chichibu day trip, try some of the local specialty soba noodles! Maruta, a delicious soba restaurant in Chichibu, is right across from the Chichibu Meisen Exhibition Hall. The pork soba and sesame dip soba at Maruta are highly recommended.
Make sure you ask for the free soba soup after you finish your Japanese buckwheat noodles! It is made during the process of making the soba dish. You can drink it as it's served. However, you can also mix it with the soba dipping sauce for some extra flavor. Some say that it was good for the skin!
Maruta
Hours: 11:30-17:00
Facebook: www.facebook.com/sobadokoromaruta/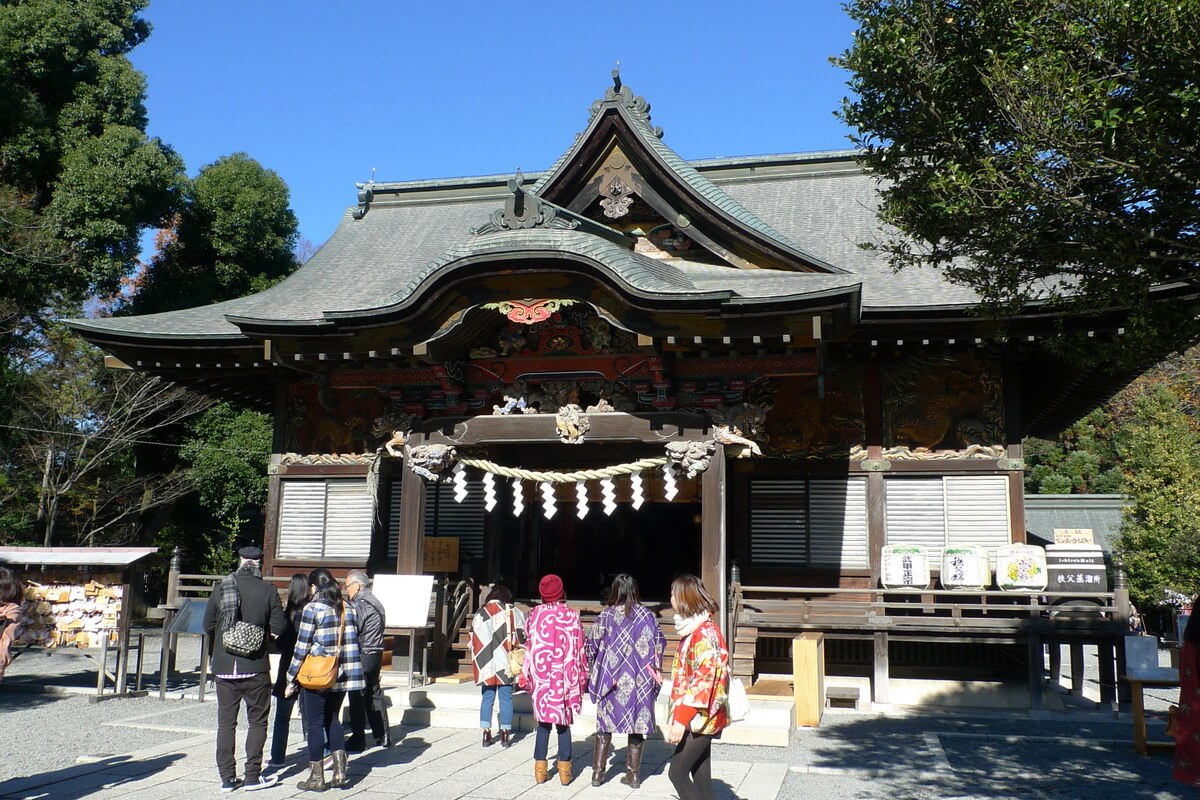 Chichibu Day Trip: Chichibu Shrine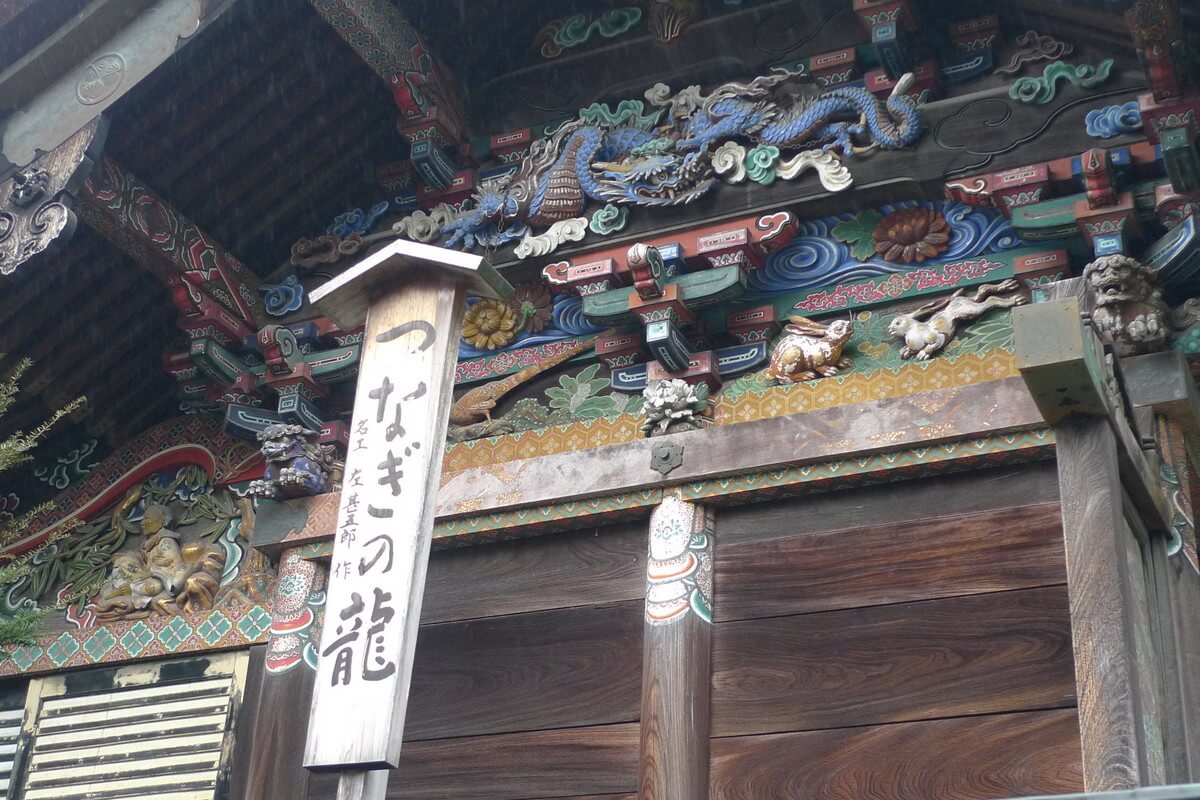 The historic Chichibu Shrine is the main venue for Chichibu's Kawase Festival and Night Festival. The shrine is characterized with many colorful decorative sculptures, including the "three monkeys" that reminds people of its famous counterpart in Nikko Toshogu Shrine. Moreover, make sure to check out those creative anime "Emas" (small wooden plaque on which worshippers write their wishes) inspired by the animation film "Anohana: The Flower We Saw That Day" and "The Anthem of the Heart".
Chichibu Shrine
Website: www.chichibu-jinja.or.jp (Japanese only)
Chichibu Day Trip: Chichibu Festival Museum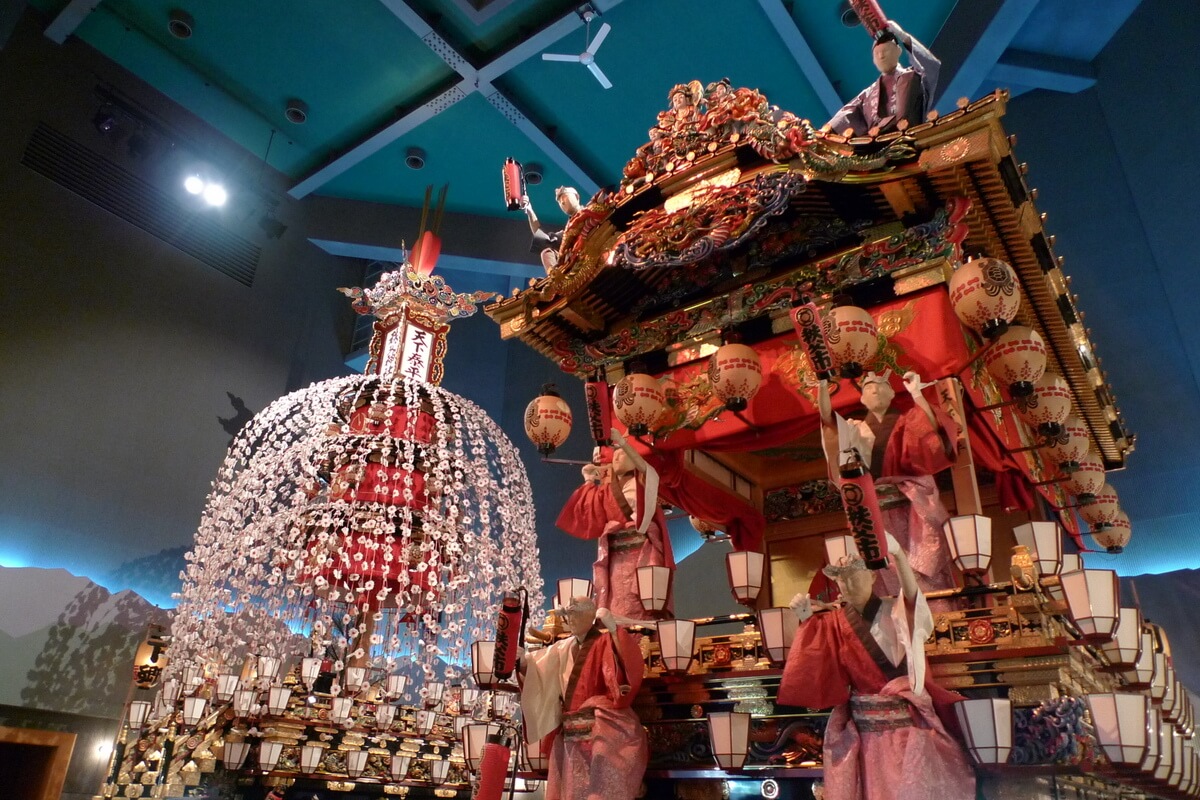 Chichibu's summer festival (Kawase Festival) and winter festival (Night Festival) takes place in July and December respectively. For those who missed the festive seasons, visit Chichibu Festival Museum and experience the charm of the festival through various interactive exhibits. Best of all, the video clips shown on the second floor are available in Japanese, Chinese, English, and Korean. Watching the impressive videos and exhibits will definitely make you want to come back to Chichibu again during the festival season!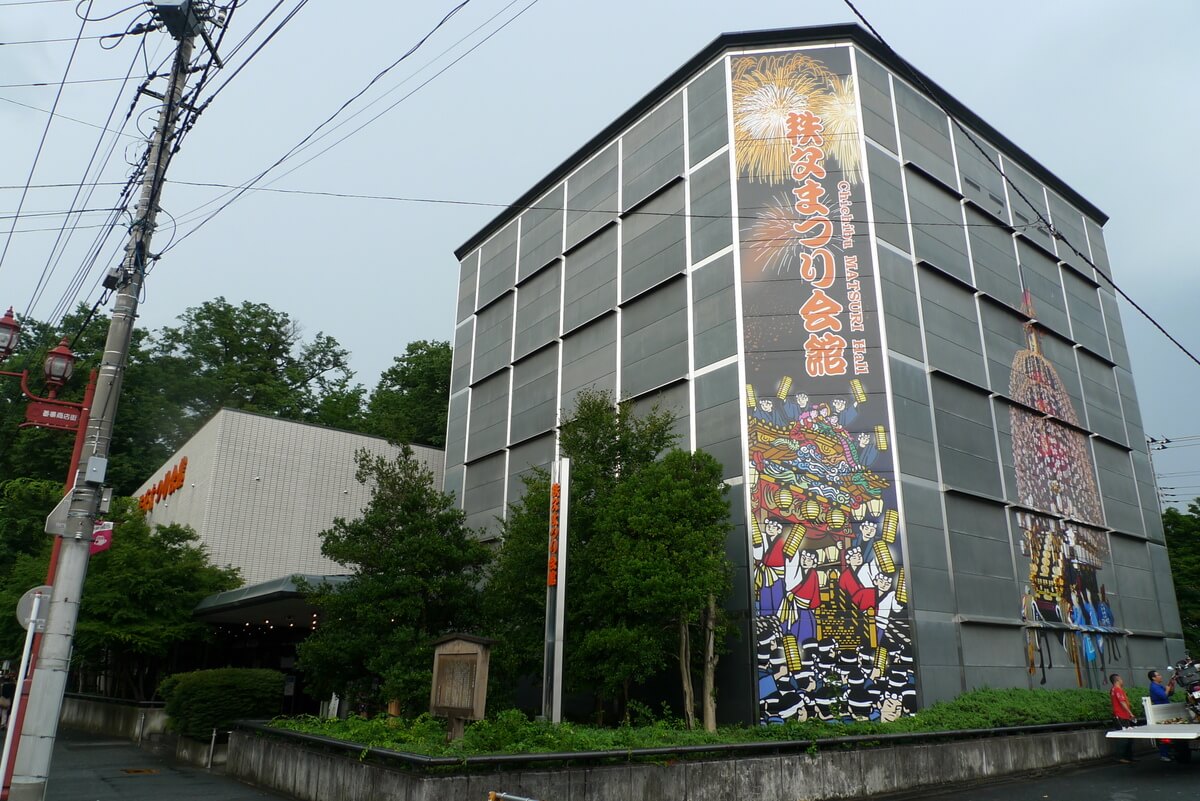 Chichibu Festival Museum
Hours: 9:00~17:00 (April~November); 10:00~17:00 (December~March)
Admission: 410 yen
Website: www.chichibu-matsuri.jp(Japanese only)
Chichibu Day Trip: Bukou Brewing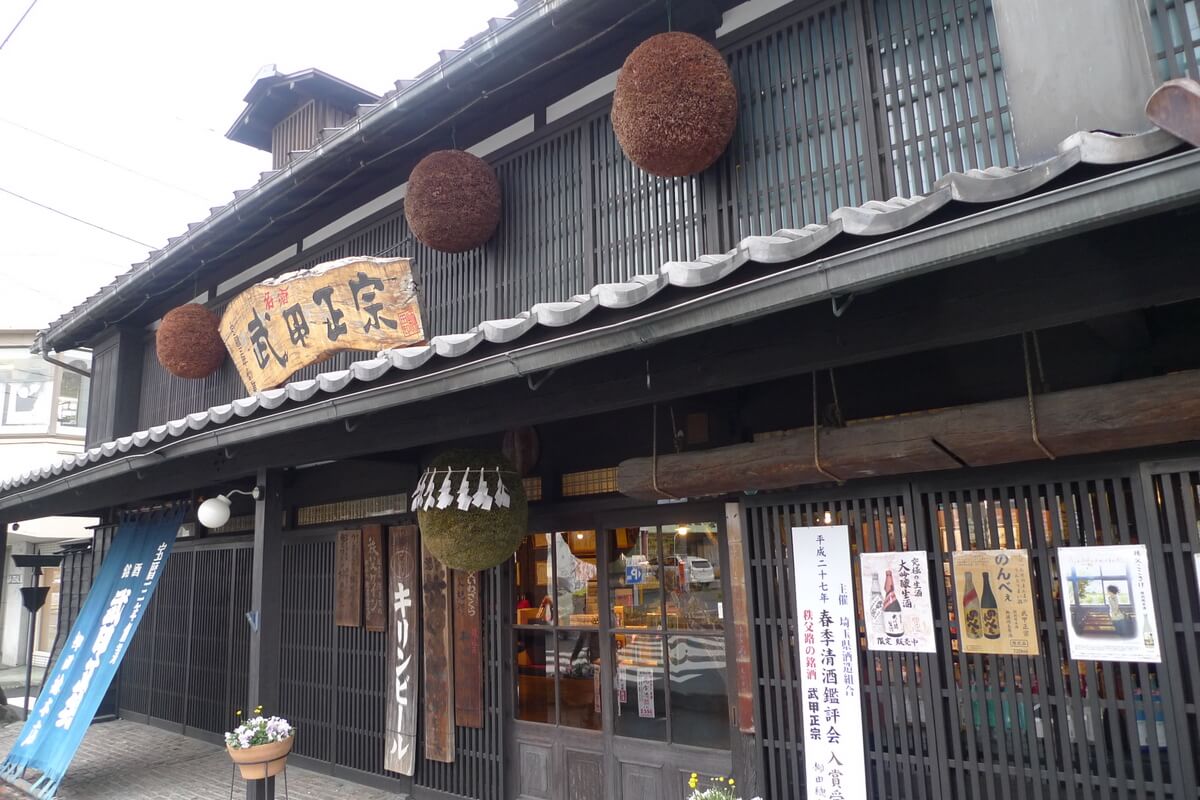 Making good Japanese sake requires high quality water. Fortunately, Chichibu is blessed with clear, subterranean water flowing from nearby mountains. Bukou Brewing uses this gift of nature to create an amazing lineup of sake products. Also, they offer tax-free shopping for foreign tourists! If you can speak a little Japanese, try making a reservation to take a tour of the brewery and enjoy some free sake tasting in Chichibu.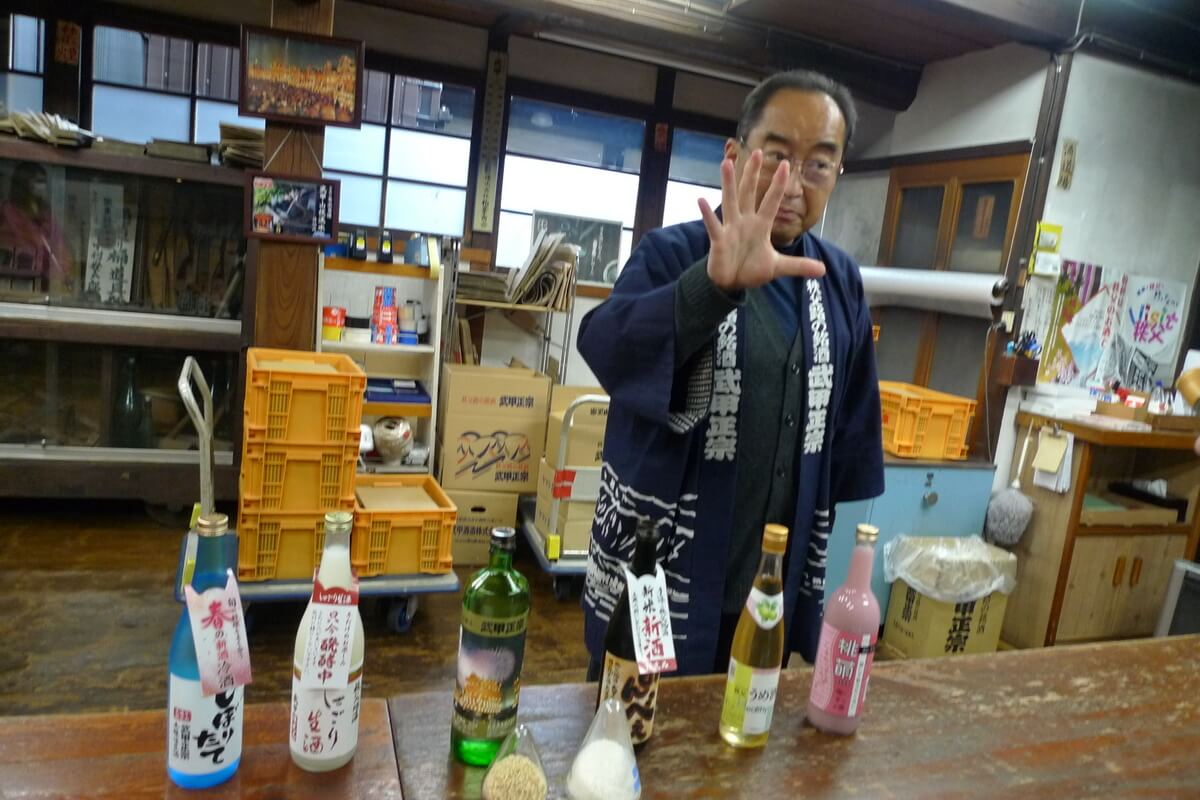 Bukou Brewing
Hours: 8:00-17:30
Website: www.bukou.co.jp/ (Japanese only)
Chichibu Day Trip: Banba Street and Yasudaya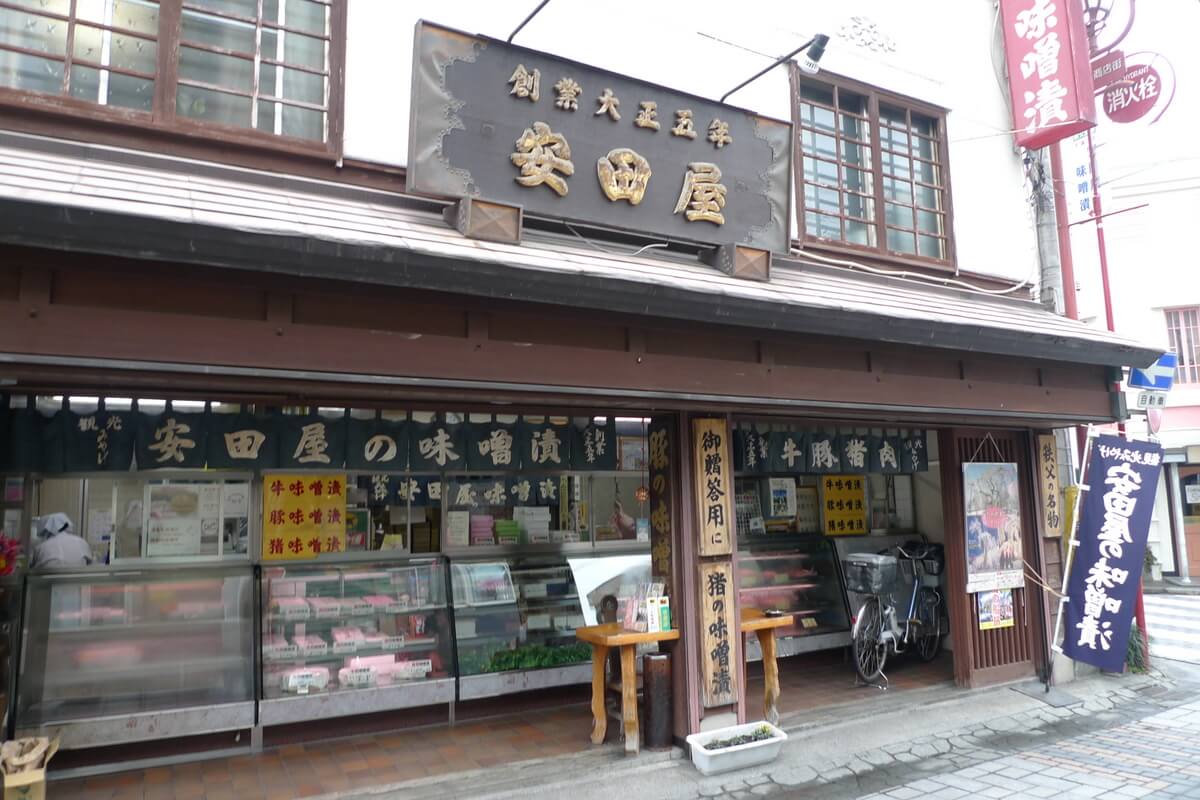 At the end of your Chichibu day trip, it is time to start walking back towards Seibu Chichibu Station. The best way to go back to the station is through Banba Street in from of Chichibu Shrine. Among the many stylish cafes and household zakka shops, there is a retro street. The atmosphere is impressive. Though the streets appear more traditional, there are still some modern shops on the street. For example, there is the collaboration between a modern bagel baker and an old shop called Yasudaya. Get a minced pork cutlet at Yasudaya and bring it to the bakery to make it a bagel sandwich! Yummy and innovative! It is such tiny creative stuff that brings vigor and tourists to town!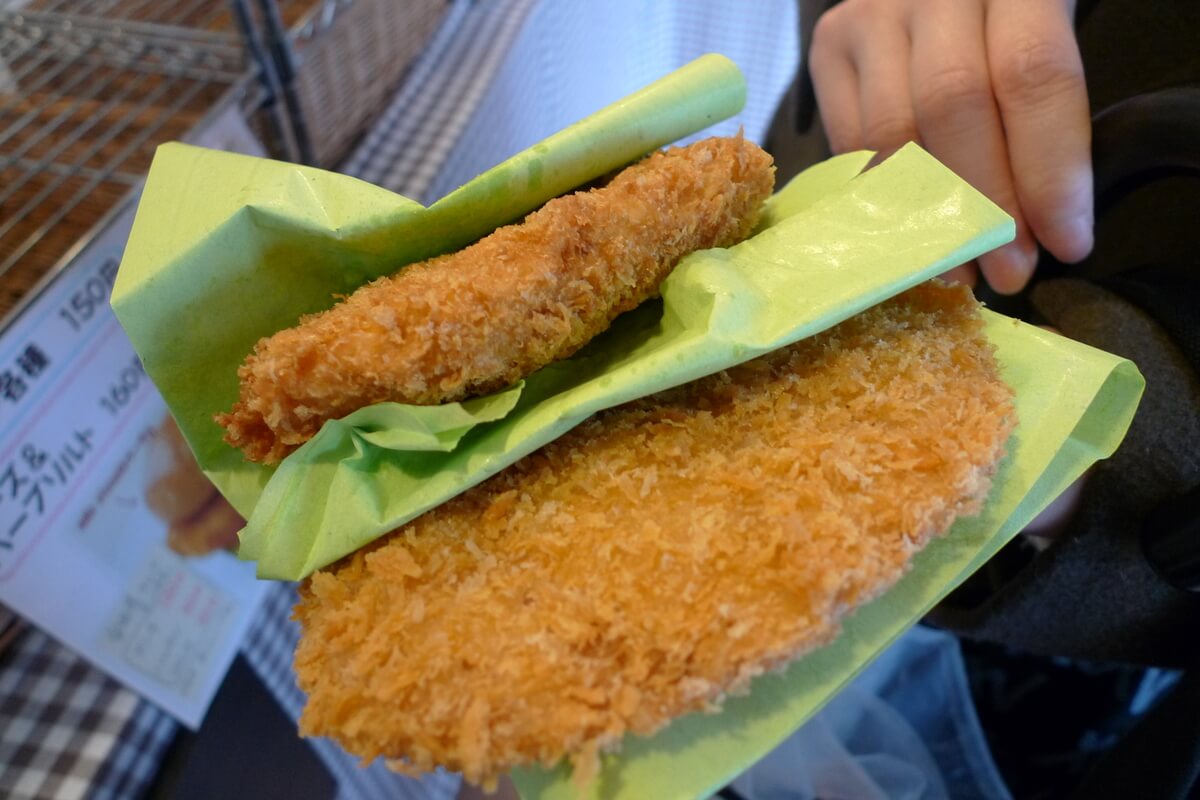 Last but not least, shibazakura, moss phlox, bloom from mid April to early May in Chichibu. If you have some extra time in Chichibu, take a moment to soak in the nature. Go to Chichibu for a casual flower viewing trip if you're visiting in Tokyo in spring!