Many images are likely to come to your mind when you think of Japan: traditional culture and music, exaggerated fighting styles, colorful cuteness and futuristic robots. Now bring all those elements together in the unique atmosphere of Kabukicho, serve it with some J-Pop music, and you'll have a taste of what Robot Restaurant is.
Squeezed into the lively night district of Kabukicho, this ninety-minute show is hard to describe: you can't believe it's real until you see it with your own eyes. Of course, it's impossible not to notice the colorful signs and the huge robot photo-spot nearby, but believe me; what's waiting for you inside is even crazier than you could have imagined.
Before the show, you can wait in a flamboyant lounge with mirrors and live music, perfect to get yourself into the right mood.
The traditional sound of taiko – Japanese drums – and monsters from Japanese folklore mesh with current pop culture and fashion of present days in a show of color, sound and dance. The theme centers around the connection with nature meeting the futuristic world of robotics, a field where Japan is a global leader. This contradiction in style, representative of Japan, explodes in a fighting show in a typical Japanese anime style of battle.
The music leaves space for sounds and voices as the big robots start their show, each one competing to be the most incredible. Twists and turns, all seeming perfectly natural and yet unexpected, take place right in front of you. Don't try to understand why, just go with the flow and let your mind be captured by the fight.
Then, suddenly, the dark erupts into a show of laser lights and your eyes flash from the colors to the massive robots shaking to the rhythm of the music, completely enveloped in the atmosphere… of the dance floor.
But the show cannot end without a crazy, colorful, pop parade; a tribute to the world, an ode to the happiness of life, full of colors and familiar pop music.
At the end of the show, when humans and robots disappear behind the curtain, you feel lost and excited at the same time, like you suddenly woke up from the craziest dream ever. However, this dream is real, and its name is the Robot Restaurant Show.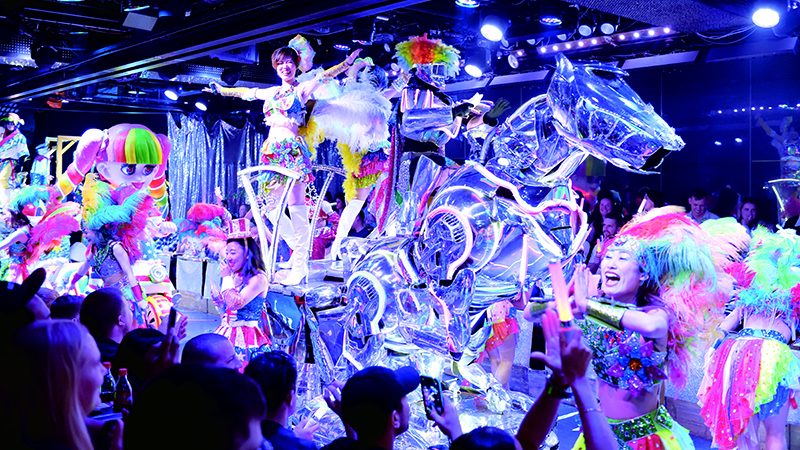 It was recommended everywhere as something not to miss while traveling in Tokyo. We can't wait to see the amazing show of lights.
It's our first time together in Tokyo, and a friend recommended we didn't miss the show, so now we're looking forward to enjoying crazy lights and colors!
Robot Restaurant
Address: Kabukicho 1-7-1, Shinjuku
Time: 4pm-11pm (Shows: 4pm, 5:55pm, 7:50pm, 9:45pm), 1 show is approximately 90 minutes.
Admission: 8,000 yen
Access: 5-min walk from JR and Tokyo Metro Shinjuku Station
URL: www.shinjuku-robot.com/