A thrilling escapade away from bustling Tokyo
There is an island off the shore of the city of Atami in Shizuoka Prefecture with the rare virtue of combining adrenaline and relaxation. The Hatsushima island adventure starts at the Atamiko port, where visitors ride either the "Ile de Vacance Premier" or "Ile de Vacance III", the two high-speed vessels that serve the island with departures several times a day. It's a 30-minute pleasant ride that gives passengers the chance to admire the breathtaking view of Sagami Bay and feed the sea-gulls that try to catch up with the boat.
Hatsushima offers a variety of amazing outdoor activities such as the Asian Garden "R-Asia", where you can relax in a hammock and admire a great variety of flowers such as daffodils, the bird of paradise flower, and even early cherry blossoms, allowing visitors to Hatsushima to enjoy the quintessential Japanese flower as early as mid-February!. Inside the garden, adrenaline lovers can also join the SARUTOBI experience, an adventure course featuring bridges, webs and ropes hanging from the top of the trees that you have to complete wearing a special harness.
For lunch, there are many restaurants offering a great variety of dining options and seasonal dishes. For example, from February 4th to March 12th, visitors can taste the time limited Donburi Gassen, a delicious bowl of rice with fresh and tasty fish caught by local fishermen. Visitors can also take a relaxing dip in the ocean bath "Shimano-Yu" and admire the breathtaking view of the ocean pool during summer.
At Hatsushima, you can also get a glimpse of majestic Mt. Fuji on a clear day from the top of Hatsushima's lighthouse or go underwater for scuba diving, spend the night in the camping site, go fishing or visit the local Maritime Museum. You will never run out of things to do.
Two of our WAttention Ninja got the opportunity to experience a full day of adventure at Hatsushima island and this is what they had to say about the trip.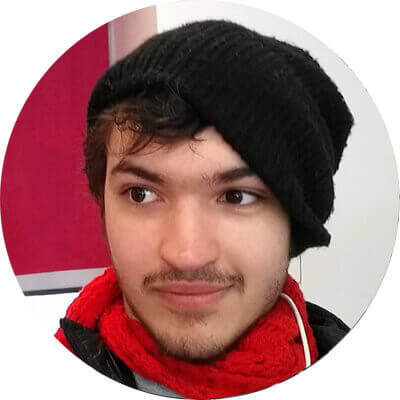 Santiago Basterra
To say that my day at Hatsushima Island Resort was thrilling and exciting would not make it justice, it was so much more! The restaurants had such a friendly atmosphere, small and traditional with top notch food and great attention. The miso was delicious! The Sarutobi adventure was my favorite part though, the first course was exciting and good for people who are not used to obstacle courses. Meanwhile, the second course was amazingly challenging, with the zip-line at the end being the cherry on top of the cake as you celebrate having completed the hardest course! Afterwards, the ocean bath was exceptionally tidy, everything was perfect and the water deliciously warm. Special mention to the sakura in the garden which were already blooming despite the fact that it was only February!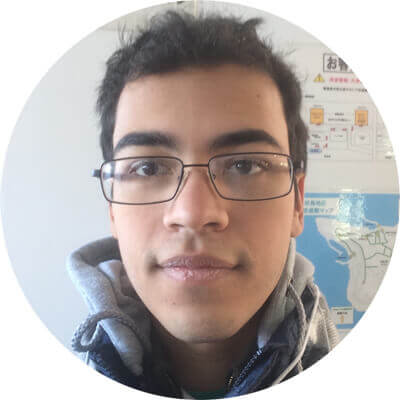 Samuel Estribi
We took a 30 minute boat ride from Atamiko port to Hatsushima island, and as soon as we arrived, we saw the great variety of restaurants offering Hatsushima's delicious sea food. We got to try the Donburi Gassen, a special, time limited dish made with shrimp, fresh fish, rice and accompanied with miso soup. We then headed to Hatsushima Island Resort to join the Sarutobi experience. The staff was always there to help us put on our safety gear, and there is also a brief orientation where they explain the dynamic of the activity. After that, we were confronted with two courses, an easy one, where you can test your abilities and then a hard one, only for those who feel comfortable going further. At first, it can be a bit scary because of the height and the difficulty level that increases as you go along, but after a while I felt excited and had an amazing time.
Sample schedule for a day in Hatsushima Island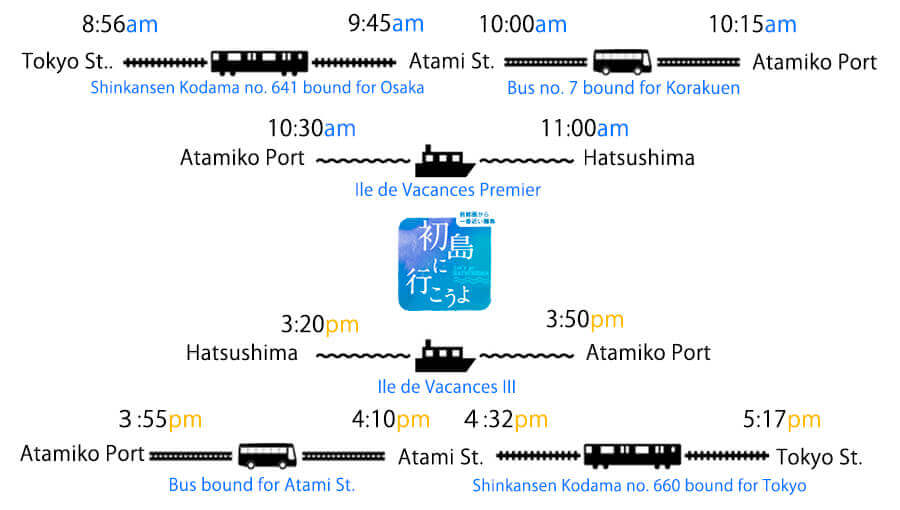 Hatsushima Island
Open: Asian garden "R-Asia" 9am to 4pm (varies according to the season), Sarutobi experience 10am to 5pm, Ocean Bath Shimano-Yu 10am to 9pm, Lighthouse from 9am to 4pm.
Address:(Atamiko Port boarding place) 6-11 Wadahama-Minamicho, Atami, Shizuoka 413-0023. (Hatsushima Island resort) 1113 Kamifuruji-no-yama, Hatsushima, Atami, Shizuoka 413-0004.
Phone: Hatsushima Island resort, PICA Reservation center 0555-30-4580

Price: the Asian garden "R-Asia" is 900 JPY, Sarutobi experience is 1,700 JPY for adults and 1,300 JPY for children, the Ocean Bath Shimano-Yu is 900 JPY for adults and 600 JPY for children, Lighthouse is 200 JPY for adults, free for children and the Atami – Hatsushima round-trip high speed boat is 2,600 JPY for adults and 1,300 for children.
Website: http://www.hatsushima.jp/en/
Access: From Tokyo, take the Shinkansen Kodama for Atami Station and then take the bus bound for Atami Port & Korakuen from Bus Stop #8 (15 min). At Atami Port, get on boat named either "Ile de Vacance Premier" or "Ile de Vacance III" to reach Hatsushima.
Enjoy the Mt. Fuji Area to the fullest with this useful tool
・Mt. Fuji Pass  This is a tourist pass especially made for foreigners visiting Japan. Save on sightseeing and transportation and get preferential access to different tourists facilities, including Fuji Q Highland.
Find out more here: http://bus-en.fujikyu.co.jp/mtpass/