Although Kagurazaka is close to Tokyo's entertainment district, Shinjuku, it has a character all of its own. As a prominent hanamachi (geisha district) that thrived from the Edo Period (1603-1868) to the Showa Period (1926- 1989), Kagurazaka is well-known for its refined, nostalgic atmosphere. Venture inside the cobbled alleys and you will discover tons of historic geisha houses and sophisticated shops that embody the Japanese aesthetic sense and precise craftsmanship. We also recommend to take a walk to Kudanshita through Mejiro Dori from Kagurazaka-Iidabashi.
---
神楽坂茶寮本店
Kagurazaka Saryo Honten

Tucked away in a quiet alley in the heart of Kaguarazaka, this retro cafefits perfectly into Kagurazaka's nostalgic atmosphere. Built in a typicalJapanese wooden machiya house, one is enveloped by the warmth and comfort created by its wooden decor as they step in. The shop serves a wide variety of Japanese sweets, with the matcha chocolate hot pot andtea-flavored sundae being the most recommended menu items.
Hours: 11:30am-11pm (Mon-Sat) 11am-10pm (Sunday and holiday)
Address: 5-9 Kagurazaka, Shinjuku-ku, Tokyo
URL: http://saryo.jp (Japanese)


神楽坂佑楽
Japanese Pottery Shop YOULUCK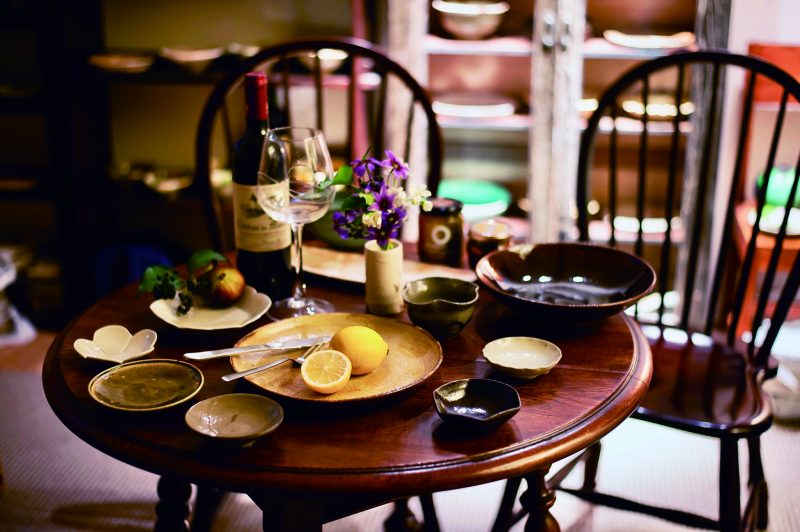 When you turn from Kagurazaka Street to the back ally, a totally different world appears before your eyes. The Kagura path has a nostalgic atmosphere, and you can escape from the bustle of Tokyo for a while. Here, there is a specialty shop named "YOULUCK", which specializes in Japanese pottery selected carefully from all over Japan. Because all the
works in the shop are handmade, each one has different texture, color and expression.The work is not only for appreciation but can enrich your daily life as well.
English explanation support from the staff, local hotel and overseas delivery service of products are also available. So, no worries about baggage. Buy a Japanese pottery full of charm and it will remind you of the memories in Japan.
Hours:11:30am-7pm(Sat, Sun & holidays until 6pm)
Closed:Tue, Wed
Address:2F, 2-10Kagurazaka, Shinjuku-ku, Tokyo
Web:https://www.uluck.jp/en/
牛込見附・牛込橋
Ushigome Mitsuke & Ushigomebashi Bridge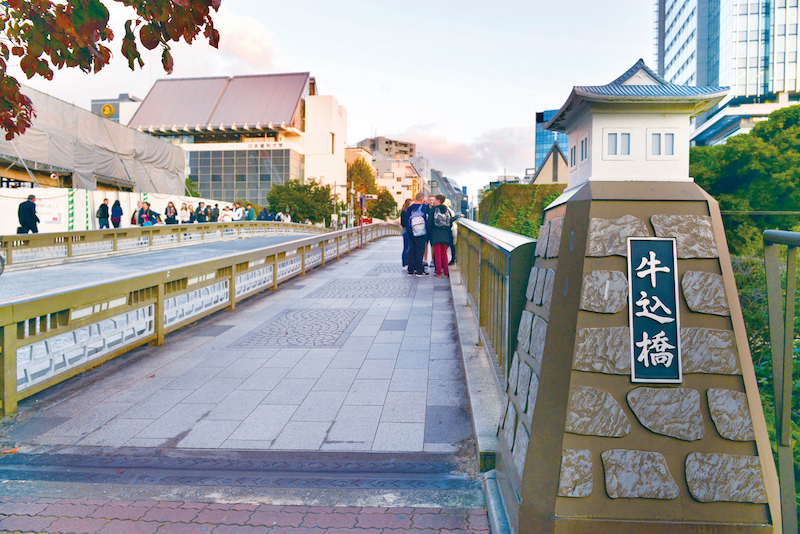 Sotobori Park ends at the West Exit of JR Iidabashi Station, but this marks the entrance into the Ushigome neighborhood. During the Edo period, Ushigome Mitsuke used to be one of the roads approaching the gate of the Edo Castle. For security reasons, guardhouses were set up to check on pedestrians crossing the Ushigomebashi Bridge. The other side of the bridge used to be a samurai residence area, can you imagine that?


外濠公園
Sotobori Park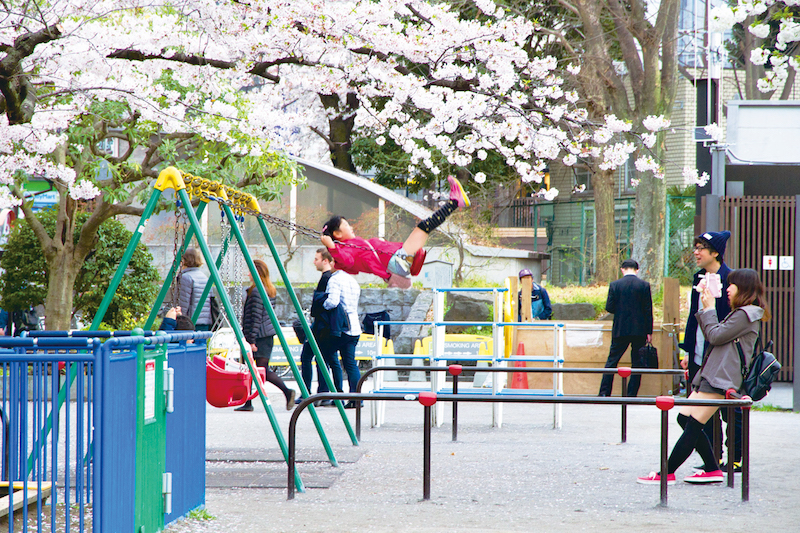 Sotobori is the remains of the outer moat of the Edo Castle. Commissioned by Iemitsu Tokugawa, the thirdshogun of the Tokugawa dynasty in 1636 as the finalconstruction of the castle. The historic moat is now transformed into a scenic park with a 2 km walking path between JR Yotsuya Station and JR Iidabashi Station. Known for its display of vivid shades of greenall year round. A popular spot during the flowerviewing season that is not to be missed.
Access: 5-minute walk from JR Iidabashi Station, 5-minute walk from JR Ichigaya Station, 5-minute walk from JR Yotsuya Station
Address: 2, Fujimi, Chiyoda-ku
URL: http://www.kanko-shinjuku.jp.e.xm.hp.transer.com/spot/vi-40/article_396.html


あおもり北彩館
Aomori Hokusaikan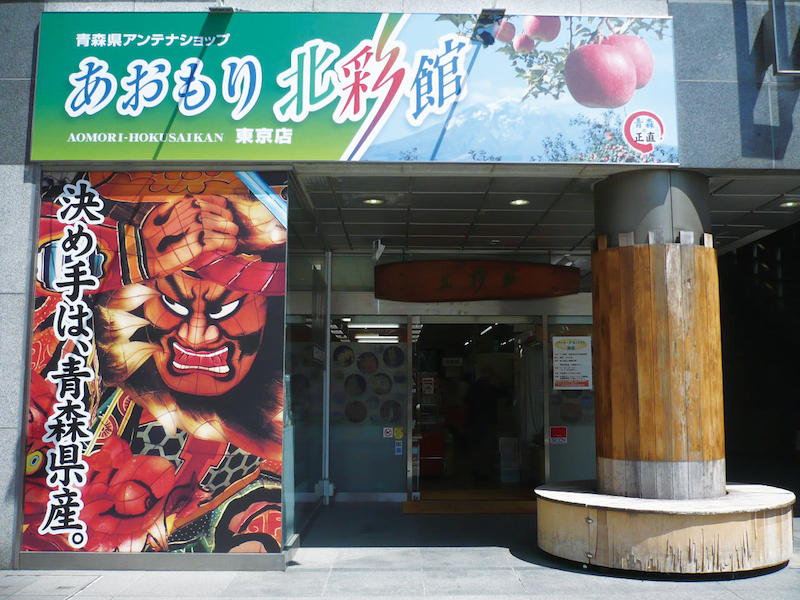 Experience the charm of Japan withoutleaving Tokyo by visiting antenna shops, shops created by prefectural governments to promote local food and crafts. Located in the vicinity of Kagurazaka, Aomori Hokusaikan is the place to sample Aomori's mouth-watering delicacies and stock up on genuine handicrafts made by traditional artisans. As Aomori
is Japan's top apple-producingprefecture, you can also indulge in the mellow sweetness of 100% natural apple juice.

Hours: 10am-7:30pm
Address: 2-3-11 Fujimi, Chiyoda-ku, Tokyo
Website: www.hokusaikan.com(Japanese)


東京大神宮
Tokyo Daijingu Shrine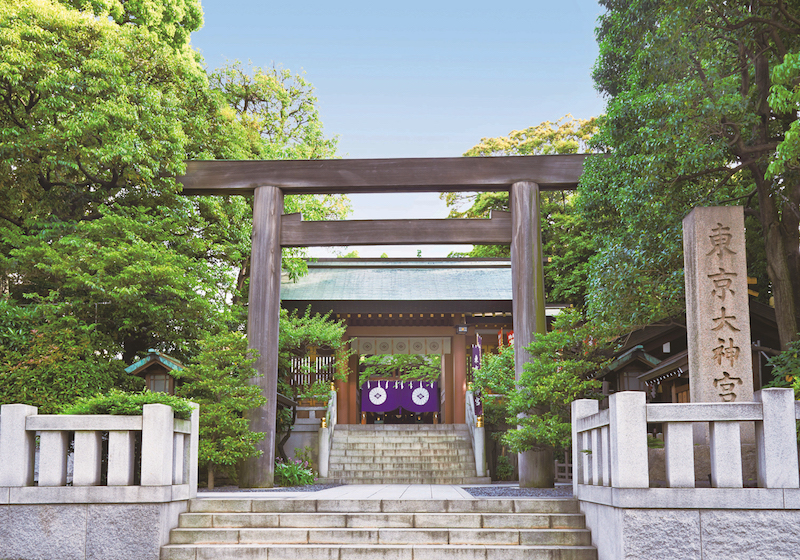 Tokyo Daijingu Shrine was built in 1880 to worship Amaterasu, a deity related to the divine origin of the emperor, and other deities enshrined in the Ise Jingu Shrine. Tokyo Daijigu Shrine functions as a yohaiden, or hall for worship from afar in Japanese, for pilgrims who were not able to travel all the way toIse Jingu Shrine in Mie Prefecture. As the shrine is the first in Japanto hold a Shinto wedding ceremony, it is especially popular among women wishing to get married.
Access: 5 mins.-minute walk from JR Sobu Line Iidabashi Sta.
Address: 2-4-1, Fujimi, Chiyoda-ku
URL: http://www.tokyodaijingu.or.jp/english/index.html



築土神社
Tsukudo Shrine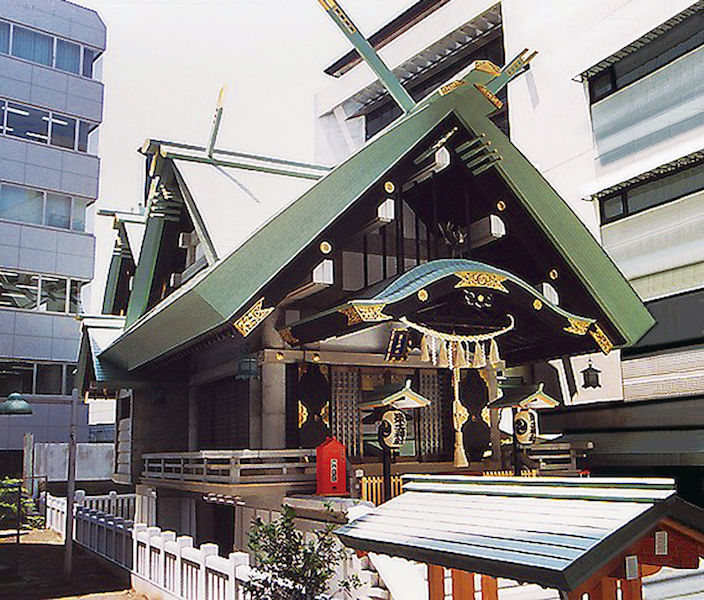 Walk in the direction of Nigohanzaka from Tokyo Daijingu Shrine and you will come across a rare sight: a western architecture with a cross on it. Built in1937 as the first seminary for Tokyo Lutheran Center Church, the building's significance lies in that it is the only western chapel in Japan before World War II. From here, it might be a little bit difficult to spot Tsukudo Shrine, whose entrance is located next to a modern building called Kudan Airex Building.Tucked away from the bustles of the city, the shrine is as cozy as a secret garden. However, as the head of Taira-no-Masakado, a samurai who died in a battle in the Heian period (794-1185), is enshrined here, the shrine has quite a few ghost stories to share.
Access: 10-minute walk from Iidabashi Stations (Sobu Line and Chuo Line, Namboku Line, Yurakucho Line)
Address: 14-21, Kudan-kita, Chiyoda-ku
URL: http://english.tsukudo.jp/