Awa Odori Festival Japan
---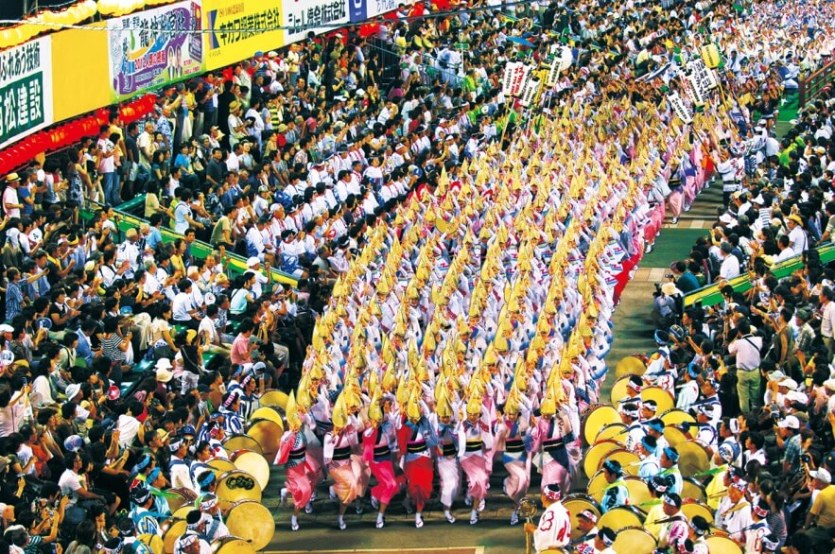 "It's a fool who dances and a fool who watches! If both are fools, you might as well have fun dancing!"
The lyrics to the Awa Odori's thematic "Fool's Song" are a fitting invitation to join Japan's largest dance festival, where it is said that as long as you can raise your hands and move your feet forward you are doing the 400-year-old folk dance.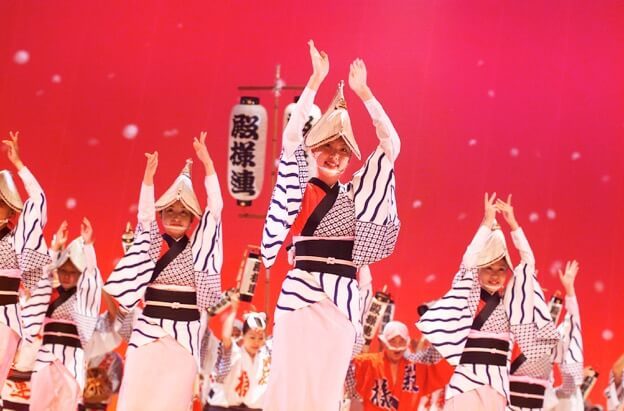 Every year on Aug. 12-15, Tokushima city (formerly known as Awa) in Tokushima Prefecture turns into a huge dancing platform. Numerous dancing groups ("ren") from around the country and even overseas descend upon this usually sleepy small town for this summer matsuri that welcomes the souls of ancestors during the Bon season.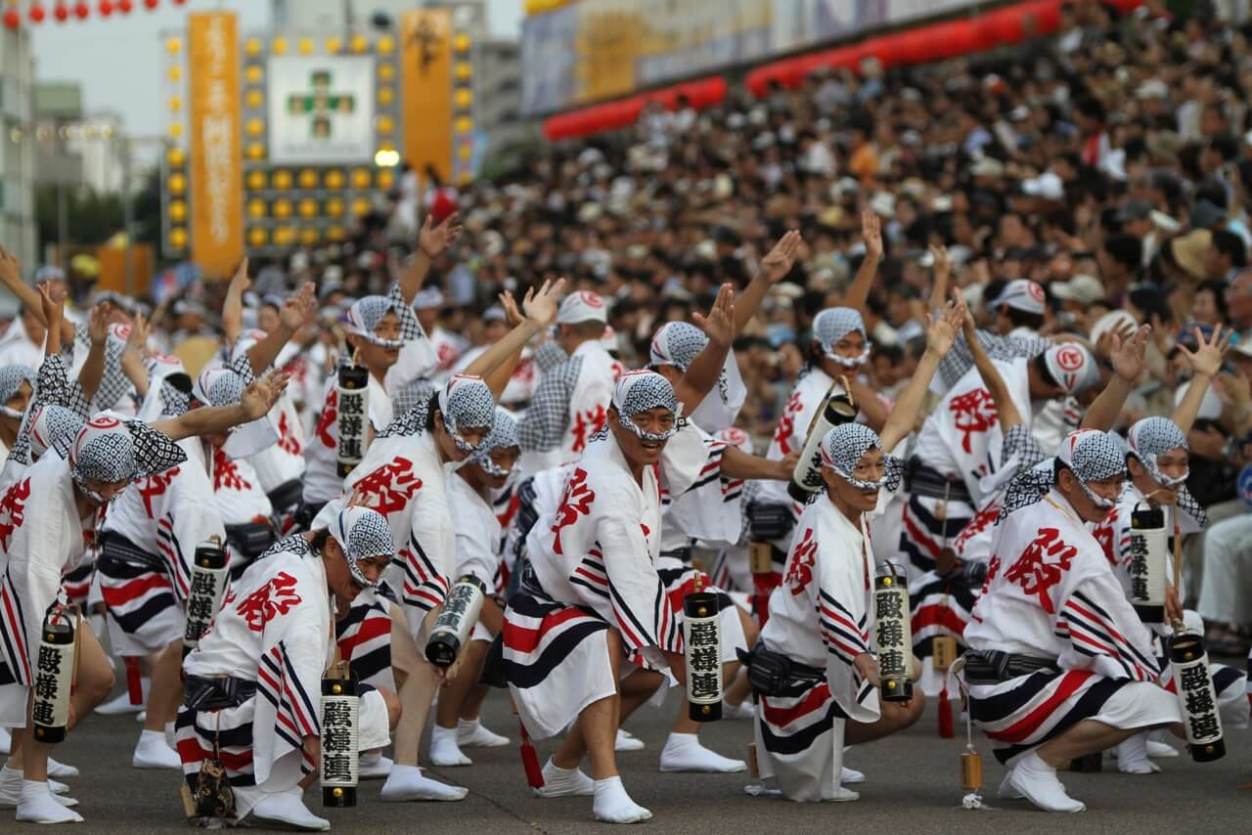 Men wear what's called a happi coat, don a headcloth in the stereotypical manner of a thief and dance in exaggerated motions – sometimes the drunk, and sometimes playing the fool, while women cut a much more elegant figure in a yukata and crescent-moon shaped straw hat with graceful rhythmic motions. Selected professional groups perform on elaborate indoor stages during the daytime, and there are temporary outdoor enbujo or performance stages set up throughout the city.
The highlight of this festival is in the evening when the city center streets start pulsing with thousands of frolicking dancers adorned in colorful yukata uniforms moving as one across parks, closed-down streets and plazas. Feel your pulse raise in tune to the hypnoptic cries of "Erai yatcha erai yatcha yoi-yoi-yoi-yoi!" resounding across the city, accompanied by gongs, beating drums and the tunes of flutes and shamisen.
Choose from paid or free viewing locations to watch and snap this revelry, or several Odori Hiroba (dance plazas) where you can feel the energy as you circle around the dancers up-close, and even an Odori Road along which groups dance their way from stage to stage.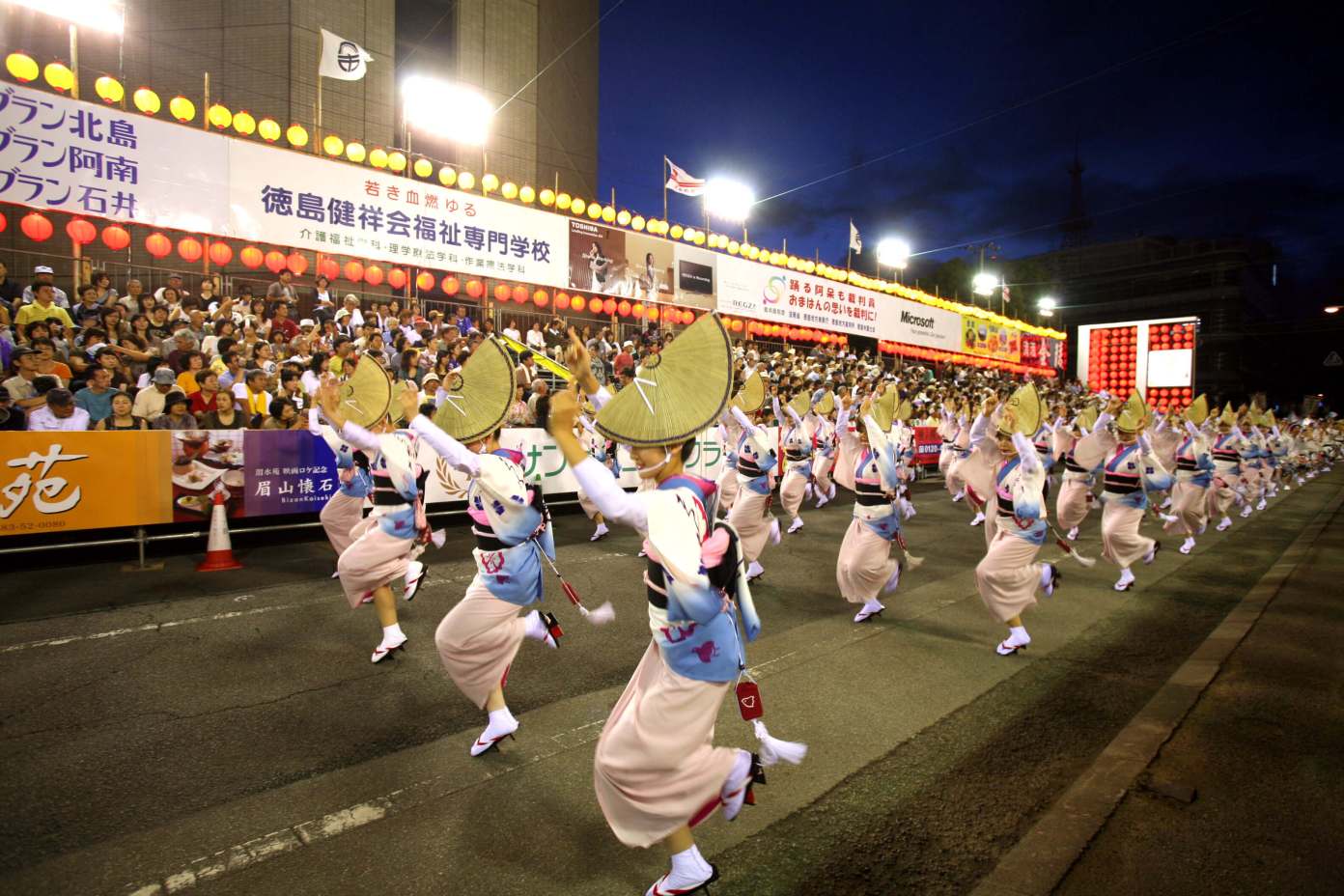 Yet as the lyrics of the song suggest, the best way to participate in the heated excitement is by taking to the streets yourself and become a dancing "fool"!
Awa Odori
Date: Aug. 12 to Aug. 15, 2016
Location: Dances are performed at various venues including ASTY Tokushima and Tokushima Arts Foundation for Culture.
Time: 11am, 3pm and 7pm (ASTY Tokushima), 11pm, 1:30pm and 4pm (Toushima Arts Foundation for Culture).
Access: JR Tokyo Station to JR Okayama Station via Tokaido Shinkansen, JR Okayama Station to Takamatsu (Kagawa) Station via JR Marine Liner 29, Takamatsu (Kagawa) Station to Tokushima Station via Limited Express Uzushio 13. A 5-min walk from JR Tokushima Station.