Before Halloween, Ikebukuro has another big event coming up the Tokyo Yosakoi contest. More than a Matsuri, it's a big dance competition.
Yosakoi is the name of the modernized Awa Odori, traditional summer dance. Thanks to the popularity of Yosakoi traditional Japanese dance is practiced by young and old all over the country. Most university and college students have a team with their own unique costumes and choreography. Every year the Tokyo Yosakoi contest in Ikebukuro attracts about a hundred teams.
History of Yosakoi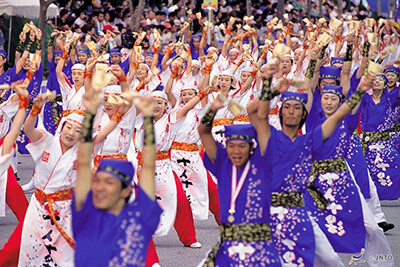 The Yasukoi dance is not as old as many other Japanese matsuri. It all started in the city of Kochi with the idea to reform traditional Japanese dance and to boost economic growth after the second World War. Yasukoi literally means "come at night" in the local dialect of Kochi prefecture.
The original Yosakoi song was written by Takemasa Eisuka who gave the rights to the public. This song combines a yosakoi melody, children's song and a folk song from Kochi. Yosakoi dance teams are free to compose their own music but it must contain these elements but swapped with a folk song from your area. This music is either live or prerecorded and plays from a jikatasha, a colorful truck with speakers or a stage for musicians.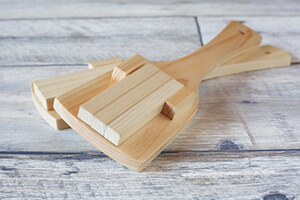 Another requirement is that the dancers must use a naruko, small wooden clappers that make noise when the dancer moves. Almost every competition has this requirement. Traditionally they are black and yellow but nowadays teams paint them in their own colors.
Costumes don't have to be based on traditional Japanese clothing, as long as they have a connection with folk culture.
Examples of dances
Participants of last year's Yosakoi competition in Ikebukuro
Yosakoi competition in Ikebukuro
The dancers will compete on nine venues around Toshima: the main site in front of Ikebukuro Station's west exit, Ikebukuro Nishiguchi Park, Mizuki Street, Azeria Street, Yonshotengai, Sunshine Street on the east exit side, the plazas in front of Mejiro and Sugamo Stations, and Otsuka Station's north exit area.
Dates: Oct. 8 – Oct. 9, 2016
Hours: dancers start around 11am
Location: around Ikebukuro
URL: https://www.yosakoitokyo.gr.jp/ (Japanese only)