Togakushi: Home of the mysterious ninja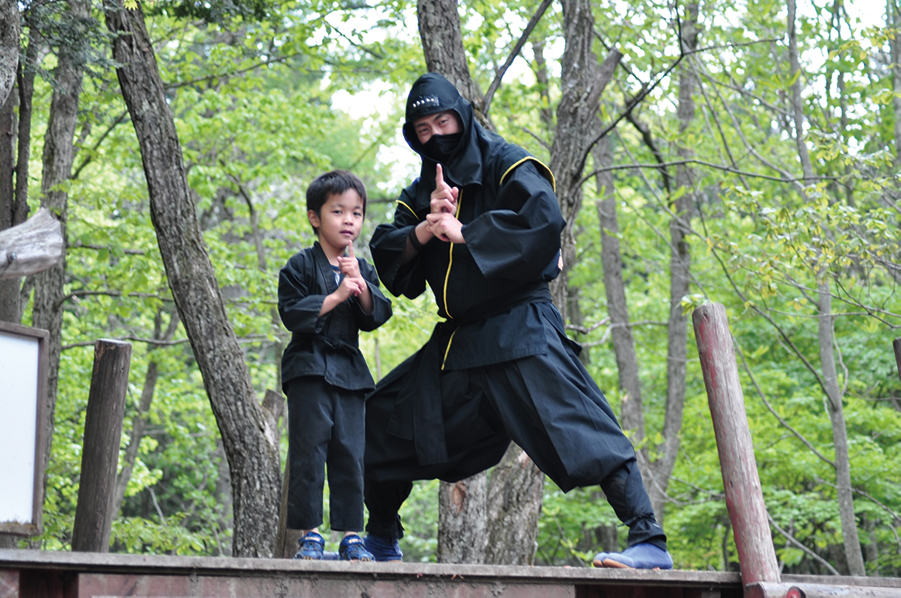 Hidden on a highland surrounded by mountain ranges, Togakushi is home to many legends including that of the Togakushi Ninja. Nowadays a ninja's role in espionage may have been replaced by modern methods, but the mystery of these silent warriors continues remains in Togakushi. Enter the world of the legendary ninja and visit the traditional shrines and avenues of old cedar trees where ninja once roamed.
Chibikko Ninja Village
Check out this ninja-themed amusement park which offers various hands-on attractions and demonstrations. Here you can dress up as a ninja and work your way through various obstacles as if you are a stealthy warrior sneaking into enemy territory. There are also exhibitions on how ninjas are portrayed in pop culture such as anime and video games.
Hours: 9am – 5pm (from end of Apr – end of Nov)
Admission: 500 yen (elementary students – adults), 230 yen (4 – 6 years old)
Access: 60 min by bus from JR Nagano Station
Address: 3193 Togakushi, Nagano-shi
Togakushi Ninja Museum / Ninja Trick Mansion
Start your exploration of the Togakushi Ninja by visiting this museum. Exhibits include tools, costumes, and weapons that will give you a picture of the ninja way of life and the skills they practiced. For a more active experience, try hurling shuriken (throwing stars) in the Shuriken Dojo.
Ninja Trick Mansion is a challenging trick maze for kids and adults alike filled with sneaky trapdoors and hidden staircases in a series of mysterious rooms. Just a heads up, the maze is completely authentic, so you may need to awaken your inner ninja to find the way out!
Hours: 9am – 5pm
Admission: 600 yen (adults), 400 yen (elementary & junior high school students)
Access: 1hr 10min by bus from JR Nagano Station until Okusha Iriguchi bus stop
Address: 3688-12 Togakushi, Nagano-shi
Togakushi Soba
Togakushi soba has its own history and characteristics that make it a must-try for everyone. It originated as a portable food for monks practicing asceticism in the mountains of Togakushi. Since soba is easy to prepare and contains essential nutrients, it makes an ideal food for ninja as well. Nurtured by a cool climate thanks to an altitude of 1,200 meters, the temperature gap between daytime, morning and evening increases the taste of the soba. Currently this soba is being served at various accommodations, facilities and more than twenty soba shops.
You can have buckwheat dumplings in any buckwheat noodle restaurant in Nagano.
Some restaurants even offer them for free. The dumplings are so reasonably priced that we want all visitors coming to Nagano to try them out at least once. Each restaurant has its own recipe for dumpling; one that only poured with sweet soy sauce and another deeply fried until it is nice and crispy. How about trying some and compare the tastes?
Togakushi Soba Yamaguchi-ya
Ninja soba with star-shaped tempura that resembles a ninja's shuriken; moreover, the shredded radishes served over soba are like the mystic smoke through which a ninja escapes from enemies.
Hours: 10:30am – 5pm Closed: Tue from Dec – Apr
Access: 60 min by bus from JR Nagano Station
Address: 3423 Chusha, Togakushi, Nagano-shi
Okushamae Shokudo "Naosuke"
This restaurant is known for its Kamozaru-soba, cold buckwheat noodles dipped in duck soup. For those who like it hot, spicy Kamozaru-soba is also available.
Hours: 10:30am-4pm (Apr-Nov), 10:30am-15:30pm (Dec-Mar) Closed: Tue
Access:1hr 20min by bus from JR Nagano Station
Address: 3688 Okusha, Togakushi, Nagano-shi
TOGAKUSHI SKI AREA
Togakushi is the legendary home of Togakushi Ninja, and this ski resort has no lack of ninja elements, including a "Ninja Slope" designed to make ski training more fun with ninja-themed obstacles. After a good day's skiing, feast on Togakushi soba noodles or fried pork cutlet in the alpine restaurant, for an unforgettable ski resort dining experience.
Operating period: mid Dec – end of Mar
Hours: 8:30am – 4:30pm
Access: 70 min by bus from JR Nagano Station
Address: 3682-3 Togakushi, Nagano-shi
---
Iizuna:Forest Adventure NAGANO
Located next to a camping site on Iizuna Highland, this adventure park has 35activities include 150-meter-long four Zip-slides over the Daizahoshi pond, test your athleticism and courage. There are more activities available for small children. Kotengu-no Mori offers an athletic ground around the pond and boat riding.
Hours: 9am – 5pm (Apr 13 – the end of Oct) Last admission 3pm * Schedules are subject to change Close: Thu (Open on Golden Week, summer vacation) /Early Nov – Early Apr Fare: 3,600 yen *Prices are subject to change without notice (Minimum height: 1.4m or over 10 years old / Maximum weight: 130kg)
Access: 40min by bus from JR Nagano Station
Address: 2471-608 Ageya, Nagano-shi
Daizahoshi Pond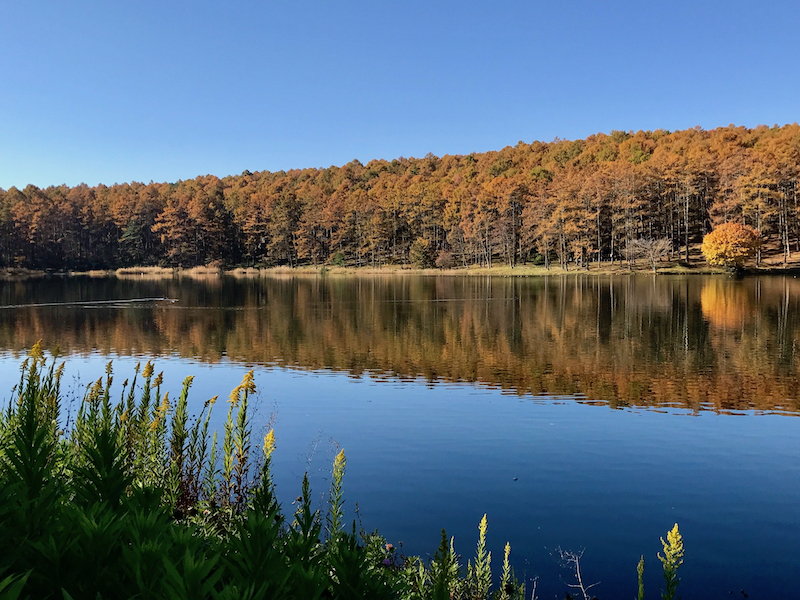 A beloved local picnic spot surrounded by sports facilities,
this pond is great for a boat ride or a light stroll along the boardwalk around it that takes roughly 20 minutes. Legend
has it that the pond was created when a giant sitting on top of Mt. Iizuna stepped down and left a deep footprint.
Access: 45min by bus from JR Nagano Station
Address: 2471-608 Ageya, Nagano-shi