The Tobu Treasure Garden located in Gunma Prefecture about 55km away from Tokyo, can be reached within only 1hour from Asakusa Station (Tokyo) and is perfect for a day trip during spring, summer or early autumn. It´s especially popular for its beautiful Rose Garden, the moss phlox flower fields and the Blue Garden.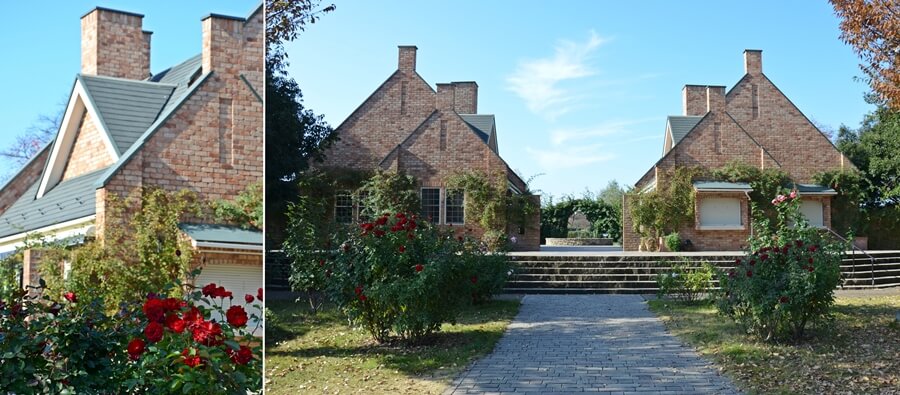 The entrance buildings are made out of bricks and resemble an English residence covered in rose bushes.
After entering the park you will be welcomed by a fountain and a small canal which leads you to the Sakura-Tunnel, entangled by hundreds of small pastel pink roses.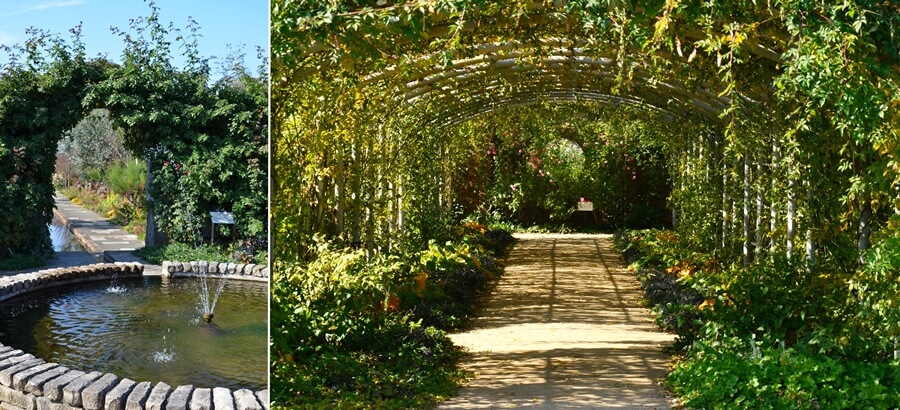 After strolling through the tunnel you are inside the Rose Garden and the English Rose Garden.
Enjoy looking at many different kinds of roses blooming in dozen of shining colors.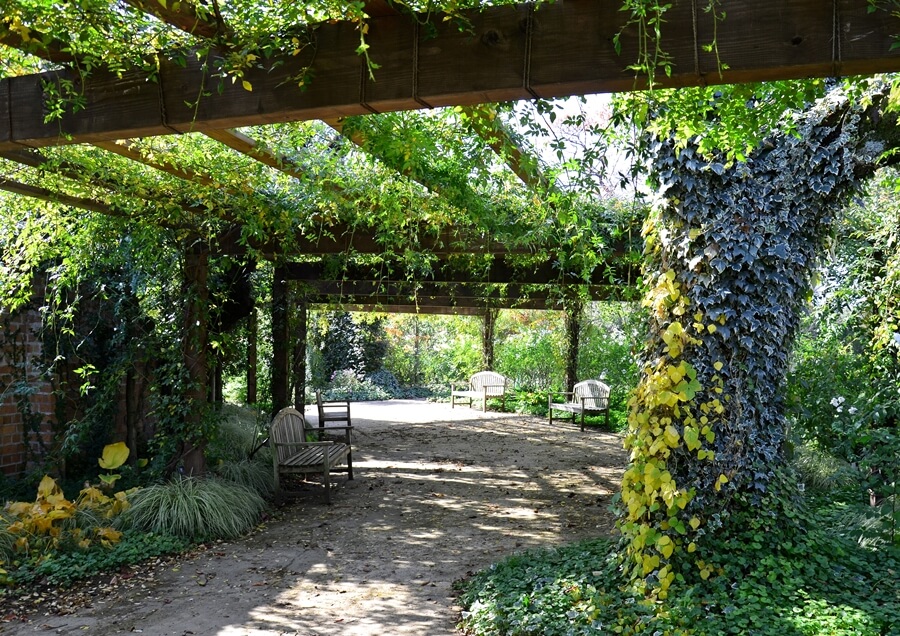 Relax in the shadows of white roses which bloom during May and June.
The main spot of the park features the pink moss phlox flowers fields.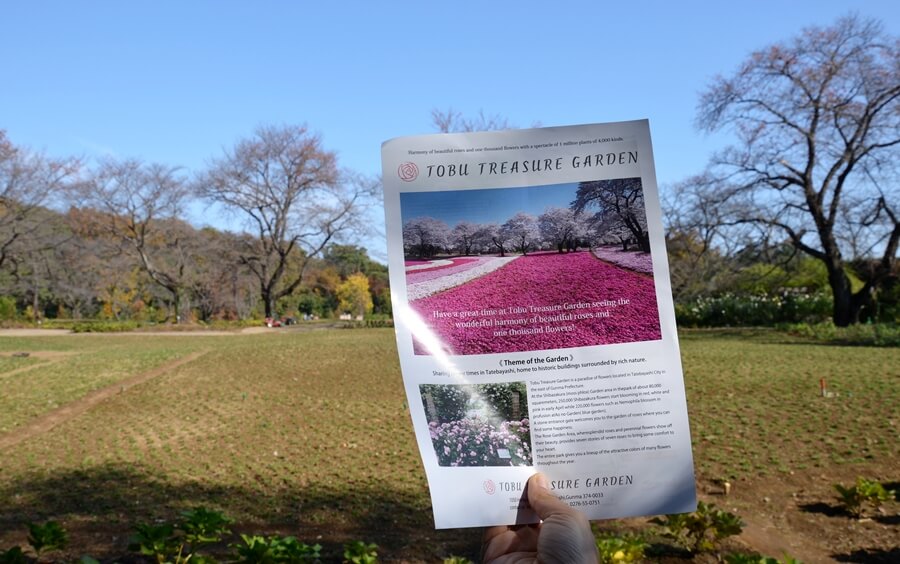 Beautiful pink and white moss phlox flowers in front of blooming cherry blossoms. (Please refer to the image of the pamphlet ;D)
The next path leads you to the Brilliant Garden which features many colorful flowers arranged to a nice pattern. The lavender blue is one of the main colors for this theme.
Take a break in the Victorian House and enjoy some delicious food, buy souvenirs at Koruri's or purchase original Treasure Garden goods at Mary´s Room.
Besides taking a visit to the park, you can also knot the tie with your beloved one in the chapel next to the park. You can book the full wedding-service and enjoy your special day surrounded by nature in the middle of a beautiful garden ambience.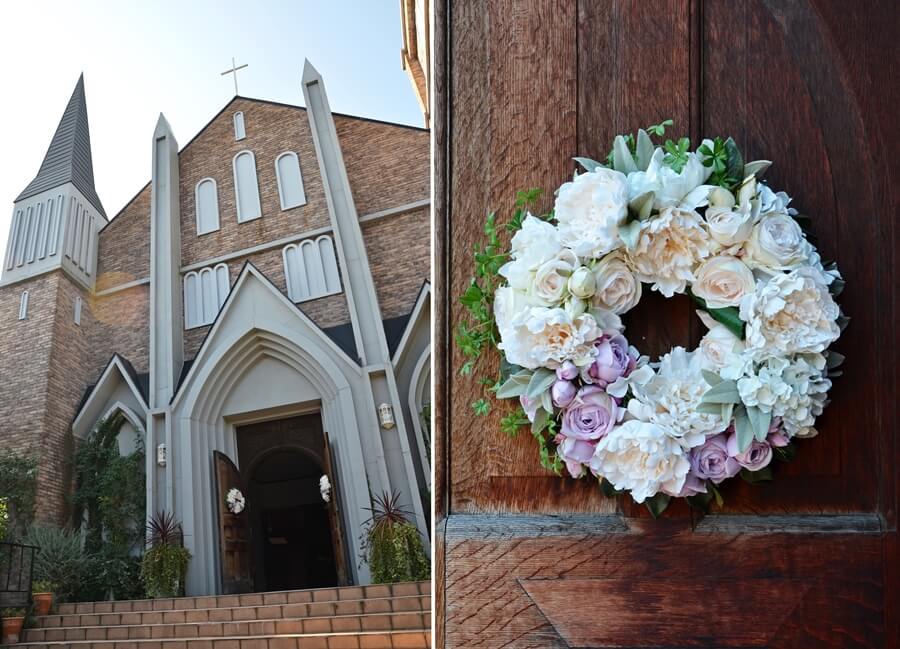 The St. Peter & Paul Church was built and based on an original church from England and offers the best and most unique wedding location in this area.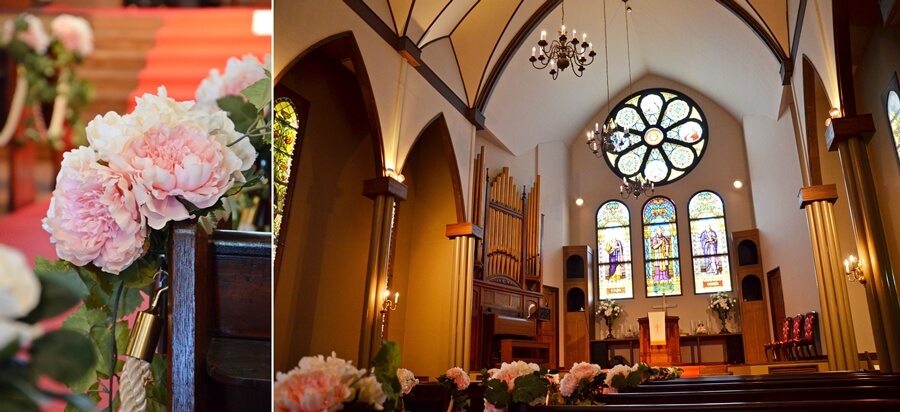 A big rose window, typical curch stained glass windows, a pipe organ, pews and much more will let you experience a typical proper western wedding ceremony.
Tobu Treasure Garden Info:
Hours & Admission for 2017:
☆Moss phlox Festival: March 25th (Saturday) – May 7th (Sunday); 9am – 5pm (last entry 4:30pm)
Admission: 600yen – 1000yen (adults: junior-highschool students and older); 200yen – 400yen (primary school students)
☆Rose & Garden Festival: May 8th (Monday) – June 30th (Friday); 9am – 5pm (las entry 4:30pm)
Admission: 1000yen – 1800yen (adults: junior-highschool students and older); 400yen – 800yen (primary school students)
☆Autumn Rose & Garden Festival: Early October – Early November; 10am – 4:30pm (last entry 4pm)
Admission: 800yen – 1000yen (adults: junior-highschool students and older); 200yen – 400yen (primary school students)
・July – September & Middle November – March closed due to maintenance
Address: 1050 Horikou-cho, Tatebayashi-shi, 374-0033 Gunma
Access: 15min walk from Morinji-mae Station (Tobu Isesaki Line) – 80min from Asakusa Station (Tokyo) station; 10min taxi ride from Tatebayashi Station (Tobu Isesaki Line) – 60min from Asakusa Station (Tokyo)
Tel: 0276-55-0750
URL: http://treasuregarden.jp/en/
---
WATTENTION WRITER PROFILE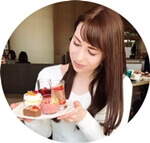 Tabea Greuner
Living and working in Japan since 2015. Always excited about discovering new places. Passion for photography, nature-lover & Japanese fashion expert. MORE ARTICLES BY THIS WRITER | ABOUT WATTENTION NINJA