Hokkaido may be Japan's largest prefecture but its largest city – and capital – Sapporo is easy to get about by foot or public transport. WAttention brings you some themed strolls through Sapporo where you can try delicious Japanese seafood, sweets and BBQ. 
One can't leave Sapporo without having feasted on at least one Japanese seafood bowl overflowing with slices of freshly-caught and sliced raw fish and a mountain of glistening ikura and uni.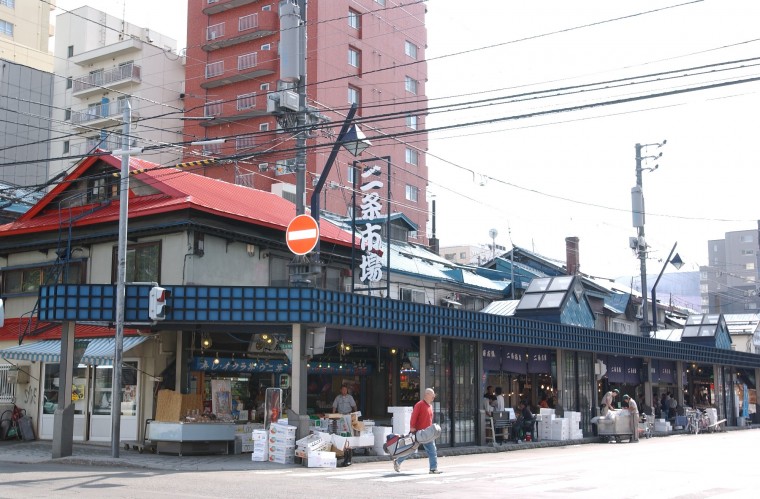 Sapporo Niji Fish Market
Sample Hokkaido's seasonal crabs at the Nijo Fish Market, which is around 10 blocks down the road from Sapporo Station's South Exit, or an easy 20-minute stroll – with some time to stop and smell the flowers at Odori Park.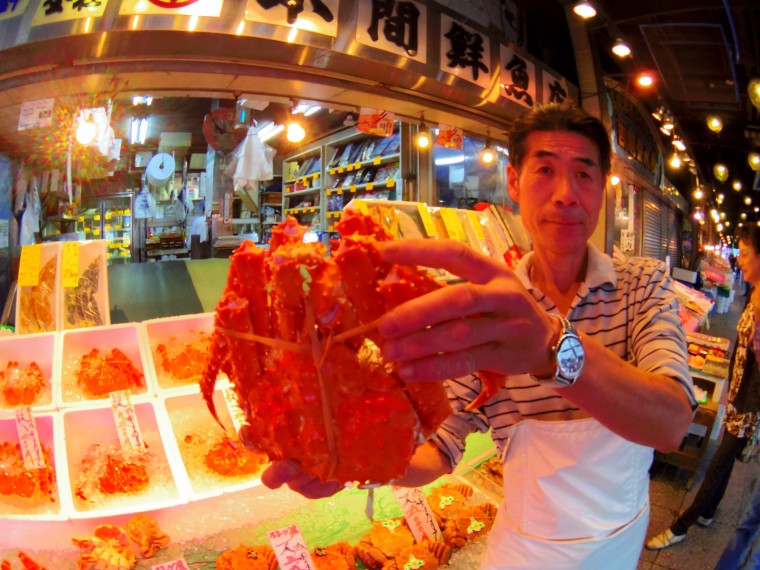 This market is said to have begun when fishermen from Ishikari Bay. The Sapporo fishermen first started selling their catch there over a century ago. Their rise started during the early Meiji Period.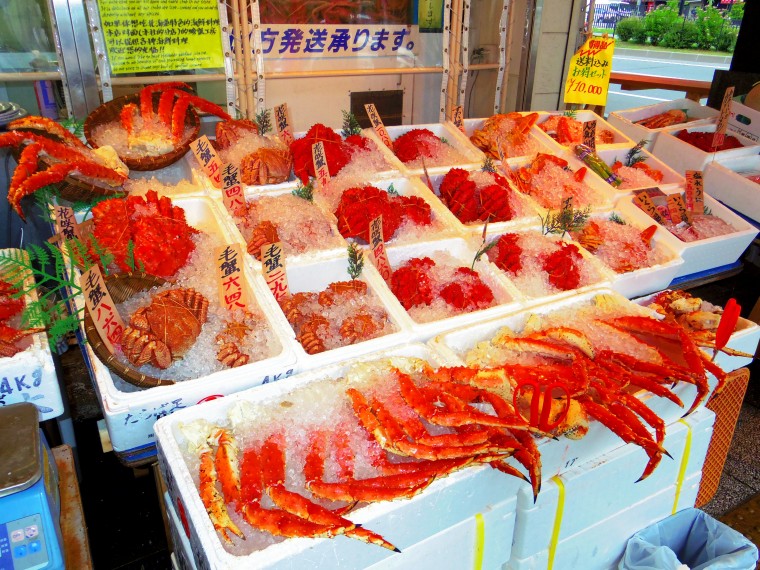 Today, due to its central location, it is popular with tourists and locals alike for seafood and souvenirs. This Sapporo fish market is similar to the Tsukiji outer market. However, the Sapporo Niji Fish market offers a much wider variety of crabs, sea urchins, and ikura.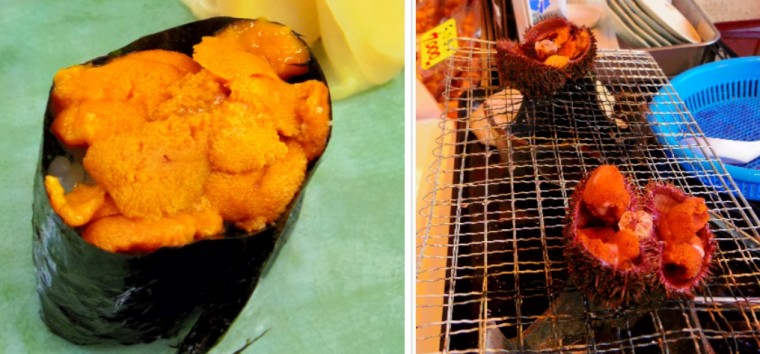 Reward your walk here with a seafood bowl or a freshly roasted sea urchin. You could also buy some frozen seafood here or do that on your way back to the station at Sato Suisan Honten. In fact, this popular Sapporo seafood vendor is right in front of Sapporo Station!  There you will see a lot of local housewives sampling the latest offerings.
Sapporo Ikura Seafood
Here, you can try their ikura in various original flavors. The delicious Sapporo seafood flavor options include salt or spicy mentai, instead of just the usual shoyu. Of course there are plenty more products like salmon sausages, seafood pate, roasted fish, and more. They'll help you ice-pack your seafood souvenirs to last your journey. Alternatively, if you can't wait that long, buy a handmade onigiri here or bento for the train or plane ride back.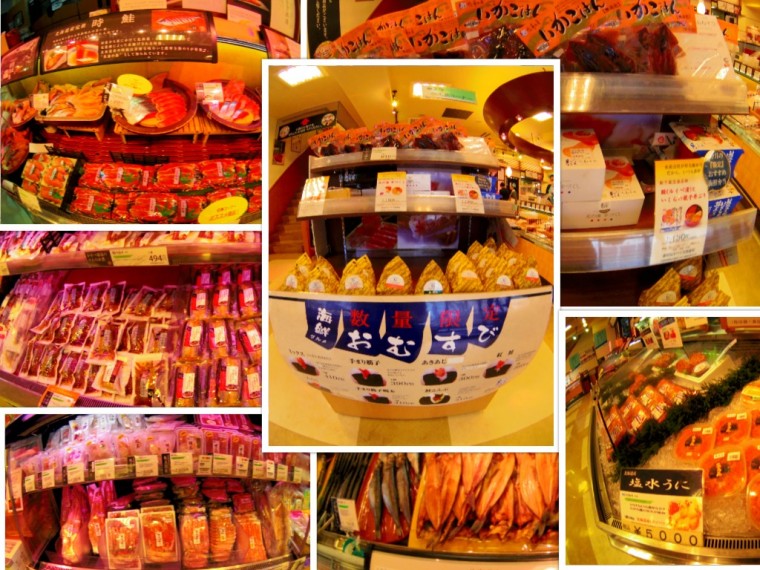 Sapporo Beer and BBQ
Mention Sapporo and beer comes to mind. Especially that Sapporo Classic brew that you can only buy in Hokkaido. Beer brewing started in Sapporo had in 1876 with the aim of boosting the economy under the Meiji Restoration. And today it continues to play that key role as well as lifting the spirits of Japan.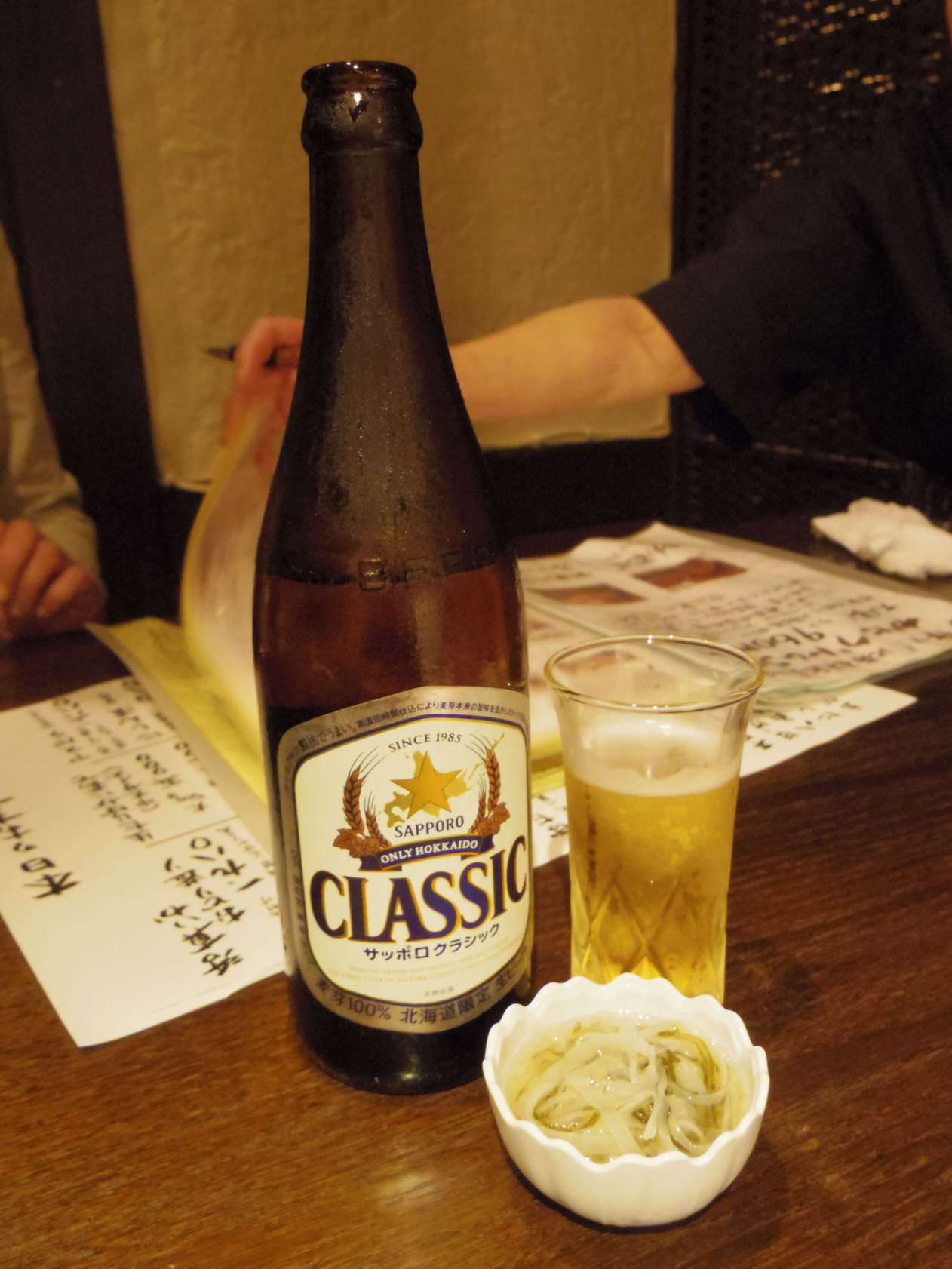 Sapporo Beer Museum
What better way to understand Sapporo and its eponymous tipple than a trip to the Sapporo Beer Museum. A 15-minute bus ride from the terminal right outside the train station takes you right to the museum's doorstep. Entrance to the museum is free. Start your tour from the third floor to learn about how Sapporo Breweries first started as Hokkaido Kaitakushi Beer Brewery, the first brewery under governmental management.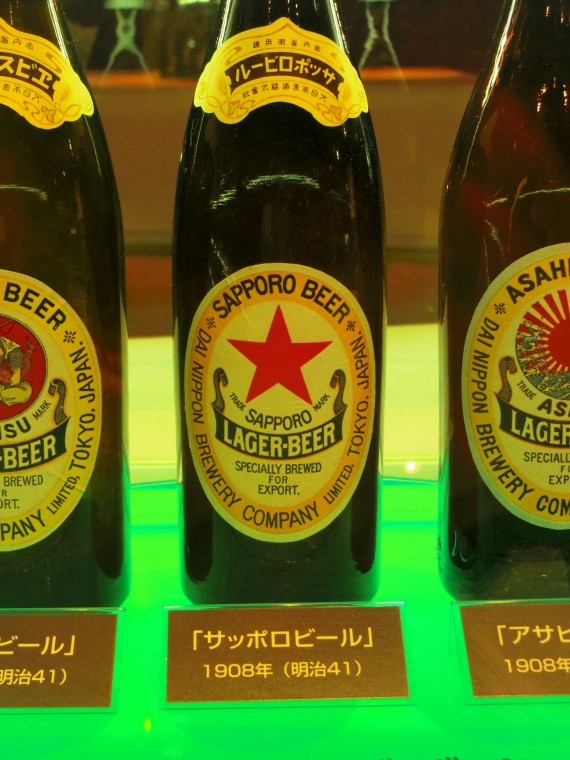 The red star was the symbol of Kaitakushi, or a movement in the Meiji era to develop Hokkaido's economy and exploit its resources. It continues to be the symbol of Sapporo today. However, the color has changed to gold.
The museum exhibits various old bottle designs and explains the fermentation and brewing process, as well as the development of the beer industry in Japan. Follow the spiral staircase down – don't worry it's not that's you're not walking straight – and you're one floor closer to the beer hall where a tasting of various brews is available.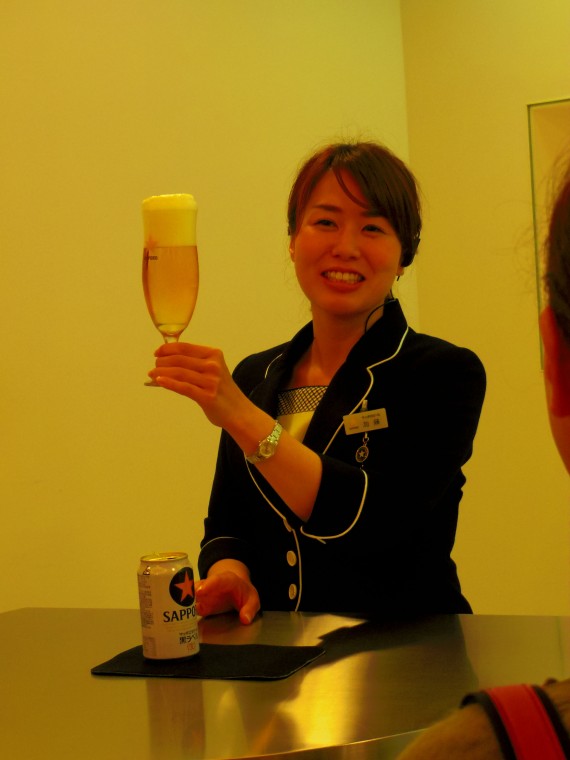 If you follow a free guided tour, the guide will impart the secret to pouring the perfect glass of beer – remember, the golden ratio of foam to beer is 3:7.
And finally, what everyone's been waiting for – the sampling available at the beer hall on the first floor. Try three types of beers for 500 yen (and choose from a cheese or biscuit snack), or sample the original brew from the Meiji era for 200 yen.
At the Sapporo Beer Garden located next to the museum, you can go for an outdoor or indoor barbeque, the local version being the "jingiskan", where marinated lamb meat is grilled over a dome-shaped griddle. And if you like what you've tried, you can buy a jingiskan set for the folks back home!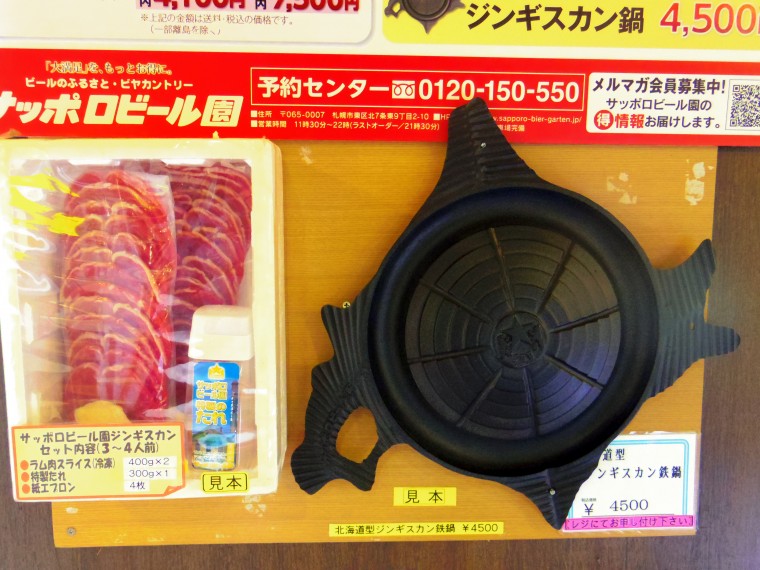 Tasty Sapporo Sweets
From melt-in-your-mouth cheesecakes to fresh cream rolled-cakes, cream puffs, luxurious puddings, fruit tarts to any pastry involving red bean paste, Hokkaido is the Disneyland of Desserts. After all, with a population of over 800,000 cows (or close to the population of San Francisco), Hokkaido is the cream of the crop in the field of dairy products in Japan.
Now, leave calorie-counting behind and rejoice in the fact that you can access the following sweet spots without busting the pedometer.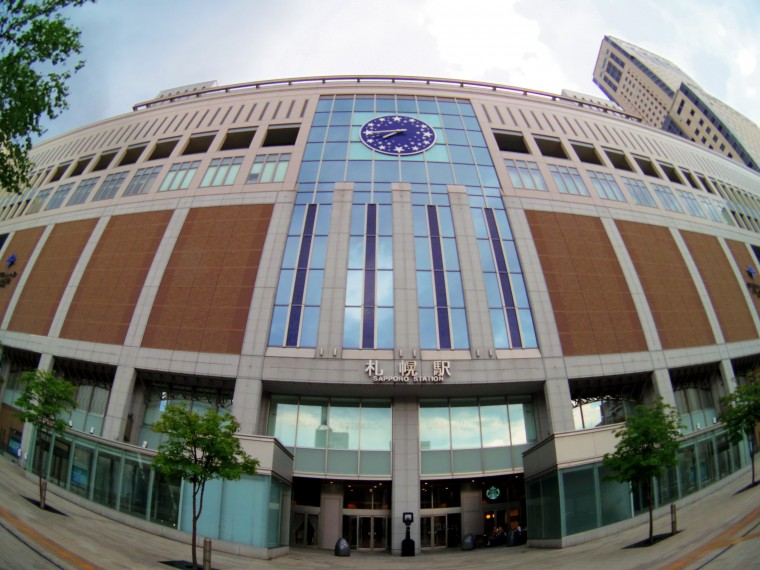 Daimaru at the Sapporo Station 
Directly-connected to Sapporo Station, the Daimaru basement is heaven for those with a sweet tooth and best avoided by those on a diet. Of course, all the heavyweight confectionery brands are here with their light as air puffs and cream cakes. Watch out for the Daimaru-limited edition sweets and the limited edition creation of the season.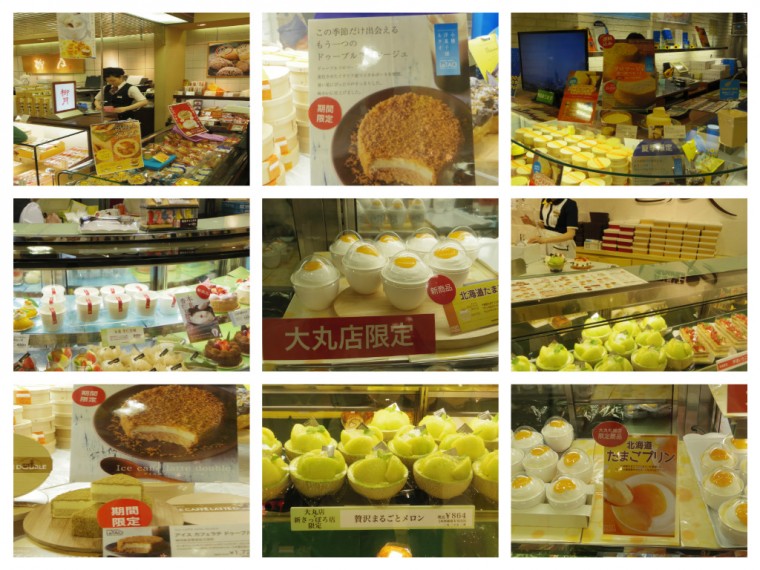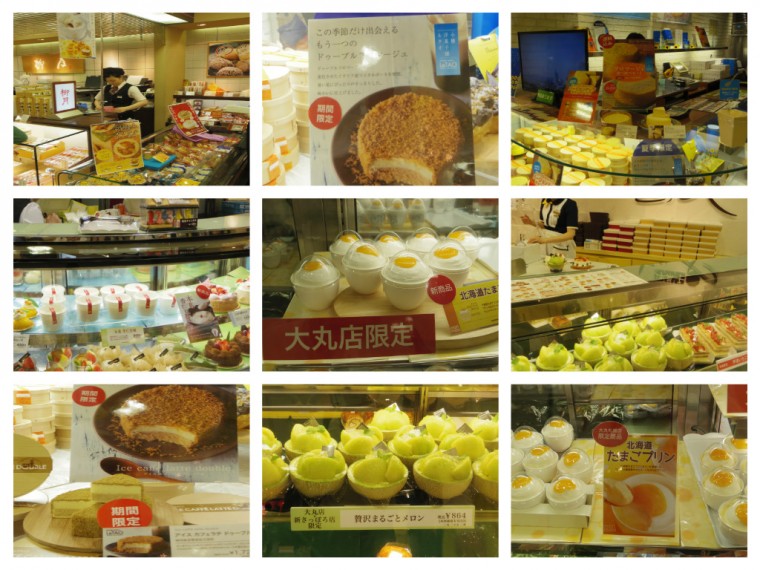 Here you'll also find one of six Kit Kat Boutiques throughout Japan. There are a variety of flavors to choose from. In fact, a hot favorite being is the butter-flavored Kit Kat. Well, we are in the land of milk and butter!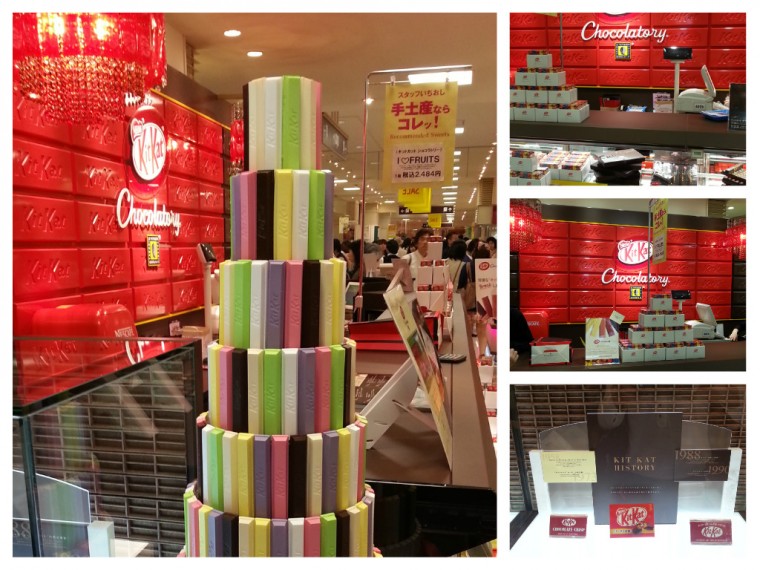 Shop Info:
Opening Hours: 10am – 8pm everyday
Sapporo Sweets: Rokkatei Main Store 
When you finally manage to emerge from the Daimaru depachika after finally deciding where to spend your cash (and gain your calories), you would easily have spent a good hour. Fortunately, the next must-visit sweet spot,  the Rokkatei Main Store, is just about a 5-minute brisk walk from the station.
From the South exit (where the clock tower is), cross the main road and turn right and you will see at the top of a grey building the words 六花亭, pronounced as "rokkatei" and meaning literally "six flower pavilion". When you approach the lobby of the building you will see a large wooden signboard with the household brand name.
Hokkaido Delicious Dairy
At the ground floor, you will find a shop selling every product made by this confectioner which started from making butter in the 1930s in Tokachi, a place that  – even within Hokkaido – is famous for its dairy products.
This is why Rokkatei is loved by the Japanese for its butter sand – a butter cookie sandwich filled with white chocolate, cream, and raisins. The cream is made from 100% Hokkaido butter made by the confectioner itself.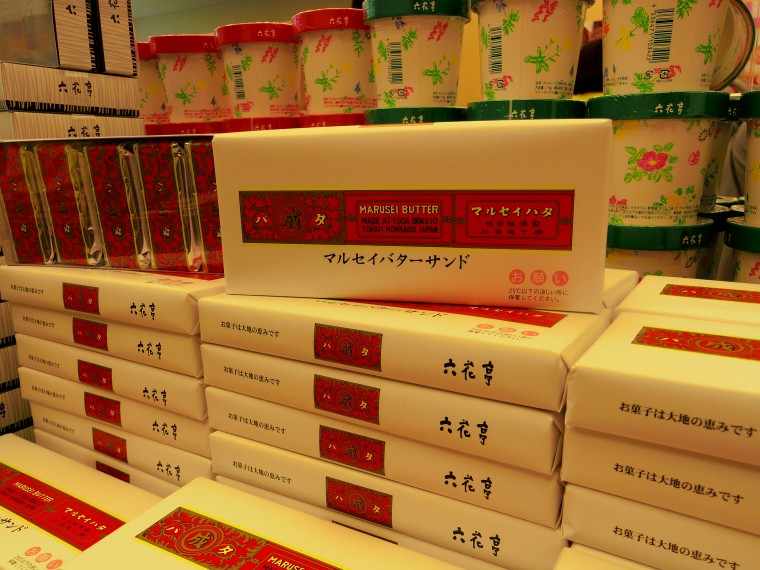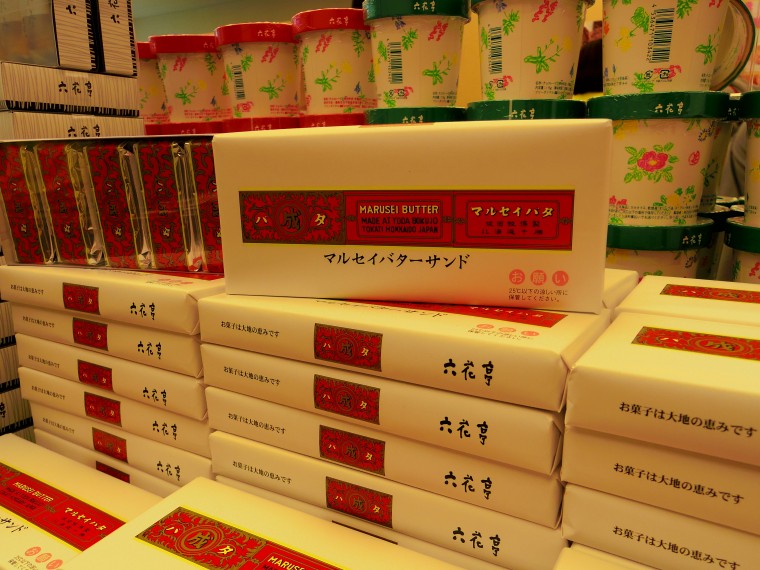 At the shop, you can buy a variety of confectionery (starting from 40 yen per piece!). Try and choose your favorite! Though, with so many to choose from, it would be hard to decide! Takeaway cakes are also available at reasonable prices. These Sapporo cakes start from around 280 yen.
On the second floor, there is a cafe where you can indulge in original dessert creations.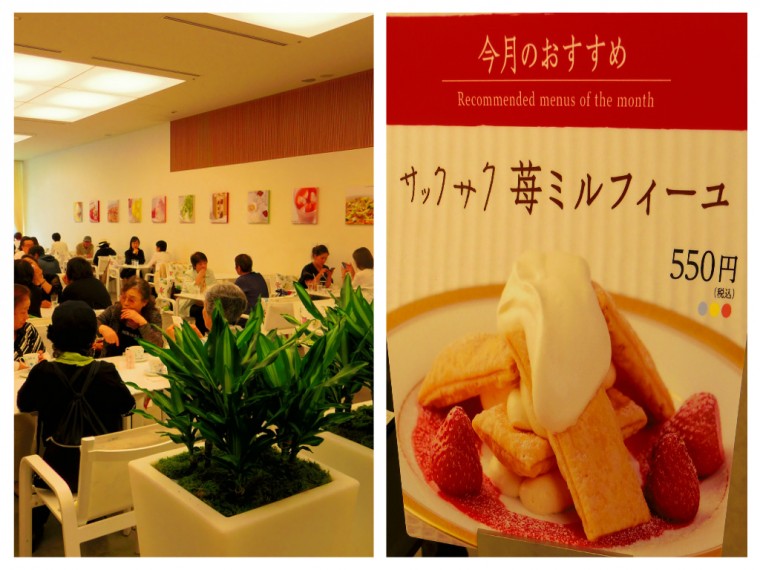 But if you can't wait for a seat, don't fret! There is a takeaway counter offering takeaway treats such as soft-serve ice cream with a bitter chocolate biscuit topping. In addition, there are crispy pastries filled with fresh cream. You can take these away or eat them while standing at several bar tables provided.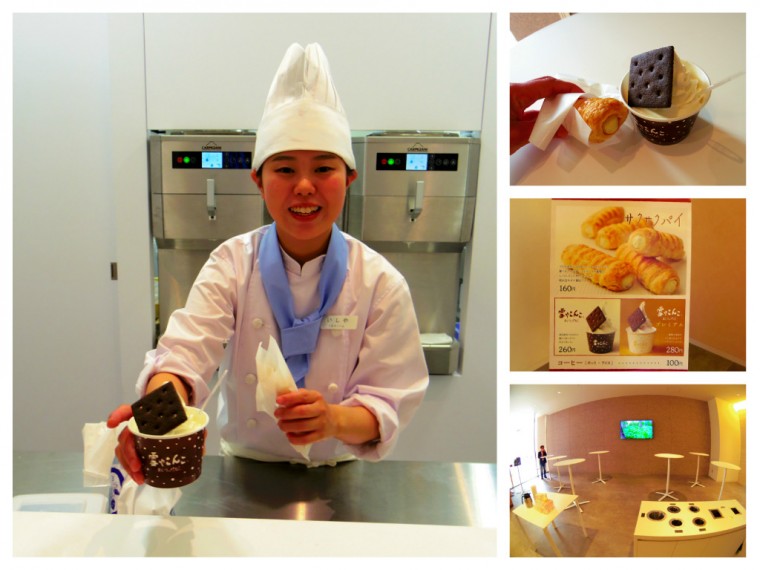 Shop Info:
Address: 6-3-3, Kita-4-jonishi, Chuo-ku, Sapporo-shi, Hokkaido
Phone Number: 011-261-6666
Opening Hours: 10am – 8pm
URL: http://www.rokkatei.co.jp.e.sy.hp.transer.com/shop/index.html