Besides bustling excitement, Saitama City is full of remarkable historical and cultural heritage. On a day trip from Tokyo, you can discover amazing treasures walks and excursions in Saitama, Japan. There is no place better to enjoy Japan's rich and colorful tradition than this area in the Tokyo suburbs! No need to pack heavy backs or prepare for a long train ride. You can see these historical landmarks and traditional streets nearby on a day trip from Tokyo!
---
Traditional Locations in Saitama: Musashi Ichinomiya Hikawa Shrine
With more than 2,000 years of history, this shrine is one of the oldest in Japan. As its name "Ichinomiya" suggests, it is the top shrine in the Musashi area. In fact, this is the shrine that gave Omiya its name. That is how influential this amazing Saitama shrine has been through the years. The bright red shine surrounded by lush greenery is a picturesque scene that shouldn't be missed. Luckily it is easy to visit on a day trip from Tokyo!
The temple is about a 15-minute walk from JR Omiya Station. After leaving the East Exit, you are on your way to experience the best shrine in the Musashi area.
Address: 1-407 Takahana-cho, Omiya-ku, Saitama-shi, Saitama Prefecture
Traditional Japanese Sweets in Saitama: Hikawa Dango Shop
Along the way to Hikawa Shrine, you'll find Hikawa Dango Shop. This shop has won the hearts of locals and visitors of the year for their delicious grilled mochi balls dipped in sweet soy sauce. In addition, they have fried manju confectionaries. Be sure to grab some on your Saitama day trip from Tokyo! They also make great souvenirs for your friends.
Hikawa Dango Shop is just 10 minutes from JR Omiya Station on food. Be aware that the sweets shop is closed on Mondays.
Address: 2-130 Takahana-cho, Omiya-ku, Saitama-shi, Saitama Prefecture
Traditional Japanese Food in Saitama: Masuya Unagi Restaurant
Unagi, or eel, is a popular traditional dish in Japan. Especially in the summertime, it is known for giving a boost of energy. Mostly eel is enjoyed as Kabayaki which is grilled eel marinated in a delicious sauce. Masuya the most famous unagi restaurant in Saitama because it has a history of over 120 years! The secret sauce used by Masaya offers a flavor that you can't find anywhere else! Luckily, it is easy to try on a quick day trip from Tokyo.
Masuya Unagi Restaurant is just a 6-minute walk from JR Urawa Station. Go out the West Exit of the station and you'll be on your way to one of the best meals you'll experience in Saitama! Be aware that Masuya is closed on Monday.
Address: 7-1-3 Kishi-cho, Urawa-ku, Saitama-shi, Saitama Prefecture
Minuma Tsusenbori Park
At the center of this lush area in Saitama is Minuma Tsusenbori, the oldest lock in Japan. The space, covered with graceful bamboo stalks flowing and green grass, is both beautiful and historic. In fact, in the park you will find one of the oldest canals in Japan. Sometimes it's the simple things that inspire the most. This historic park is certainly different from the sprawling cityscape nearby. Amazingly you can visit here on a day trip from Tokyo.
Traditional Destination in Saitama: Omiya Bonsai Village
Bonsai trees are one of the few images that immediately identify Japan. Their beauty is respected around the world.
Saitama's Kita-ku Bonsai-cho is a must-visit for anyone who loves bonsai and the Japanese aesthetic. The area is within a couple minutes from the Omiya Bonsai Art Museum on foot. In 1923, a group of gardeners from Tokyo moved in after the Great Kanto Earthquake, laying a solid foundation for today's bonsai village. Although the number of bonsai gardens has dropped from 30 to six in recent years, the place remains the centre of Japanese bonsai culture.
Bonsai Tree Tip!
According to the staff at Omiya Bonsai Art Museum, beginners should try looking at the bonsai from the bottom up for an amazing outline of branches. This fun trivia is bound to impress your friends!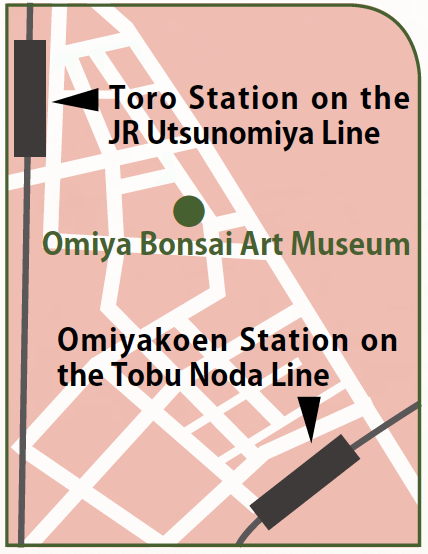 More Saitama Attractions: Omiya Bonsai Art Museum
Opened in March 2010, this museum aims to preserve the tradition of bonsai culture. As the only public bonsai art museum in Japan, it welcomes bonsai beginners from all around the world. The multilingual voice guide explains how to appreciate bonsai and is invaluable for those who want to know more about Japanese culture.
More Saitama Attractions: Le Tour de France SAITAMA CRITERIUM
Named after Le Tour de France, this closed circuit race has been held in Saitama's Shintoshin four times, attracting top riders who have participated in Le Tour de France as well as professional riders from across the world. Experience the excitement and adrenaline rush of Le Tour de France by visiting Saitama!