The 63rd Matsushiro clan: Sanada Jumangoku Festival
Matsushiro is located in Nagano Prefecture, an area nowadays famous for skiing. However, during Sengoku period (the Warring States period: 1467-1600), Matsushiro was a famous warrior's territory called the Matsushiro Domain and ruled over by the Sanada Clan. That history is retold in the "Matsushiro Domain's Ruling Clan Sanada's 10,000 Goku Festival." A WAttention NINJA managed to 'infiltrate' the festival and report on it.
written by Janice Thomas
A trip to touch the history of 100,000 "goku"
Taking the Shinkansen early in the morning from Tokyo station, my "mission" was to cover the Sanada Jumangoku Festival that takes place every October within the castle grounds, and this was its 63rd time.
When you think of Japanese festivals, you probably have the image of something that is connected in some way to a shrine or temple, however it is not the case for this festival. Instead it is an event highlighting the historical importance of the Matsushiro Sanada Clan that dates back some 500 years.
To be precise, the actual name of the festival refers to "juman十万" meaning 100,000 and "goku" which is a former term used when measuring rice. This famous territory used to be a castle town worth of 100,000 goku in land, that has many historical buildings and ruins such as "Sanada Residence 真田邸", still left until now. Stories of the Sanada clan is also familiar in TV dramas etc. in recent years.
The festival kicked off, or maybe it would be more appropriate that the festival 'fired off' as I describe it later at 9:30am on October 7th. It is the beginning of a gorgeous historical picture scroll. We were treated to a whole repertoire of performances by participants wearing heavy traditional costumes dating from the Edo period (1603-1868).

Be surprised by "geta" performer and cannon fire
In the opening performance, there was a fan dance with the main character decked out in a mask and "geta下駄" (Japanese traditional wooden sandals). Nothing very surprising there you may think but those sandals were actually very high and it took a lot of effort and skill to be able to walk in them. I was really surprised at the performance that kept a stable balance.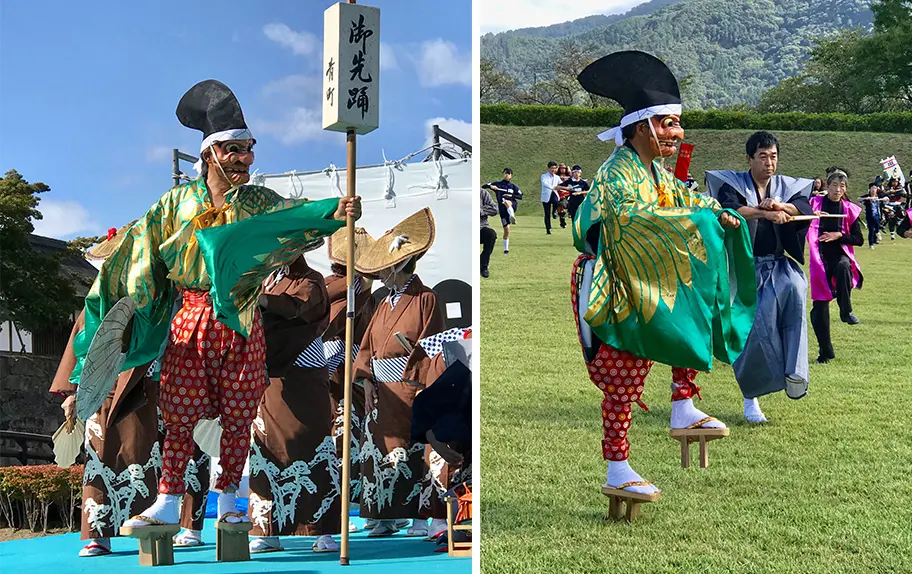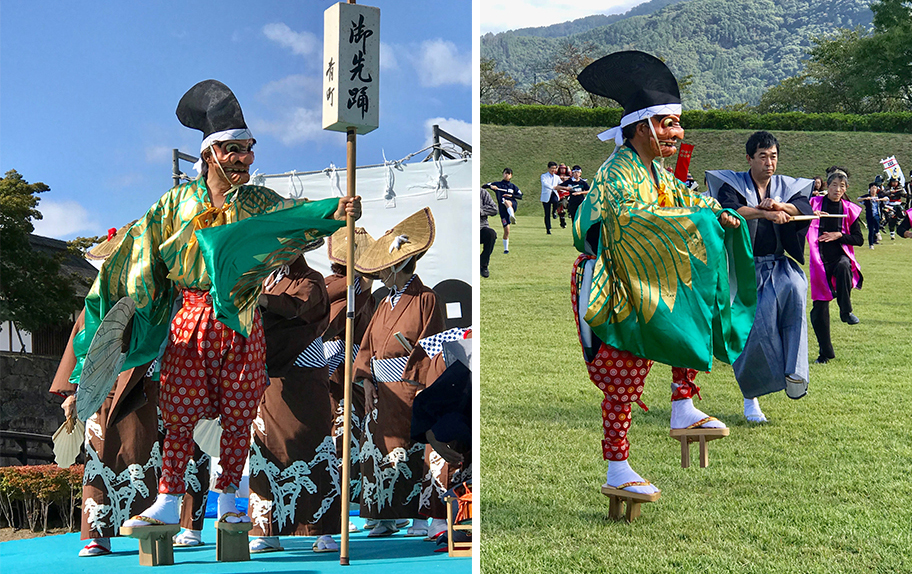 Next, we were directed away from the stage and a group of assorted locals did a warm up exercise with fans on the grass area below the former moat. The afore mentioned performer did not shy away from this event either and remarkably did his exercises with ever increasing skill and balance.
Again, it was back to the main stage for an assortment of historical enactments from various groups coming not only from Nagano-ken but also others, such as Niigata-ken, Gunma-ken & Saitama-ken altogether.
And as I mentioned in my opening there was some brave firing off. This was due to the "Sanada Teppo Tai 真田鉄砲隊" (Sanada Artillery Corp) who wore very vivid red armor & proceeded to show off their firearms by demonstrating some of their battle shooting skills. The red flags were shining against the green and it was beautiful.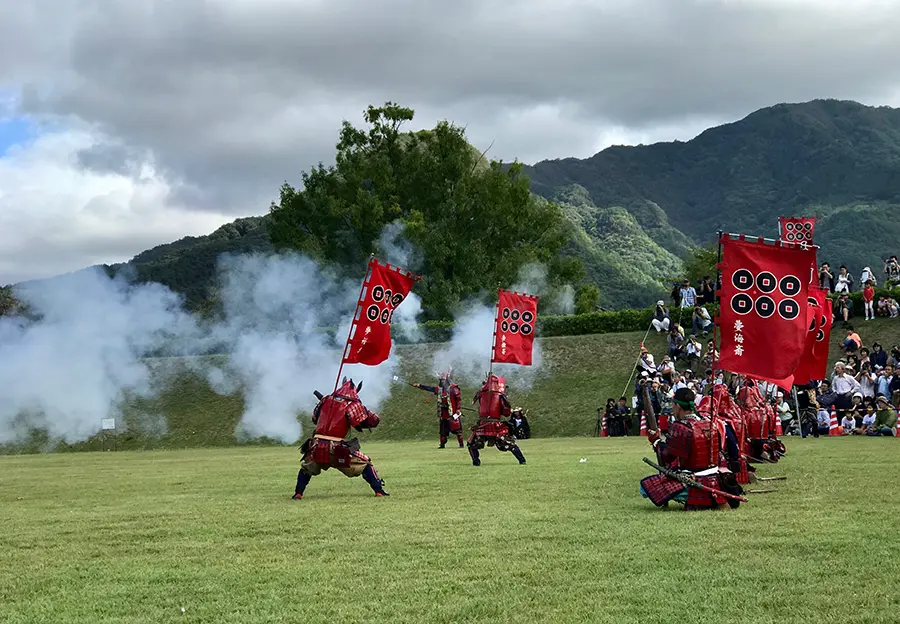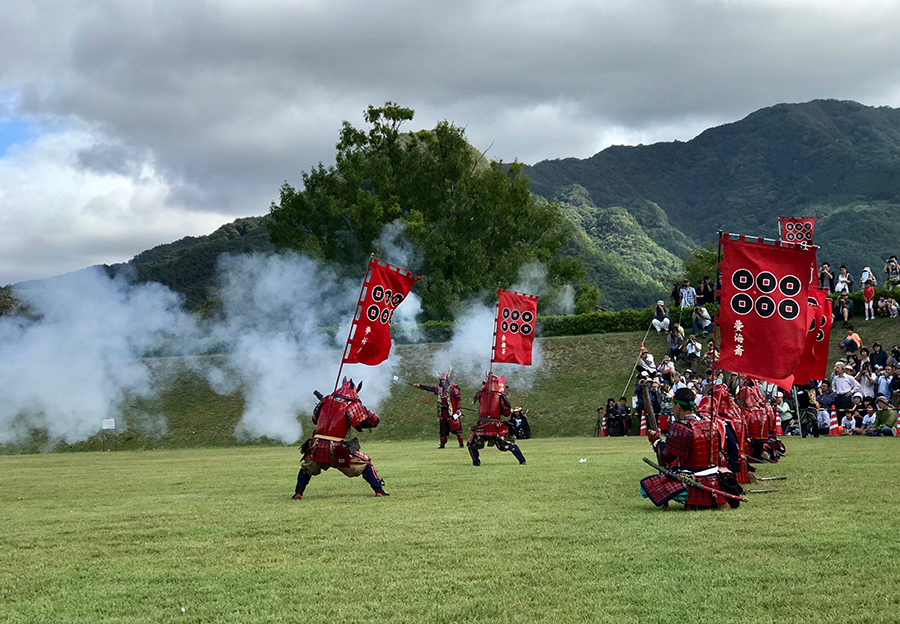 Events that people of all ages can enjoy
In between performances, I managed to sneak myself away to ask some of the participants about their costumes. Two delightful university students told me that their costumes had been made by their grandparents & whilst they were actually studying away they had returned especially for the event. See the image of two girls in very ornate colorful costumes. It is an event that is enjoyed by people in the area beyond generations.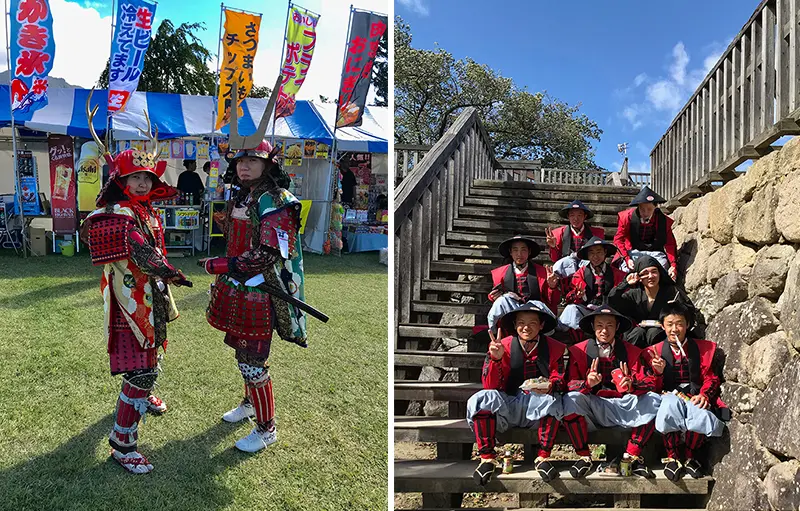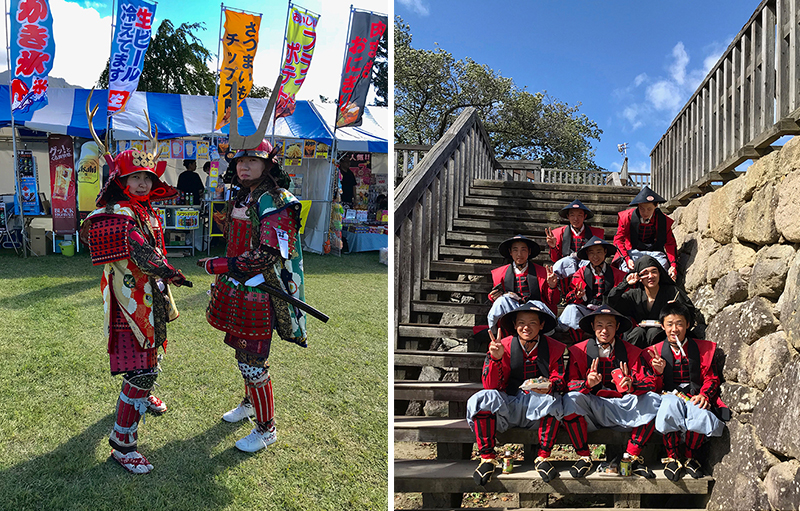 Many participants were using the behind-the-scenes time to eat their lunch, at interesting locations within the castle grounds, including these boys from a local high school.
And finally, it was the various groups to line up and have a representative come onto the stage & introduce the historical period they were enacting.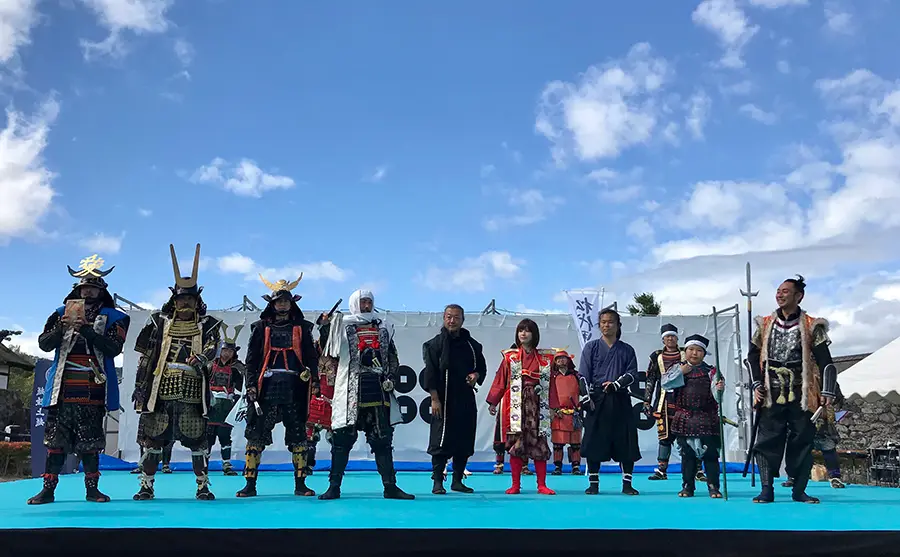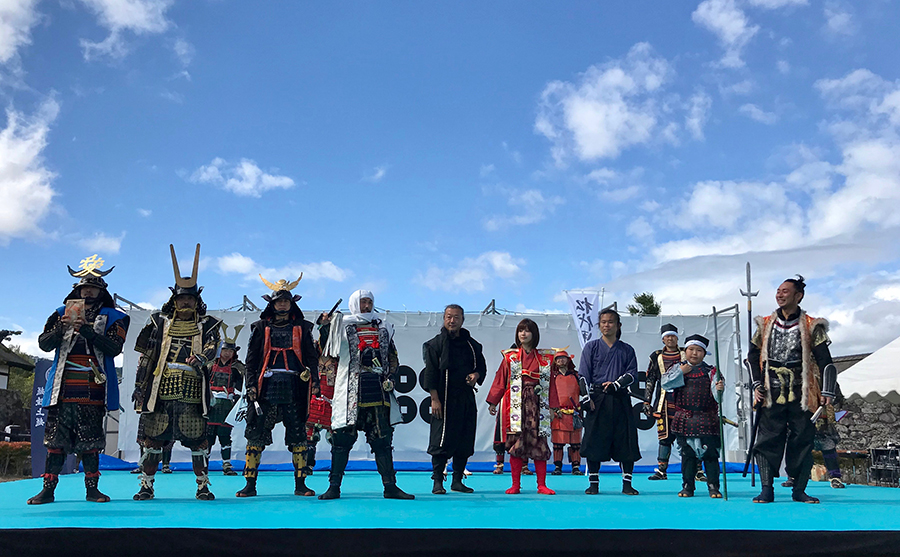 With so much going on, I wasn't even able to grab anything to eat and so before I knew it, the time had arrived to head over to the castle's bridge to see the drum (Taiko太鼓) performances and Lion dance (Kioijishi 勢獅子). Kioijishi is known as Nagano's traditional art and originated in the Meiji era (1868-1912). While being absorbed in taking pictures, it had gotten busy & was rather crowded.


Grand decorative parade at the finale
At 12:45 pm, it was the grand finale where all the costumed participants paraded out of the castle gates along the small bridge across the former river before heading off into Matsushiro Town. There were well over 250 participants ranging in age from elementary pupils from a kendo (Japanese swordsmanship) club, up to those in their 80's. And they were also accompanied by various historical carriages.
All in all, it was a great day out. The festival is great for families and history buffs alike. Everyone was very welcoming and more than willing to pose with the visitors. So I suggest you put Matsushiro clan: Sanada Jumangoku Festival in your diary for next year.
*This time is the day I visited the Matsuri, it was "Matsushiro Clan Sanada Jumangoku Procession 松代真田十万石行列" on the 7th of October, but the "Sanada Jumangoku Festival" is held over two days every year at the beginning of October.
Matsushiro Sanada Jumangoku Festival
Admission: Free
Location: Nearby "Matsushiro Castle Ruins 松代城跡"
Address: 44 Matsushiro, Nagano-shi, Nagano
Access: 1 hour 40 minutes from Tokyo Station to Nagano Station by JR Hokuriku Shinkansen
About 35 minutes from Nagano Station East Exit to Matsushiro Station by No.30 bus.
URL: http://matsushiro-fes.com/sanada/event/index.html (Japanese)
Nagano Convention & Visitors Bureau https://www.nagano-cvb.or.jp
---

WATTENTION NINJA WRITER PROFILE
Janice Thomas (United Kingdom)

Her friends call her the "Matsuri hunter". She loves to travel and see Japanese traditional festivals, and take photos of scenes which impress her.