A nice hot bath is universally enjoyed and communal bathing has been a cultural element in various times and places in history. People have enjoyed bathing together in Ancient Greece, the Roman Empire, the Ottoman Empire, from the Middle East to Scandinavia, from Britain to Russia and Japan, and so on. Times and cultures are changing, but public bathing culture in Japan is still alive and kicking and sticking closely to some of its long-standing bathing traditions. Nowadays in Japan, communal bathing is mainly divided into three categories: onsen, sento and super sento bath, the last being something in between the first two. Sento is an integral element of city life in Japan, but even visitors and beginner bathers can enjoy sento culture.
Charming Local Sento: Tsukimi-yu in Shimotakaido
It's 3pm on a Sunday afternoon and the Tsukimi-yu bathhouse doesn't open for another half an hour. Yet, there are already a few people waiting outside to be the first ones into the hot freshwater tubs.
"This is quite typical. The regulars want to be the first ones in, especially on weekends." The proprietor Mr. Kondo, a third-generation Sento owner says as he opens the shutter door a little early. Even before stepping inside this bathhouse, I could tell that this is a place adored by the locals.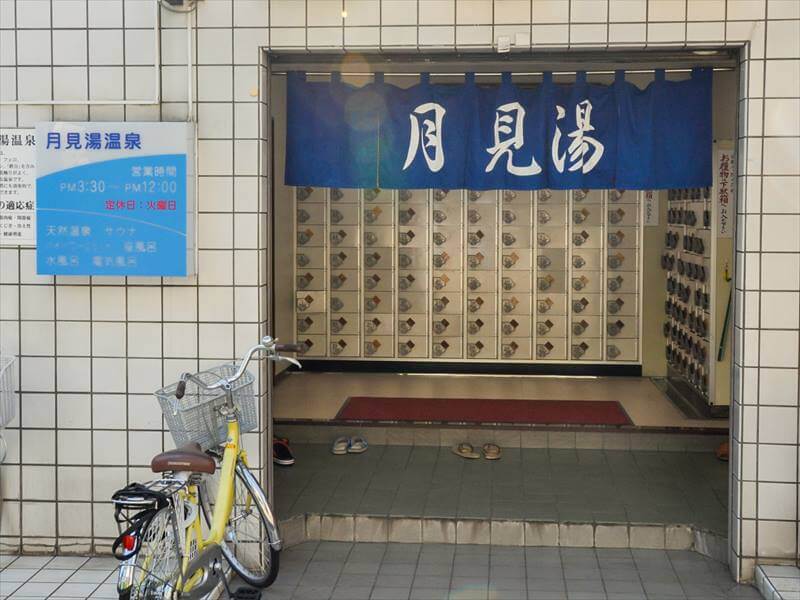 Tucked away in a quiet residential area in Setagaya-ku, the Tsukimi-yu bathhouse has been welcoming the locals for more than 50 years. Despite its humble exterior, the bathhouse offers a wide range of baths: the onsen (hot spring), jet baths, a charcoal bath, water bath, standing showers, a sauna, and last but not least, the electricity bath.
A clean and bright local sento experience
The interior is clean and bright and the high ceiling lets in plenty of air and light. Both the male and female locker areas have plenty of space to relax (there's even an outdoor sitting area for the guys!). Not only that, they have a massage chair, coin-operated hairdryer, and refrigerators full of beverages. With all these amenities available for you to pamper yourself, it's no wonder people line up outside before the doors open.
The hot spring bath is everybody's first choice since it's at 39 degrees (102.2℉), not too hot nor too cold, just a nice comfortable temperature. Regulars tend to congregate in this bath and chit-chat. But my favorite is the jet bath which has multiple jets aimed right at the common sore muscle areas: shoulders, backs, and feet. Then there's the mysterious and most shocking one of all, the electricity bath, with its low level of electric current running through the water. When you go in, you feel a little tingling on your skin. Some people might find it relaxing, I, on the other hand, am not so sure about it…
Socializing Naked in Japan
With all the different pools, you can spend quite a long time in the bath. But the reason people keep coming back to Tsukimi-yu is not only the facilities but also the sense of connection they get. Most of the early sento-goers are well over 70 years old. They talk, they care and they even wash each other's backs. Back in the lobby, everybody gathers around a short table near an old TV like one big family.
It reminds me of the Japanese phrase "Hadaka no Tsukiai (socializing naked)" which literally means a relationship with nothing to hide. The sento culture embodies this sentiment and brings people closer together.
Even someone like myself who was new to sento was immediately welcomed. In fact, I felt right at home at the Tsukimi-yu bathhouse.
Information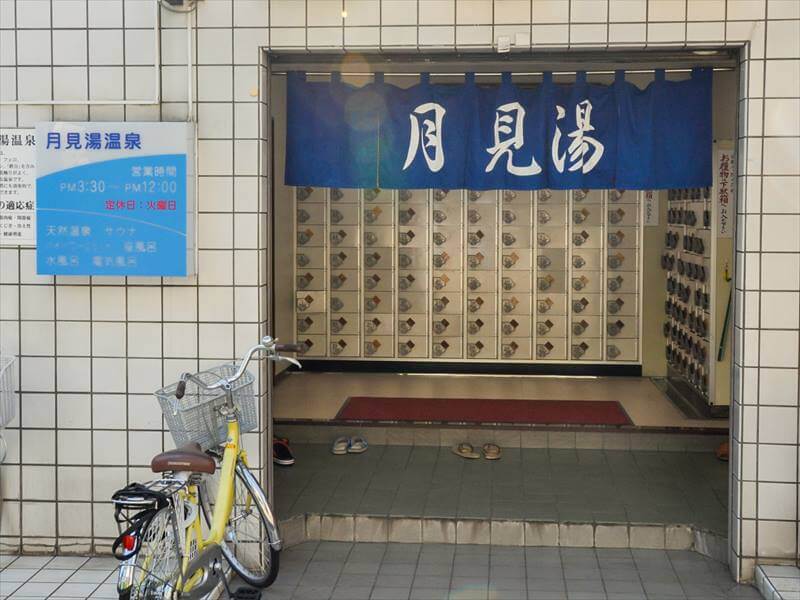 Tsukimi-yu
Address: Akatsutsumi 5-36-16, Setagaya-ku, Tokyo
Access: 6-min walk from Shimotakaido Station
Hours: 3:30pm – 12am
Closed: Tuesday
Admission: 460 yen
Charming Local Sento: Fujino-yu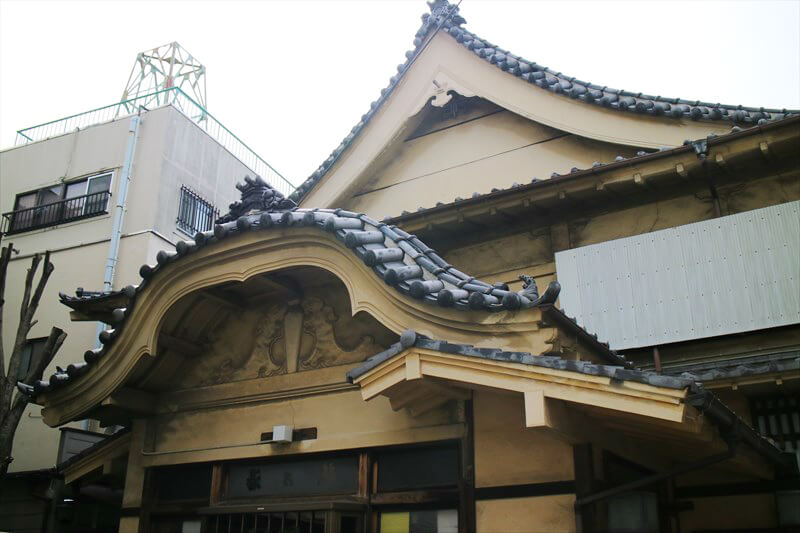 Not to be confused with the popular cardio exercise or spiritual practice from India, Yoga is an upscale residential district in the Setagaya ward. Tucked away in the backstreets is the Fujino-yu bathhouse which has been in operation for over 50 years. Its old-fashioned exterior is more than enough reason to stop and take a look. Just in the few minutes, I was waiting outside I saw curious couples, amused passersby, and inquisitive students who came over to take a closer look.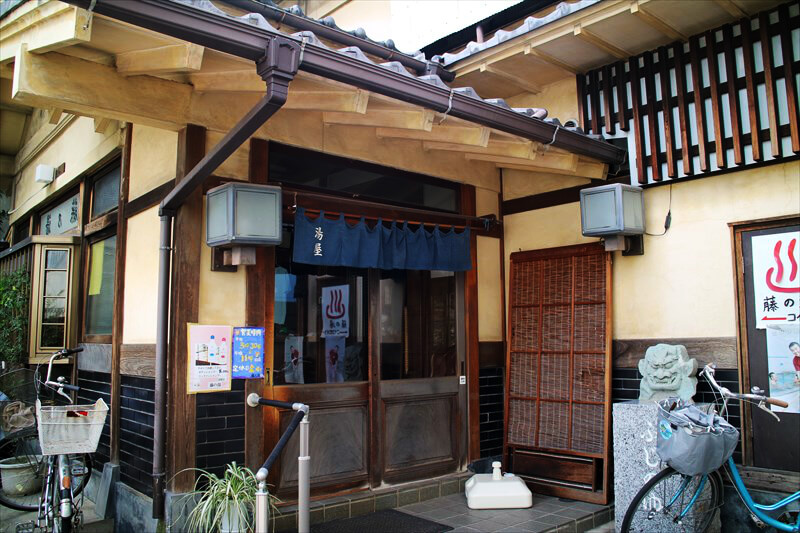 A one-of-a-kind wooden bathhouse
"Back when public bathhouses were experiencing a boom, many building owners built cookie-cutter public baths on the first floor. But I wanted to create something different, something unique" says the owner Mr. Yamaguchi, who has a keen eye for art and design. He used to create woodblock art, some of which you can see on the walls of the bathhouse. It is because of his unique vision and sense of design, this one-of-a-kind wooden bathhouse came into existence.
Unlike other polished tile bathhouses, Fujino-yu has a warm and nostalgic atmosphere. Everything from the front counter, shoe boxes, lockers, doors, and lounge chairs are all made out of wood.
The wood theme continues in the wet area, where a Cypress wood bath and a unique wood pavilion become the focal point of the bathhouse.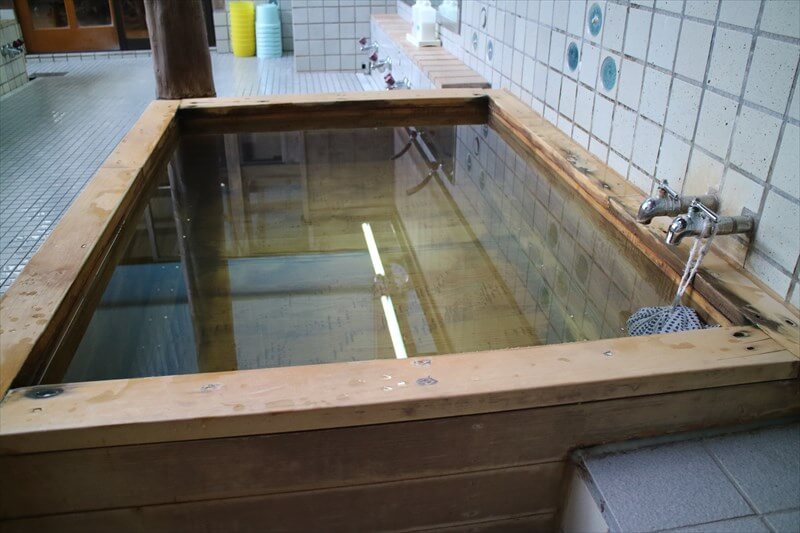 Another notable interior decoration are the ceramic tiles with Iris paintings. A Japanese bathhouse typically has a grand painting of Mt. Fuji on the wall, but here, an elegant drawing of Irises welcomes you at the jet baths. On May 5th (Children's day), many people take Shobu-yu, an Iris bath to wish for longevity and good health. At Fujino-yu, every day is a Shobu-yu day!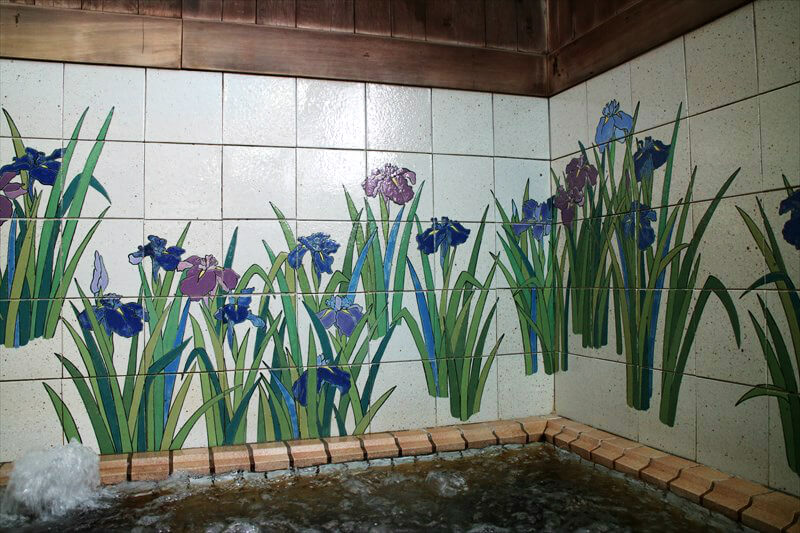 Mr. Yamaguchi says that though the number of people who frequent Sento bathhouses has significantly declined, more and more young families and students are trying out Sento and enjoying the experience. However, with this shift in demographics came a new dilemma.
Sento is a place to learn how to share and respect
Since we live in an era of abundance and cheap disposable items, we rarely have an opportunity to share things with others. But at a Sento bathhouse, we not only share the facilities, but we also share the water and even the atmosphere. Visiting a Sento bathhouse is a prime opportunity to learn how to share and respect each other.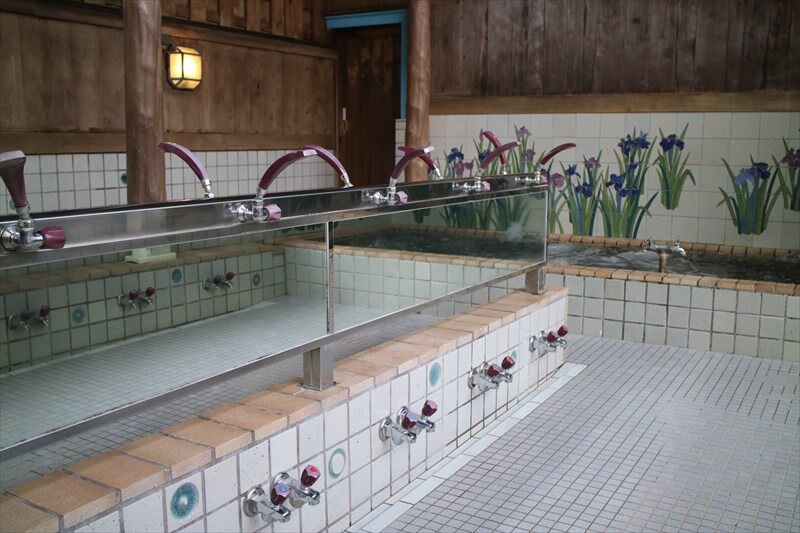 "When it comes to sharing, a little foresight and empathy go a long way," says the owner. For example, you don't want to disturb the water, let alone swim in the water, because people are here to relax. You don't want to get the floor soapy because other people have to walk on it. What's normal in your household might not be the norm in a public area. You are here to witness and respect subtle and often unspoken social rules at Sento.
With that said, don't hesitate to fully enjoy the Sento experience. If you have a question ask the person behind the counter or one of the regulars. More often than not, they are willing to answer any questions you might have and strike up a friendly conversation. What better way to learn about Japanese customs and values than to share stories and quality time together.
Our lifestyles have been modernized and our mindset has changed. But at Fujino-yu, things have remained the same for a long time. Inside those well-maintained wooden baths sits the chance to teach great values and subtle etiquette to a new generation of Sento guests.
Information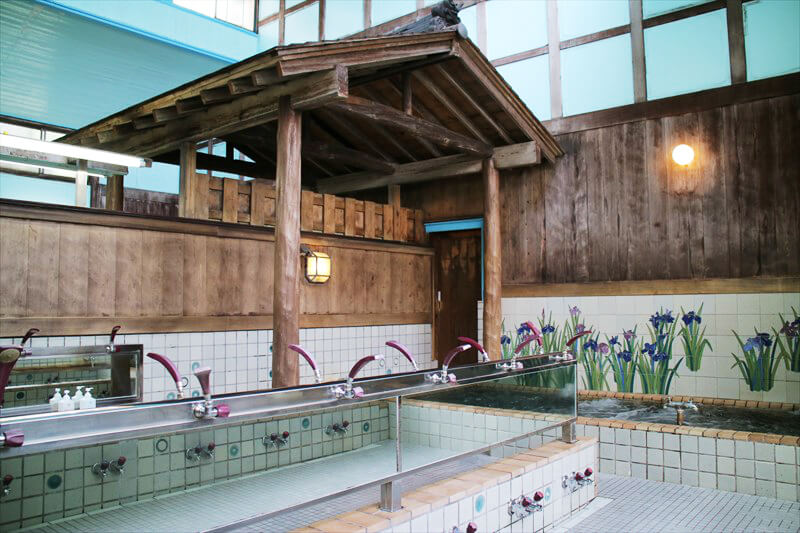 Fujino-yu
Address: Tamagawadai 2-1-16, Setagaya-ku, Tokyo
Access: 7-min walk from Yoga Station (Tokyu Denentoshi Line)
Hours: 3:30pm – 11pm
Closed: Friday
Admission: 460 yen
More Local Japanese Sento to Try
Sento are pretty relaxing by themselves. Who doesn't love a nice hot soak in the bath with bubbling jets and pleasant aromas? However, some sentos really turn up the heat when it comes to creating a peaceful or luxurious atmosphere. Consider taking a dip in one of these other public bathhouses in Japan to experience the history and culture of bathing in Japan.
Mikoku-Yu
Mikoku yu ©_stephaniemelanie
A designer's sento in Sumida that adds modern Japanese design elements and a luxurious feel. Right in the heart of old Edo and from some parts of the sento TOKYO SKYTREE can be seen.
Address: 3-30-8, Ishiwara, Sumida, Tokyo 130-0011
TEL: 03-3623-1695
Open: 15:30-26:00
Closed on Mon., next day of holiday
Teikoku-Yu

This retro sento in Nippori can conjure up nostalgic feelings with its art.
Address: 3-22-3, Higashi-Nippori, Arakawa, Tokyo 116-0014
TEL: 03-3891-4637
Open: 15:00-24:00
Closed on Mon.
Chiyo-No-Yu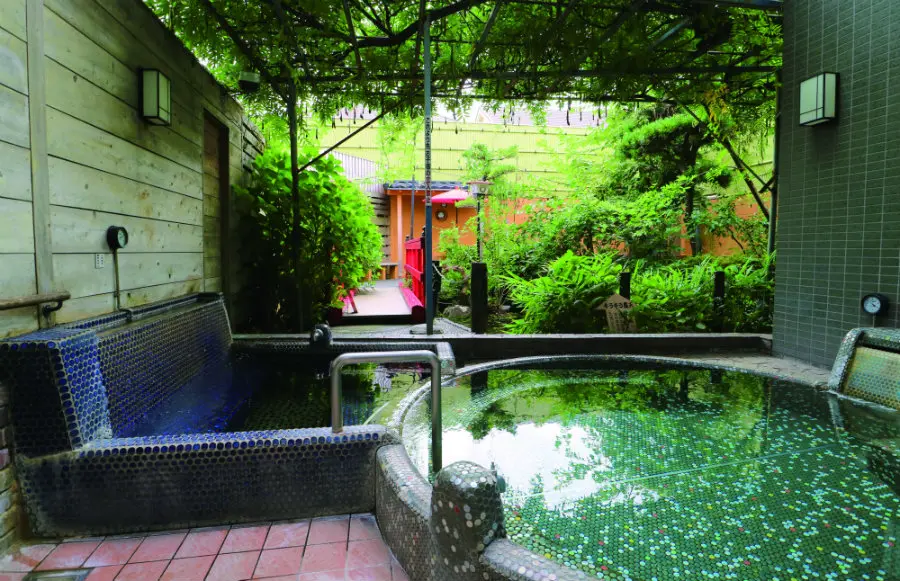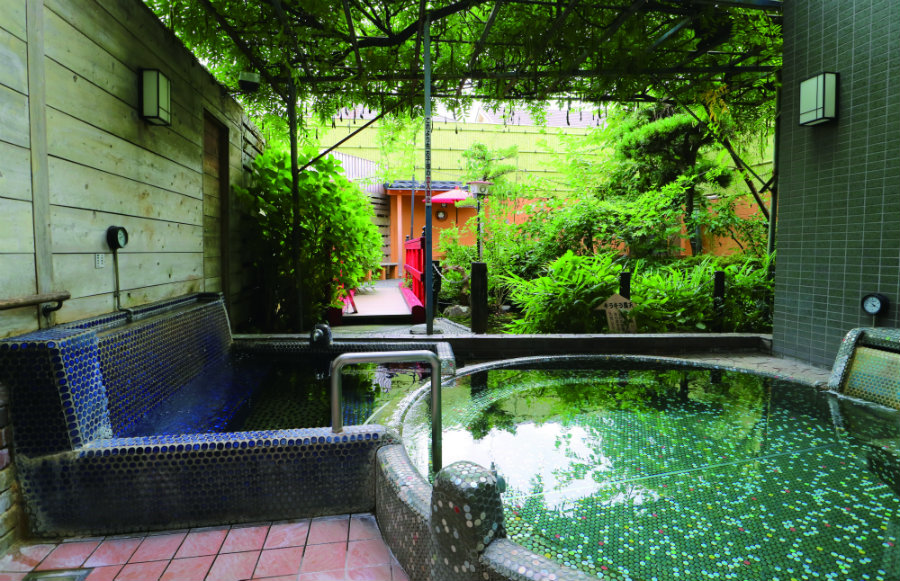 This sento in Mitaka has a nostalgic feel, but also a lot of different baths and even open-air baths in a garden.
Address: 2-4-31, Iguchi, Mitaka, Tokyo 181-0011
TEL: 0422-39-1010
Open: Mon. to Fri. 15:30-23:30
Sat. Sun. Holiday 13:00-23:30
Last entry: 23:00
REBORN SENTO
SCAI THE BATHHOUSE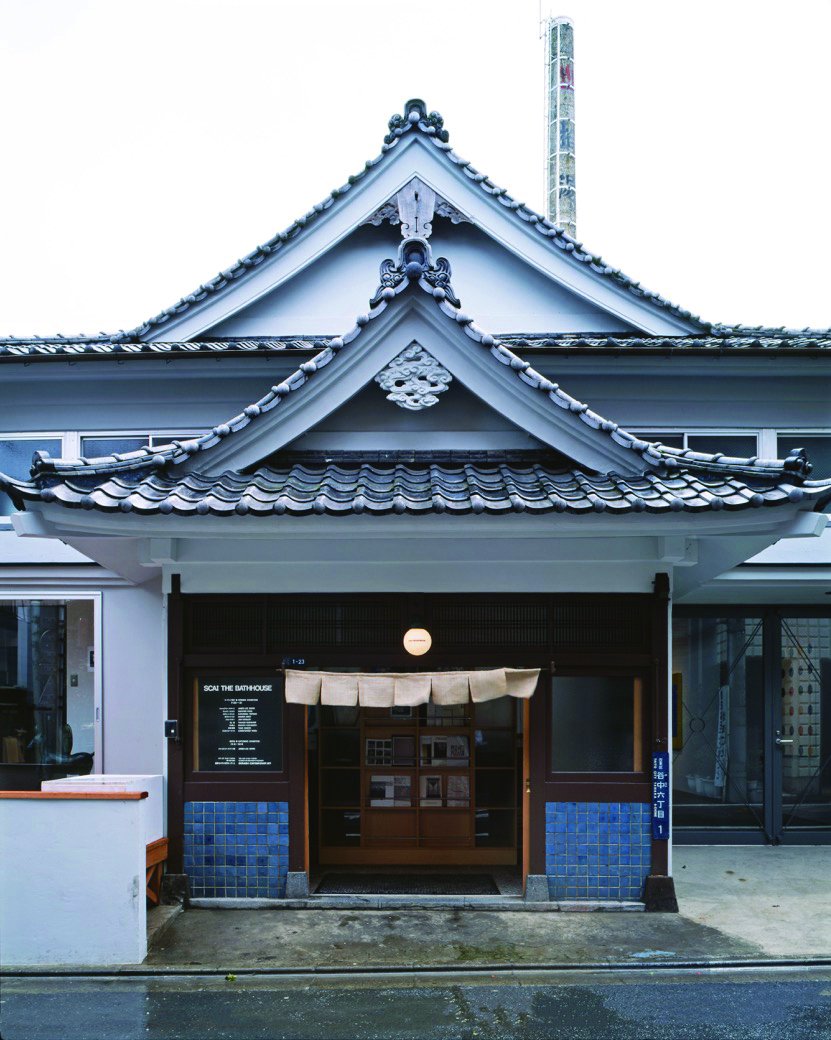 A renovated old bathhouse with over 200 years of history is reborn as a gallery that shows contemporary art and supports young artists as well established ones. It's conveniently located downtown and close to the Ueno area that is famous for its many museums and an art university.
Address: 6-1-23 Yanaka, Taito, Tokyo 110-0001
Tel: 03-3821-1144
[email protected]
http://www.scaithebathhouse.com
Open:12:00 – 18:00
Closed on Sun. Mon. Holiday
HiTAKiBA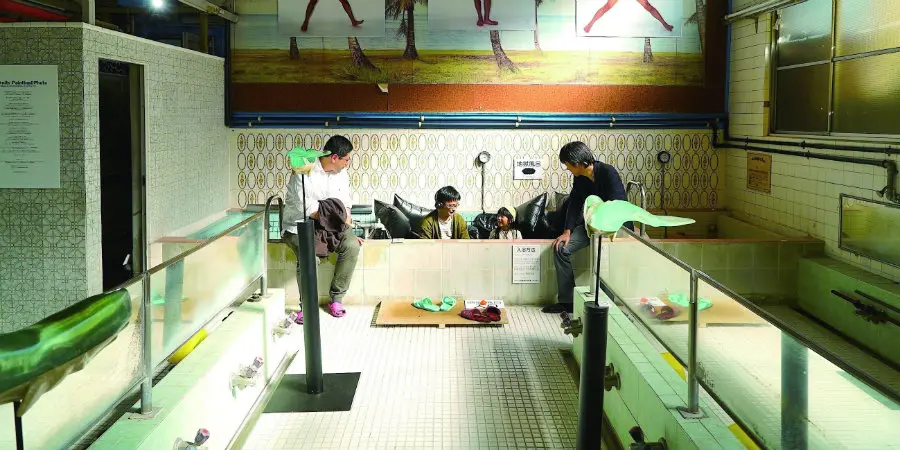 This retro Showa sento has been reborn as a gallery where you could enjoy an exhibition. It will be reopened as a cafe gallery this fall. Check the website for more information.
Address: 2-19-8, Nezu, Bunkyo, Tokyo 113-0031
http://cirq-cirq-cirq.com/
Opens in time with exhibitions