[WAttention X FIELDS Research Institute]
Explore the fascinating world of Japan's subcultures with insights from the inside
The Asia Trend Map: Forecasting the spread of subculture
Watch out Naruto! Time-traveling robotic cat Doraemon just might replace you as the most popular manga in Vietnam by this September. That is, at least according to the recently developed Asia Trend Map.
Created by Tokyo University Associate Professor Yutaka Matsuo and his Matsuo Web Laboratory Team, led by Lecturer Kotaro Nakayama, the Asia Trend Map is a website that forecasts the popularity level of over 27,000 anime, manga, and video game titles throughout 12 regions in Asia, and presents this information in an easily comprehendible fashion. Naoki Nonaka (PhD graduate student), who directly operates this website, explained to WAttention specifically how it functions.
First, data is gathered to grasp each region's consumer needs, trends, and market maturity. Then, web data (Twitter, Wikipedia page edits, etc.) for these anime, manga and video games is collected and analyzed, based on which future trends and consumer tendencies about these titles can be predicted. Each title is assigned not only a current popularity score ranging from 1-100, but also a future score, speculating how hot or cold the title will be in the next half year. This project is done in collaboration with the Ministry of Economy, Trade, and Industry, whose "Cool Japan" initiative seeks to promote the spreading of Japanese contents overseas, including Japanese subculture titles.
Try searching your favorite manga with the Asia Trend Map, and you just might be surprised at the results. For example, though Doraemon ranks towards the top of the list in Thailand and Vietnam, it only achieves a score of 32.6 in nearby Malaysia. Or while hit manga "One Piece" just set the Guinness Record for comic series with the most copies published by a single author, it is not nearly as popular overseas, coming in at a score of less than 50 throughout most of Asia.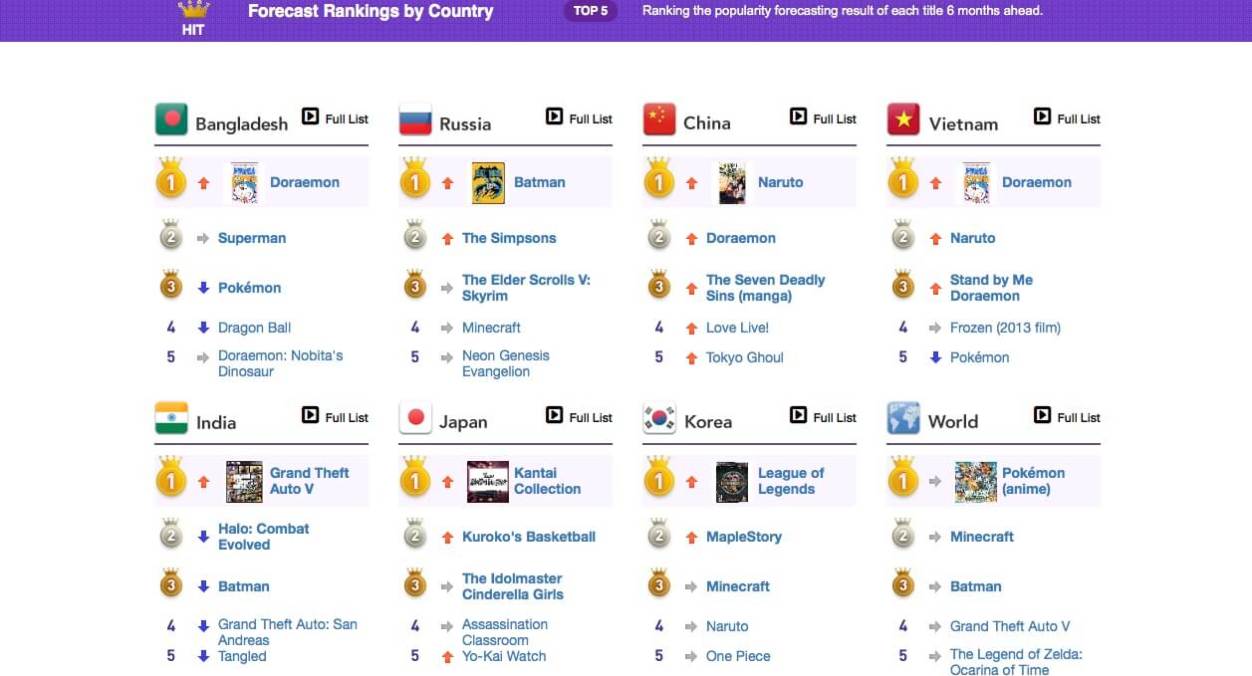 But what would pique the interest of a professor at Japan's top university to develop algorithms to track these anime, manga and video games? As household names like Pokémon and Super Mario prove, Japan's cute characters and addictive games are continuing to spread pervasively beyond Japan's borders. So much so, that a tool is needed to better project and measure consumer trends in the overseas market with regards to Japan's subculture – a challenge which the Ministry of Economy, Trade, and Industry has sought to deal with. For this purpose, Matsuo's team has collaborated with the Ministry of Economy, Trade, and Industry's "Cool Japan" initiative, employing this new method of internet data research to provide such necessary information.
In the next couple months, perhaps Doraemon will indeed slip by Naruto – a young ninja's coming-of-age-tale – as Vietnam's top ranking title. Though it might seem unlikely, as this classic cat has been around for so long compared to Naruto, perhaps that's exactly why a website that can detect such unexpected trends is needed. Having just recently launched, the Asia Trend Map is still a work in progress, aiming to improve and increase its accuracy as a forecasting website. Yet over time, as it continues to fine-tune its data gathering and analysis, perhaps it will indeed prove to be a strategic tool for supporting Japan's subculture sales across the world.
Check out the Asia Trend Map for yourself here: http://www.asiatrendmap.jp/en
This article was written with the assistance of Fields Research Institute, which conducts research in entertainment.