Japanese Nature and Modern Technology in Ibaraki
Tsukuba Science City / Mt.Tsukuba / Kasumigaura
Modern Technology

On the more modern side of Ibaraki, the studious city of Tsukuba has become influential in the world of science and technology. Like the young samurai before them at Kodokan, the children of Ibaraki are hungry for knowledge, and the Tsukuba Expo Center provides a fun place to learn through its dazzling planetarium, full-scale 50 meters (164 ft) tall model rocket, and various exciting hands-on exhibits.
Though the world is separated by many countries and cultures, the pursuit of science seems to always bring people together. That is especially true for the Japanese space program which contributed greatly to the international space station with the addition of the Japanese Experiment Module, the largest single component of the ISS. At JAXA in Tsukuba, models of the satellites, modules, asteroid explorers, and rockets being used to launch Japan into the future are on full display. Reignite your passion for science and exploration as you learn about space at JAXA.
---
"Mt. Tsukuba in the east and Mt. Fuji in the west"

Back on Earth, among the flat farmlands and grand lakes of Ibaraki, rugged mountains also found their place — the most notable being Mt. Tsukuba nicknamed "Shiho" or "Purple Peak" for its colorful transformations in the morning and evening. There is an old saying in Japan that goes "Mt. Tsukuba in the east and Mt. Fuji in the west". Now vibrant forests flourish around Mt. Tsukuba thanks to the blessings of the deity. The sacred mountain covered in vibrant forests is Ibaraki 's top location for hiking and relaxation. Many natural hot springs ONSEN bubbling up around Mt. Tsukuba welcome climbers after an active day of sightseeing.
Amidst such awe-inspiring nature, Ibaraki overflows with spirituality. Today Japanese people still make the pilgrimage up to one of the Kanto regions most famous shrines, the 3,000-year-old Tsukubasan-Jinja shrine, to visit the cultural site and the mountain's many sacred power spots like the impressive "Osugi", an enormous cedar tree which has confidently stood watching over visitors for centuries. There are also shrines located on both of Mount Tsukuba's peaks, Nantaisan and Nyotaisan, reaches 877 meters (2877 ft). Both are accessible by cable car and ropeway to hikers who want to experience Ibaraki's nature and look out over the city below. Tsukubasan-Jinja shrine on the side of mountain highlights the ancient culture of Ibaraki with its various shrines decorated with intricate wood carvings.
---
Nature and activity

The seasons change throughout the year, and great attention is put into cultivating a beautiful natural environment to maximize that experience. Ibaraki's luscious greenery and landscapes are home to many fun-filled activities, like soaring through the colorful leaves at Forest Adventure Tsukuba. As one of Japan's most important bread-baskets, Ibaraki is a fantastic place to pick fresh fruit and vegetables. Fukuda Green Farm is full of juicy produce, such as pears and persimmons, ready to be gathered at eaten among friends and family. Moreover, Kasumigaura area is the best of blueberry production in Japan.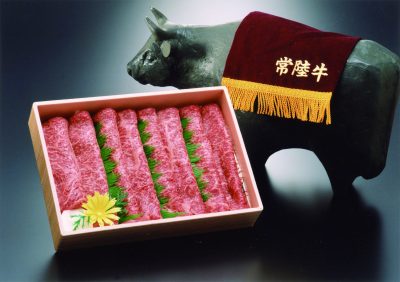 Thanks to Ibaraki's fertile farmland, the prefecture has gained a reputation for having delicious food. You can easily find tasty, fresh-from-the-oven bread from local bakeries like Morgen in Tsukuba, a town famous for mouth-watering bread and pastries. For meat-lovers, Hitachi gyu's high grade beef is tender and rich in flavor.
You can also appreciate Ibaraki's natural scenery while getting some great exercise by renting a bicycle and riding along the Tsukuba Ring-Ring Road. These former railroad tracks now take cyclists on a journey around Lake Kasumigaura and the surrounding area through grassy fields, shaded tunnels of leafy trees, old Edo towns, and more.
One of the most relaxing ways to appreciate Ibaraki's scenery is by taking a cruise aboard a tradition Japanese sailboat across Lake Kasamigaura, the second largest lake in Japan, with the majestic Mount Tsukuba in full view.
---