Enjoy the sights of nature in powder snow paradise Appi Kogen
Located in Iwate Prefecture, Appi Kogen is definitely high in the running – if not the best – when it comes to skiing. Wide slopes make it perfect for beginners, and with 21 courses available, intermediate and advanced skiiers will certainly find something suitable for their level. Famous for its extremely fine and light snow, Appi Kogen has earned its nickname "The 40 degree latitude powder paradise".
But there's more to the area than just skiing. Visitors can also strap on a pair of snowshoes and trek through guided courses through forests right next to Appi Grand Hotel. Wandering through the wilderness here is an exhilarating experience. At times, snowfall is so deep that it can even reach up to your knees. As you pass through the snow-covered paths while admiring the gorgeous white birch trees, try figuring out which animal the tracks belong to. Your trekking guide will also lead you to roll through the thick snow, get covered in falling snow from tree branches, and even slide down snow slides. Much like an outdoor classroom, you will get to learn all sorts of things about Mother Nature and even discover things you have never noticed before.
Aside from trekking through the forest in your snowshoes, you can even sign up for a session of star gazing. Get on a snowbike and you will be led to a specific location where you can enjoy gorgeous views of the stars at night―a thoroughly romantic experience not to be missed! If it gets too cold out, you can even warm yourselves up with a delectable cheese hot pot inside the snow huts stationed in the vicinity. Enough of observing the skies? Feel free to hop on a snowbike and go on a ride to see more of the area. While the skiing is still the number one draw, the place also provides all sorts of wintertime entertainment.
Winter activities in Appi: http://www.appi-japan.com/winter/
Hotel Appi Grand: http://www.appi-japan.com/resort-info/hotel-appi-grand.html
Address: Appi-kogen, Hachimantai-shi, Iwate-ken 028-7395
Urabandai, Fukushima: Another great destination for winter fun!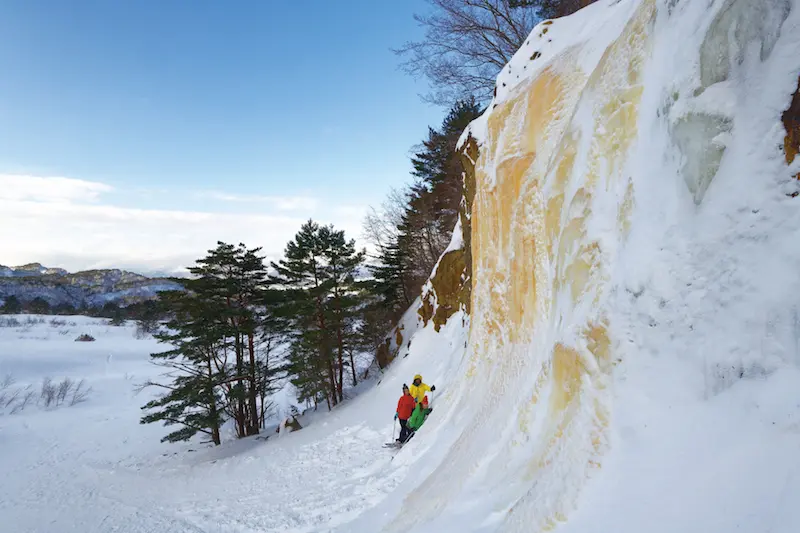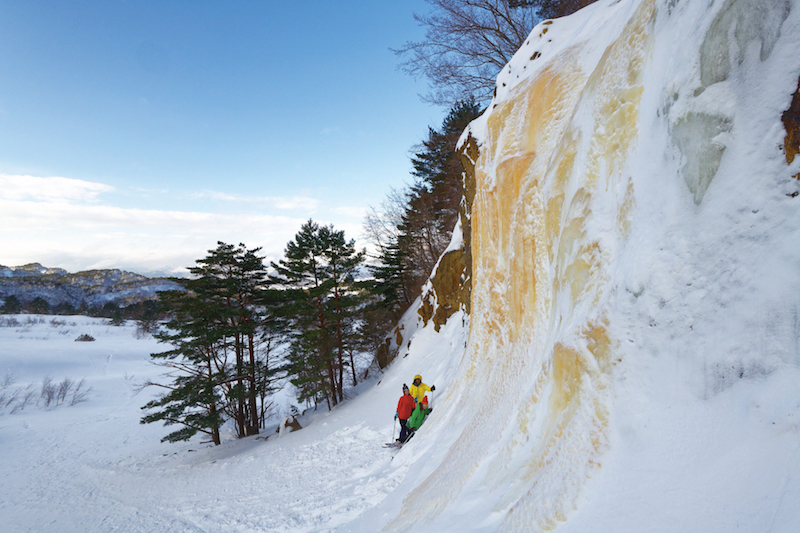 Similar to the Appi Kogen region in winter, the Urabandai area is a wonderland of powder snow, where one can enjoy a myriad of winter activities besides skiing and snowboarding. After a major volcanic eruption of Mt. Bandai in the past, a beautiful crater lake formed ― Lake Hibara. Experience snowmobiling on the frozen lake, or wakasagi smelt ice fishing! Put on your snow shoes and trek through other surrounding attractions including the Goshikinuma trail, or maple-beech forests where you can admire giant beech trees that are over 300 years old.The frozen waterfall "Yellow Fall", is also a popular spot nearby.
Urabandai Tourism Official Website: http://www.urabandai-inf.com/?page_id=25649