Be captivated by the Scenic Landscapes of Niigata
【Yuzawa•Uonuma, Uonuma City】
Crossing a Dreamy Sanctuary  

JR Tadami Line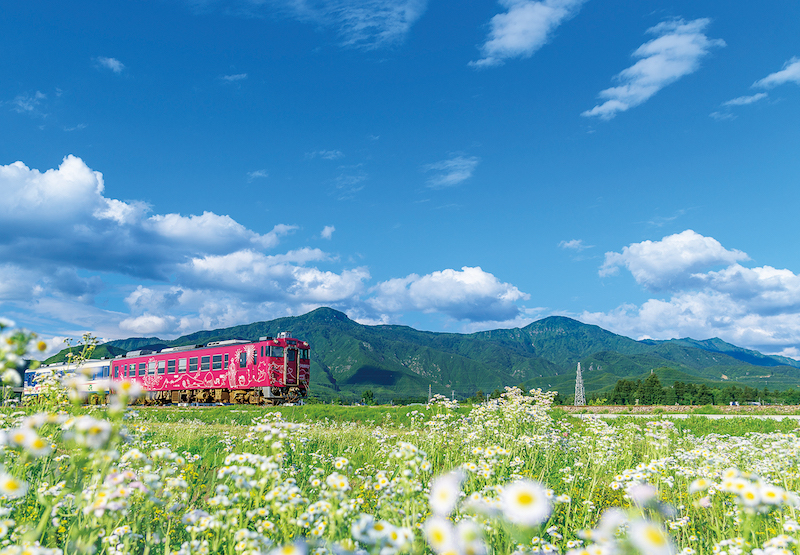 This line passes through the secluded mountainous areas in Tohoku, which connects Niigata and Fukushima. Its mystic atmosphere has attracted countless train and photography enthusiasts. As the train passes through Uonuma City, keep a look out for the Koshihikari rice fields and Abukumagawa Dam in the valleys.
*Trains are no longer operating between Tadami and Aizu-Kawaguchi stations. Visitors can take a shuttle bus instead.
The stops between Koide Station and Oshirakawa Station are within Niigata Prefecture. The JR Tadami Line also stops at Aizu-Wakamatsu.
Web: www.iine-uonuma.jp/see/tadamisen.html (Japanese)
【Myoko•Joetsu, Myoko City】
Excite your Five Senses onboard this Sightseeing Train

Setsugekka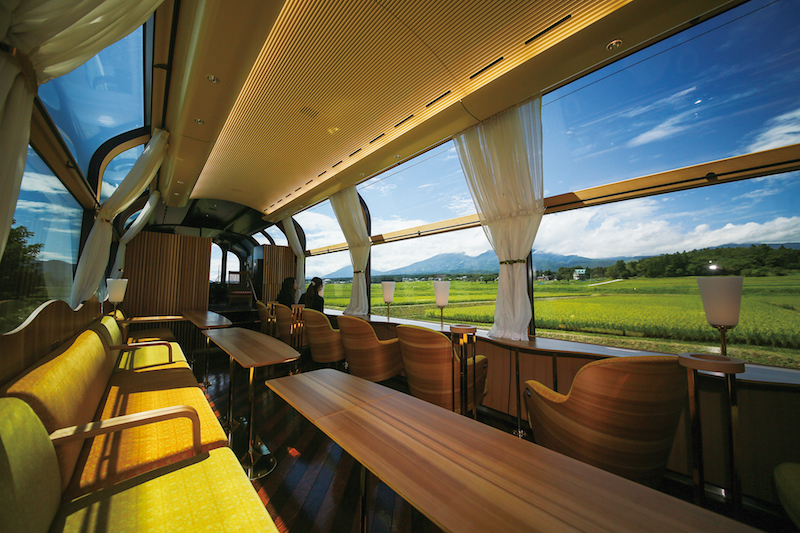 This cardinal red train not only showcases a panoramic view of Niigata's countryside, but also the prefecture's proud craftsmanship. Boasting "all made in NIIGATA," passengers can appreciate the artistry of this locally-made train, and taste the goodness of local produce onboard. Enjoy all of Niigata's charms fully by booking a ride!
Web: www.echigo-tokimeki.co.jp/setsugekka/index.html (Japanese)
*Reservation required, only via phone call.
【Myoko•Joetsu, Myoko City】
Onsen-exclusive Local Cuisine

Red Yakisoba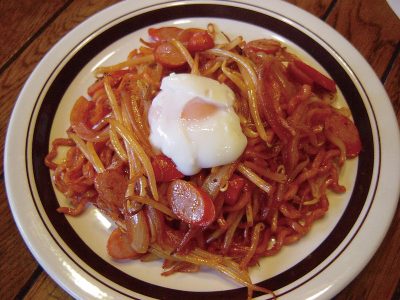 Don't be fooled by the red color of Akakura Onsen's specialty yakisoba noodles. Though they look spicy,
the noodles get their hue from fresh vegetables, not red chili. A definite must-try for hungry visitors of Myoko City!
About 10 restaurants within Akakura Onsen serve this dish.
Web:www.myoko.tv/shopping/1422.html (Japanese)
【Yuzawa•Uonuma, Uonuma City】
Behold a Cascading Sea of Clouds

Shioritoge Unkai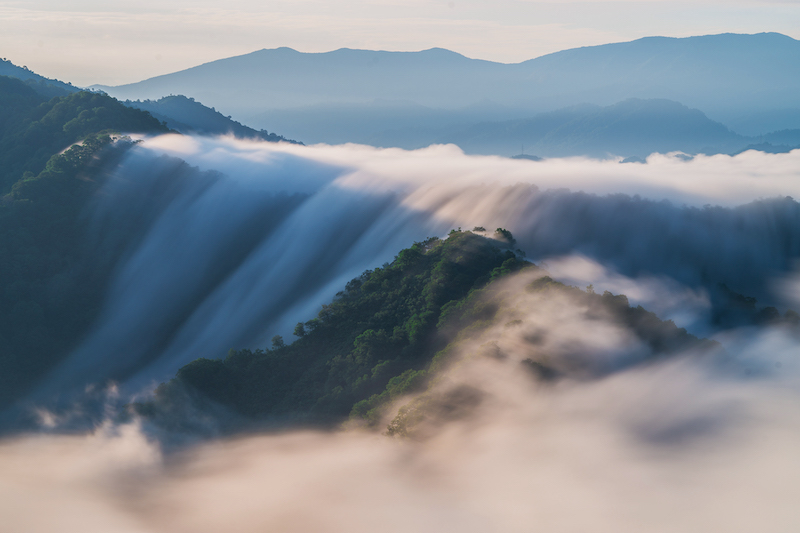 Begin your hiking trail at Shioritoge leading to Mt. Echigo-Komagatake, one of Japan's 100 most famous mountains. Stop by the observation deck along highway 532 in the early mornings to catch a breathtaking view. —On good days, you will see a vista of cascading clouds over towering mountains when you look towards Ginzandaira and Oku-tadami.
*Toge means the highest point of a mountain trail
Web: www.iine-uonuma.jp/ (Japanese)
【Yuzawa•Uonuma, Tokamachi City】
The Ultimate Countryside Experience

 Hoshitoge Rice Terraces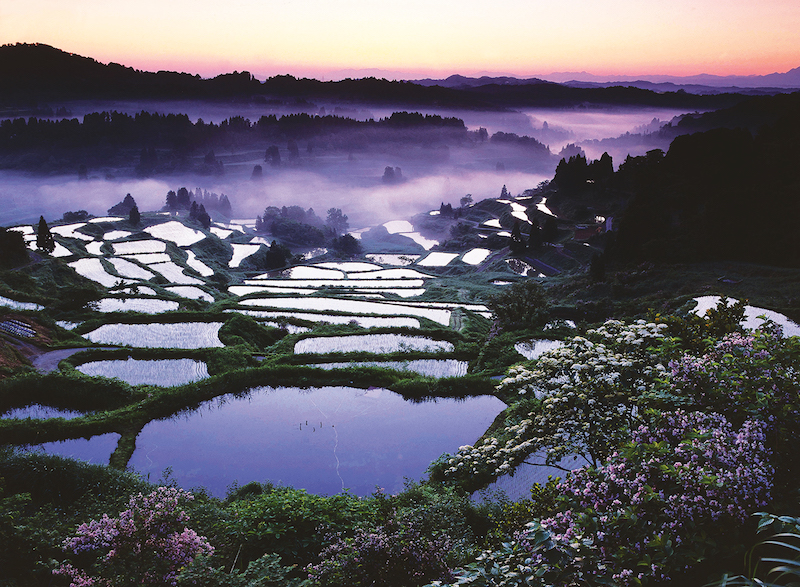 Featured in Tenchijin, a famous historical drama in Japan, the photogenic Hoshitoge Rice Terrace in the mountains of Niigata rose to fame. During spring and autumn, visitors are treated to a gorgeous view of the rural landscape with glistening rice fields and misty forests. If you are lucky, you might even catch a sighting of unkai rolling over the rice fields in the early mornings
*A sea of clouds or unkai is formed only under certain weather conditions during spring and autumn mornings.
Access: 20-minute drive from Matsudai Station on the Hokuhoku Line
Web: www.tokamachishikankou.jp/en/
 【Myoko•Joetsu, Myoko City 】
Thundering Waterfalls resembling Earthquakes 

Naena Waterfalls
Famous for its thunderous roars of water crashing down from a 55-meter-tall
basalt cliff, the Naena Waterfall has been nicknamed "Earthquake Falls." This natural wonder is recognized as one of Japan's 100 greatest waterfalls. On a sunny day, you may get to see an arching rainbow reaching out through sprays of cool water.
Access: 15-minute drive from Myoko Kogen Station on the Echigo-tokimeki Tetsudo
WEB:http://tw.myoko-note.jp/tourism/nature/naenataki.html
【Niigata•Aga, Niigata City】
A Treasure Trove of Natural Wonders in the City  

Fukushimagata Lagoon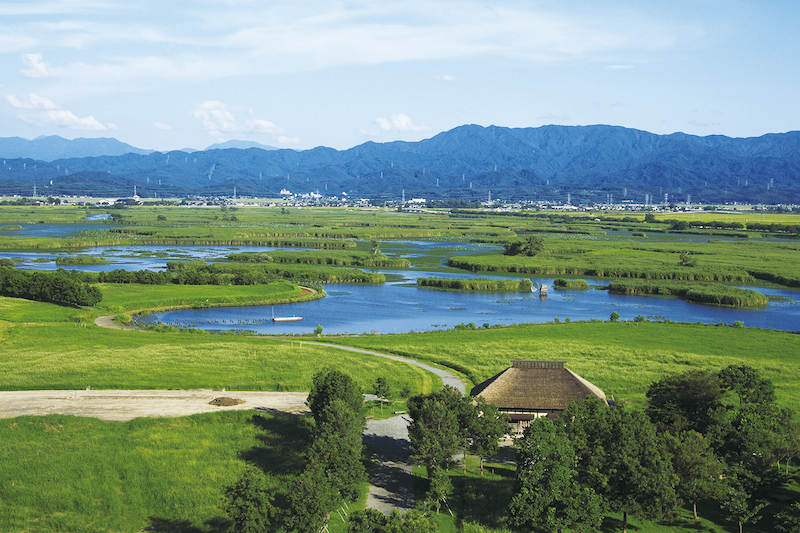 Home to more than 220 species of wild birds and 350 flora, this extensive wetland is the largest in Niigata Prefecture. During spring, rapeseed flowers are in full bloom. In summer, the makhana–a species of water lily–steals the spotlight by decorating the lagoon with vivid greens. Escape the busy city with a trip down here!
Access: 30-minute walk or 5-minute drive from Toyosaka Station on JR Hakushinsen
Web:www.pavc.ne.jp/~hishikui/index.html (Japanese)

【Sado•Sado City】
Fjord-like Steep Cliffs

Senkakuwan Bay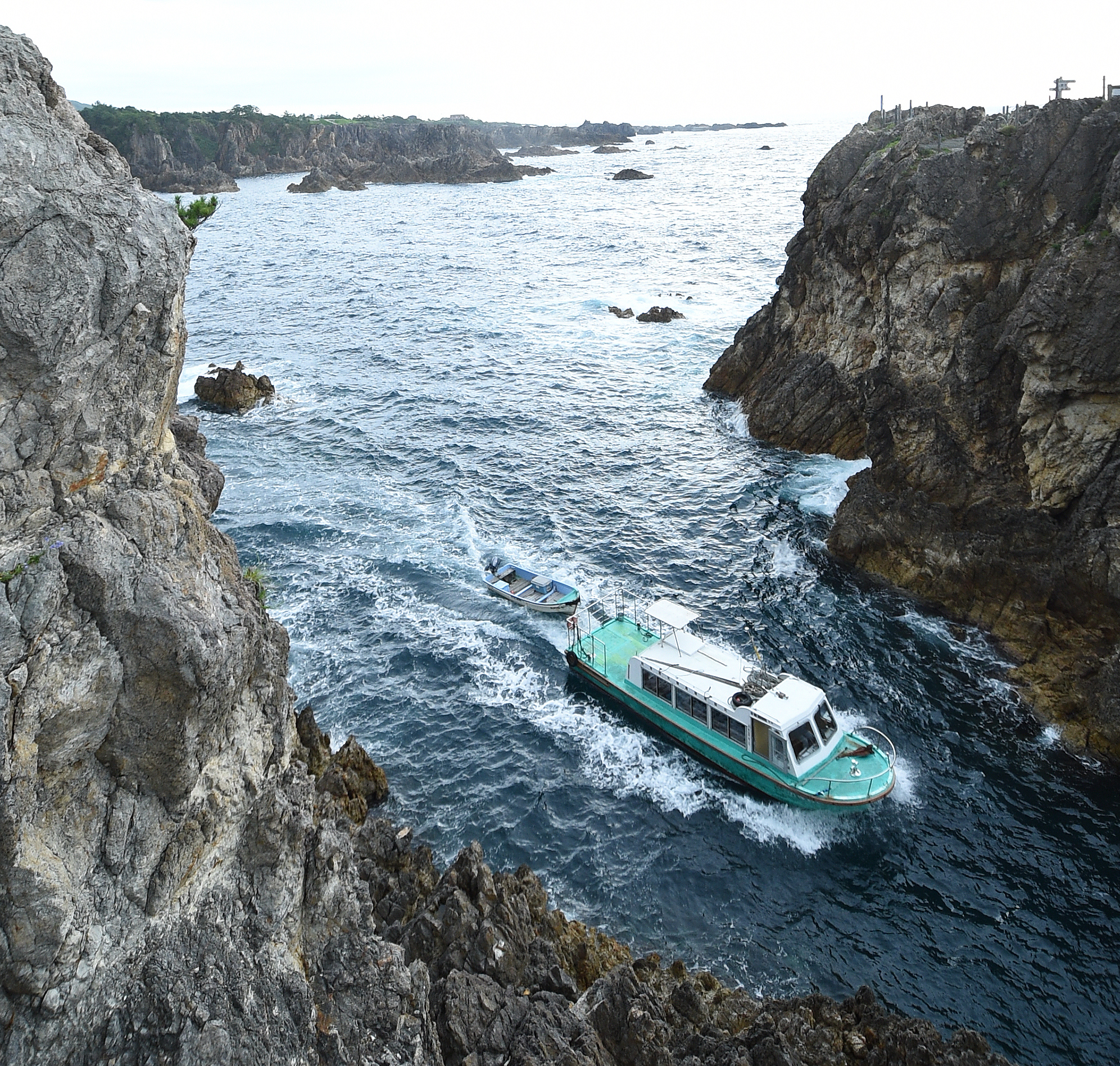 Known for its meandering gorges and steep cliffs, Sotokaifu-kaigan in Sado
is surrounded by stunning tower cliffs reminiscent of Norwegian fjords. Admire the amazing view from above or hop on a cruise to get a closer look at the magnificent structures while also appreciating the underwater beauty through a glass panel at the base of the boat.
Access: 60-minute drive from Ryotsu Port or 1-minute walk from Senkakuwan Ageshima Park (Kaifu Line) bus stop
Web:www.visitsado.com/en/spot/detail0144/

【Sado•Sado City】
Onogame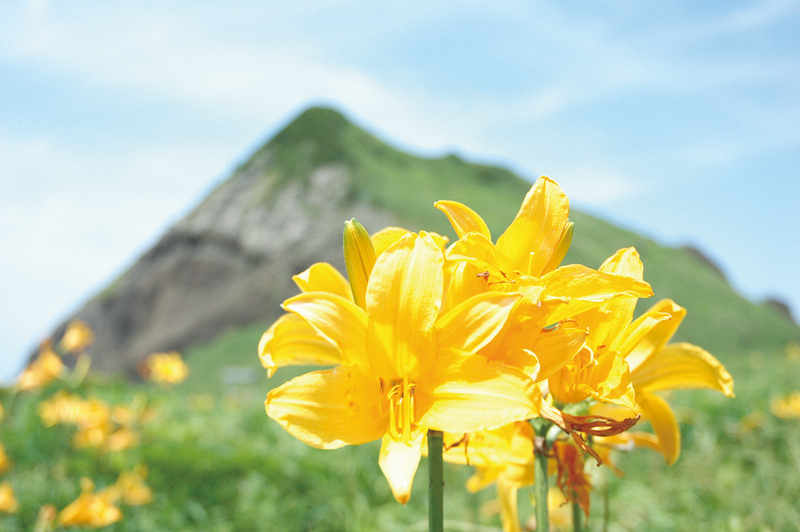 Dubbed as the secret garden of Sado, Onogame is a 167-meter high rock formation located on the northern coast of Sotokaifu-kaigan. Awarded two stars in the Michelin Green Guide Japan, the picturesque landscape receives many visitors. During summer, bright, yellow licorice flowers carpet the area providing a beautiful contrast against the blue sky and green grass.
Access: 60-minute drive from Ryotsu Port or 1-minute walk from Onogame ( Uchi Kaifu Line) bus stop
Web: www.visitsado.com/en/spot/detail0133/

【Sado•Sado City】
A Local Favorite of Niigata

Niigata Tare Katsu Don
Unlike the typical Katsu Don—which uses egg as a topping,
this local delight includes fried pork cutlets dipped in a special sauce before being placed on warm fluffy rice. This dish first appeared during the early Showa period at a western restaurant. The sweet soy sauce is absolutely tantalizing!
Many restaurants in the Niigata Prefecture have this dish on their menu.
Web: www.niigata-kankou.or.jp/sys/data?page-id=12370
(Japanese)
There's more to discover about Niigata here: Discover Niigata From Tokyo: Let's GO!