Nostalgic and Picturesque
Yamadera and Mogamigawa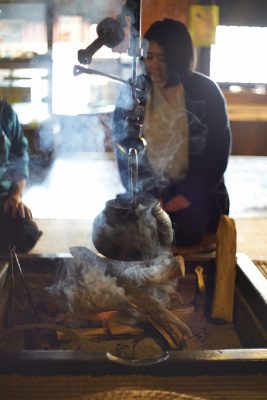 On our way to Yamagata-ken, we made a detour to drop by Hojin- no-ie Inn, the only remaining inn out of the ones that Matsuo Basho stayed in.
According to records, Matsuo Basho was in the area during the rainy season and therefore had to put up a few nights at the inn due to poor road conditions. The place became famous due to his extended period of stay, as he passed the time by composing many haiku poems at this very inn. Since the inn's name literally means "house for those living at the borders", a former border checkpoint nearby called "Shitomae-no-seki" erected a statue of the famous poet to commemorate his visit.
Soon after departing the inn, we made our way to Risshakuji Temple where Matsuo Basho composed the famous haiku poem "deep silence—the shrill of cicada—seeps into rocks." Despite its official name as Risshakuji Temple, it is more commonly referred to as Yamadera Temple (literally meaning mountain temple) and is a popular pilgrimage spot for the poet's fans from both Japan and across the world. With over 30 unique structures to admire in the precincts of Yamadera Temple, you won't run out of things to see. At the peak of the mountain stands an observation deck called Godaido Hall, where we enjoyed extraordinary views of the valley below.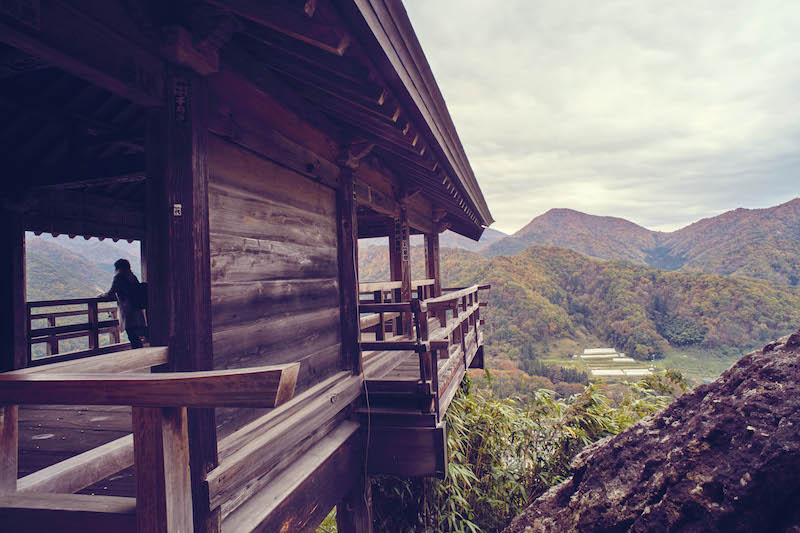 Three hundred years ago, Matsuo Basho and his disciple Kawai Sora took a boat down the Mogamigawa River to see the famed Dewa Sanzan―three sacred mountains located in Yamagata- ken. We hopped on a boat to experience the river ourselves, taking in the different shades of autumn colors along the way.
Much to our delight, the captain not only explained the scenery in detail but also sang local folk songs, and even made a short stop at a store where freshly grilled fish was served. Once the only form of transport used during Matsuo Basho's time, the scenic boat ride has since developed into one of the major attractions in the area!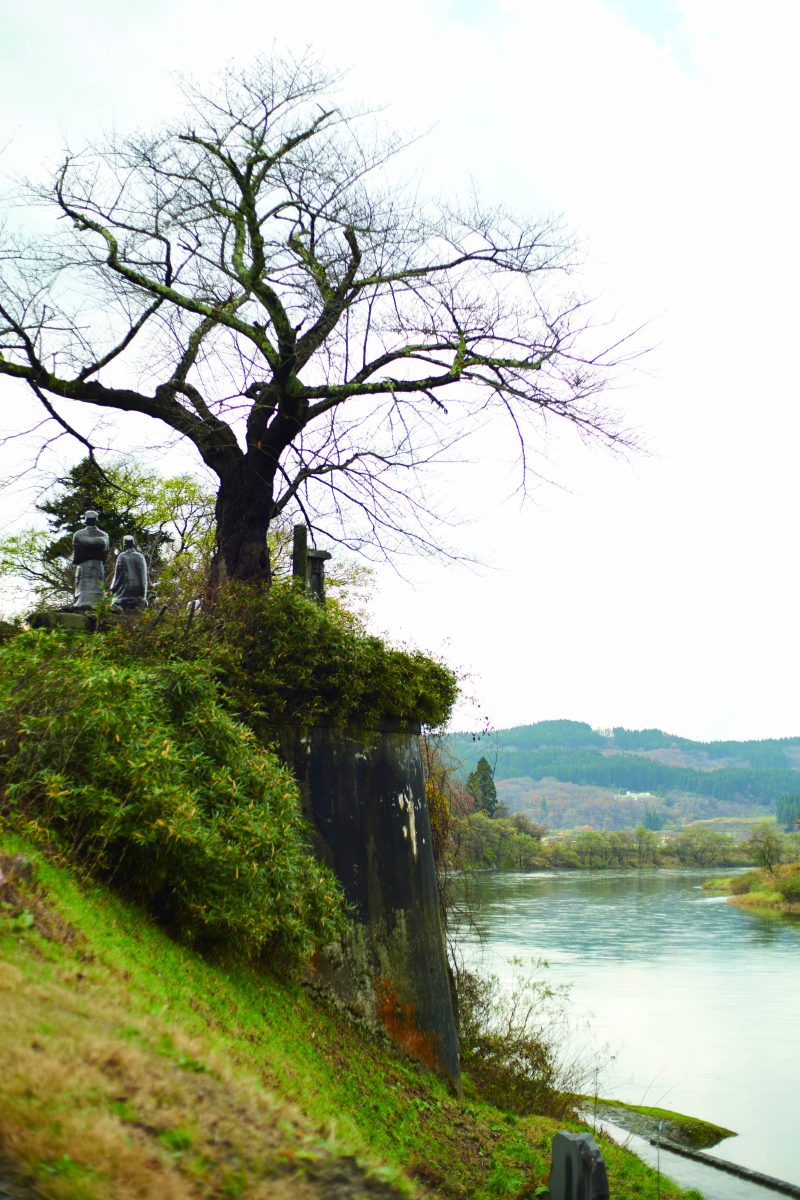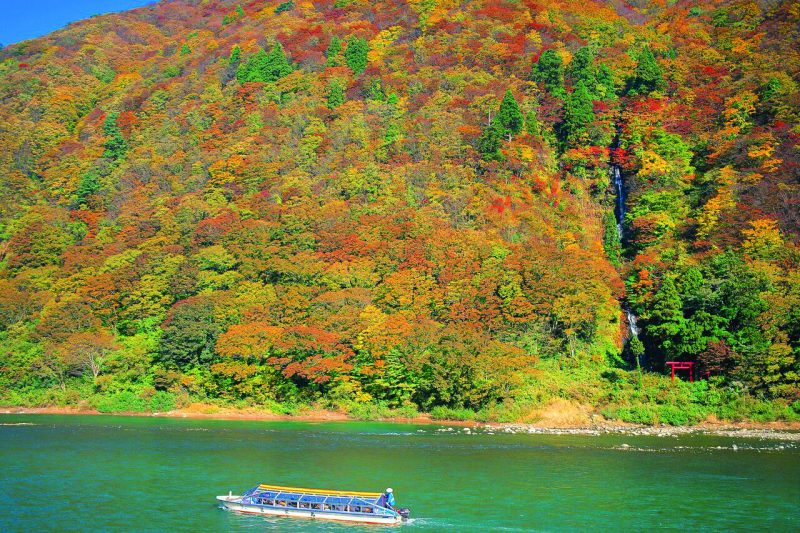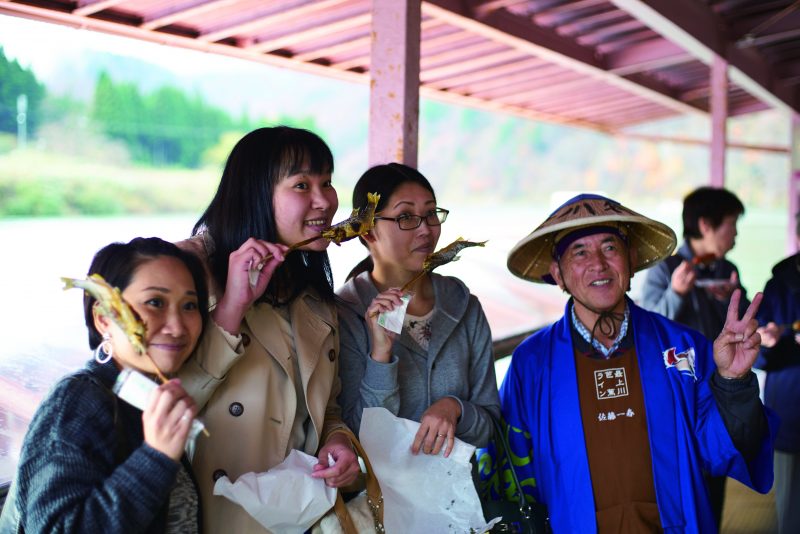 Kisakata: An Exceptional View of the Past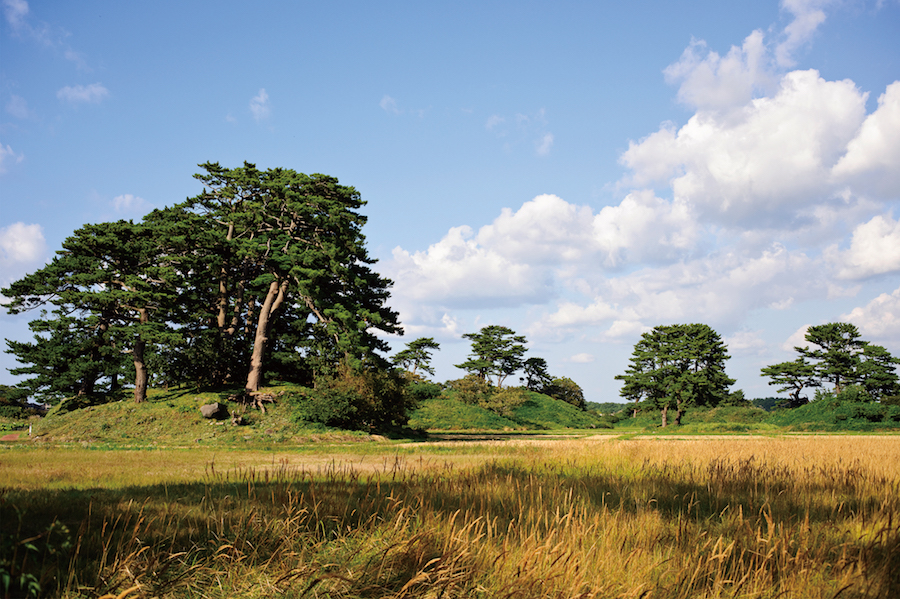 Kisakata of Akita-ken is the northernmost destination mentioned in Oku- no-hosomichi. It was once nicknamed "Kujuku Island" ( 九 十 九 島 , 99 islands) because of the many islets floating in its cove. While Matsushima stole the limelight as the top scenic spot of eastern Japan, Kisakata used to be known as the most beautiful sight of western Japan during the Edo period(1603-1868). Unfortunately, after an eruption of Mt. Chokaisan that caused the sea bed to rise, these islands are no longer filled with water, but land. We can only imagine what Matsuo Basho would have seen when the small paddy fields filled with water. The islands still resemble their ancient image, especially when the rice paddies fill with water before planting season.