The Nihonbashi area grew extremely fast following the beginning of the bakufu in the Edo period (1603-1868). The old castle town became the starting point for five major highways connecting the capital with other areas of Japan and a prosperous hub for businessmen, artisans and shops due to large amounts of people passing through. A trip to Nihonbashi will take you back in time to discover century old establishments that strive to preserve tradition, as well as advance with the times.
---
日本橋案内所
Nihonbashi Information Center
Speak to the multilingual concierge staff here to get insider tips on where best to shop, eat and sightsee to make the best of your Nihonbashi trip. The souvenir shop here stocks everything from food to modern accessories inspired by Edo chic, and the Ippin Café serves up green tea and traditional snacks from popular historical shops, perfect for a quick pick-me-up.
Hour:10am-9pm
Address:COREDO Muromachi 1 (B1), 2-2-1 Nihonbashi Muromachi, Chuo-ku, Tokyo
Web:www.nihonbashi-info.jp/omotenashi/


にんべん日本橋本店
NINBEN
Established in 1699, NINBEN is known as the originator ofJapanese flavors. Now you can recreate these flavors at home with handy flavored- soups and seasonings soldat this shop, which alsomake great souvenirs. At Nihonbashi Kezuriba, you can see how professionals shave bonito tuna into flakes during live demonstrations and enjoy the fragrance of freshly cut bonito flakes.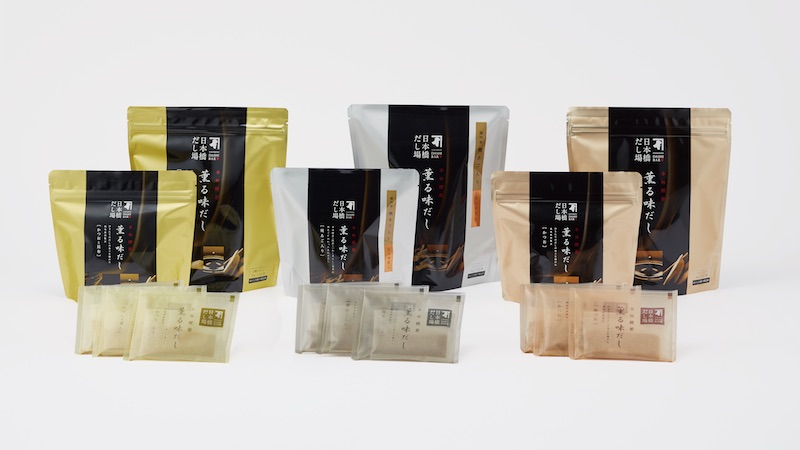 Hour:10am-8pm
Address:COREDO Muromachi 1 1F, 2-2-1 Nihonbashi Muromachi, Chuo-ku, Tokyo
Web:www.ninben.jp
日本橋木屋本店
KIYA Nihonbashi Main Store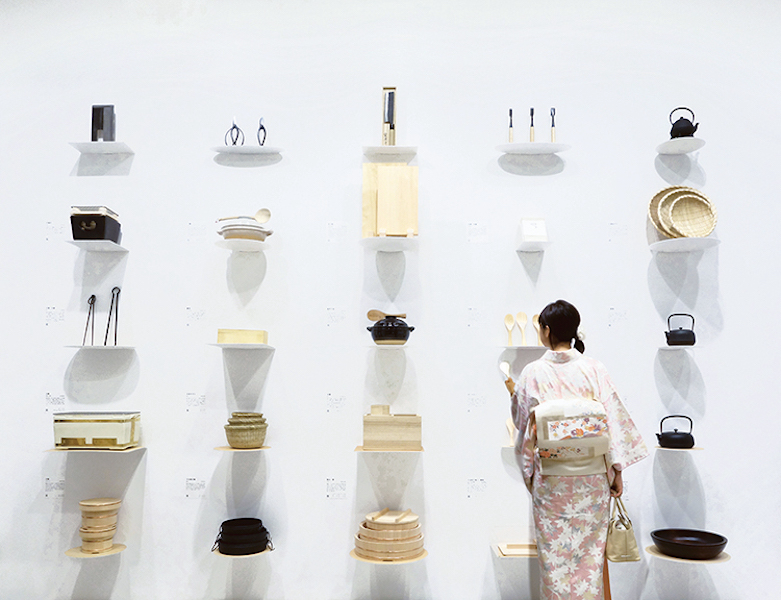 Kiya has been specializing in cutlery and knives since 1792, and its shop banner and logo can be spotted in historic art pieces depicting Nihonbashi
in 1805. Here you can find traditional handmade knives and knives using modern materials and designs. Unlike Western kitchen knives, there are many unique knives used for different ingredients—be it vegetables, fish or meats. From carbon steel to stainless steel knives, there's sure to be one that makes the cut.
Hour:10am-8pm
Address:COREDO Muromachi 1 1F, 2-2-1 Nihonbashi Muromachi, Chuo-ku, Tokyo
Web:www.kiya-hamono.co.jp/english/index.html


水戯庵
SUIGIAN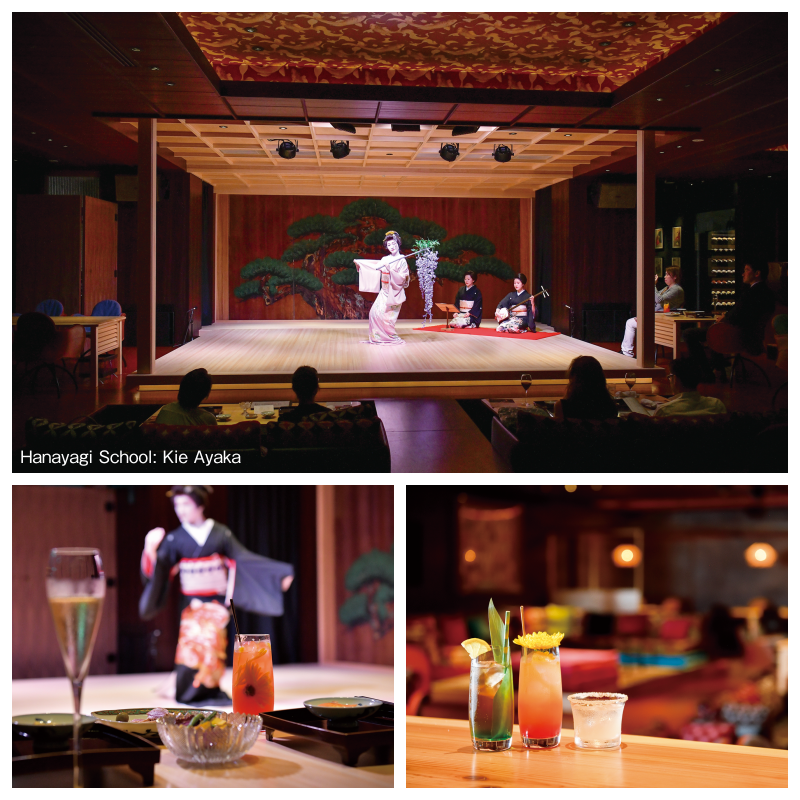 This theater-themed restaurant and bar proposes a whole new dining experience, offering classy Japanese banquet cuisine alongside live performing arts such as noh, kyogen, nihonbuyo dancing and other traditional Japanese theater. The interior is elaborately designed to reflect the elegance and grandeur
of Japanese arts, creating an extraordinary experience full of tastes, smells, sights and sounds.
Hour:11:30am-11:30pm
Address:B1F, 2-5-10 Nihonbashi Muromachi, Chuo-ku, Tokyo,
Web:https://suigian.jp/en/
*Reservations are required for Lunch, afternoon Tea, and Dinner.


ミカド珈琲店日本橋本店
Mikado Coffee Nihonbashi Honten
More than 70 years ago, Mikado Coffee opened its doors to a stream of Japanese customers craving for a hot cup of freshly brewed coffee. The house blend is a well-balanced mild coffee with a hint of sourness which became the most sought after drink ever since. Located in Nihonbashi, the main branch was the first shop in Japan that served coffee to standing customers. It's definitely worth a visit if you are a coffee addict.
Hour:(Mon-Fri)7am-7pm, (Sat)8am-6pm, (Sun, Holidays)10am-6pm
Address:1-6-7 Nihonbashi Muromachi, Chuo-ku, Tokyo
Web:https://mikado-coffee.com/f/shop (Japanese)


日本国道路元標と日本橋魚市場発祥の地碑
The Road Origin Marker of Japan & Monument of Nihonbashi Fish Market
Nihonbashi was first commissioned by Ieyasu Tokugawa as part of a national roadway network and served as the starting point for five highways connecting Edo with other areas of Japan. Although it underwent several renovations, the stone bridge built in 1911 still links Tokyo with the suburbs. With seven highways originating here, there is a plate marking this area as "Kilometer Zero." Before moving to Tsukiji after a fire triggered by the Great Kanto earthquake in 1923, Tokyo's bustling fish market was also situated in Nihonbashi. A monument is set up to commemorate this history.
日本橋魚市場発祥の地碑
Address:1-8-1 Nihonbashi Muromachi, Chuo-ku, Tokyo
日本国道路元標
Address:1-1 Nihonbashi Muromachi, Chuo-ku, Tokyo



黒江屋
Kuroeya

Although Japanese lacquerware is considered to be fine art, it is also widely used
by Japanese people daily to boost their aesthetic experience. Kuroeya is a lacquerware shop that was established more than 300 years ago in Nihonbashi from the people of Kuroe Village in Wakayama Prefecture, a well-known producer of lacquerware. Why not get your hands on a lacquerware dish or bowl for either decorative or practical use and bring the essence of Japanese culture into your life?
Hour:9am-6pm
Closed:Weekends, holidays
Address:Kuroeya Kokubu Bld 2F, 1-2-6 Nihonbashi, Chuo-ku, Tokyo,
Web:https://kuroeya.tokyo


榛原
Haibara
For more than 200 years Haibara has been specializing in traditional and modern
washi, Japanese paper products. One of their best-sellers is the Japanese round
paper fan, a must-have item to beat the summer heat since the Edo period. Even the
members of the British rock band Queen are said to have decorated their interiors with Haibara products.
Hour:(Mon-Fri)10am-6:30pm, (Sat-Sun)10am-5:30pm
Closed:Holidays
Address:Tokyo Nihonbashi Tower, 2-7-1 Nihonbashi, Chuo-ku, Tokyo,
Web:www.haibara.co.jp/en/
---